The two occasions when I see the husband getting excited are: 1. While watching a LIVE cricket match of India. 2. When I make non-vegetarian his native style non-vegetarian dish. So when I made this Mutton Sukka Varuval on a day when India played a LIVE cricket match, he was double excited! This Mutton Varuttha Kari recipe is from his native place Sivakasi. That means, the dish has a very simple profile like this Simple and Easy Sivakasi Mutton Kulambu (Gravy) recipe which I posted few weeks back.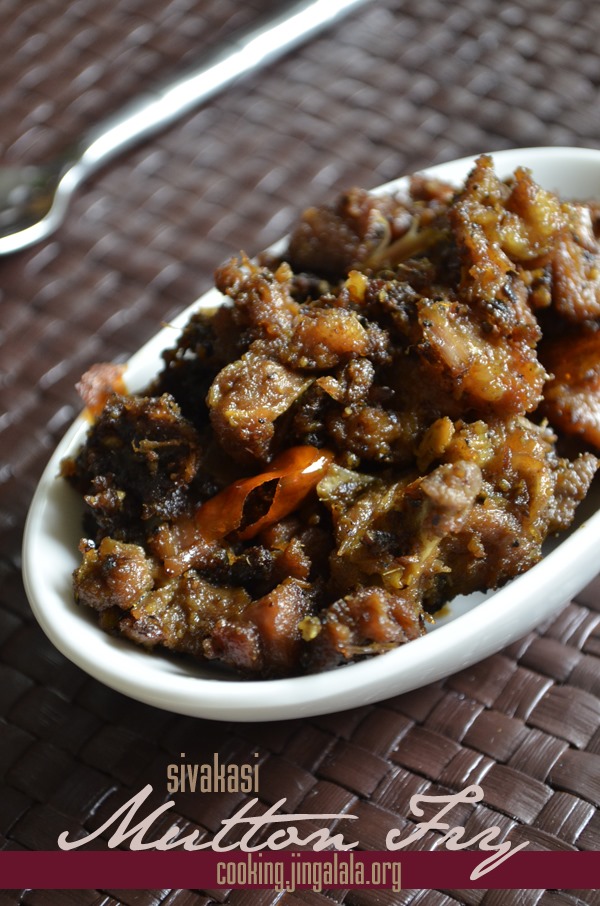 So why is this Mutton Chukka Kari Varuval very simple to make? It's because it requires no complicated process to prepare; it's because it requires no grinding of any masala with mixer grinders; it's because it requires no queuing of spices on the kitchen table; it's because it requires no tomatoes or green chilies or coconut. It just needs some ginger, garlic, onions, pepper, cumin and dry red chilies - the spices which will be readily available in our pantry. Since the king of all spices** - black pepper** is there, no other spices or herbs like pudina or malli (mint or cilantro) *are required to bump up the flavor of this *Mutton fry. *Having all this said, instead of calling it a *simple mutton fry, won't it be more apt to call it 'the lazy man's mutton fry recipe'. Huh, what say?

Keep thinking of a better name for this Mutton dish. Until then, I will explain you how to make this simple and easy Tamilnadu Style Mutton Varuval (fry).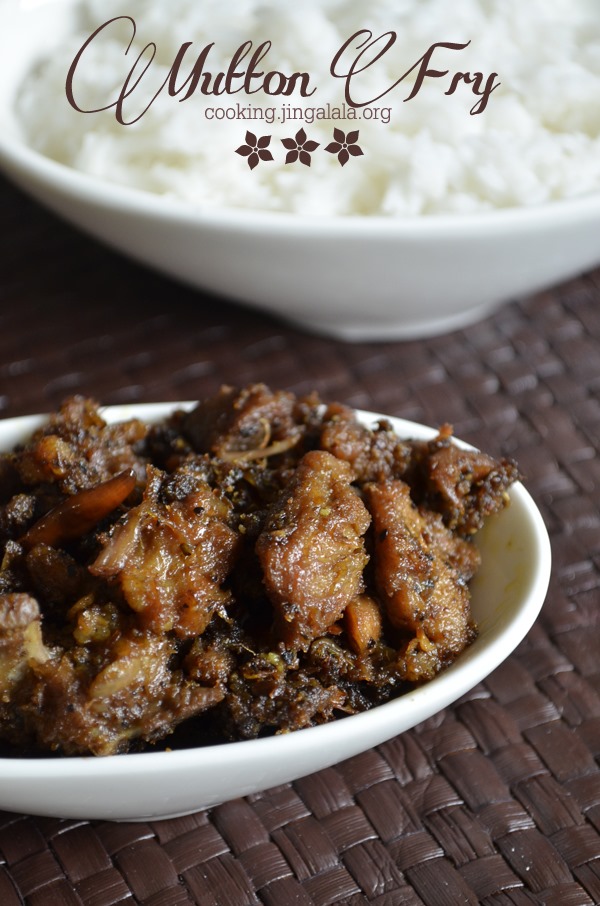 How to make Mutton Fry (dry) in Sivakasi Style – with Step by Step pictures
Step 1. Clean the mutton thoroughly. Drain water. [Normally, the practice at home is, after draining the water, we add 1 tsp. turmeric powder and 2 tsp. sesame oil. Mix and keep it closed for 5-10 minutes. Then clean one last time with water, draining the water completely. This way the raw smell and the germs in the muton, if any, will be vanished.] Cut the meat into bite sized pieces. Close the cut and cleaned mutton and set aside.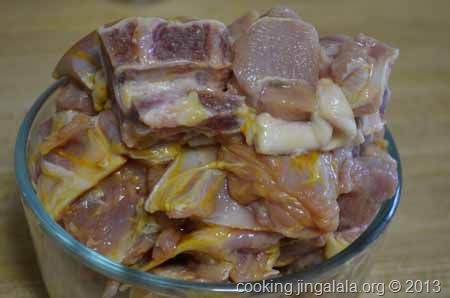 Step 2. Set the ingredients required to make the mutton varuval (Fry) ready on the kitchen table. If you have whole black peppers, grind them coarsely.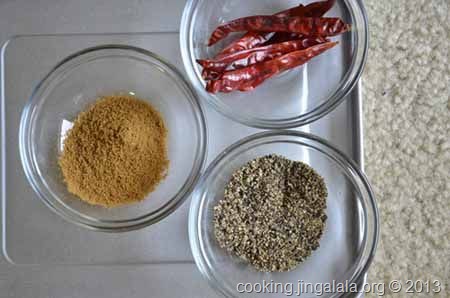 Step 3. Peel, wash and slice the onions thinly.
Step 4. Heat a pressure cooker in Medium flame [I used a pan since I find it difficult to shoot the process steps]. Add 1/4 cup oil. Add the sliced onions. Tear the red chilies and add them too. [You may add 2 or 3 more chilies for extra spiciness]. If you have curry leaves with you, add them now. You can use 2 sprigs of curry leaves.
Step 5. Mix and sauté the onions. Fry until the onions sweat completely and start to brown. [Takes 7 minutes]
Step 6. Add 1 tbsp. Ginger-Garlic paste. Mix and sauté for 2 minutes.
Step 7. After sautéing, the onions must look like so. [Remember, we have to only brown the onions, not burn them. So watch it carefully. Don't ask me if you can put a watch clock inside it to watch it

]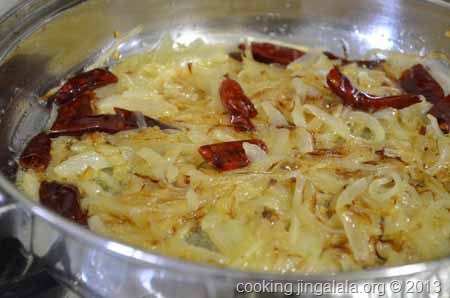 Step 8. Add the cleaned mutton. Add the ground black pepper.
Step 9. Add the cumin powder and salt.
Step 10. Mix well.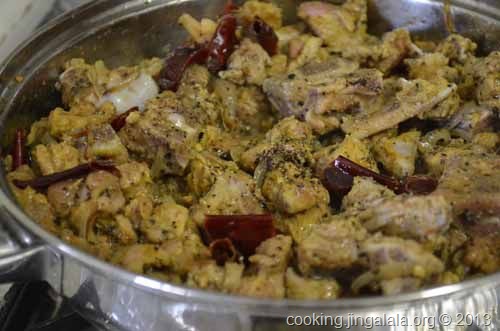 Step 11. Let the mutton be until the juice starts to come out. Do you see the juice in the picture? [Takes about 5-7 minutes]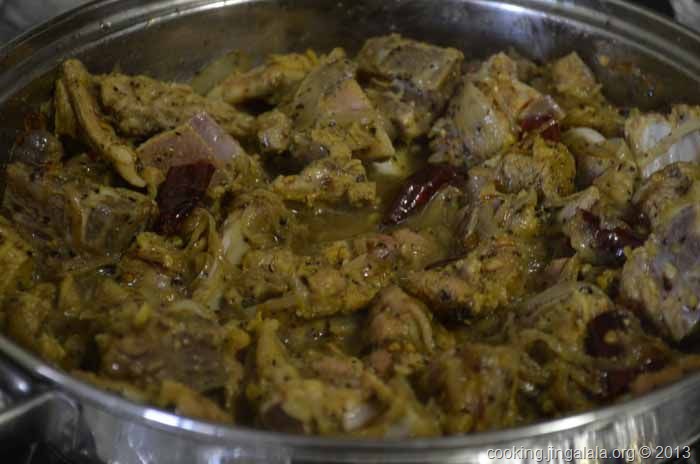 Step 12. Now transfer them into a pressure cooker. Add 1 cup water. [1/2 cup is enough if your mutton gets cooked easily]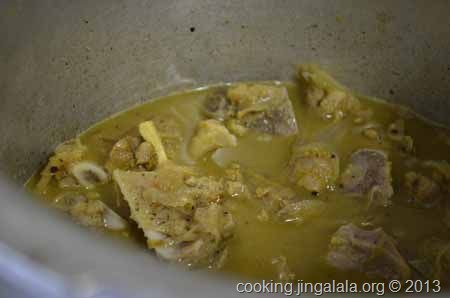 Step 13. Close and put the cooker in HIGH flame. Wait for 4-5 whistles. Then put the flame to LOW (SIM) for 10 more minutes. [At home in India, mom cooks it just for 1 whistle and puts in Sim for 10 minutes]. Switch OFF stove.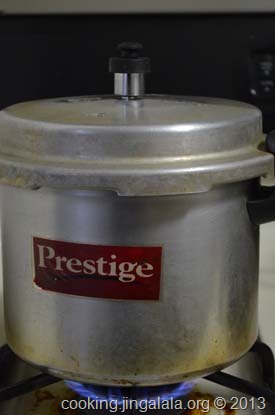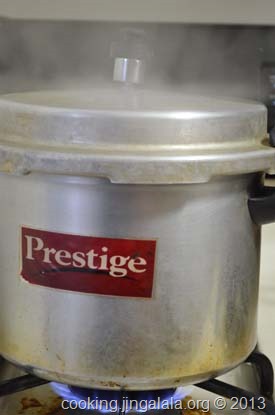 Step 14. Wait until the pressure subsides by itself. Once the pressure is released, open the cooker. Check the doneness of the meat. If it's cooked 75-80%, not to worry. We'll have them cooked thoroughly in the upcoming steps. If the doneness is not satisfactory, pressure cook for few more minutes, say 3 more whistles.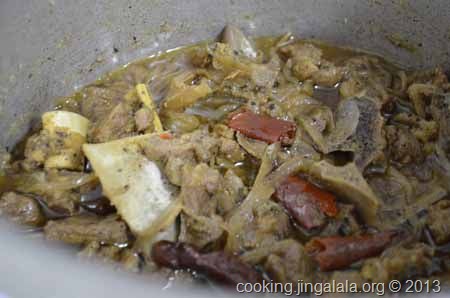 Step 15. Transfer the cooked meat into a wok or pan [Iron wok or skillet works best]. Set flame to Medium. Check salt and adjust it to your taste now. [You may add more salt and make it into an UppuKari]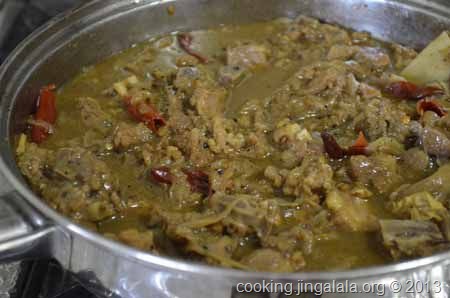 Step 16. Stir the mutton curry from time to time else they'll stick to the pan. In 10 minutes, the curry will begin to thicken. Slurrppp… feel like licking the sauce, No?

[Optional: When the curry starts to thicken, you may add more oil for taste. Adding more oil also avoids sticking of the curry to the pan]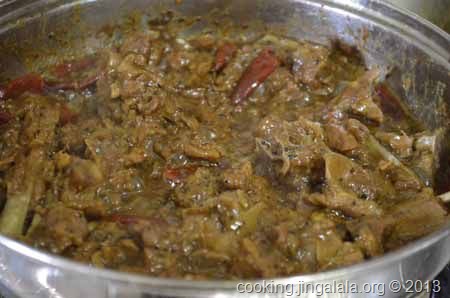 Step 17. Remember to stir the content nicely every now and then. In another 10 more minutes, all the masala will be absorbed by the mutton and will look like as shown in the picture below. The Mutton fry is good to be served now. But if you prefer to make Mutton uppu kari, where the mutton will be fried to a nice dry pieces with more added salt, move to next step.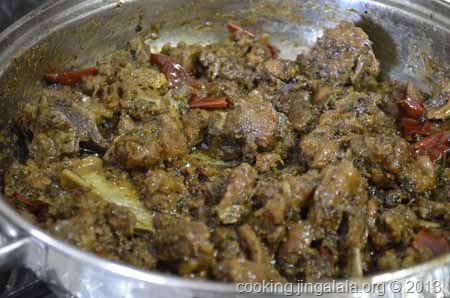 Step 18. In few more minutes, the oil will begin to ooze out from the mutton. In this stage the mutton will look shiny. [Do not overlook, stir the content now and then]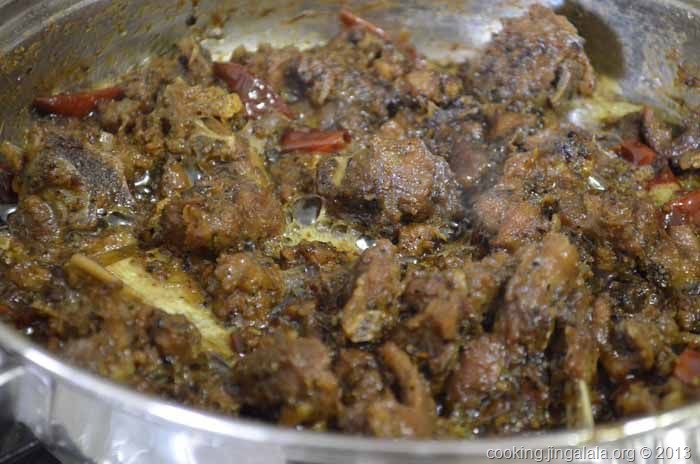 Step 19. I know it's repetitive, but I have to remind you. Do not forget to stir them often. Continue to cook until the mutton pieces are nicely roasted. i.e. Each mutton piece must be separate and must not stick to each other. Switch OFF stove. Add little more salt at last as a final touch and mix.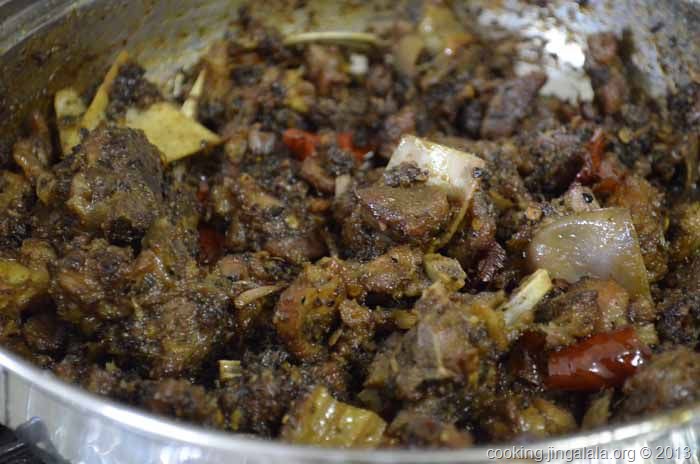 Step 20. Sivakashi Style Mutton Uppu Kari Varuval is now ready to serve. I served as a side dish for Steamed rice and Sambar.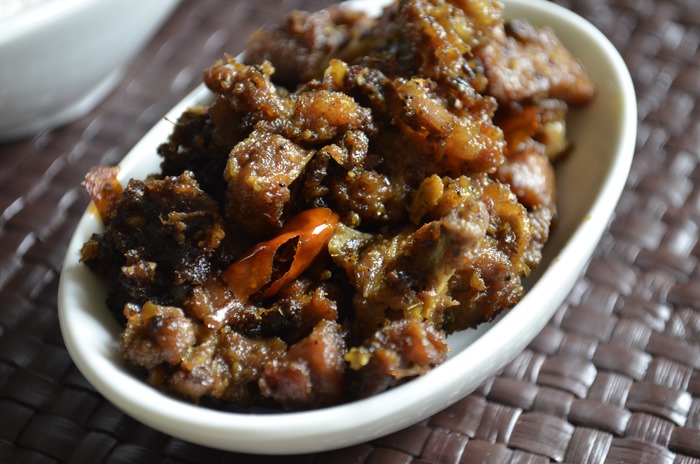 3Ts [ Tips | Tricks | Tactics and Secrets ] to make Mutton Sukka Varuval (Sivakasi Mutton Uppu Kari)
Sesame oil (Gingely oil) adds in good taste to this Mutton fry. I use Idhayam Gingelly Oil (Iddhiyam Nallenai)
Try to use an iron skillet/iron wok (irumbu satti/iruppu satti) for making this mutton fry.** Iron kadai** adds taste to the dish. Mom uses a mud wok for many non-vegetarian recipes. She makes a Mutton Varuval (a family specialty) in a mud wok and it turns out to taste terrific. More on 'how to cook in mud pots and pans', soon on Cooking Jingalala
Small red onions (chinna vengaayam/red pearl onions) works best for this Mutton varuval recipe. Small onions adds great taste to any South-Indian recipe.
More the small onions and more the oil, tastier gets this mutton sukka varuval.
The dry red chilies and their seeds add a nice smoky flavor to the mutton fry. Tear them into smaller pieces for more spiciness since more seeds will come outside this way.
If you have gundu vatthal (kundu milahai vatral / rounded dry red chilies), use it to get more spiciness since it has more seeds in it.
Curry leaves release a wonderful aroma into the oil. When the mutton is cooked in it, it takes in this wonderful flavor. But adding curry leaves is optional.
You may add an inch of cinnamon bark and 1/4 tsp. fennel seeds into the hot oil. Once they brown and release flavor, add the sliced onions [Step. 4]. Adding cinnamon stick adds a sweet smell and a subtle sweet taste to the mutton varuval. Again, it's only optional. I like to have this mutton kari varuval simple, with just these 3 spices: cumin powder, red chilies and pepper.
Whenever my recipes (especially, non-vegetarian recipes) demands ginger-garlic paste, try to use homemade paste. For 1 tbsp. of ginger-garlic paste, you will need 6 garlic pods and 1" ginger piece. Peel, cut and grind them without adding water.

This non-vegetarian side-dish goes well with steamed hot rice and ghee and little salt. It goes well with curd rice (yogurt rice) too, especially because of the roasted dry red chillies. While eating, I squeeze out the red chillies to get the oil into the rice. I like that oil's flavor and taste. Try it, LIKE it, SHARE it!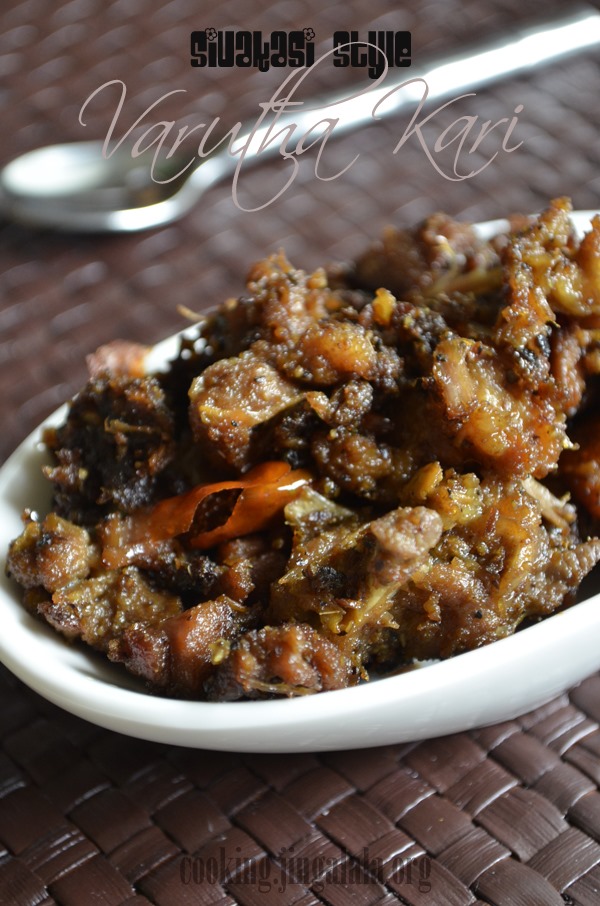 South-Indian Mutton Fry Recipe
PREP TIME: 10 min
COOK TIME: 45 min
TOTAL TIME: 55 min
YIELD: 3
DIFFICULTY: easy
RECIPE TYPE: Sidedish, Entree, Maindish
Ingredients:
620 g Mutton (preferably boneless)
1 big Onion [approx. 1 cup heaped when sliced]
5 Dry Red Chillies (Lal Mirchi / Milahai vatral / Varamilahai)
1 tbsp Ginger-Garlic paste
2 tbsp. Crushed Black Pepper
1 ½ tbsp Cumin Powder
2 tsp Salt (adjust to taste)
½ – 1 cup Water
1/4 cup Oil (I use Idhayam Sesame Oil/Iddhiyam Nallennai)
Mangala from Cooking.Jingalala.Org Eat Well !