I have bragged about my Mother's cooking, maternal Grandmother's recipes, paternal Grandmother's recipes, but, never did I mention about my Mother-in-law's recipes in any post. Did I? This finding was done by the husband. So were the complaints too

. In order to react to his complaints

, like how people used to have weekly status calls with onsite/offshore team, I had week-end calls scheduled with my offshore team lead (you should understand it's my mom-in-law, here

)). During the calls, I noted down recipes after recipes like: Sivakasi Mutton Kuzhambu, Sivakasi Mutton Varuval, Soose berry, Rava paniyaram, Mundhiri Kotthu, Poori Masala, Maida Maavu Poori, Kotthamalli Chutney, Murukku, Butter Beans Poriyal, Vazhaikai Poriyal, Naattu Kozhi Kuzhambu, Sotru Vattral (Rice Crackers) and what not! My co-sister (who's from Nagerkoil) helped me with hands-on for few of these recipes. I started to cook food in my mother-in-law's way

. Today, I've got many of her recipes written in my Recipe-Notebook.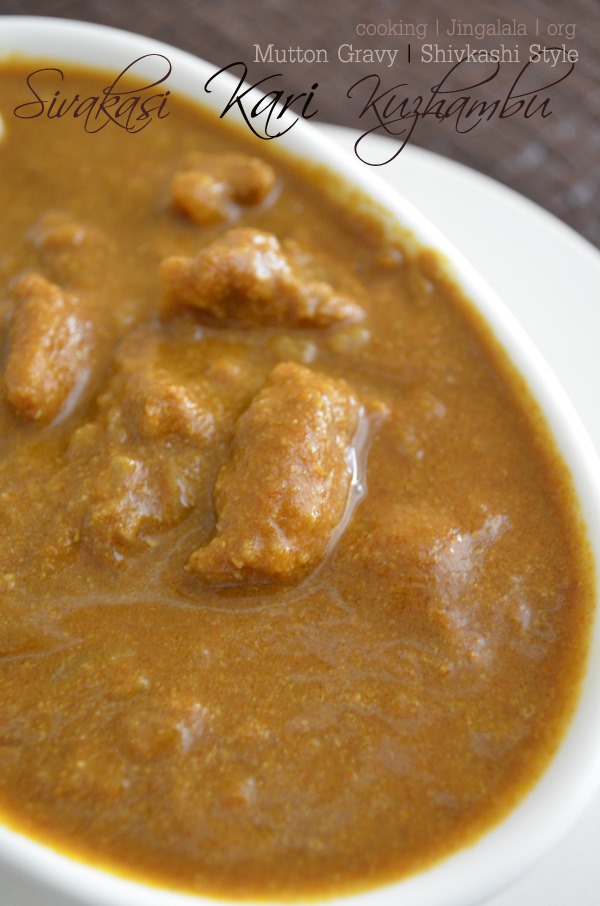 Got ta tell y'all. My mother's recipes and my mother-in-law's recipes are incomparable to each other! That is, both are TOTALLY different in nature, be it the method of preparation or the ingredients used in preparing the curries. When it comes to Non-vegetarian curries

, we use all the spices we know

, just like you saw in my Mutton Varuval post; Kalpasi, Briyani Leaf, Clove, Cinnamon, Star Anise, Fennel seeds, Cumin seeds, Pepper corns, Ginger, Garlic… we use so many spices for one single curry to make it flavorful! Whereas, the mother-in-law's curry has only few spices, but still got it's own taste. Our style of making curry is like producing a big-budget movie and becoming a whopping box-office. The mother-in-law's style of cooking is like producing a small-budget movie and still becoming a box-office hit

. I call this Mutton Kari Kuzhambu (Mutton gravy) as a small-budget recipe because, it only uses 3 spices: Coriander seeds, Cumin seeds, Dry red chilies. Absolutely no need of tomatoes, no need of coconuts, no need of curry leaves, no need of cilantro, mint, garlic, ginger or any more fancy spices

. Just 3!. Just THREE! Just T-H-R-E-E !!! Cool right? So let's check the behind the scenes of this 'No-Fancy', 'Low-budget' Mutton Gravy recipe.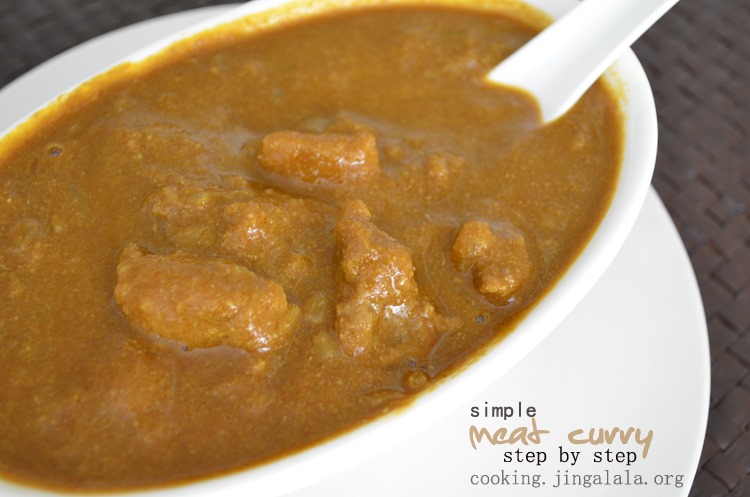 How to make a Simple Mutton Gravy – Sivakasi Style – with Step by Step pictures
Step 1. Set all the ingredients required to make the mutton gravy ready on the kitchen table. Peel, wash the onions. If you do not have small onions (red pearl onions/chinna vengaayam), go ahead using big onions. Chop the onions finely for sautéing and some into small chunks for grinding. Remove the stalk from the dry whole red chilies.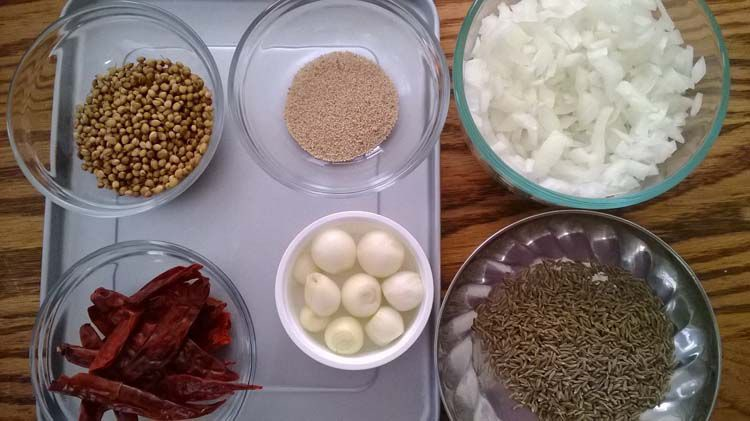 Step 2. Cut/chop the meat into medium sized pieces. Wash the meat nicely. Once I wash it nicely, I add about 1 tsp. turmeric powder and 1 tsp. gingely oil (nallennai/sesame oil), mix nicely and rest the meat for 5 minutes. Then I wash once more and drain the water. This way I remove the raw smell from the meat.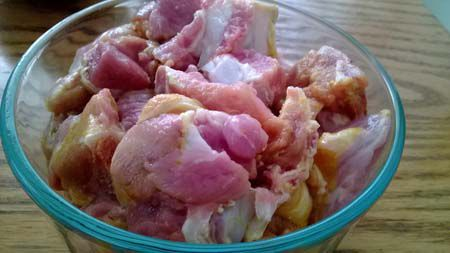 Step 3. Place a sauté pan on the stove in Medium-Low flame. When the pan becomes dry, add 1/2 tsp. oil.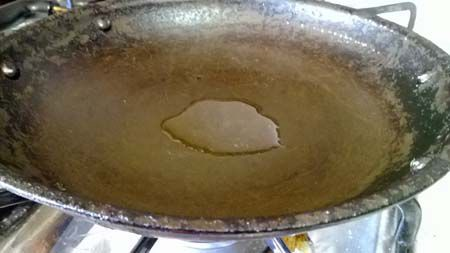 Step 4. Add the whole dry red chillies, coriander seeds and jeera (cumin seeds). Sauté them. Cumin seeds are very sensitive to heat. Burnt cumin seeds will make the gravy taste bitter. So be watchful not to burn the cumin seeds. If you find it difficult, sauté the spices one by one.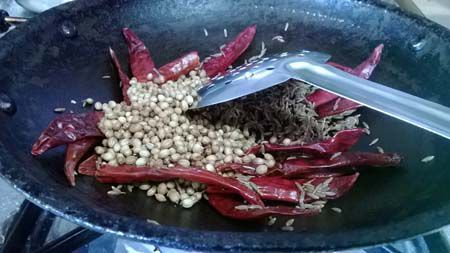 Step 5. In few minutes of sautéing, chilies will start to become crispy, coriander seeds and cumin seeds will start to spread a nice aroma.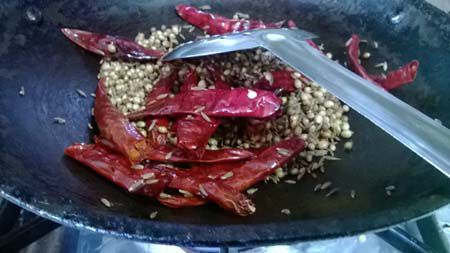 Step 6. Add the poppy seeds (kasa-kasa). Sauté them.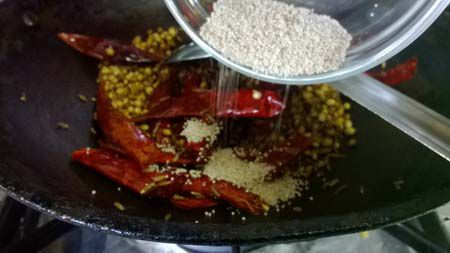 Step 7. Once the spices are roasted well, you'll notice a slight change in their color. This roasting takes 7-9 minutes in Medium-Low flame. If you're an experienced cook, you may sauté them in Medium flame and have them sautéed in less than 5 minutes. Switch OFF stove and transfer the roasted spices immediately to a plate. This is because, having the spices in the same pan will burn them more because of the heat.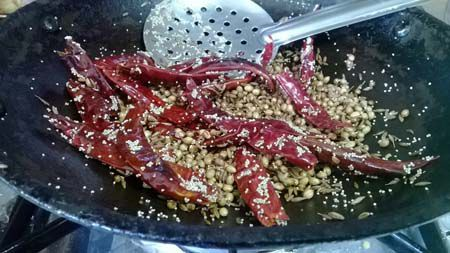 Step 8. Place a pressure cooker/sauté pan on stove in MEDIUM flame. [If you have a pressure cooker, use it. Since my pressure cooker is not photogenic

, I'm using a sauté pan

]. When the pan becomes dry, add 2 tbsp oil.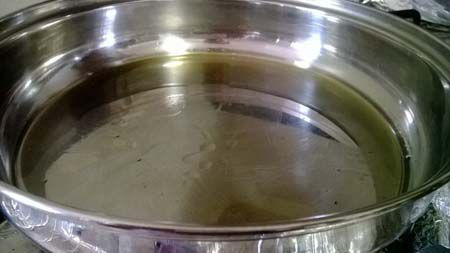 Step 9. Add the finely chopped onions.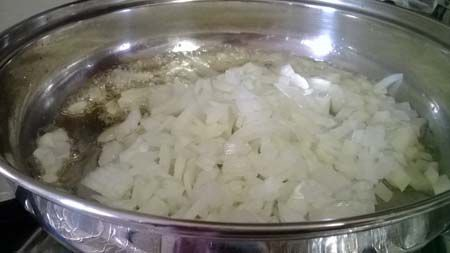 Step 10. Mix. Sauté the onions. You may add ½ tsp. salt so that he onions sweat fast.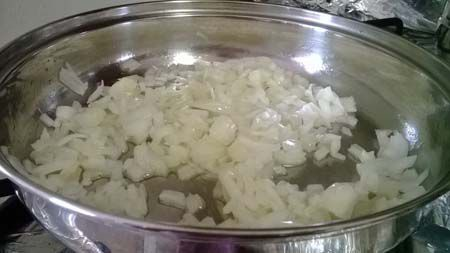 Step 11. Sauté the onions until they become golden brown. This takes about 10 minutes.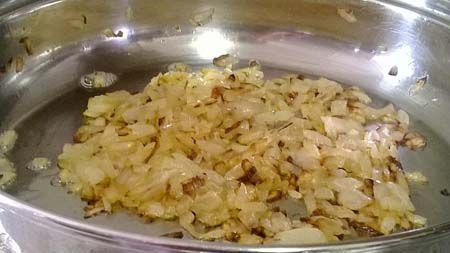 Step 12. Now, add the cleaned mutton.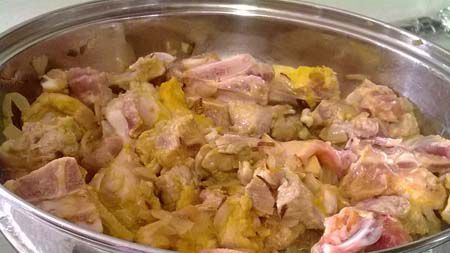 Step 13. Add turmeric powder.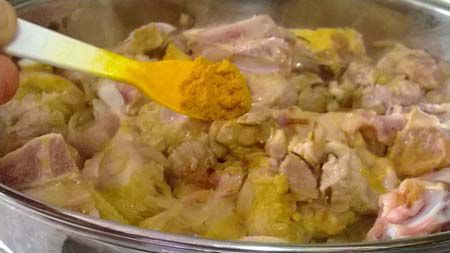 Step 14. Add 1 tsp. salt. Mix well. Let the mutton get cooked for few minutes, say, 5 minutes.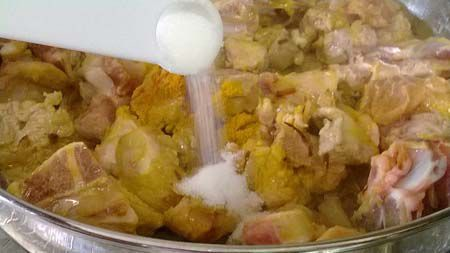 Step 15. Meanwhile, if the roasted spices are cooled, pop them into a blender (mixie). Add the small onions (red pearl onions/chinna vengayam or big onions cut into chunks)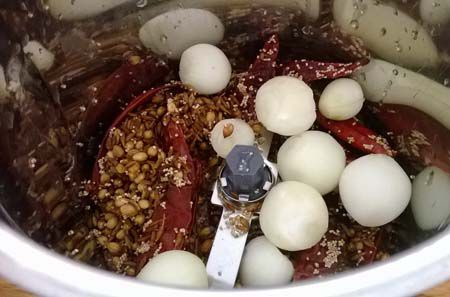 Step 16. Grind the content to a smooth masala.
Step 17. Pour the masala into the muton.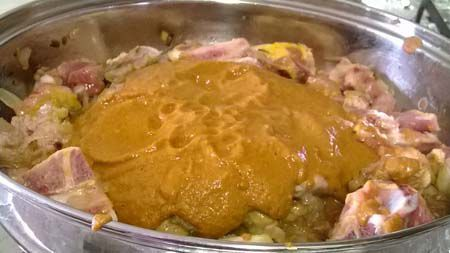 Step 18. Mix.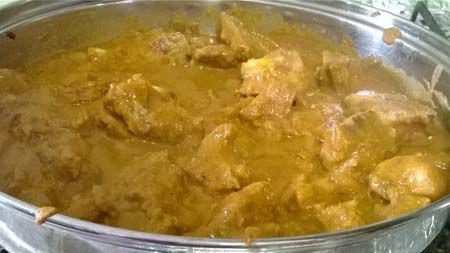 Step 19. Add water. Check taste.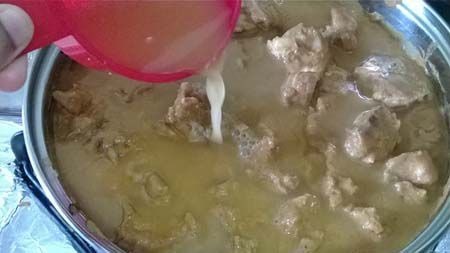 Step 20. Transfer the content to a pressure cooker.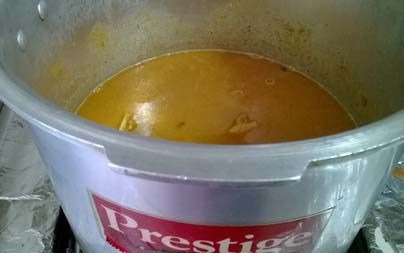 Step 21. Close the cooker and set flame to HIGH. Pressure cook the mutton for 5 whistles [Takes about 7 minutes. The kitchen will be filled with awesome spiced curry smell once the whistles begin to sound] Now, set the flame to LOW/SIM and let it cook for 10 more minutes. Then, Switch OFF stove. [At home mom waits for just one whistle. Then she keeps it in SIM for 10 minutes. But here in the US, the meat does not get cooked in 1 whistle] Wait until the pressure subsides by itself. T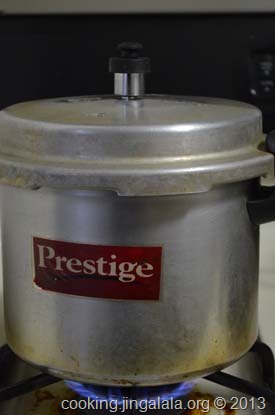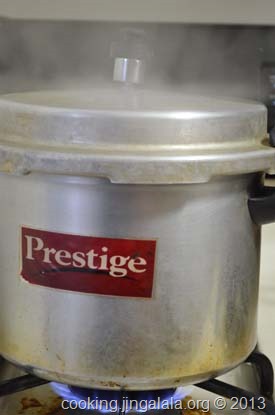 Step 22. Once the pressure escapes completely, open the cooker. Check taste. Adjust the salt if needed. Check if the meat is done. Meat must be soft to eat and not chewy. If not, you'll need to pressure cook for few more whistles. The gravy must be thick. If you find your mutton gravy to be thin, then cook it in MEDIUM flame (without lid) until the desired consistency is reached. You see? my gravy was not thick. So I cooked it (without lid) for further 5-7 minutes until it became thick.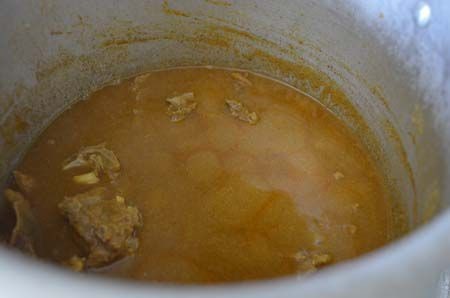 Mmmmnnhhhh…. now the mutton gravy has become thick.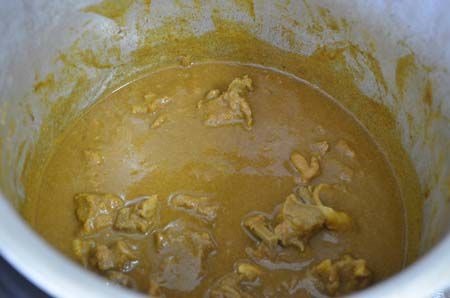 See…. So now, switch OFF stove. Sivakasi Style Mutton Kari Kuzhambu/Gravy is now ready.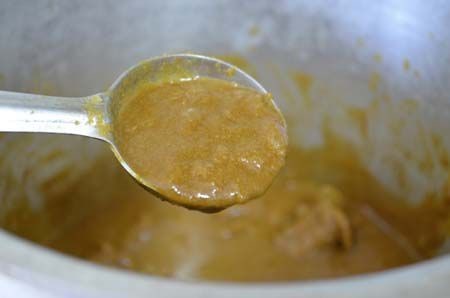 Step 23. Serve hot with Dosai or Idli or Steamed rice. I served this Mutton Curry Kuzhambu with Steamed rice, keerai poriyal (sautéed spinach) and microwaved pappads [yeah, with 0 tsp. oil. More about it in 3Ts section below]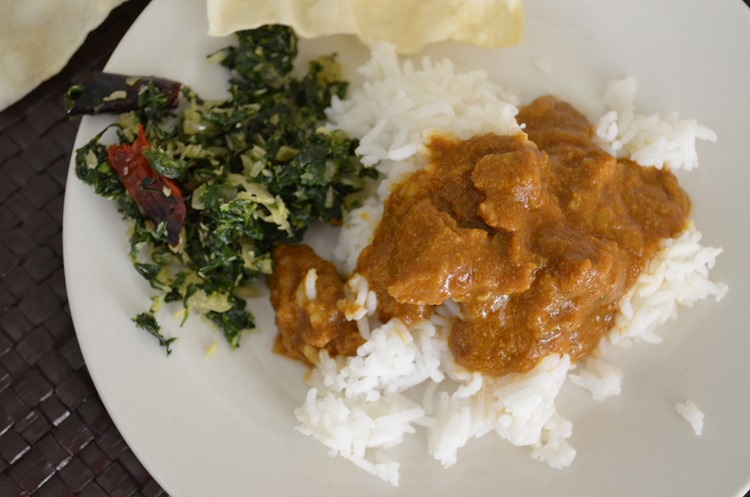 3Ts [ Tips | Tricks | Tactics and Secrets ] to make Mutton Gravy recipe – Tamilnadu Sivakasi Style
I'm telling again…. DO NOT burn the spices, especially the cumin seeds. The best way to roast cumin seeds is: Once all the other spices are roasted, switch off stove. Then add the cumin seeds in the pan. Roast them. Cumin seeds can get roasted just in the heat of the pan.
The same recipe can be used to make Kozhi Kuzhambu (Chicken Gravy Sivakai Style) too.
Do you get bugs in your coriander seeds? I once got coriander seeds from the Indian stores and got bugs in less than a month's time! So I had to throw everything in dustbin . When I asked about it to my mother, she gave the idea of storing the coriander seeds by roasting them. So I roasted the coriander seeds, brought them to room temperature and stored them in air tight containers. I got coriander seeds nearly a year back and they're still fresh! Yippe yippe
Adding Poppy seeds (kasakasa) is only optional. It gives a nice thick, creamy and oily texture to the Mutton Gravy.
Using red pearl onions and Sesame oil (Gingelly Oil) gives great taste to this gravy. I use Idhayam Nallennai (Idhiyam Gingelly Oil). If you do not find red pearl onions, use big red onions. If you can't find, use any other variety.
In my mother-in-law's place they call this gravy as Elumbu kulambu as it is made with mutton bones. My home style (Madurai style) Ezhumbu Kuzhambu is totally different from this recipe. Expect the recipe to be posted soon.
How to make 0 tsp. oil appalam/pappad?Are you curious to know how to make pappad without oil? Place pappad on the microwave plate. Microwave it for 20 seconds. Kara-kara-moru-moru appalam ready. This is how you fry pappad in microwave?.Of course, the taste will be different. But we liked it. A dedicated post on it coming soon

The moment the whistles came out from the pressure cooker, the aroma came out too. Whistle after whistle, the gravy's flavor filled not just the kitchen but also the husband's mind and thoughts of his hometown. He was found all glee already! Imagine what, when he tasted the Mutton gravy?! Sure, he must've been overjoyed

So guys… do you know what's your spouse's favorite home-recipe? Ask them. Don't wait until they complain about it

.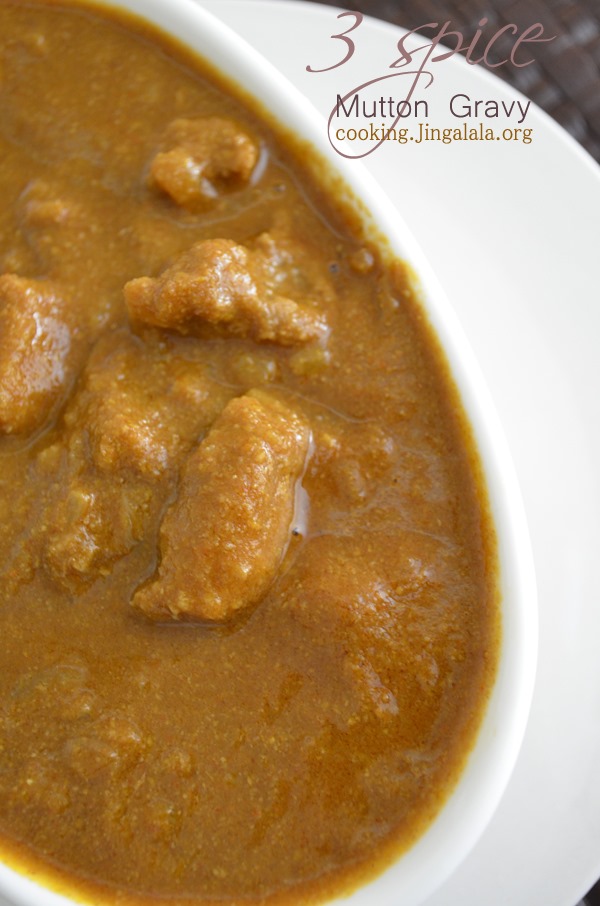 Sivakasian Style Elumbu Kuzhambu
PREP TIME: 5 min
COOK TIME: 40 min
TOTAL TIME: 45 min
YIELD: 3
DIFFICULTY: easy
RECIPE TYPE: Gravy, Soup, Kulambu, Charu
Ingredients:
500 g Mutton (Goat or Lamb. I used Goat meat with bones)
13 Whole Dry Red Chillies
2 tbsp Cumin seeds (approx. 13 g) (Seeragam/Jeera)
2 tbsp + 1/2 tbsp Coriander seeds (approx. 12 g) (Whole Dhaniya/Malli)
1/2 tbsp White Poppy seeds (KasaKasa / KhusKhus / KhasKhas) (OPTIONAL)
5 to 6 Red pearl onions or small chunks of red onions or any onion
2 tbsp + 1/2 tsp Oil. (I use Iddhiyam Nallennai/Sesame oil)
3/4 cups finely chopped Onions (shallots/red pearl onions/big onions) (approx 130 g)
1/4 tsp Turmeric powder (Manjal thool/Haldi)
1 1/2 tsp Salt (adjust to taste)
2 cup Water
---
My Definitions. What is Sivakasi? Sivakasi is a town near the city of Madurai in the state of Tamilnadu, India. The land in Sivakasi is known for its torrid nature. That's why it was chosen for businesses like producing crackers and print industries so that they can dry their products very quickly. I assume the recipes that originated in this region to be very simple since the land does not yield good produce. What is Kuzhambu? It means Soup. Must have originated from the word 'Kuzhai'. In Tamil language, 'Kuzhai' means to combine two or more things or to mash.
Mangala from Cooking.Jingalala.Org Eat Well !