I already feel like a restaurateur! Yes, I do! I made this Green Chicken Curry and it drifted that special aroma which used to linger along my favorite restaurant into my living room! Read on to see how you can make a Restaurant Style Green Chicken Masala.
The easiest way to make the husband pleased is by trying out different varieties of  curries **_non-vegetarian curries_**. My followers know that I spoke more about it in the posts **[Roasted Lemony Chicken Breast](http://cooking.jingalala.org/?p=5743 "Lemon zest, Spicy Marinade to Roast Chicken Breast - Step by Step")** and [**Lemony Mushroom Marinade**](http://cooking.jingalala.org/?p=5783 "Easy Mushroom Appetizer recipes - Party appetizer recipes"). This **_Haree Masala Chicken_** is a totally different curry than my usual **[Pepper Chicken Fry](http://cooking.jingalala.org/2012/12/pepper-chicken-fry-milagu-kozhi-varuval-chicken-pepper-fry-recipe/ "Tasty Pepper Chicken Fry - Dry version - Indian style spicy chicken curry")** or Kozhi Varuval (Masala Chicken Fry). Different because, unlike the other two recipes, the only whole-spice used in this **_Greeny Chicken Curry_** is _Cloves_. Cloves, for this recipe helps in giving a spicy-sweet aroma that can camouflage the raw smell of the meat. When I say, **_Green Masala_**, you might have guessed that it has _cilantro_ and _mint_ in it. Yes it does. But it has another **STAR ingredient** too. Any guesses? _Clue:_ It is **green in color** too. It gives the _tanginess_ to the _chicken curry_, but it's not _green tomatoes._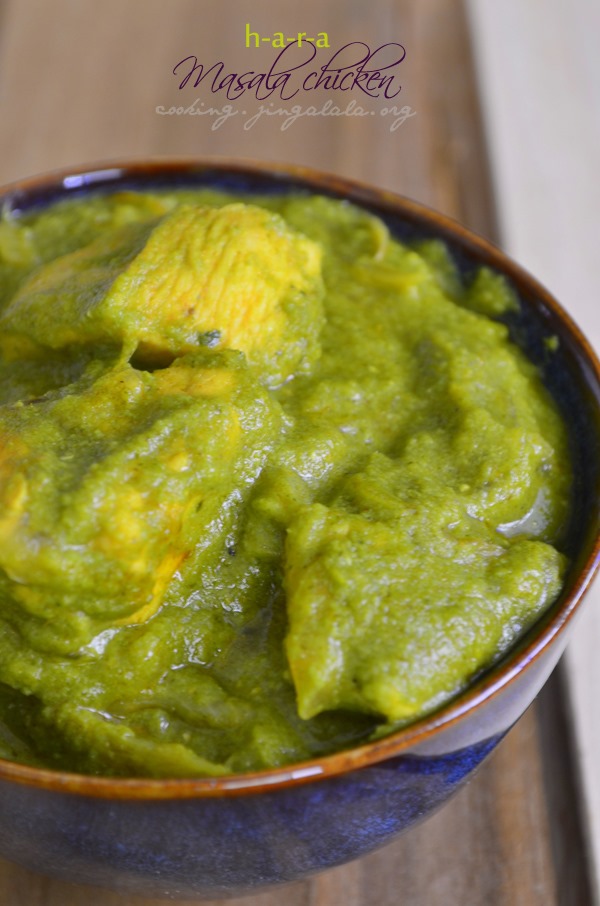 If you've guessed Green Apples, take the above bowl of chicken gravy as an award

Yes, this Green Chicken Gravy has got Granny Smith Apples in it. Sounds interesting no? The riddle is not over yet. Continue playing.
The gravy has also got another key ingredient that gives this rich creamy texture. Want more clue? It's not a greenish ingredient. It's color does not alter the green color of the masala. Yes, it is white in color but it's not Coconut. Any guesses? Any guesses??? Somebody there shouts yogurt *[wait, did you cheat by looking at the ingredients list?] Somebody there shouts *full-cream. Well, the answer is Ricotta Cheese

. Though I've used my fresh home-made curd (yogurt) in this Green Gravy recipe, the ingredient that gives the silky texture is ricotta cheese. People who find it difficult to find ricotta cheese in the market can substitute it with equal amounts of fresh curd (yogurt). Riddles are over. Now over to the recipe - Green Chicken Gravy.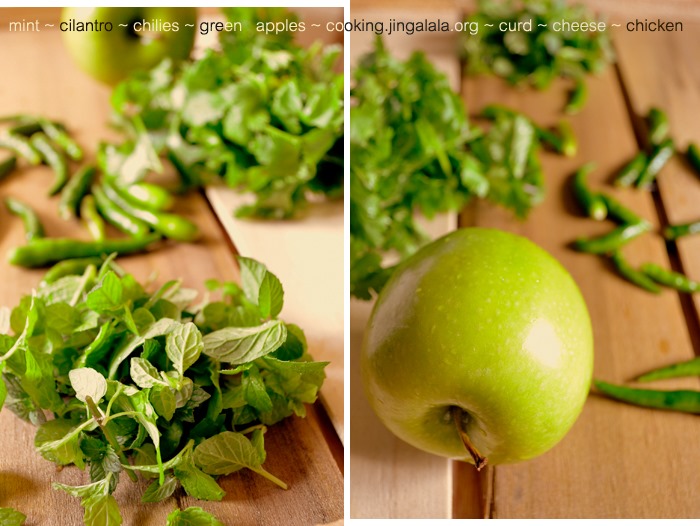 How to make Green Chicken Curry (Hara Masala Chicken Recipe) – with Step by Step Pictures
Step 1. Set the _ingredients required to make the green chick_en ready on the kitchen table. Clean the chicken and cut them into pieces. Wash and cut the apple (I used 1/2 of a granny smith apples). Peel, wash and slice the onions. Wash and sort the mint leaves and cilantro. Wash the green chilies and remove the stalk.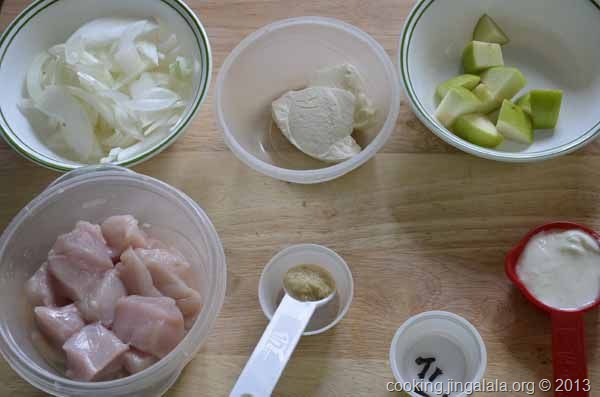 Step 2. Keep a sauté pan on the stove over Medium flame. When the pan is dry, add oil.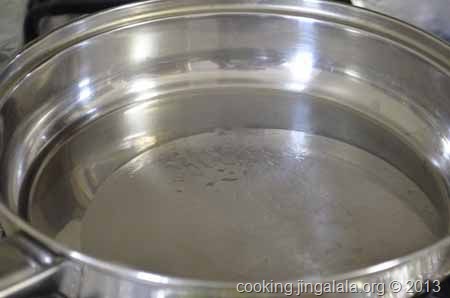 Step 3. Once the oil is heated, add the cloves. When the cloves bulge in size, add the sliced onions. Mix. Sauté them from time to time.
Step 4. When the onions wilt and become soft (takes 7-9 minutes), add the masalas – GingerGarlic paste, turmeric powder, red chili powder, coriander powder, cumin powder, garam masala powder (I used Aachi Curry masala powder).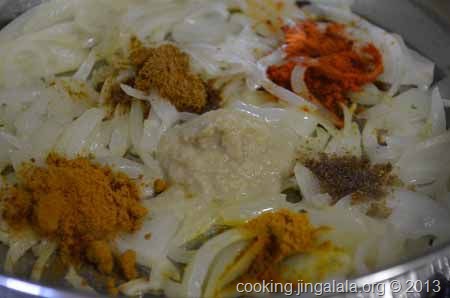 Step 5. Mix.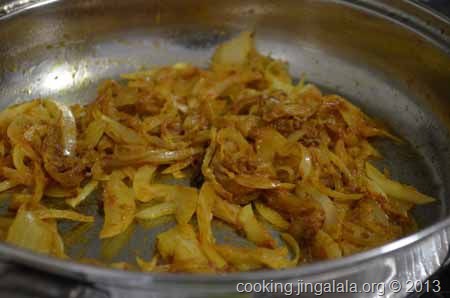 Step 6. Add the chicken pieces. Add 1/2 tsp. salt.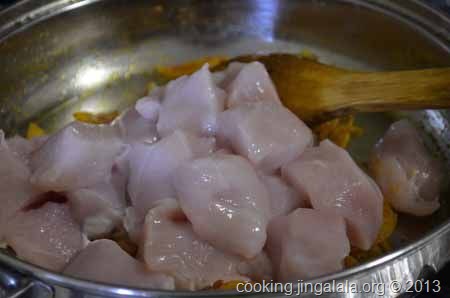 Step 7. Mix well.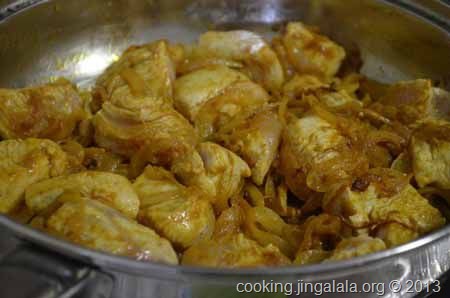 Step 8. Close the pan with a lid. Let it cook for 15 minutes. Don't have any questions about adding water. Chicken will cook in its own juice. [Like my cookware? Cute no? Want to order it online? Just click the image.]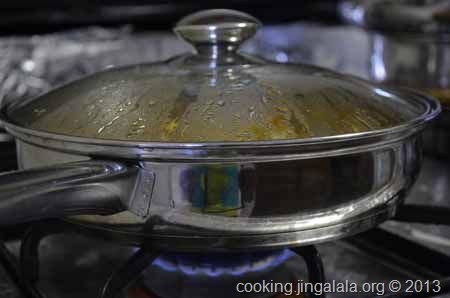 Step 9. On the 14th minute start grinding the ingredients. In a mixer grinder add the ingredients in this order: curd, green chilies, cilantro, mint leaves, green apples and ricotta cheese. This way the ingredients will get ground quickly and uniformly. It's not necessary to add water. Curd and the cheese gives enough moisture to grind the mixture. But if your mixie finds it difficult to grind, you may add 1/4 cup water.
Step 10. Grind it to a smooth paste. Like…[ighhhh….hmm… lid not opening…] .. like this. Looks gorgeous already la?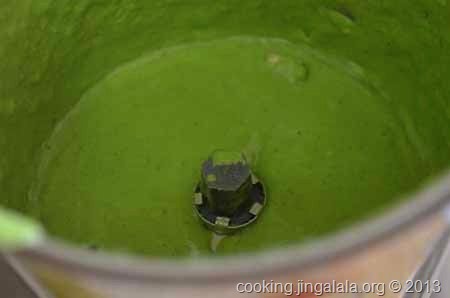 Step 11. Open the lid of the cooking pan and pour the ground masala to the chicken pieces. You see how the chicken still has some juice in the pan? The chicken is almost 75% cook. The other 25% will get cooked in this green sauce.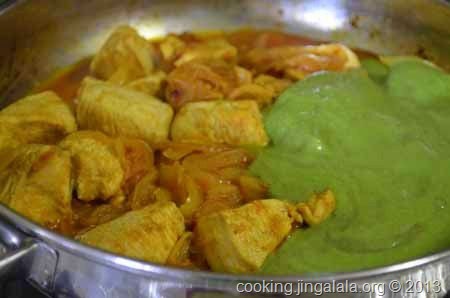 Step 12. Add 1/2 tsp. salt. Add 1/2 cup of water. Mix well. Check the taste. Change flame to MEDIUM-LOW.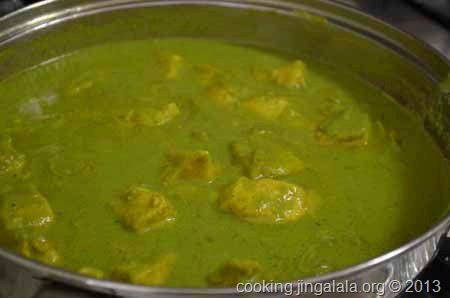 Step 13. Let it cook in open pan for 10 more minutes. When the sauce begin to thicken, change flame to LOW.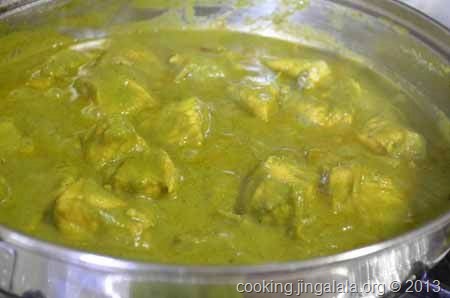 Step 14. When the chicken and the masala comes to an understanding… I mean, once the chicken becomes soft and tender and when you see oil separating from the masala, SWITCH OFF the stove. [huhh… do you see the chicken got reduced in my picture? The husband couldn't wait longer. He enjoyed few pieces with bread in the mid way of cooking.]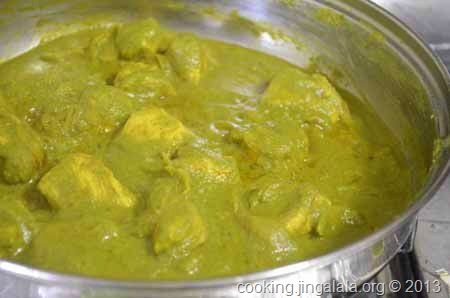 Step 15. Tannn-ta-Daiiiiinnngggggg…… Greeny Chicken Curry is now ready to serve. We had it with Steamed rice and Collard greens. Then used the leftover with Dosa - that night's dinner. But this Hara Murgh Curry goes well with Roti/Chapati and Naan.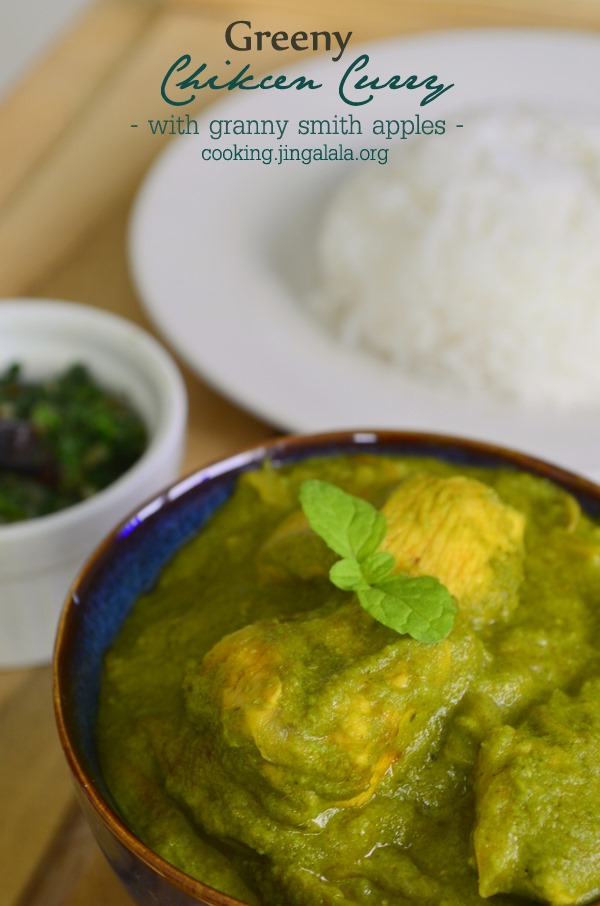 3Ts [ Tips | Tricks | Tactics and Secrets ] to make Haree Masala Chicken (Green Chicken Kari
Let's start with some FAQs on this Haree Chicken Curry recipe.
Did you peel the green apples? No I did not. I left the skin on.

Did you grind the cilantro with its stem? I just left the thin stems on and removed the thicker stems. Same with the mint leaves too.

Where can I get Ricotta cheese? If you're in Chennai or any big cities in India, you can find Ricotta Cheese in Nilgiris super market. Or if you may prefer, you can make ricotta cheese at home too.

Can I skip the ricotta cheese? Sure you can. Substitute with 1/4 cup more of fresh curd. I preferred to add the ricotta cheese because the original recipe demanded it and I had some left in the refrigerator after making this Chicken Lasagna.

Does the curry change color after cooking? Not at all. It stays green. But remember to grind the ingredients only just before adding them into the chicken. Grinding them well before will make them change color.
If you choose to pair this Green Chicken Masala with Chapati / Roti / Paratha / Naan / Phulka, add 1/2 tsp. of sugar at Step 13. This adds a mild sweetness to the spicy gravy. Doing so will bring a Restaurant style to this Green Chicken Curry. However, adding sugar is only optional. I would advice you not to add sugar if you're planning to pair the curry with steamed rice or dosa.

I used less oil to make this Hara Murgh Curry. If you prefer to add more oil, please go ahead.

Use fresh curd (yogurt) else, the gravy will turn too tangy.

In this Haree Murgh ka Masala, I used sweet onions (salad onions). That's why I added more green chilies. If you use red or yellow onions, adjust the spiciness accordingly. Say, reduce 2 or 3 chilies from the ingredients.

Since I like the flavor of cilantro more than mint, I used more of cilantro in this recipe. If you are somebody who like podhina/mint more than cilantro, you may interchange the quantities to make this recipe. Doing so will give a Minty Creamy taste to this Green Murgh Curry. BTW, these are home grown mint leaves

Cloves are added to infuse flavor into the dish. You may need to remove the cloves before serving.

I kept all the spice powders to a minimum so that they do not alter the color of the gravy.

Remember, we should not get that raw smell of the green chilies from the cooked gravy. So make sure the raw green chili's smell vanishes. Also, be smart to differentiate between green chili's smell and cilantro smell. I love to have the fresh smell of the Cilantro and mint in the curry.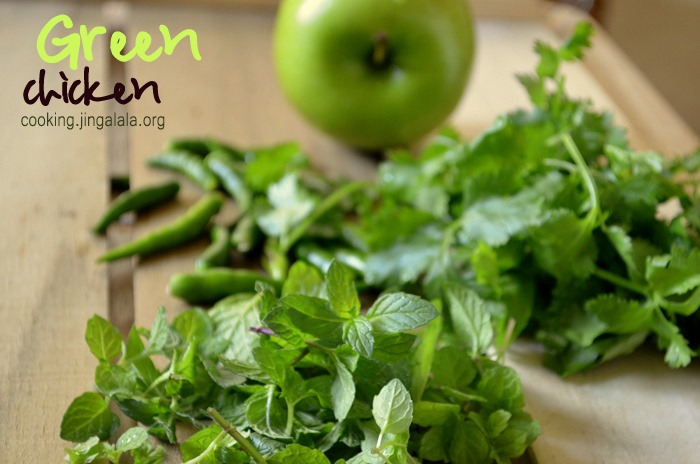 Do you feel like dipping and licking? Naah naaaah… not here…

Get up from your computers and prepare it yourselves

Oppsy, did I forget to take out the cloves from the gravy?! You better not forget that. Because, people give funny reactions when they mistakenly bite this cloves while enjoying the Chicken Curry. [The husband bit a clove by mistake and he reacted as though he bit a cockroach

]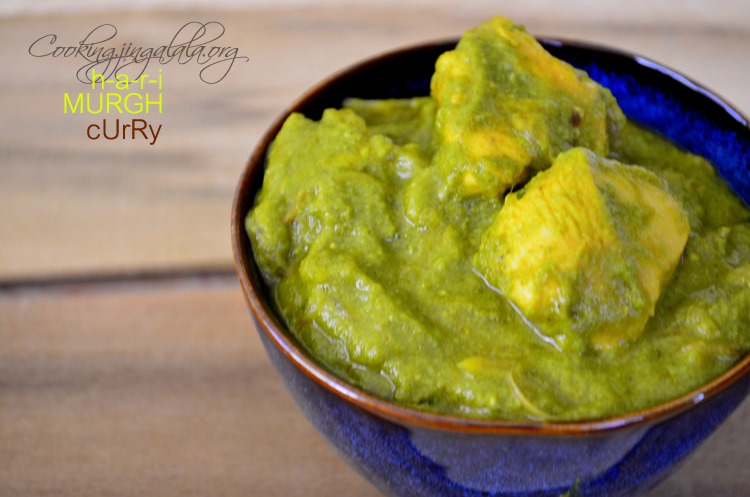 So tell me. Is it not an easy Chicken Recipe to prepare? Just toss in all the ingredients in the blender, grind and mix together. Quick and Easy Green Chicken Masala ready in no time!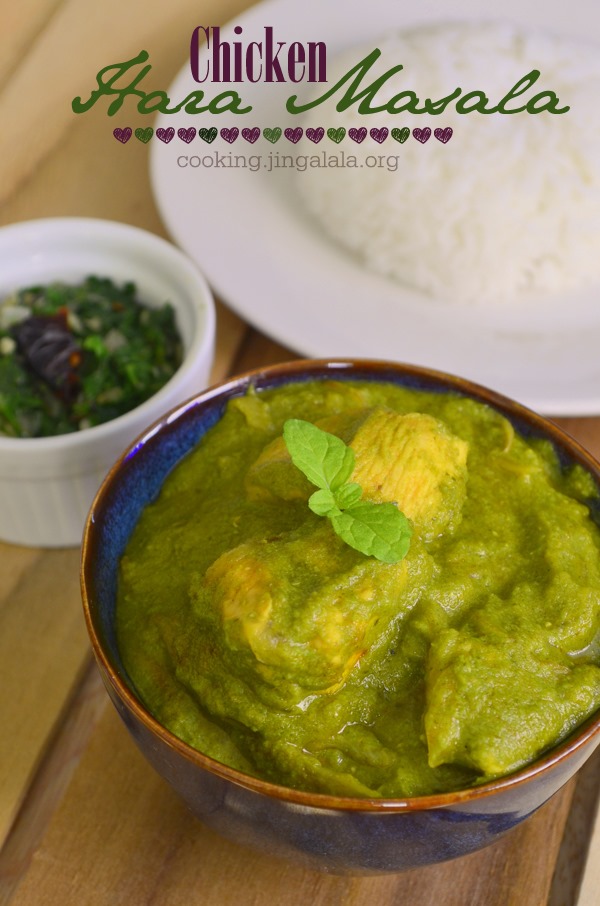 Green Chicken Curry Recipe
PREP TIME: 5 min
COOK TIME: 25 min
TOTAL TIME: 30 min
YIELD: 2
DIFFICULTY: easy
RECIPE TYPE: Gravy, Side dish, Curry
Ingredients:
330 g Boneless Chicken
50 g Green Apple (Granny Smith apples – approx half of an apple)
20 g Green Chillies (approx. 15 small sized chilies)
20 g Fresh Coriander (Cilantro/Kotthu malli/Kotthamalli thazhai)
10 g Mint leaves (approx. 1/2 cup) (Pudhina ilai/Podina)
1/4 cup Fresh Curd (Yogurt)
1/4 cup Ricotta cheese (Check 3Ts section for substitution)
150 g Onion (1 full big onion)
5 Cloves
1/2 tbsp Ginger Garlic Paste (Inji Poondu vizhudhu)
1/4 tsp Turmeric Powder (Manjal thool/Haldi)
1/2 tsp Coriander powder (Dhaniya powder/Malli thool)
1/4 tsp Red Chili Powder (Milahai thool/Lal Mirchi powder)
1/4 tsp Cumin powder (Seeraga thool/Jeera powder)
1/4 tsp Curry Masal powder [or Garam Masala powder. I use Aachi Curry Masal Powder ]
2 tbsp Oil
1 tsp Salt (adjust to taste)
1/2 cup Water
1/4 tsp Sugar (optional)
---
My definitions: What is Hara Murgh Curry? Hara or Haree in Hindi language means Green. Chicken is called Murgh in Hindi language. So Hara + Murgh is Green Chicken.
Mangala from Cooking.Jingalala.Org Eat Well !