Happy Spring 2013 Readers and Visitors!! If there is one thing which a Food Blogger does very well, it is Bragging (at least for me). I would call 'Bragging' as an essential tool to build a recipe post. It makes an ordinary dish to sound Extraordinary. In fact, I sometimes ~often use bragging as a Unique Selling Point for my recipes. We brag about our recipes, family, day to day happenings and many more trivial events in life as though we're the happiest beings on Earth with no worries and troubles. Friends who know me well will tell you how good I'm when it comes to Bragging. I brag until the listener steams with envy. But in one way, Bragging is Good. You ask me how? Though everyone has their own worries and troubles in life, bragging reminds us about one thing. It reminds us how blessed we are. It gives us chance to appreciate every little happy moments that happen in life. Though it sometimes builds envy for others, it does gives chance for them to look at similar small small joyful moments of their life and appreciate it. So this post is all about bragging. But don't get me wrong, I did not mislead you with the Post's Title: 'Spring Recipes'. More about Recipes for Spring Season\ at the end of this post. So read through my bragging first.
I do not know about you, but for me Detailing and Perfection matters for every recipe post of mine. Before my recipes goes LIVE, in addition to the step by step cooking pictures, I take at most care if I wrote my recipe steps in detail with every little information like, right amount of ingredients, cooking time for each step of cooking and other trivial instruction so that anybody (be it a cooking novice or a foreigner to Indian Cooking) who refer my blog can carry on with the cooking, more with confidence. Although I know that conversation is important between the Author and the readers, I try to bypass the possibility of questions or any doubts that may arise in the readers' mind when they refer to my recipes. I strive and take care that I do not make them await for my answers for his/her questions, if any, when they decide to cook referring my recipe.
So coming to the point; Bragging and Spring Recipes. Bragging:\ My recipe is now featured in Foodie's Spring Flavor Cook Book (iPad App)**.** Spring Recipes:\ The book has not just my recipe but a line of Delicious Recipes that you can try with the seasonal produce for this Spring.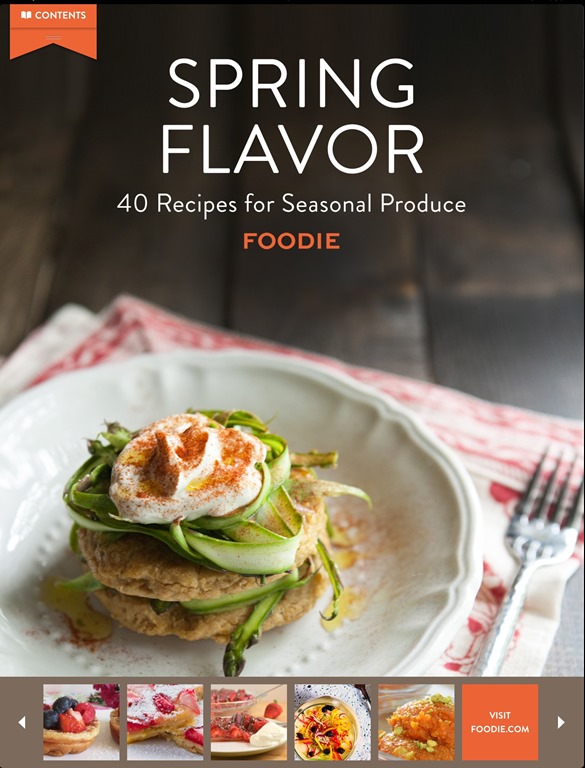 Download this Free Cook Book to collect the recipes. The book has recipes on appetizers & drinks, soups & salads, small plates, pasta & mains and sweets & preserves. Try these recipes and surprise your friends during the parties you host during this Spring.
Want to hear more of my bragging? Come here….
Mangala from Cooking.Jingalala.Org
Eat Well !