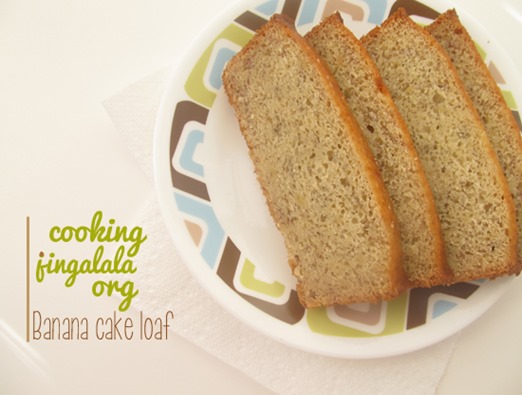 Make any dessert using OVER ripe bananas and the dessert will turn out to be absolutely yummy: just like how my Banana Halwa tasted! That holds the same too if you use OVER ripe bananas for baking cakes. Check yourself by baking this banana loaf cake with normal bananas and bake another batch of this banana loaf cake with over ripe bananas. After baking, you will sure spot huge difference in these cakes' flavor and taste. The natural banana essence from over ripe bananas is strong than the essence that is in normal ripe bananas. You'll nod your head agreeing to my point even while you mash the bananas for making this banana loaf cake recipe. Another good thing about using over ripe bananas for making such desserts is: they are easy to mash, just with a spoon!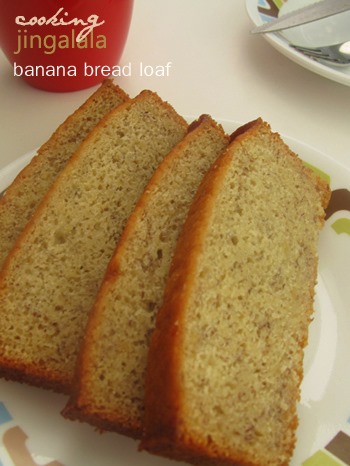 My neighbors Meg and Sham loved this banana cake bread when I shared it with them. Sham even exclaimed, 'Cake-u sooper-a irukunga…' (Which means 'Cake tastes super') and she called me to bake another batch of this banana bread loaf at her home! You too can bake a batch of this yummy banana bread cake yourself and share the cake with your neighbors or just share this easy recipe of banana cake loaf to your neighbors. In both ways, you can surprise your neighbors and make them happy. So now you ready to whisk a batch of tasty banana loaf cake with me? Chalo…

How to make Banana Cake Loaf – with Step-by-Step pictures [Each image can be enlarged when CLICKED]
Step 1. Open your oven and check if the oven is clean and good to operate. Close oven and set the oven temperature to 350 degree Fahrenheit. Let the oven start to preheat until we whisk the cake mix.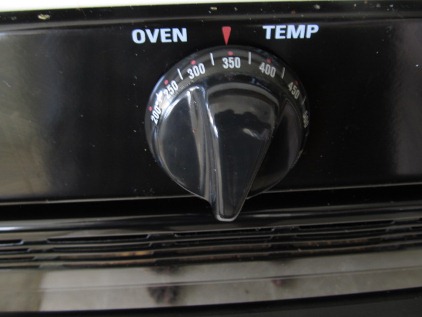 Step 2. Set the ingredients and tools to bake the banana cake ready on the kitchen table: Softened butter, sugar, eggs, bananas, curd/yogurt, vanilla extract/essence, all-purpose flour (maida), baking soda, salt, buttered and floured loaf pan (I used a 5.2" W 9.3" L 2.7" D loaf pan. You may check this bake ware set if you are thinking of buying one), hand mixer, whiskers and dry bowls. It's always nice to have the ingredients at room temperature, especially the eggs. If you are using butter right out from the refrigerator, soften it by cutting it into small pieces and placing it in microwave for 10-15 seconds.Peel and mash the bananas. Keep it aside.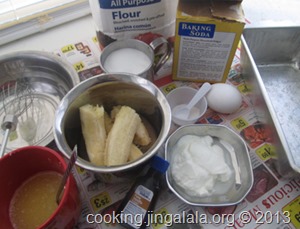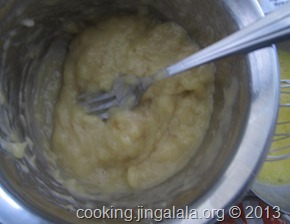 Step 3. Prepare the flour mix. In a dry bowl, add the flour, salt and baking soda.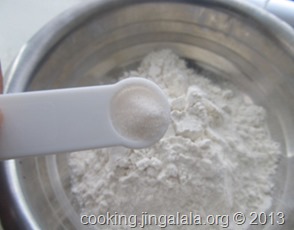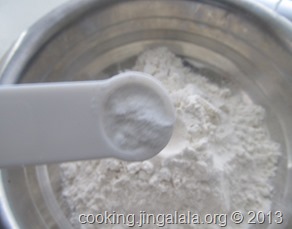 Step 4. Sift them together. If you're using a sifted flour, just use the whisk to whisk the flour, salt and baking soda together. Keep this flour mix aside.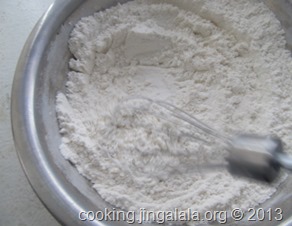 Step 5. In another wide bowl, add the measured butter and sugar.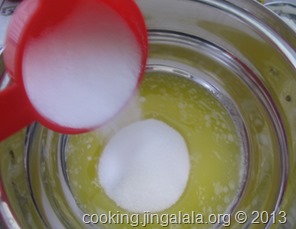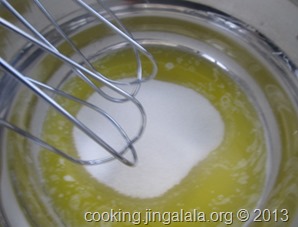 Step 6. Beat them together until they become light and fluffy. Takes a minute.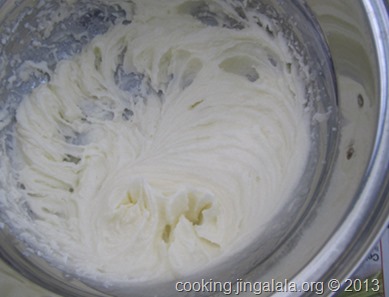 Step 7. Now, break the egg into a small dry bowl and beat the egg lightly (until the yolk and white combine). Add this egg to the beaten sugar+butter mixture.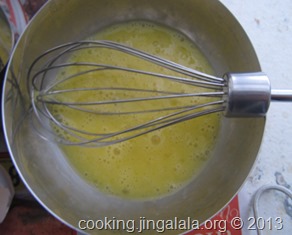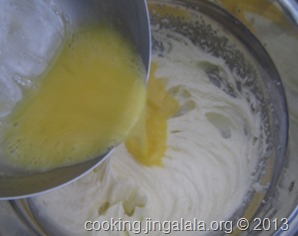 Step 8. Beat the egg into the mixture until it gets blended, say 30 seconds.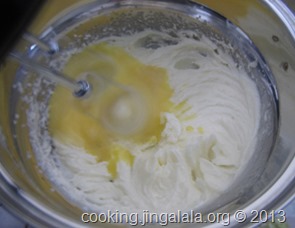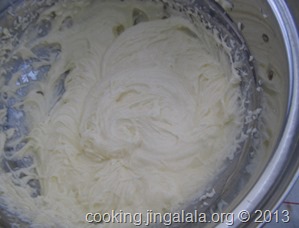 Step 9. Add the mashed bananas and yogurt/curd.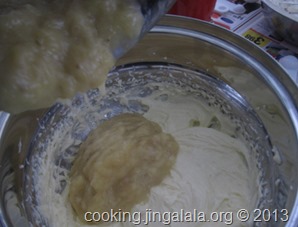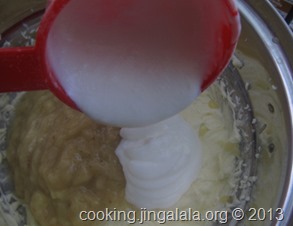 Step 10. Add vanilla extract/essence. Beat the mixture well, say for 50 seconds.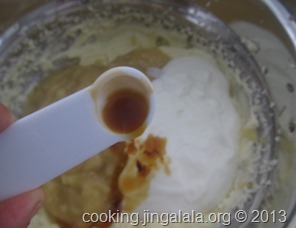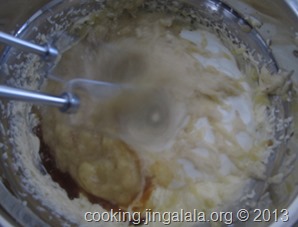 Step 11. After beating, the mixture appeared curdled to me. But I think that is absolutely fine. Now add the flour mixture little by little and gently fold in together. i.e. Just use a ladle to mix the flour together with the beaten mixture.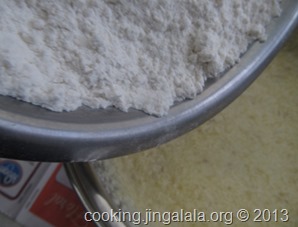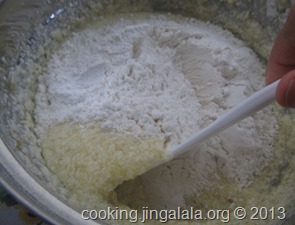 Step 12. Now transfer the folded mixture into the buttered and floured loaf pan.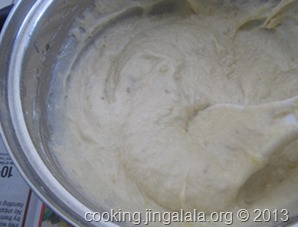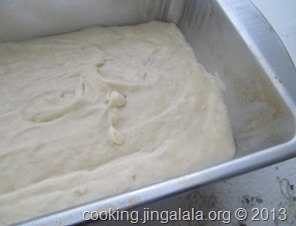 Step 13. Immediately open the oven and place the loaf pan in the middle rack. Close the oven. Let the cake bake for 45 minutes. I usually set the kitchen timer or the mobile phone alarm.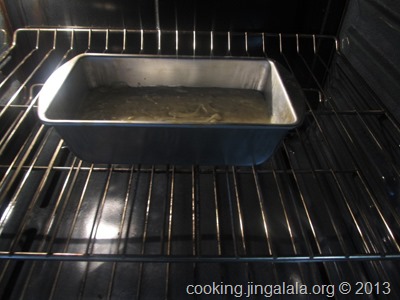 Step 14. After 45 minutes, check if the cake is done by inserting a fork or tooth pick. If no batter is stuck to the fork/tooth pick, the cake is good to be taken out from the oven. Else continue baking for 5 to 7 more minutes. Normally the cake would be done once you see the cake pulling from the pan. After taking the cake from the oven, switch off oven. Let the cake rest for 10 minutes in the loaf pan.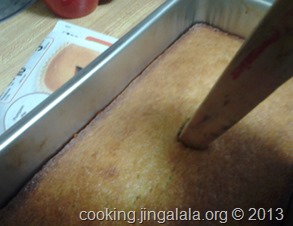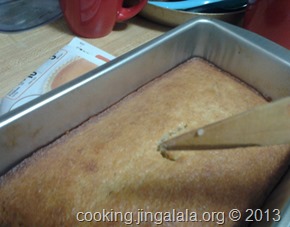 Step 15. After 10 minutes, place a plate over the loaf pan. Invert the plate bringing the loaf pan upon the plate. Gently remove the loaf pan. You know what? The cake will still be involved in the baking process. So do not disturb it for at least an hour. [Scroll down a little to check for tips (points 3 and 4) on slicing the cake without crumbling it.]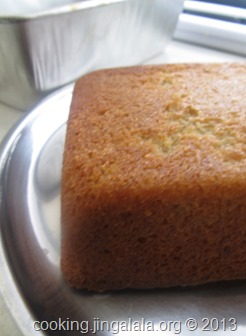 3Ts [ Tips | Tricks | Tactics and Secrets ] to make Banana Bread Cake
Using over ripe bananas add great flavor and taste to this banana cake loaf.
While baking this type of cakes, always have a waiting time of 5-10 minutes once you take the cake pan or loaf pan from the oven. Inverting the cake immediately will lead to disaster, where half of the cake will stick to the pan leaving you with a torn piece of cake on the plate. This is because, they say the cake will continue to bake in the pan. So trying to invert a baking cake will tear it badly.
Whenever I make cake loaf, I do not slice them immediately after inverting them. If you do so, they'll crumble too badly. If you need neat slices then wait until the cake has cooled COMPLETELY. I normally leave them for an hour, then wrap them in a plastic wrap and slice them the next day. This way they get sliced beautifully. I know, this tip holds good only for those who can hold themselves from eating the cake until the next day
I used to eat warm cakes right away after inverting them. But lately I understood that leaving the cake sit at least for an hour (after taking it out from the cake pan) is essential. This way we allow the cake to continue its baking. The sweetness of the cake also increases during this waiting period.

Every time I bake and take out the baked goods from the hot hot oven I get this 'Giant-Wheel' excitement. i.e. How will you feel sitting in a Giant Wheel and the wheel taking you to the top?! Yeah, that kind-f hyper excitement. This excitement doubles when I taste my own hand made baked goodies. Yum yum yum!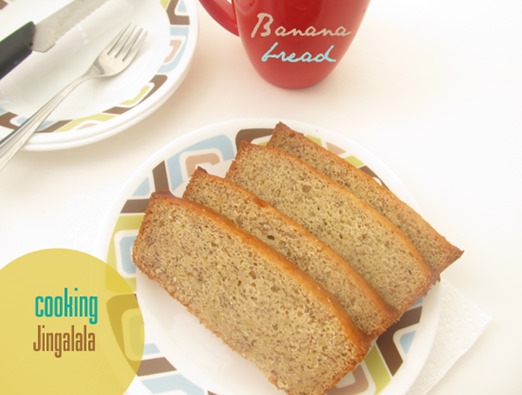 You see the moistness of the cake? Yeah, the bananas added make the cake moist. I've plated 4 slices of freshly baked home-made banana bread for you. Would you like to taste? Please help yourself!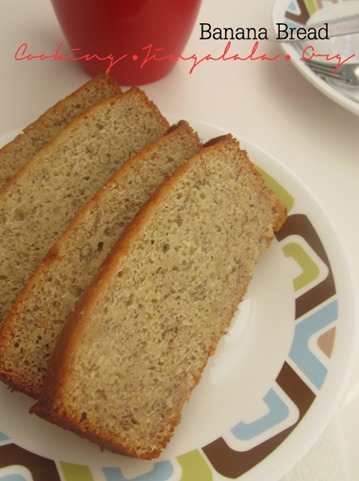 Banana Cake Loaf Recipe
PREP TIME: 10 min
COOK TIME: 45 min
TOTAL TIME: 55 min
YIELD: 6
DIFFICULTY: easy
RECIPE TYPE: Cake/Dessert
Ingredients:
1 cup – All-purpose flour (Maida)
3/4 tsp. – Baking Soda
1/2 tsp. – Salt
1/2 cup – Unsalted Butter
3/4 cup – Sugar
1 – Egg
2 – Ripe Banana (Good if they are over-ripe)
2 tbsp. – Yogurt/Curd
3/4 tsp. – Vanilla Extract/Essence (I used pure vanilla extract)
Mangala from Cooking.Jingalala.Org Eat Well !