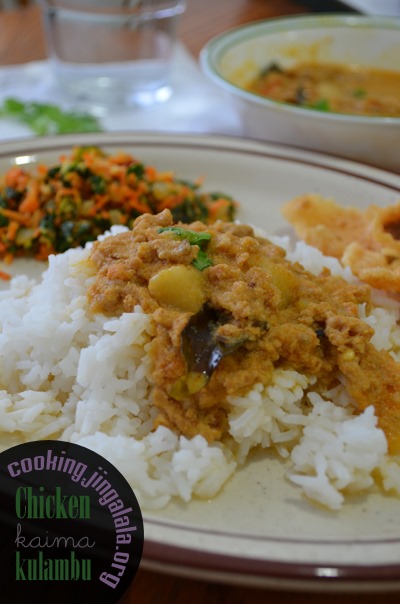 Many readers of Cooking Jingalala requested for Non-Vegetarian recipes. Whenever the husband sees such request messages from our fans in GoJingalala's Facebook page, it makes him happy. It gives enough reasons for him to demand a variety of non-veg gravies, non-veg kurmas, non-veg biryani, non-vegetarian curries etc. from my kitchen.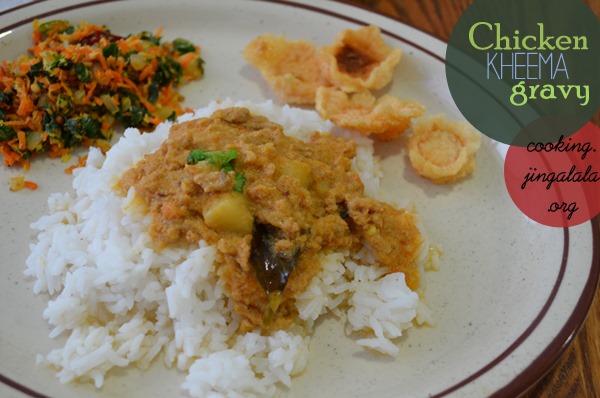 Have you seen an owl sitting high on top of thick branches of a tree? The owl won't care about anything around it. It just sleeps sitting tight and warming itself with its feathers. If a group of children spot this owl and shout in excitement, the owl just opens one of its eyes and dismisses them by closing the eye immeditely. If a chirpy little bird flies around its head, the owl just eye-corners the bird briefly and returns back to its monk mode. The owl postures itself as though he's angry and pondering deeply about an issue that if somebody disturbs him he would open his eyes wide and curse them like a monk who is disturbed from his years of meditation. These scenes happens exxxxactly in my home but only the tree. So please imagine a laptop for a tree.
At home, normally the scene is like this; The husband sits wrapped with a woolen scarf and his beloved laptop

. When I ask for suggestions for dinner, he stays silent like a monk in meditation for some twenty seconds and then gives an answer (still having his eyes glued to the laptop) 'Make anything you wish'


. And while the curry or gravy simmers, I go to him like a chirpy little sparrow to talk about the day's happenings. He will give me a brief eye-corner (yes, just like that Owl) and then continues to look dismissive with his eyes stuck to the laptop

. But this scene changes upside-down if he knew that I'm making some non-veg recipe in my kitchen. He gets excited and comes to the kitchen with wide opened eye-ball centered eyes and asks, 'you need any help ma'am?

'. If I dismiss him after making him peel and chop onions for me, he comes back after few minutes asking, 'would you want me to check the salt?', and then comes back again like a poor little cat, 'would you need me to check the doneness of the meat?

' and then comes back again, 'would you want me to check the taste?'… Recognizing that it's my turn to take revenge, I'll stay silent not answering for any of his questions… exactly like that wise old owl


.
Without any further irrelevant chatter, writing you the recipe for Chicken Gravy using minced chicken (ground chicken).

How to make Minced Chicken Gravy – with Step by Step Pictures
Step 1. Set the ingredients to make chicken keema gravy ready on the kitchen table. Peel, wash and cut 1 garlic clove. Peel, wash and chop the onions finely. Wash and slit green chillies. Wash 5-6 curry leaves. Wash and cut a ripe tomato. Wash, peel and cut the potato into cubes. Set ready 2 cloves, 1/2" cinnamon stick, a bit of kal paasi (if you have it with you). Shred 2 table spoon of fresh coconut or defrost 2 table spoon of frozen coconut. Set ready the minced chicken (Feel free to use the recipe for minced turkey too. I used processed minced chicken, so did not wash. If you get fresh minced chicken, wash them in large bowl of water and drain the water completely.)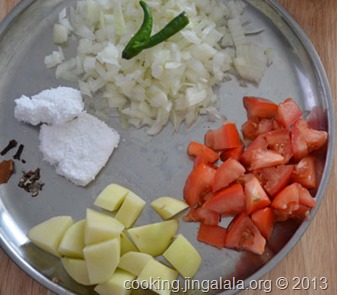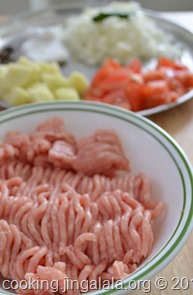 Step 2. Keep a dry wok in MEDIUM flame. [Use a pressure cooker if you have one. Since it was difficult to photograph the process steps in my narrow bodied pressure cooker, I used a wok] Add 2 tbsp. oil. When the oil gets heated, add the whole spices: cloves and cinnamon [and kalpassi, if you have]. (Check 3Ts section for whole spices substitution.)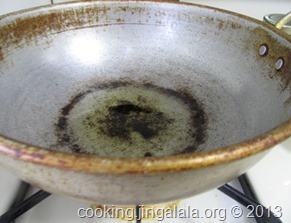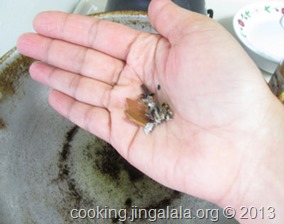 Step 3. Once the spices bulges (takes 7-10 seconds), add fennel seeds(saunf). When the fennel seeds turn slightly brown (takes 4 seconds), add the cumin seeds.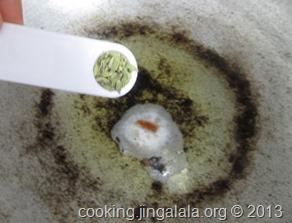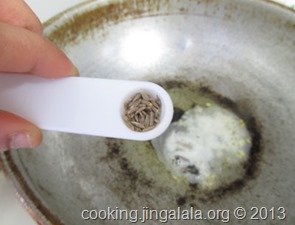 Step 4. Add the chopped onions and green chilies. Sauté them for 2 minutes. Add the chopped garlic clove.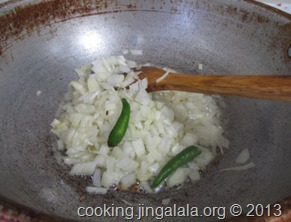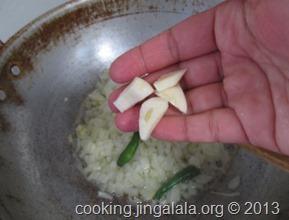 Step 5. Sauté for 3-4 minutes, until the onions turn slightly brown. Add the curry leaves. Once the curry leaves wilt nicely (takes 30 seconds). Add the potatoes and tomatoes.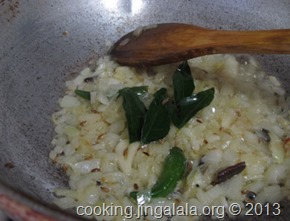 Step 6. (Below six pictures are for this Step.) Add the red chili powder, salt, coriander powder, turmeric powder. Mix them well.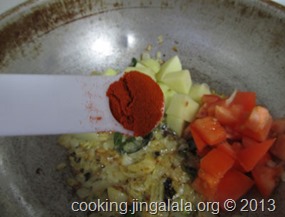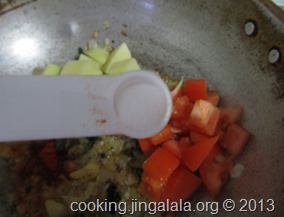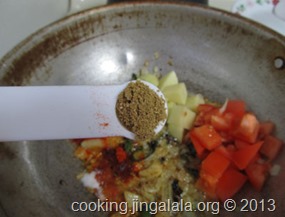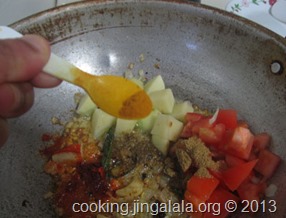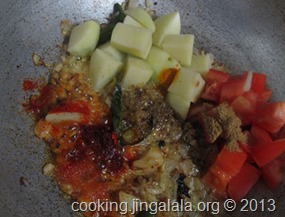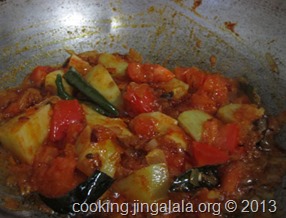 Step 7. Sauté the mixture until the tomatoes turn mushy. This takes about 5-7 minutes.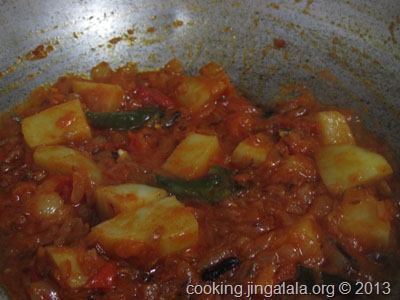 Step 8. Add the minced chicken. Turn flame to High. Mix them very well.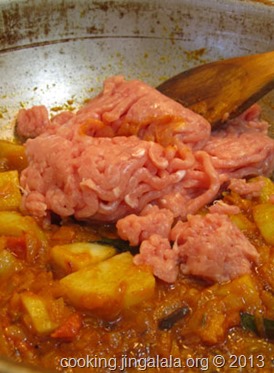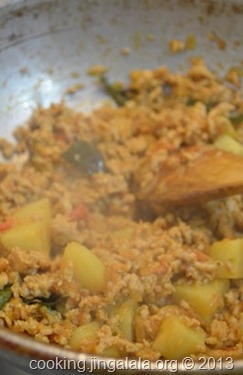 Step 9. Let them get cooked until the chicken releases its juice. This takes about 5-7 minutes.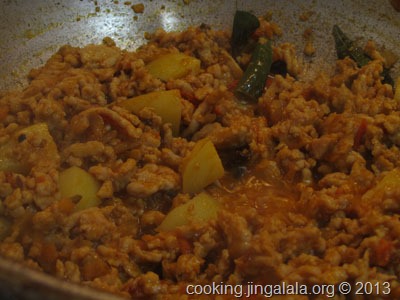 Step 10. Now add 1/2 cup of water and mix well. Check salt.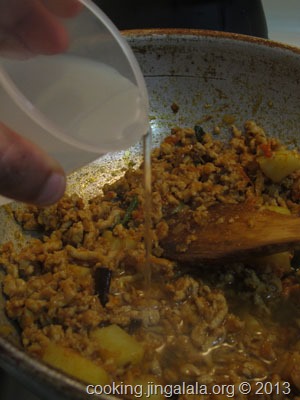 Step 11. Transfer the content to a pressure cooker. Cook it for 3 whistles (Takes 5-7 minutes). Switch off flame and wait until the pressure subsides by itself (takes 5 minutes). [If you do not have a pressure cooker, continue to cook the meat in the same vessel in MEDIUM flame until the ground chicken turns tender and the sauce thickens. Should take 20-25 minutes.]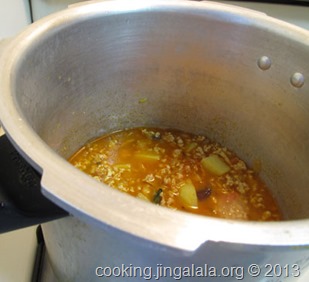 Step 12. Meanwhile, grind the shredded coconut to a smooth paste with 2 tbsp. of water in a blender/mixie. _(Check 3Ts section for coconut paste/milk substitution.) _Keep it aside.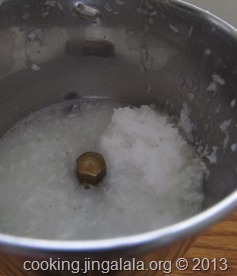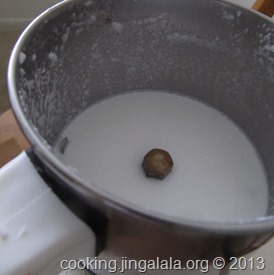 Step 13. Once the pressure subsides, open the cooker's lid. Pour the coconut paste. Switch on the stove and have the flame set to LOW (Whenever you add coconut milk or paste, cook the stew/sauce/gravy in LOW flame, because sometimes the milk might curdle.)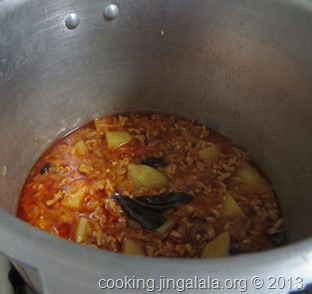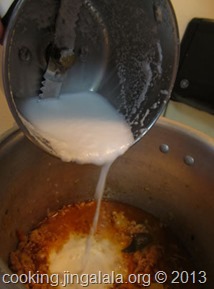 Step 14. Mix well. Once you see small bubbles in the gravy (takes 5 minutes), switch off stove.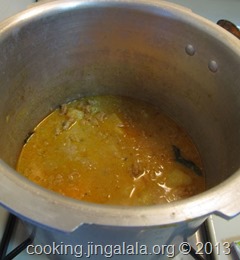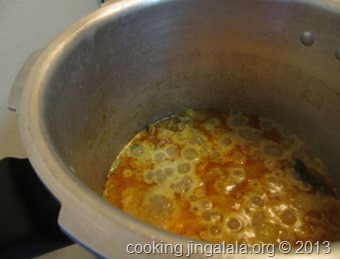 Step 15. Mix well.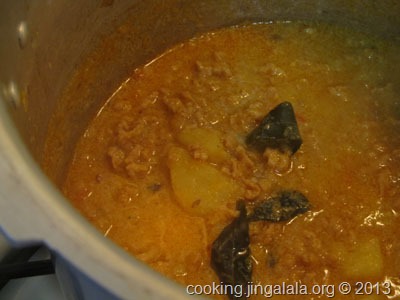 Step 16. Add fresh coriander leaves (cilantro) to the gravy. If you have lime/lemon, squeeze a small piece (say a tsp.) to the gravy and mix well. Serve the chicken gravy hot with rice or idli or dosa or chapati. We had this ground chicken sauce with hot rice, vadagam and stir fried carrot-methi greens.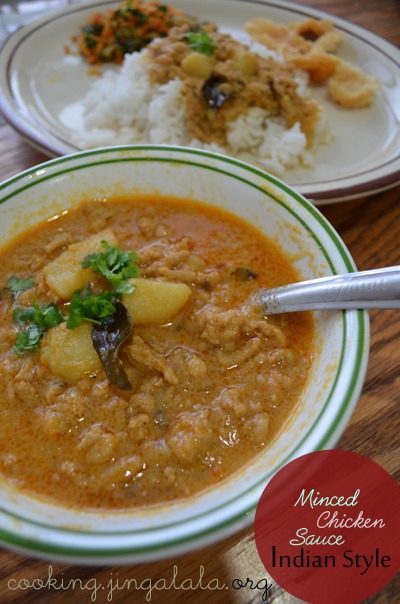 3Ts [ Tips | Tricks | Tactics and Secrets ] to make Ground Chicken Sauce/Gravy/Stew
Adding coconut milk is completely optional. Adding it gives a thick and creamy body to the chicken gravy. If you do not have fresh or frozen-defrost shredded coconut, use 1 tbsp. of coconut paste or 2 tbsp. of coconut milk.
If you do not have whole spices, add 1 tsp. of garam masala powder along when you add the tomatoes.
Feel free to substitute the minced chicken with minced turkey for this recipe.
My mom makes an excellent gravy with mutton in the same style but with another added ingredient. Will post that special Mutton Gravy recipe very soon.
I make minced mutton gravy in the same style without adding coconut and substituting green peas for potatoes and with another secret ingredient. Watch this space for more non-veg gravy recipes.
This ground chicken sauce won't be very spicy since I used minimum amount of green chili and red chilly powder and coconut milk. If you need a more spicy version, add 3 more slit green chilies, 1 more tsp. of red chili powder and 1/2 tsp. more of coriander powder.
Adding freshly squeezed lemon/lime juice is optional. But they add a nice tangy kick to the chicken sauce.
For all my cooking I use Idhayam Nallennai (Sesame oil). Whenever you make any South-Indian curry or gravy, try to use sesame oil. It increases the taste in addition to giving aroma.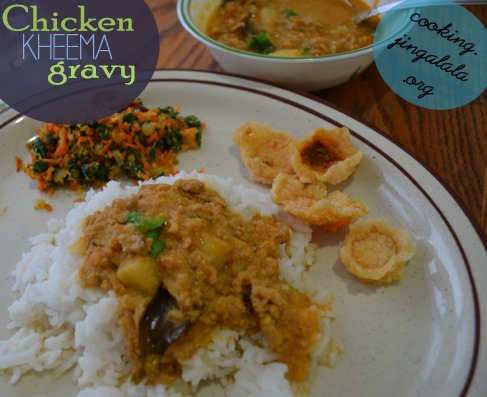 I was 95% happy with this Ground Chicken Stew Recipe of mine. When I was hesitant whether to or not to publish this minced chicken curry recipe, the husband teased, 'ரெசிப்பி போடுமா. எனக்கு பிடிச்சு இருந்துச்சு. உன்னோட Readers' கை-பக்குவத்துக்கு இதவிட நல்லா வரும்.

' So readers, send me feedback on how your family liked this Ground Chicken Sauce recipe.
Minced Chicken Stew
PREP TIME: 10 min
COOK TIME: 30 min
TOTAL TIME: 40 min
YIELD: 2
DIFFICULTY: medium
RECIPE TYPE: Stew/Sauce/Gravy for Rice, Roti, Idli, Dosa
Ingredients:
225 gm – Minced Chicken (or Turkey)
1 – large Onion (115 gm when finely chopped)
2 – Green chili
1/2 – Tomato (90 gm when chopped)
5 – Curry leaves
1 – Potato (Medium sized – 90 gm when chopped)
1 – Garlic clove
2 tbsp. – Fresh/Frozen defrosted shredded coconut (optional)
2 tbsp. – Oil (I use Sesame/Gingely oil. You can use any cooking oil)
1/2 tsp. – Red Chili Powder (Milagai thool)
1 tsp. – Coriander Powder (Malli podi/Dhaniya powder)
1/4 tsp. – Turmeric powder (Manjal thool)
1/2 inch – Cinnamon stick (pattai)
2 – Cloves (krambu/lavangam)
1/4 tsp. – Fennel seeds (Saunf/Sombu)
1/8 tsp. Cumin seeds (Jeera/seeragam)
1/2 cup + 2 tbsp. – Water
1 tsp. – Salt (adjust according to your taste)
1/4 piece – Lemon/Lime (optional)
1/8 cup – Fresh coriander – chopped (cilantro/kotha malli)
I used my kitchen scale to measure all the ingredients.
Mangala from Cooking.Jingalala.Org Eat Well !