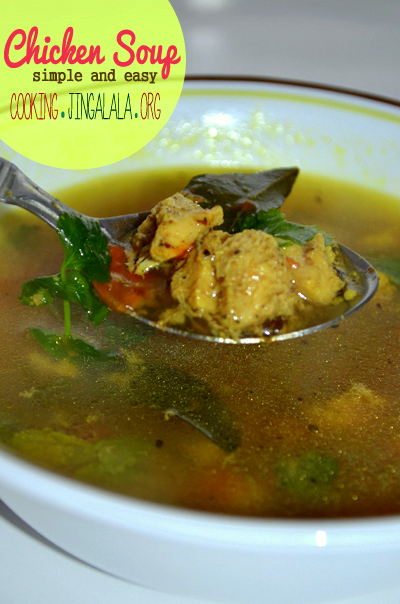 Though there will be elaborate plans in my kitchen like preparing Chicken pepper fry and Chicken Biriyani with the chicken bought from the market, the first thing that'll go on the stove to get ready is this Simple Chicken Soup recipe. Since this Chicken Soup can be made quickly and easily, I set it first thing on the stove while I do the preparation work for the pepper chicken fry or the Biryani. This way I need not keep the family waiting until the curry and the rice is done. Once the chicken soup gets ready everybody enjoys a bowl of hot-o-hot chicken soup.
A bowlful of this hot and warming Chicken Soup gives me strength to execute my elaborate meal plan. Like most of my recipes, this Kozhi Soup (Chicken Soup) is also a family-taught recipe, very authentic! Best Chicken Soup can be prepared only with freshly cut organic chicken, I mean, what we call 'Naattu Kozhi' in Tamil language. There is also another Chicken Soup recipe – a spicy version (no, its Spppiccccyyyy version) which we have it along with rice. I'm saving that Chicken soup recipe for another day.
By the way, you can mirror this Chicken Soup recipe with Mushrooms. If you are in a Vrat (Viratham) or if you wanted to make this soup recipe for a Vegetarian friend, you may refer to this Mushroom Soup recipe (Kaalaan soup recipe).

Step 1. Wash and chop the tomato. Wash and chop the coriander leaves. Wash the curry leaves. Clean the chicken well with water. [Once I drain the water, I apply 1/4 tsp. turmeric powder and little (say 1/2 tsp.) sesame oil (gingely oil/Nallennai) and mix well. Then I clean it once more with water. This way you can remove little of the raw chicken smell.].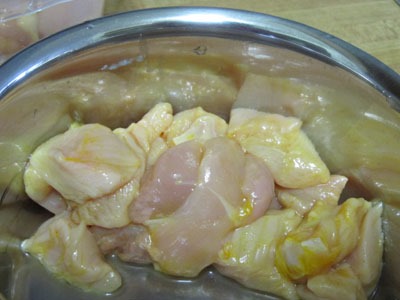 Step 2. (Optional) For soup recipes, it's good to use boneless pieces of chicken. Cut them into bite size pieces. Keep aside. [Normally at home we just put the medium sized chicken pieces (with bones) for making soup.You can carry on this step for presentation purposes or when you're serving the chicken soup for kids.]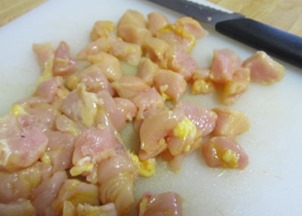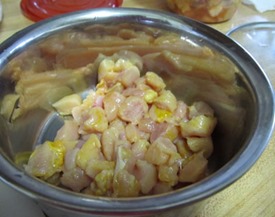 Step 3. In a blender/mixie, add the black pepper corns and cumin seeds (jeeragam/zeera).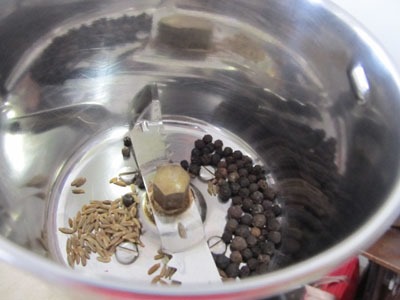 Step 4. Close the blender and grind it little coarsely.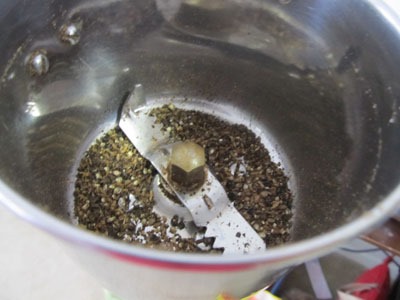 Step 5. In a pressure cooker, add the cut chicken pieces, turmeric powder, freshly ground black pepper corn and cumin seeds, sesame oil (gingely oil/nallennai) curry leaves, little of the freshly chopped coriander leaves (cilantro/kotthamalli), ginger garlic paste(optional), coriander powder (dhaniya/malli thool) and tomato.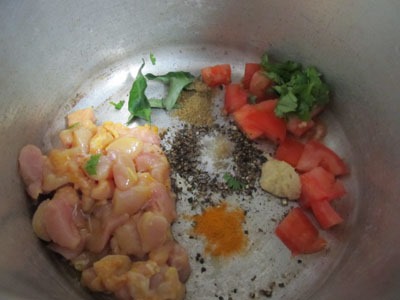 Step 6. Add required water and salt. Mix well. Check salt. Close the lid with the whistle. Keep it on the stove in High flame.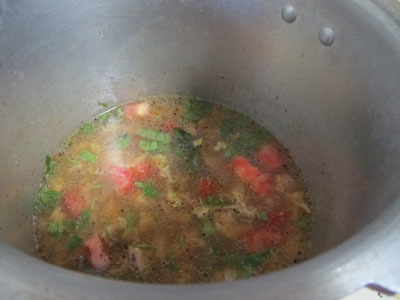 Step 7. Pressure cook for 1 whistle and turn flame to LOW (sim). Switch off the stove after 10 minutes.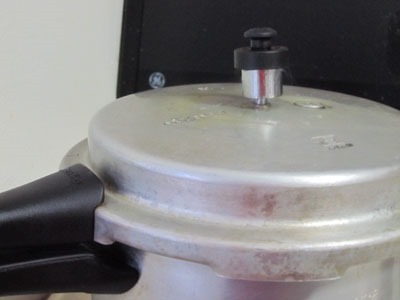 Step 8. Once the pressure subsides by itself (takes 5 minutes), open the lid. Add the remaining freshly chopped cilantro (coriander leaves). Check salt and pepper. Mix well and divide it in two soup bowls. Serve the Chicken Soup hot. Slurp it HOT.

3Ts [ Tips | Tricks | Tactics and Secrets ] to make Chicken Soup (Kozhi Soup)
Adding a little more salt, freshly ground pepper and coriander leaves just before serving gives a fresh touch to the soup. It also makes the soup tasty. Freshly ground black pepper corns and cumin seeds doctors any cold if you have. If you sneeze right after taking the first spoon of the soup, it means the pepper is doing it's duty.

If you find sourness is not enough, squeeze 1 tsp. of lime/lemon juice in the soup.

Adding ginger garlic paste is optional. It gives a nice spicy touch and smell to the soup.

Adding the right amount of water is the trick for making good soups. Adding too much of water makes the soup too watery and tasteless.

Mix the soup in the bowl gently before you spoon, since the ground pepper and cumin wills settle at the bottom.

Mmmnnnnhhhh…. Slurp… slurp…. aachoooooo…. … pepper is doing it's job… achchoooo……. huhh…__ tissue please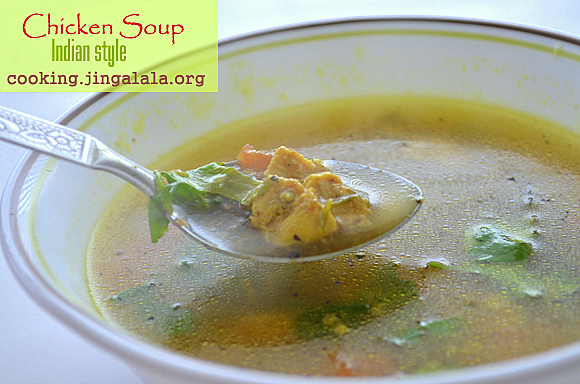 Easy Chicken Soup Recipe
PREP TIME: 10 min
COOK TIME: 15 min
TOTAL TIME: 25 min
YIELD: 2
DIFFICULTY: easy
RECIPE TYPE: Soup
Ingredients:
200 gm – Chicken
1 tsp. – Black Pepper Corns
1/2 tsp. – Cumin Seeds (Jeeragam/Zeera)
1/4 tsp. – Turmeric Powder
1/2 tsp. – Coriander Powder (Dhaniya/Malli Thool)
1/2 tsp. – Ginger Garlic paste
1/4 cup – Tomato (chopped)
1/4 cup – Freshly Chopped Cilantro (Coriander leaves/Malli chedi)
7 – Curry Leaves
2 tsp. – Sesame oil (Gingely oil/Nallennai)
1 cup – Water
1/2 tsp – Salt (Adjust to your taste)
*\ To Clean the Chicken ***
1/4 tsp. – Turmeric powder
1/2 tsp. – Sesame Oil (Gingely Oil/Nallennai)
Mangala from Cooking.Jingalala.Org Eat Well !