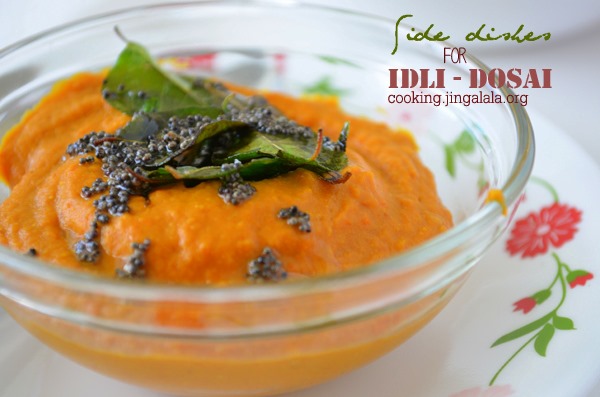 When it comes to giving a name/title for the Chutney posts in my blog , I do a lousy job. Take this 'Thakkali Vengayam Chutney' (Tomato Onion Chutney) for instance. When all the Madurai citizens call it that way, I do not call it by that name. Instead I say, 'Orange-oo Chutney' or 'Orange-u color chattunee'. Not that Orange zest is added to make the chutney (idea! Will experiment with orange zest to make chutneys soon), but it's because the chutney has a brilliant orange color. Though the body of this 'Onion-Tomato chutney' is built with onions and tomatoes, two more ingredients play a major role (in fact, lead roles) adding flavor, color and taste to this 'Vengaayam Thakkali Chutney'. One being Turmeric and the other being – Devil's Dung [he he.. I know! Some will have this steaming mad expression now in your face

]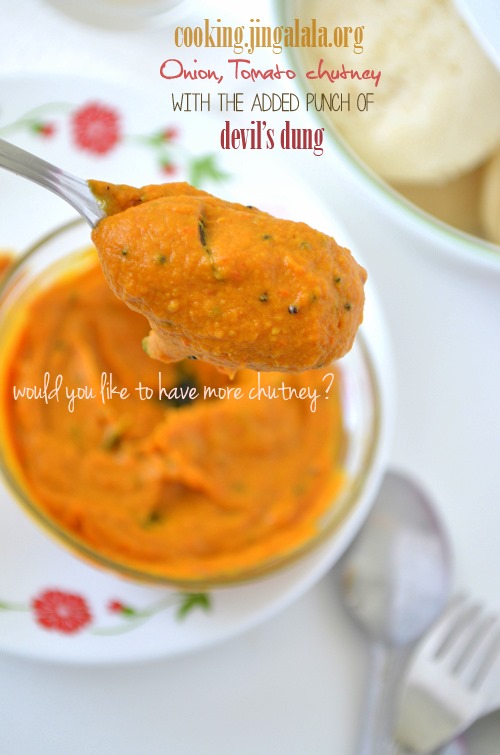 For those who are not aware of Devil's Dung (ahem…Dung should probably be the last word to be used in a cooking blog. Sorry guys…

)), it's nothing but hing, popularly sold as asafoetida or asafetida powder. We call it Thool Parunkaayam or Koottu Perungaayam in Tamil language. Though this powder has a stinking smell when it's raw, it leaves a strong aroma and flavor to the dish when cooked (mostly used while tempering chutneys and sambar). Saving more about this Dung, sorry, Hing for my Sambar post. In short, this asafetida powder is like Pixie Dust – Adding a little does white magic to the recipe and adding too much does black magic to the same recipe

.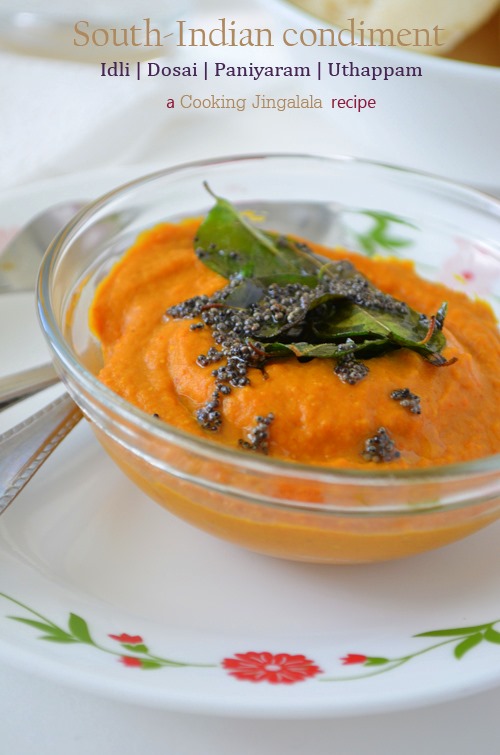 Saw the picture above? A recipe writer is like a matchmaker. A matchmaker works out to find who suits best for whom. Likewise, a recipe developer works out to find what goes best with what. A recipe writer is like a Film Director. A Film Director works to bring out the best in each of the casts chosen, especially the chemistry between the Hero and the Heroine. Likewise, a recipe designer chooses the best of dishes to create a platter, here again, the chemistry between the lead roles is important. The lead roles work best if they complement each other (just like how a spicy chutney and Idli complement each other). In that way, I will declare this Onion Tomato Chutney as the Best-est Condiment for all the South-Indian rice cakes, be it the Idli or Dosa or Paniyaram… or the Uthappam or even for 'Mysore' Bonda. It's exactly like how a movie becomes a blockbuster when Sridevi is paired with Rajnikanth or Kamalhasan or Chiranjeevi. I even pair this thakkali chutney with creamy yogurt rice (curd rice). If you are a decent diner who wouldn't lick plates and fingers while dining, trying out this tamatar chutney with yogurt rice will make you to. So be cautious!
Okay now, learning time. How about I say: S__tep by step pictures to make Devil's Dung Chutney



How to make Tomato Onion Chutney (Thakkali Vengaayam Chutney) – with Step by Step Pictures[Each image can be enlarged when clicked]
Step 1. Set the ingredients required to make onion-tomato chutney ready on the kitchen table. Clockwise from left - Bengal gram (split chickpeas), peeled washed and chopped onions, wash and cut tomatoes, salt, turmeric powder (manjal thool), asafoetida (hing/perungayam), peeled washed garlic clove, dry whole red chili.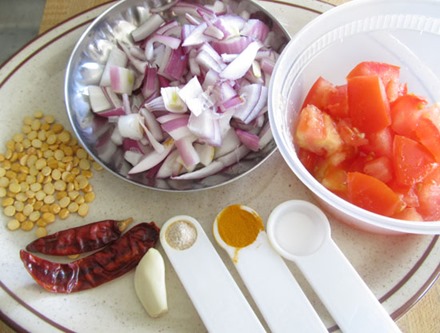 Step 2. Place a dry wok on stove in Medium flame. Add the split chickpea (kadalai paruppu). Dry roast the it until it becomes golden brown. Takes 3 minutes. Transfer it to a plate. Let them cool.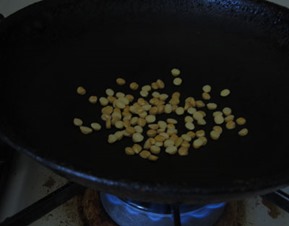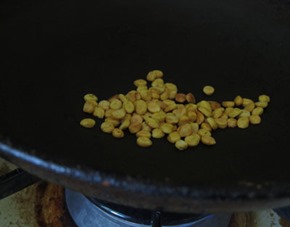 Step 3. In the same wok, pour 2 tsp. oil. Maintain flame in Medium. Once oil becomes hot, add the chopped onions.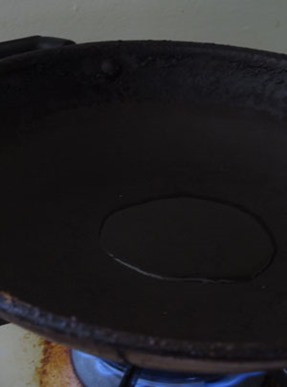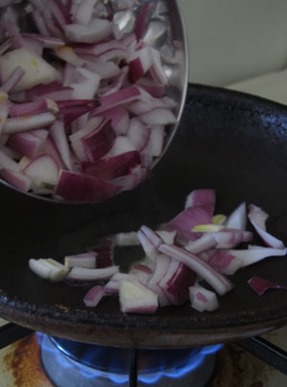 Step 4. Add the dry red chilies and the garlic clove. Mix well.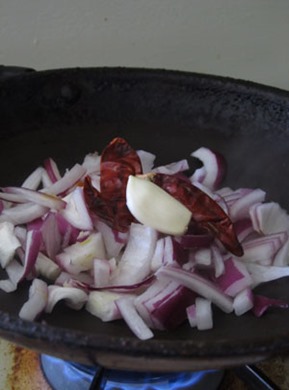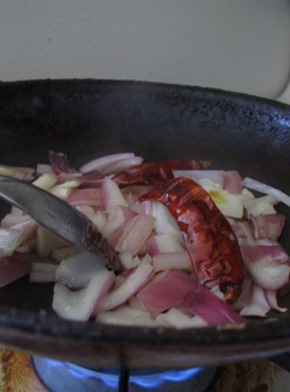 Step 5. Sauté the onions, chilies and garlic until the onions turn transparent. Takes 5 minutes. Add the cut tomatoes.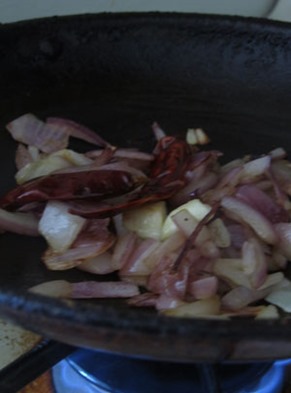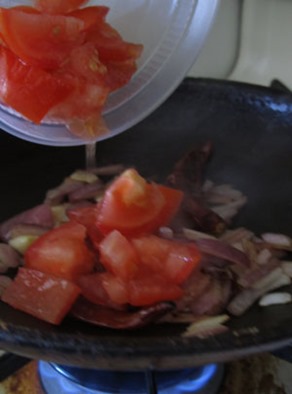 Step 6. Add the turmeric powder, salt and hing(asafetida/perunkayam) i.e. devli's dung if you like to call it that way

. Mix them well. [mmmmnnhh… you'll now enjoy the beautiful smell of devil's dung

]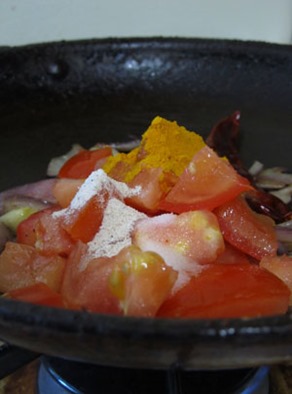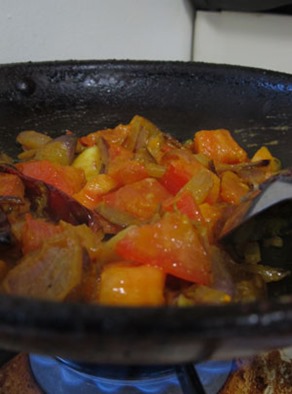 Step 7. Salt will aid in cooking the tomatoes fast. Sauté until the tomatoes turn mushy. Takes 6-7 minutes. Switch off the stove and let the mixture come to room temperature before grinding them. [Take note: Grinding hot/warm mixture may change the color of the chutney. It might also form steam energy inside the mixer grinder causing the lid to fly while grinding. So be patience until the mixture comes to room temperature. Takes 8-10 minutes.]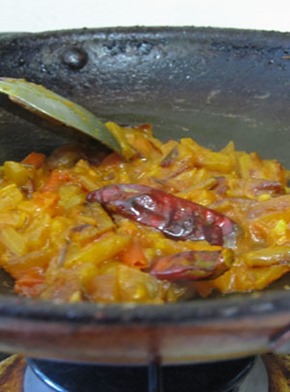 Step 8. In a mixer grinder/blender (I use Preethi mixie), add the chana dhal (kadalai paruppu) first. Then add the onion, tomato mixture. Grinding without water will give you nice thick dollops of chutney. However, if you feel the mixture is too thick and the mixer grinder will need a little water to aid in grinding, add 1 to 2 tbsp. of water.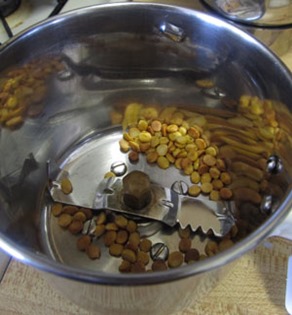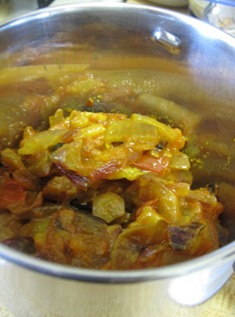 Step 9. Grind the chutney to a smooth mixture. (But I like my chutneys to be little coarse so that my teeth feels the nutty chana dal).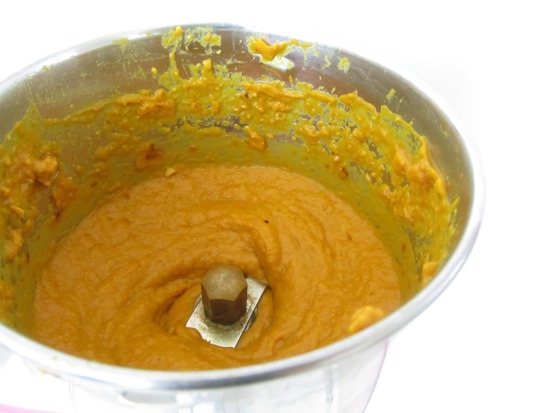 Step 10. Transfer the ground chutney to a bowl. Mix well. Check salt. [Although most of my chutney recipes taste great even without tempering/seasoning, I do them for my love for mustard seeds.] Keep a small dry wok in Medium flame. Add 1-2 tsp. oil (I use Idhayam Sesame oil i.e. Idhayam Nallennai for all my seasoning and tempering). When the oil becomes smoking hot, add the black mustard seeds (kadugu). Mustard seeds added to smoking hot oil will pop vigorously. Switch off stove and immediately add split urad dal and curry leaves and leave them that way until curry leaves wilt and urid dal turns golden.
Step 11. Pour the seasoning over the Tomato Onion Chutney. [and if I were a toad, I would slurrp the complete layer of mustard seeds now]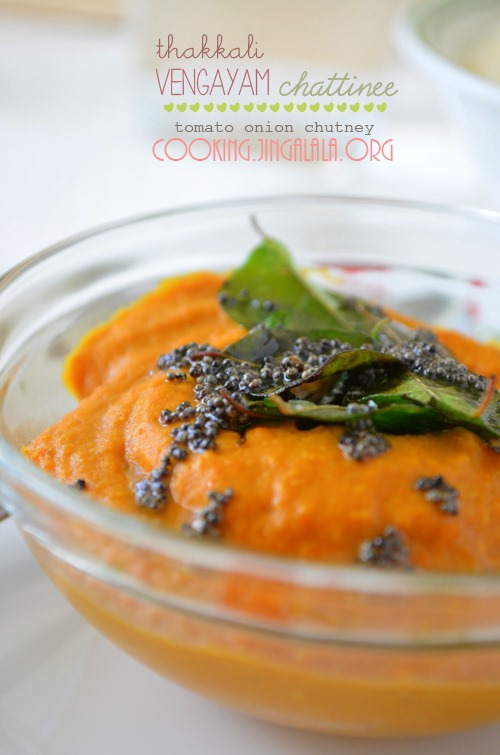 Step 12. Mix well. Tasty Onion Tomato Chutney is now ready to be served with Dosai, Idli and other savories.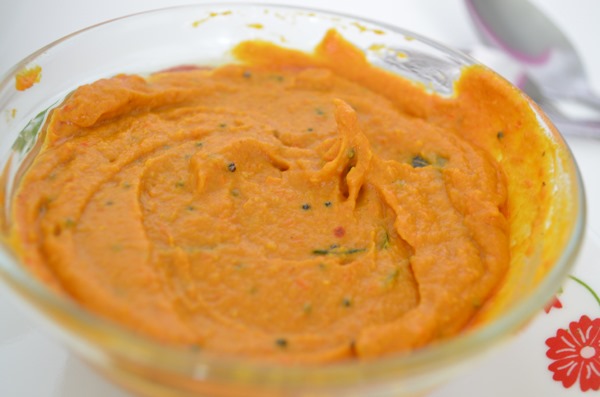 3Ts [ Tips | Tricks | Tactics and Secrets ] for making Onion-Tomato Chutney (South-Indian Vengaayam Thakkali Chutney)
If you ask me if asafoetida can be omitted, I will answer – 'Please try not to'. Though you can make this Tamatar Onion Chutney without adding asafetida, adding it will give a beautiful flavor to the chutney and a sharp taste to your taste buds.
Recipe designer is like a garment designer or an artist, searching, 'what will add vibrant and fresh color to products?'. Turmeric powder (manjal podi/manjal thool) gives this beautiful Orangish color to this chutney. Apart from adding color, it does add flavor and sharpness to the chutney.
Chana dhal (split chickpea) balances any extra sharp taste from hing or turmeric. It also gives thickness to the chutney.
Use nice ripe tomatoes for this 'thakkali/tomato chutney'. Add 1/4 of one more ripe tomato if you prefer a more tart version of this tomato onion chutney.
My dry red chilies were too spicy, so 2 were enough to add spiciness to my chutney. If you have a less spicy version of dry red chili add 2 more while sautéing.

You may make this Orange Chutney if you have a Orange Color Themed Potluck or Party or just when your taste buds are adamant for some spicy sharp taste.
Other chutneys that are in orange shade in Cooking.Jingalala.Org: Split Chickpea Coconut Chutney (Kadalai Paruppu Chutney) Orid Dhal Chutney (Lentil Chutney) Tomato Chutney (Thakkali Chattini)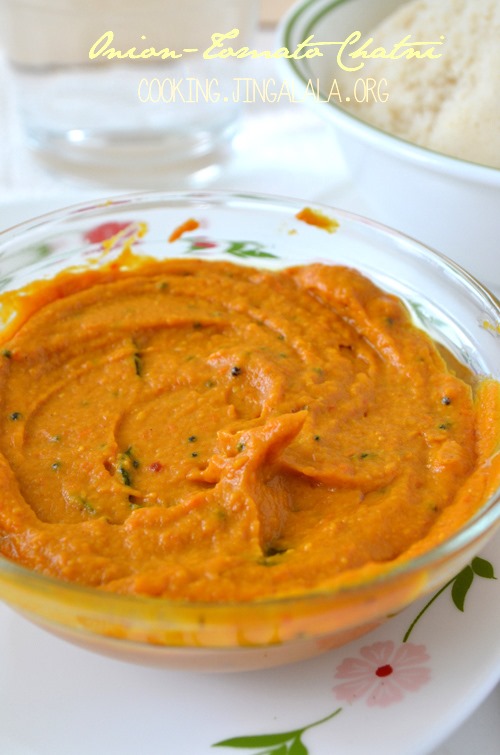 By the way, since we used Pixie Dust to this Chutney recipe, do not ask me 'why didn't the chutney bowl fly itself to the dining table?'

Thakkali Vengayam Chutney
PREP TIME: 5 min
COOK TIME: 15 min
TOTAL TIME: 20 min
YIELD: 2
DIFFICULTY: easy
RECIPE TYPE: Dip/Sidedish/Chutney/Condiment
Ingredients:
1/2 – Large Onion (80 gm)
1/2 – Tomato (90 gm)
1 – Garlic clove
2 – Dry whole red chili
1/2 tbsp. – Chana dal (split chickpeas/kadalai paruppu)
1/4 tsp. – Asafetida powder (perungayam/hing)
1/2 tsp. – Turmeric powder (Manjal thool)
1/2 tsp. – Salt (adjust to taste)
2 tsp. – Any cooking oil (I use sesame oil /gingelly oil)
*\ For Tempering the Chutney ***
1 tsp. – Any cooking oil (I use sesame oil /gingelly oil)
1/2 tsp. – Split Urad dal (lentil)
1/4 tsp. – Black Mustard seeds
7 – Curry leaves (optional)
Mangala from Cooking.Jingalala.Org Eat Well !