Ulundhu Paruppu Chutney | Urid Dhal Chutney | Tamilnadu Chutney Varieties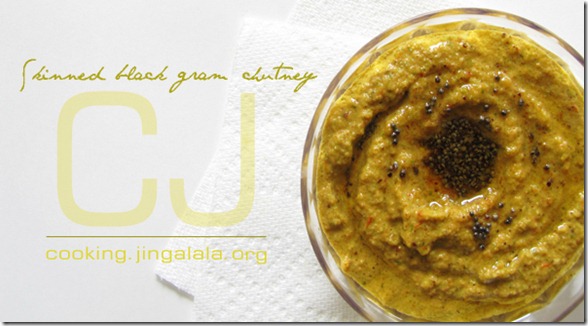 A Chutney that is so tasty that people at home will learn how to cheat the home-chef. They will ask some idly for the chutney and some chutney for the idly, playing alternately until you tell the fact that there is only little amount of chutney left in the kitchen

. Make sure you've got extra amount of idly and dosa batter than the normal quantity that is required for the family because ……. yes, you will watch people having "abnormal" counts of idly and dosai when this Ulundhu paruppu chutney is prepared

. In our home, the moment we smell the sautéing of the green chilies from the kitchen, we'll understand that it is THE Uluthamparuppu chutney (skinned black gram chutney) that is getting ready for the dinner and try to increase the appetite by not taking any extra snacks

.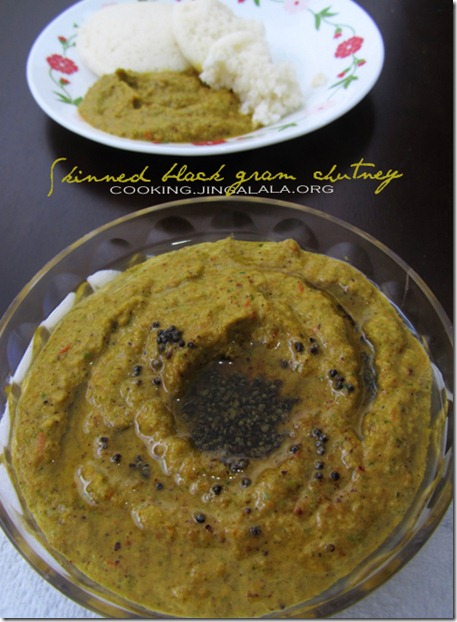 The 'x' factor of this skinned black gram chutney is its texture. Unlike the taste of many other tangy chutney varieties, your taste buds will really enjoy this ulutham paruppu chutney because this chutney if ground to the right texture, will give the taste buds the alternating surprises from the coconut, tomato, chilies and the urad gota dal. Thus, as when the taste buds realize the tangy tomato flavor, the coconuts will rush to release their sweet hint and as the sweet taste is being experienced, the roasted orid dal will flash its nutty flavor and as this nutty flavor is being enjoyed, the chilies will begin to play their spicy trick, thus making you get lost in a flavorful-tasty-forest. In fact, you can call it an "Orchestra-playing-a-Live-concert-inside-the-mouth-kinda-chutney" …..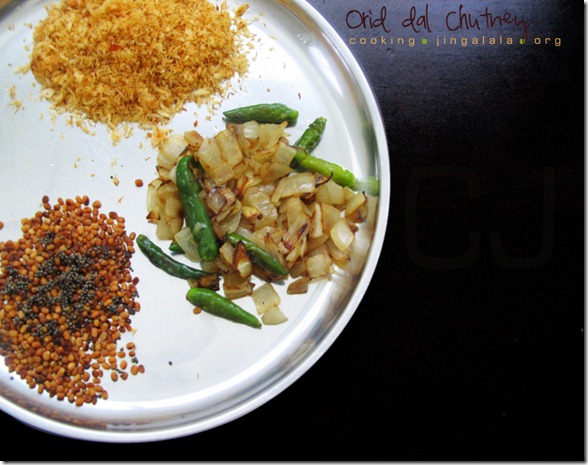 A quick update for my readers. I know, I know…. how long will I be posting only the chutney varieties? What about the main courses? Rice, gravy, non-veg recipes… where are they? When it's time to choke the blog with all the sundal varieties for Navaratri 2012 and when it's time to show off the Deepavali 2012 special sweets and dishes, why the monotony of chutneys? Is that what you're thinking? [Clearing throat]… well, yeah Mangala is just getting warmed up. She stayed too very lethargic

that her back should be warmed up in a high temperature microwave oven or may be it should be placed directly on a hot grill. Keep watching people. She sure will update this place with interesting recipes

.

How to make Uluthamparuppu chutney [Urad dhal chutney | Skinned black gram chutney] with step by step pictures. [Click each image/photo to enlarge]
Step 1 Set the ingredients ready in the counter.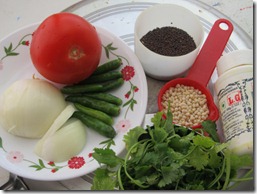 Step 2: Peel, wash and chop the onion. Wash and cut the tomato. Wash the chilies and remove stalk. Slit the green chilies. [Just enlarge the second image below to check how I've slit the chilies. This way we can avoid too much spluttering of the chilies while we sauté them.]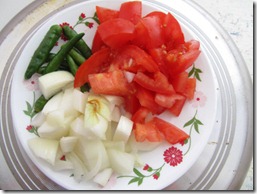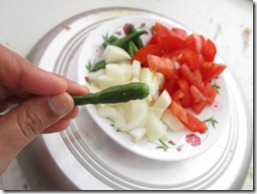 Step 3: Keep a dry wok in medium flame. Add just a drop of oil. Add the uluntham paruppu (urad dal) and sauté it until it turns golden brown. Takes about 2 minutes. Transfer it to any plate.
*Step 4: [Optional step]
*In the same wok, add a drop of oil. Add 1 tsp. mustard seeds. Allow it to completely splutter. If they try to come out of the vessel, close it with a lid for 3-4 seconds. Transfer it immediately to a plate. Take care not to burn them else they'll give a bitter taste to the chutney. This step is optional. Mustards seeds is just to enhance the flavor and taste of the chutney. This step takes 1 minute.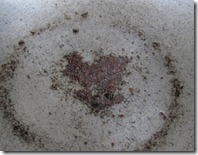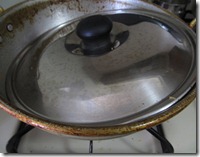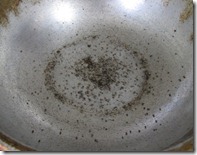 Step 5:
*In the same wok, add 2 tsp. oil. Add the chopped onions and chilies. Sauté them until the onions turn translucent and until the chilies loose their raw smell. If you're not comfortable you can sauté onions separately and chilies separately. Transfer it to the plate. This step takes around 3 minutes.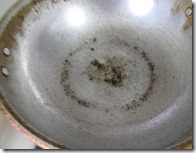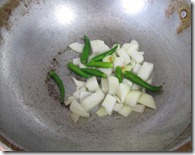 *Step 6: Add 3 tsp. of oil and add the cut tomatoes and fresh coriander leaves. Mix them and leave it closed for a minute. [We close it so that the tomatoes get mashed quickly and easily. You can add more oil in this step if you wish. It again adds taste to this ulutham parippu chutney.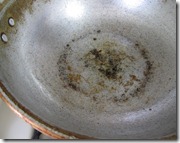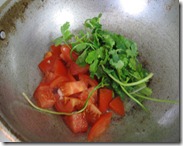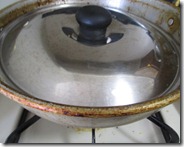 Step 7: Open the lid after a minute. The tomatoes will be soft and juicy. Now you can mash them easily. Once the raw smell vanishes transfer it to the plate. Takes 3-4 minutes for this step.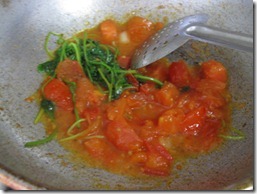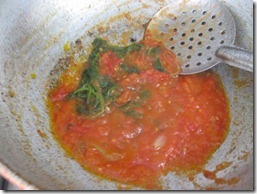 Step 8: In the same vessel, add the coconut (Do not add any oil for this step). Quickly stir it such that it cleans up the left over tomato juice. Sauté it until it releases it's aroma and turns light golden. Transfer it to the plate. Will take 2 minutes for this step.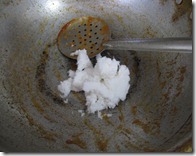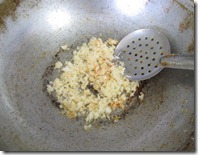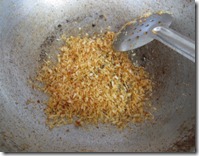 Step 9: Cool them before blending them in the mixer grinder.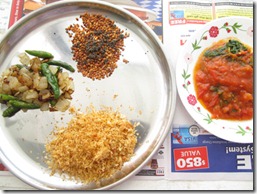 Step 10: Once they are cooled, first blend the dry ingredients with 1/4 cup of water. Grind it coarsely.
Step 11: Then add the sautéed tomato and coriander. Add 1 tsp. salt and 1/4 cup of water. Give a 4 seconds of whir in the blender. Chutney is done. Transfer it to a bowl. [If you wish you can add 1/4 cup of more water after transferring it to the serving bowl and then check the salt too.] You can proceed to the next steps if you wish to temper the chutney.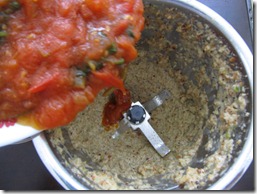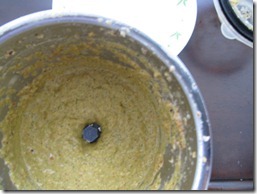 Step 12: Keep a dry pan in medium flame. Add 3 tsp. of oil. Once the oil is heated, add the mustard seeds and let them completely splutter. [You can follow it by adding some urad dal but I did not wish to add urid dhal for tempering this chutney.]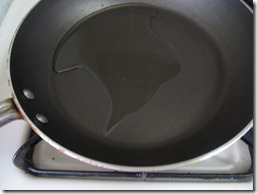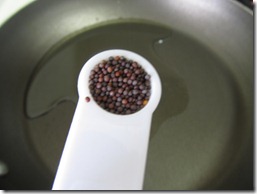 Step 13:
*Add hing and curry leaves. [I normally have curry leaves and sesame oil at home but I think my refrigerator ate the curry leaves. When I checked the refrigerator after deciding to make this ulundhu chutney, there were no curry leaves

. So imagine fresh green curry leaves getting spluttered here

] Pour the tempering into the bowl of chutney. Mix well.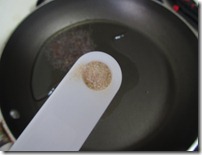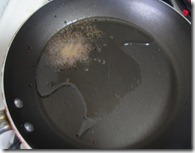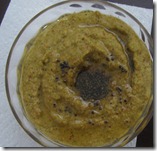 *Step 14: Start enjoying the black gram chutney with idlies and dosas. See, I made my plate ready with the non-tempered version of the chutney. Ahhh…this time the mustard seeds guys don't have any company. They are looking really helpless without adding curry leaves and urad dal while tempering

**


3Ts [ Tips | Tricks | Tactics ] to make Ulundhamparuppu Chutney | Urid dal chutney
**
Grind the chutney coarsely. This will give better taste to the chutney.

If you want to make this chutney for kids, reduce the number of chilies. Kids will sure love it since the chutney will have a sweet taste from tomatoes, coconut and dal.

Using coconut is completely optional. If you do not wish to add coconut, then for the ingredients quantity given in this ulundhu chutney post, add only 6-7 chilies. That is, if you add coconut to this urad dal chutney, increase the chili count else decrease the chili count, because we know coconuts will have bit of sweetness in them.

You can make use of dry red chilies instead of green chilies. But be careful in the dry red chili count since they'll be very spicy. Consider 2 green chilies = 1 dry red chili.

If you don't have muzhu ulundhu (whole skinned black gram), feel free to use split urad dal (udaitha ulundhu).

This chutney goes best for both idly and dosa. People in my home love this ulundhamparuppu chutney very much with hot idlies.

When I lived with a room-mate, her mom said, "Pudhina add panna innum super-a irukum ma". [Add mint leaves along with fresh coriander for more of a flavorful tasty chutney]

By the way, this dal chutney tastes too good without tempering. I always enjoy a full scoop of this urid dhal chutney with hot idlies upon which I melt some homemade ghee or two spoons of sesame oil, mix them nicely and eat.

Try having this tomato-onion chutney with curd rice / yogurt rice. People who do not like yogurt rice will start to go mad for yogurt rice after trying with this chutney combination.

Warning to all home chefs: Save some chutney for yourself before taking the whole chutney bowl to the dining table. The diners won't care of etiquettes when it comes to this Ulundhamparuppu chutney especially. They'll ask for dollops after dollops not caring if there is enough of chutney for you. And oh, please don't be shocked if they begin to lick the empty chutney bowl towards the end of the dinner.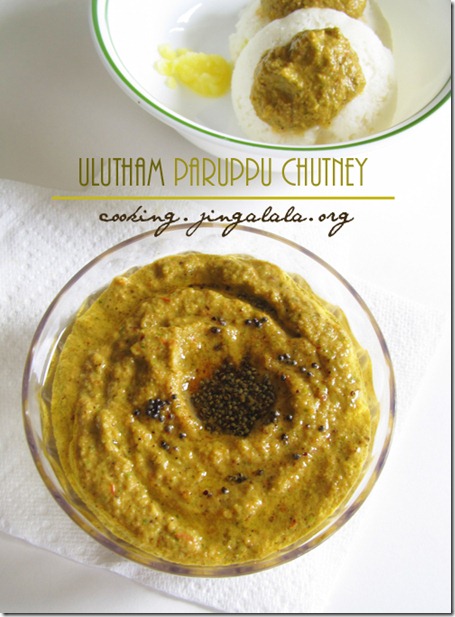 hmmmmm….. how can I leave this space without leaving the story from my grandma's kitchen. Though it's only my aunt who prepares it in the kitchen, the quantity and quality of every product that is made in the kitchen is supervised only by my grandmother. Every night before making dinner we are normally given with the choices of chutneys that can be made for the idly and dosa. No wonder, most of the days this ulundhu chutney will win the voting. Aunt has to make many batches of idlies if this urad gota chutney is voted for the dinner

. We had this "Meenu Mixer Grinder" and the biggest mixer jar will have to withstand the several rounds of the whirring of this chutney. So much of a quantity that in fact, there were times when wet grinders were used to grind the huge amount of this Uluthamparuppu chutney

.
Skinned Black Lentils Chutney
PREP TIME: 3 min
COOK TIME: 20 min
TOTAL TIME: 23 min
YIELD: 3
DIFFICULTY: easy
RECIPE TYPE: Idli-Dosai Dip/Chutney/Side dish
Ingredients:
Uluthamparuppu/Urad dal/skinned black gram (whole or split) – 1/8 cup
Tomato – 1 medium sized
Shallots – 6-7 /* You can substitute with half of big onion if you don't have small onions */
Green chili – 8-10 /Adjust according to your spice level. Can substitute with dry red chilies/
Fresh coriander – a generous bunch
Shredded coconut – ¼ cup [Optional]
Mustard seeds – 1 tsp. [Optional]
Salt – 1 tsp. temper
Water – ½ cup
Oil – 5 tsp. [ I used sesame oil. You can use any cooking oil.]
/* To Temper */ [Optional]
Sesame oil (Gingely oil or any cooking oil) – 3 tsp
Mustard seeds – ½ tsp.
Urad dal – ½ tsp. [Optional]
Curry leaves – 1 spring
Hing/Asafoetida/Perungayam – 1/8 tsp.
Mangala from Cooking.Jingalala.Org Eat Well !