Thakkali, Vengaayam Chutney | South-India Chutney Recipes
[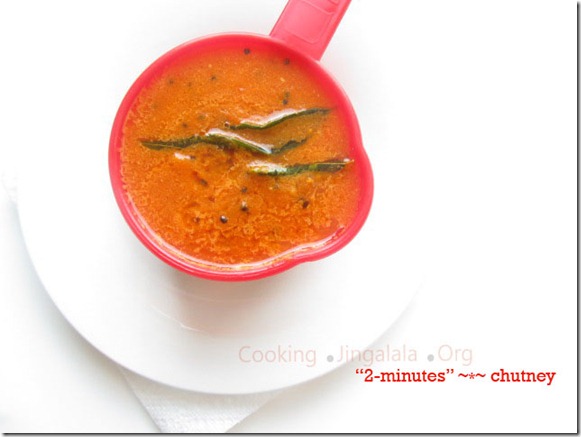 )](/images/spicy-tomato-chutney-11.jpg)
Especially on a Monday morning, when you are in a hurry-burry to office or school or college and want to make food for the family what you do? Canteen/Cafeteria/Pantry is the answer, right? Need not be if you know to make this easy and quick yet tasty chutney. When I was trying to give a name to this post, a long queue of different names came to my mind. Hustle-bustle chutney, hurry-burry chutney, avasara chutney (avasaram in Tamil language means – "in a hurry"), topsy-turvy chutney, on-the-run chutney… so many names that I got confused which to choose for the title. Yes, it is such an "easy-to-prepare" chutney and can be prepared in a jiffy. We call it "the red color chutney" in my family. This post shows you with step by step pictures how to prepare this super-fast chutney thereby giving you a hand to handle your topsy-turvy Monday or any day


.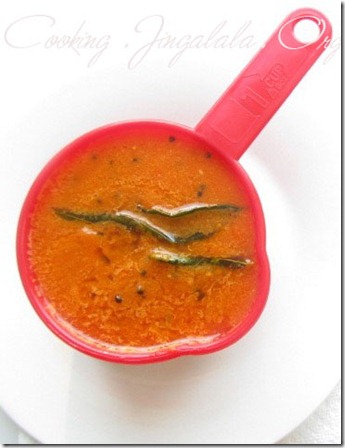 This chutney has a long history in my family. Seems my aunt (mom's sister) prepares this chutney in stone mortar (ammikal) and packs 3 idlies topped with this chutney in a thookuchatti (tiffin box) for my mother. When my amma opens up her tiffin box at school during lunch hour, the idlies would have absorbed all the chutneys and smells like heaven and tastes like elixir. My mom loves her sister's preparation of this spicy chutney. The consistency of the original version of this chutney will be little watery. Whenever I prepare this chutney at home, she used to say that it tastes the same way like made by her sister
. Everybody in my grandma's home likes this chutney very much. I enjoy this tomato chutney with extra topped ghee or sesame oil on ultra-hot idlies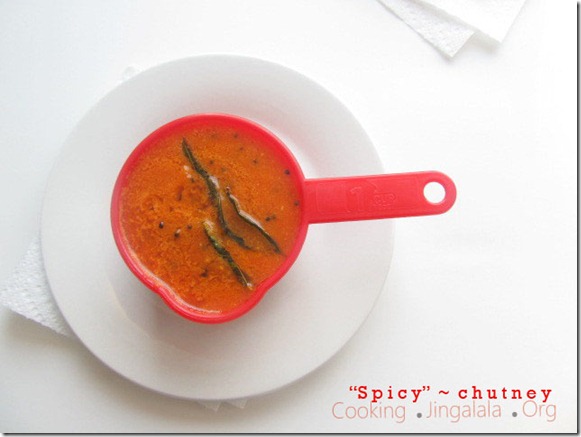 **How to make Vengayam/Onion Chutney - with Step by Step pictures
**
[Each image can be enlarged if Clicked]
**Step 1.
**Set the ingredients ready on the kitchen table. Peel and wash shallots/small onions. Cut them roughly/half if they are large in size. Remove stalk from dry red chillies. Wash and cut tomatoes.Set the items to temper ready.
Step 2. In a mixer grinder, grind onions and red chillies first. Grind them to a nice paste with little salt and 1/4 cup of water.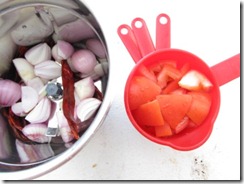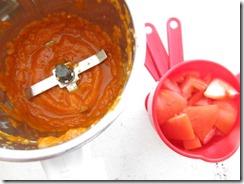 Step 3. Then add the chopped tomatoes. Grind just until the tomatoes are blend with the onion+chilli paste.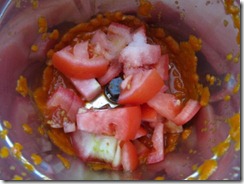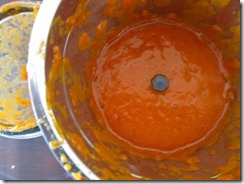 Step 4. Heat a dry wok with oil in high flame. When the oil is nicely hot, add mustard seeds. Wait until the mustard seeds splutter completely.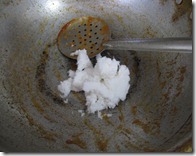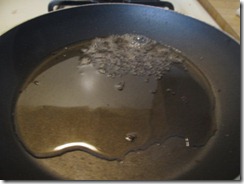 Step 5. Reduce flame to medium and add urad dal. When the urad dal tries to get brown add the asafetida.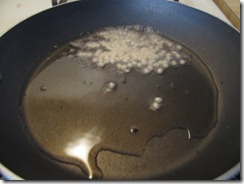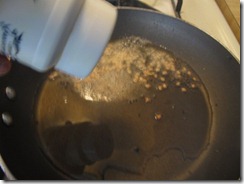 Step 6. Follow immediately by curry leaves. When the curry leaves release their smell (just in 3-4 secs), add the ground chutney. [I always love the color and the noise given by the chutney when you pour it into the hot wok. It is like witnessing a Live volcano's lava that sizzles down the volcanic mountains. O me, I try to keep the steps "to the point" but can't control myself to give these unnecessary similes. Ignore ignore….

]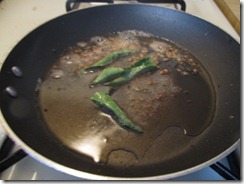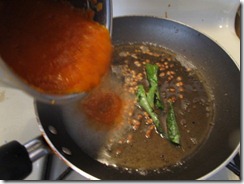 Step 7. Mix them well. Check salt. Hot and Spicy Red color chutney ready for your Idly and Dosa.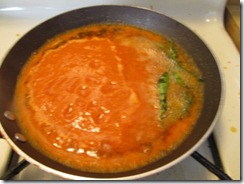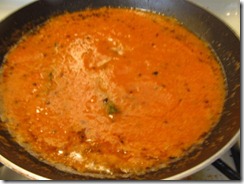 Step 8.
Be it a hot-o-hot idly, normal idly, ghee dosa, plain roast dosa, kal dosa or my favorite medhu dosa, this chutney easily makes friendship with any of the Indian steamed rice cakes/dosa varieties. Try eating all that I listed in the first line of step 8 by soaking the dosa/idly in the red chutney. Slurrrrppp…….

3Ts [ Tips | Tricks | Tactics ] to make spicy South-Indian Chutney
[Geee… Look at the list!!!! TEN tips to make this simple, easy-o-easy chutney?? no, don't shrug-off. Everything sure helps you
]
The trick in this chutney is to have the amount of onion lesser than tomato. So for a cup of tomato, use ½ or ¾ cup of onions. Chilli quantity depends on your spice level. I take care that I do not put too much of chillies since it not only increases the spiciness but gives a raw smell to the chutney. I used 6 small onions (which were bigger in size) for this chutney.
How to pick small onions/chinna vengayam? Whenever I go to the market with my mom, I watch her how she selects the vegetables. When she goes to buy the onions from the vendor who sells both big and small onions, she says…"Annae periya vengayam chinnadha podunga, chinna vengayam perisa podunga" ["bro, get me big onions smaller in size and small onions bigger in size"]
To squeeze the chutney preparation time even more, you can put all the ingredients (onions+chillies+tomatoes+water+salt) together and blend to a smooth paste. We often have washed, peeled and dried small onions stored in a closed jar in the fridge. This will help you make super-fast fresh chutneys.
I never make this chutney if my kitchen shelf does not have Gingely/Sesame oil. Sesame oil gives great taste, smell and perfectly balances the spiciness of the chutney.
Fresh Coriander is optional. If I have mood for coriander smell I add finger-full bunch, finely chopped while tempering, right after adding curry leaves.
Like I mentioned in the 3Ts of the Spicy Madurai Chutney recipe, you can continue to keep the chutney in medium-high flame until it thickens nicely(until oil oozes out). This transforms the thin consistency chutney to a very thick consistency chutney that tastes even more wonderful. Uhh, but you have to compromise your time. Takes at least 5-10 minutes to thick.
Like how the 2 minutes noodles have the taste-makers that gives the real taste to the noodles, this 2 minutes chutney's taste-makers are: real ripe tomatoes (naatu thakkali in Tamil language), sesame oil and curry leaves. What if you don't have ripe tomatoes? Well, you can add a little (1/2 inch) of tamarind while grinding.
Do not bring the mixie/blender near to your nose/eyes right after when the chutney is ground. Since the chutney is too spicy they might cause sneezing or irritation in nose/eyes.
BTW, close the mixie/blender lid tight while grinding such spicy items. Some of us may be careless and the lid may open up while grinding causing bad experiences. Make sure you have the correct jar and the right quantity for the size of the jar. Always leave some space in the mixer jar for grinding. Do not stuff the mixer jar.
One of my friends Sil, once shared a story. Her aunt while was grinding the mixer, switched off and opened the jar to check the texture of the ground product, got her finger badly cut! Seems she tried to do it immediately after switching off the mixer. Beware, sometimes the motor needs time to settle and stop the mixer blades. Since she did it very fast after switching off, the blades were in motion and made her finger cut. So always wait for few seconds after you switch off the mixer and before you open the lid/try to touch the ground product/remove the jar from the mixer … uhhhhh… am I going too much? I do not feel that I'm writing tips for making Indian chutneys. Probably some scaring tips on how to handle a mixer grinder.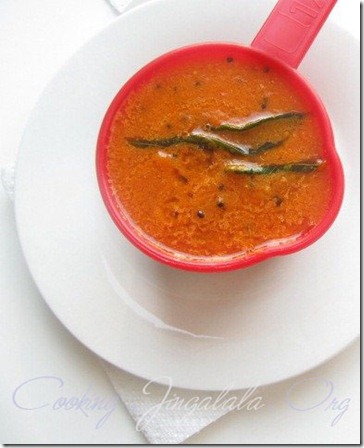 Did I mention my revenge over the spluttered mustard seeds? O yeah I did in my Kadalaparuppu/Chana dal Chutney post. Knowing this, the mustard seeds hide themselves from me inside the curry leaves in the chutney. Huh, don't I know their tricks? I either eat these fried curry leaves in the chutney just like that or if I do not feel like eating the curry leaves, I open them up and catch the hidden mustard seeds red handed and just smack them in along with the idly and dosa

. Both ways I make sure no mustard seeds escape from my sight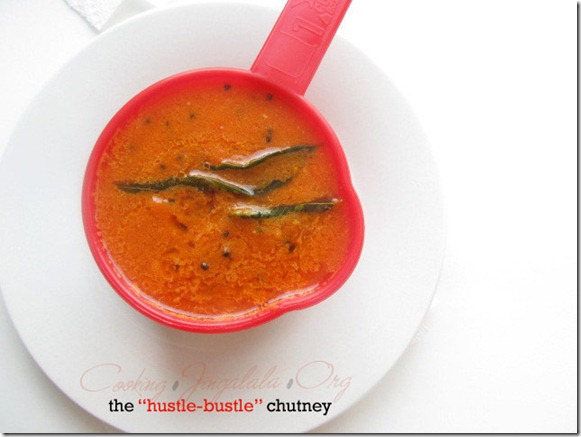 My sisters like this spicy onion chutney. I already told you that my mom loves this spicy chutney. I end up making this chutney several times since it is quick, easy and tasty
and thus Jeevs too got pulled into this red hot tomato chutney's gravitational force

. My dad dislike this chutney complaining that it brings bad breathe after eating.

hae but you should only count the majority of votes for this tasty south-indian chilli chutney.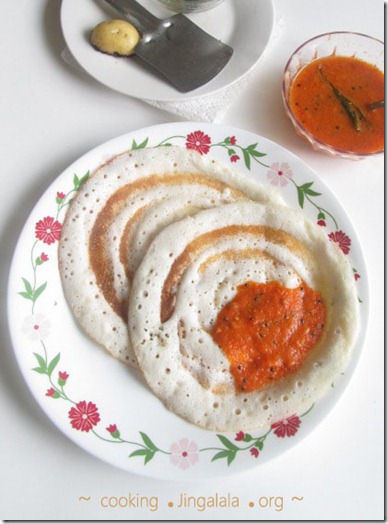 Onion-Tomato Chutney
PREP TIME: 1 min
COOK TIME: 2 min
TOTAL TIME: 3 min
YIELD: 3
DIFFICULTY: easy
RECIPE TYPE: Idli-Dosa Condiment/Dip/Chutney
Ingredients:
Dry red chilli / varamilagai – 5
Shallots / small onions / red pearl onions / chinna vengayam – 6
Tomato – 1 large (roughly, 1 cup)
Salt to taste
Water – 1 cup
*\ To Temper ***
Oil – 3 tbsp
Mustard seeds/Kadugu – 1 tsp
Urad dal / Ulundhu – 1 tsp
Asafetida / Perungayam-1/4 tsp
Curry leaves – 1 spring
Fresh Corriander leaves(optional) – 1 tbsp
Mangala from cooking.jingalala.org Eat Well!