Kadala paruppu Chutney - Sidedish for Idli-Dosai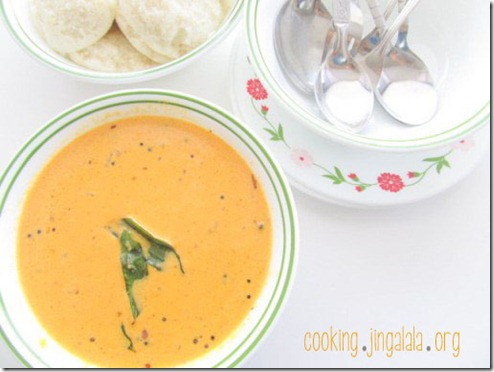 Kadalai paruppu chutney or Chana dal chutney is my dad's favorite. You won't be knowing how many idlies and how many dosas you are stuffing in if you are having this kadalai paruppu chutney as your dosa/idly dip

. Were you with me when I announced the project Coconut Chutney 101 (CC 101) in GoJingalala? I am adding this chanadhal chutney as a first entry to this project. Like how I mentioned in the prologue of MY Madurai chutney recipe, I really admire the variety of twists and tweaks one could make with coconut as the main ingredient in making chutneys. So I announced this project "CC 101" even before I started working on it

. This recipe is from my grandma's kitchen (dad's mom). So let's now check on how my grandma makes kadalai paruppu chutney (chanadal chutney).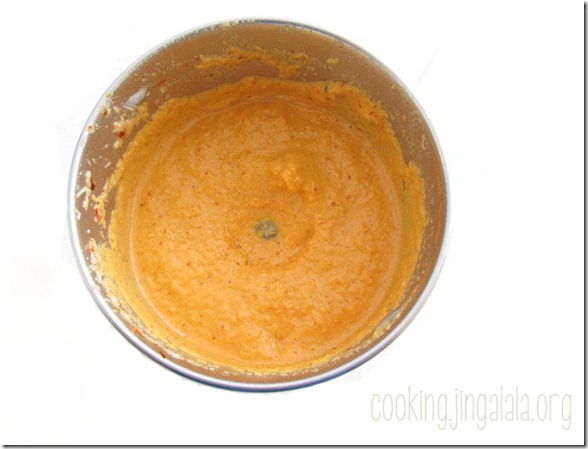 How to make Kadalai Paruppu Chutney | Chanadal Chutney - with step by step pictures
[All the images can be enlarged if Clicked]
Step 1. Set ready all the ingredients on the kitchen table. Peel, wash and finely chop small onions.
Step 2. Dry roast kadalai paruppu/chana dal in medium flame with 2 drops of oil. Roast them until you get nice smell and color changes to dark orange. [Roasted paruppu/dal should be in dark orange and not in brown]
Step 3. Dry roast red chillies.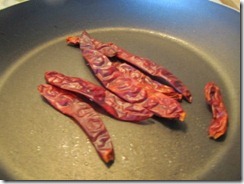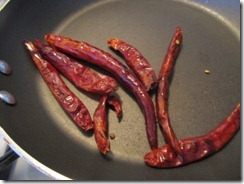 [Important note: I realized that 3 long chillies is enough for my chutney. So neglect the chilli count in the picture] Step 4. Now let the roasted dal and chilli rest for few minutes before grinding. When they cool down to room temperature, grind together the coconut, roasted chillies, chanadal/kadalaiparuppu with 1/4 cup of water and little salt.
Grind it little coarse but not too coarse.
Step 5. Heat a dry wok in high flame and add 3 tsp of oil. When the oil is nicely hot add mustard seeds.
Step 6. Once the mustard seeds completely splutter, add urad dal. When the urad dal tries to turn brown add chopped onions and curry leaves.
Step 7. Saute in medium flame until onions turn translucent and crispy. Add the ground chutney. Switch off flame.
Step 8. Add 3/4 cups of water and mix well.
Step 9. Check Salt. Mix them nicely so that no lumps are gathered. We need it little watery.
Step 10. Serve with hot idlies/dosa.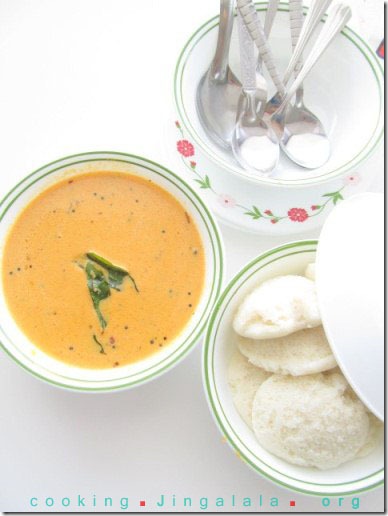 3Ts [ Tips | Tricks | Tactics ] for making Kadalaiparuppu/Chanadal Chutney
Since kadalai paruppu / Chanadhal is a thickening agent, the chutney will turn lumpy if you forget to switch off the stove after pouring the chutney in the stove. So take care to mix immediately with water.
Kadalai paruppu chutney tastes best when they are watery. So have the chana dal chutney consistency little watery.
I prefer not to store them in refrigerator. I use this kadala paruppu chutney immediately after preparing. If you store this chutney in refrigerator, use them within 20 hours. When you reheat, it will tend to thick, so heat it in very low flame and switch off once they are warmed up. Also, the original chutney's taste will not be retained if you reuse after storing in refrigerator.
Small onions are the real kick-factor for this recipe. Do add them for sure. If you don't have shallots/small onions you can use finely chopped big onions but have to compromise on the taste.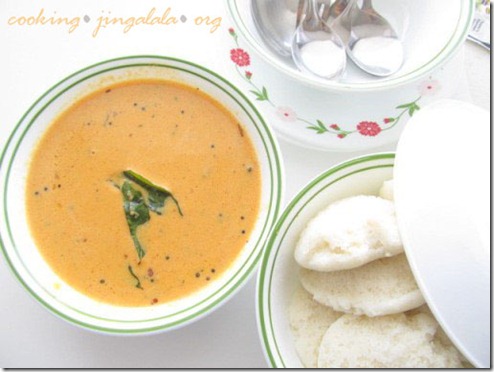 Wow… look at the beauty of how the mustard seeds are scattered. At home, when Amma makes this kadalai paruppu chutney (chana dal chutney), I used to chase these floating mustard seeds with the spoon and enjoy them with the idlies. I will leave others with no clue that the chutney was even tempered with mustard seeds

. Like I mentioned in the 3Ts section above, onions are the kick factors. Normally these onions and the urad dal settle down at the bottom of the chutney bowl. So forget not to mix well during every serve. When you feel the onions for every bite of the idly/dosa you'll realize that you are not to be blamed for the intake of the 4+ or 5+ or 6+ or 7++ idlies/dosas. Blame the small onions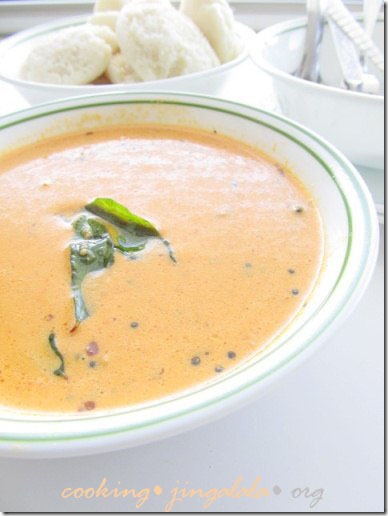 Split Chikpeas Chutney
PREP TIME: 5 min
COOK TIME: 10 min
TOTAL TIME: 15 min
YIELD: 3
DIFFICULTY: easy
RECIPE TYPE: Chutney/Idly-Dosai Dip/Condiment
Ingredients:
Shredded coconut/thengai thuruval- 3/4 cup
Chanadal/kadala paruppu – 2 tblspn
Dry whole red chillies/varamilagai – 3 (consider size and adjust accordingly)
Salt to taste
Water – 1 cup
*\ To Temper ***
Oil – 3 tsp (I used sesame oil)
Mustard seeds/kadugu – 1 tsp
Urad dal – 1 tsp
Curry leaves – 1 string
Small onions(shallots)/chinna vengayam – 5 (consider size and adjust accordingly. Can use big onions if you don't have small onions)
Mangala from cooking.jingalala.Org Eat Well!