Pottu kadala Chutney ~ Roasted gram Chutney ~ South-Indian Chutney recipes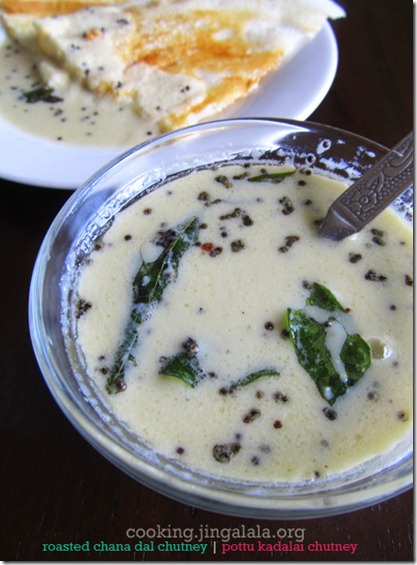 This chutney post is competing with one of my old chutney posts. 2-minutes Chutney Vs Minute's Chutney. This time the parameters for selecting the winner among the two are the preparation time and cooking time. With that said, Minute's Chutney will win the race even before whistling 1-2-3

. Yeah, this post is all about this Pottukadalai chutney (roasted gram chutney) that can be made in just 60 seconds, yet so tasty <or at least edible

>. You can skip to the recipe (Click here) ignoring the story-stream below.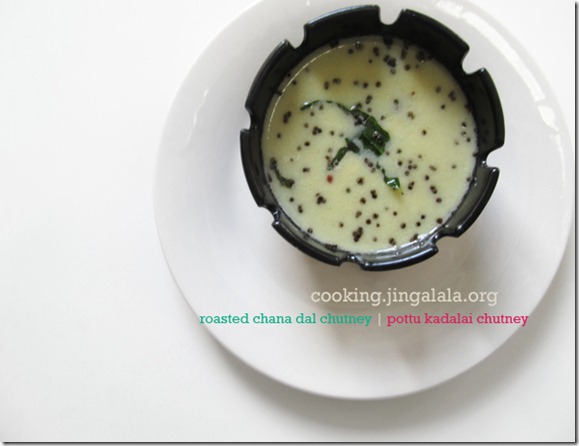 We all know, we're not who we are when we are hungry. A stomach that is unattended while we are hungry becomes very angry. Minute's Chutney* is the solution to handle the husband who comes home with a hungry-look

. Some people used to get hungry very fast and then they start to nag for food. This 60-Seconds-Chutney* is the magic wand to tackle the 'hungry-situation' at home. The trick to control such hungry stomachs is not by feeding with instant snacks/food or by cooking elaborate meal but to satisfy their hunger quick and fast with food that can be prepared quickly and easily. That is, the response time to a hungry tummy should be quick and fast. This chutney recipe has a very fast response time to your hunger since it can be prepared just-like-that. Pottukadalai + chili + salt + water + whirrrrr…….. T**a-da…….** chutney thaiiyaar….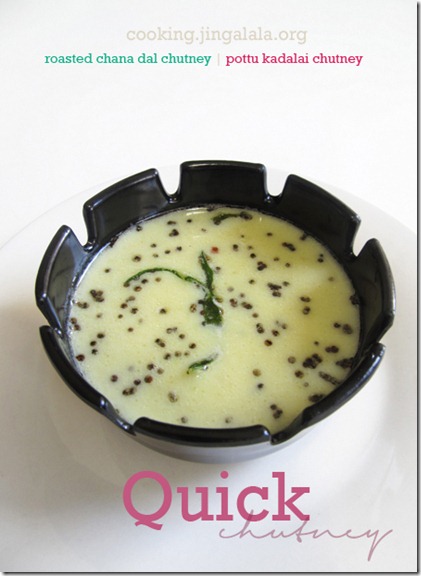 * – Cooking time includes only the time required to prepare the chutney alone. It's implicit you should have dosa/idly batter in your fridge

. Well and good if you have idly milagai podi/stored chutney.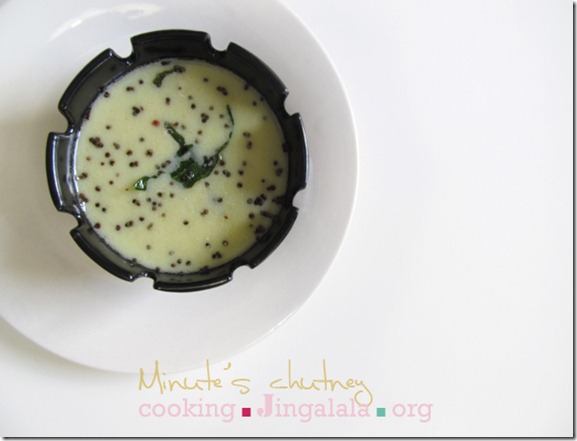 How to make Pottukkadalai chutney (Roasted chickpeas chutney) – With step by step pictures (click each photo to see an enlarged image)
Step 1. Take the pottukadalai/roasted gram, green chillies, salt and ¼ cup of water in a mixer and grind it until smooth.
Step 2. Transfer the chutney into a bowl and mix the remaining ½ cup of water. Mix well. Check salt. [The consistency must be watery as shown in the picture. Or you can have the chutney to the consistency you wish.]

Step 3. Heat the oil in a dry wok. When the oil is hot, add mustard seeds.
Step 4. Add urad dal once the mustard seeds splutter completely. Add curry leaves.
Step 5. Mix this tempering into the bowl of chutney.
Step 6. Now quickly satisfy your hungry tummy with idly/dosa and pottukadalai chutney (Dalia Dal Chutney). Nothing can override the taste of food that is tasted when we are hungry. This chutney recipe though simple, it's a savior for most of us who return from office with a pestering stomach.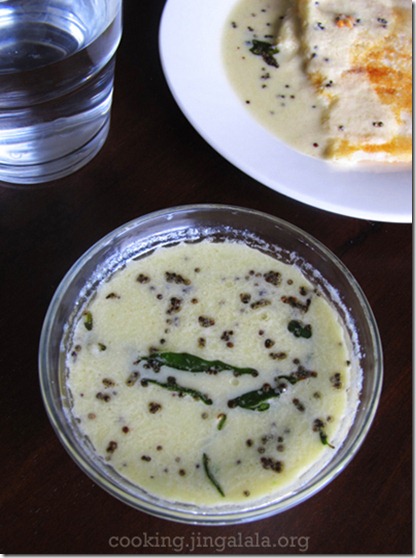 3Ts [ Tips | Tricks | Tactics ] to make Pottukadalai Chutney (Roasted split chickpeas chutney)
Pottu kadala chutney tastes great even without tempering.
This roasted gram chutney suites best for hot idly.
Do not pour the chutney into the hot tempering. Pour the tempering into the chutney. Because roasted chana dal is a thickening agent and will thicken if heated in stove.
This quick and easy chutney goes well with any spicy bajji or vadai varieties too. I make it a point I add one or two chilies more when it's served with vadai/bajji or paniyaram or vermicelli semiya upma.
The ground chickpeas tend to settle at the bottom, so mix well before every serving.
I see the mustard seeds on the curry leaves like crowded passengers on a boat. Yeah, every time I compose a post about chutney in my blog, I make it a point to focus on these cute little purple-black beads like how I showcased in Red-color Chutney or Kadalai Paruppu chutney

We used to live in the busy downtown in the city of Madurai. I still remember this street side Idly shop run by a Sourashtrian couple. Madurai Sourashtrians have a big history and everybody in Madurai know that the Sourashtrian neighbors are well known not only for their best weaving of silk but also for their recipes that have a fantastic touch added, especially the chutney/kurma and rice varieties! This idly shop had the biggest of all the idly pots in the world I should say. They steamed idlies in several plates inside a gigantic idly cooker/pot. When I was sent to get idly parcels, as instructed by mom, I used to ask the lady of the shop, "Akka, idly sooda venum" ["sis, we need only hot idlies"] and she'll reply, "ellarukum idly sooda kudukren papa" ["kid, sure will give hot idlies for all"] lifting the lid of the mammoth idly pot not bothering of the steaming water vapor beating her face. They used to parcel the best chutneys ever accompanied for idlies. One among them is this Pottukadalai/roasted gram chutney.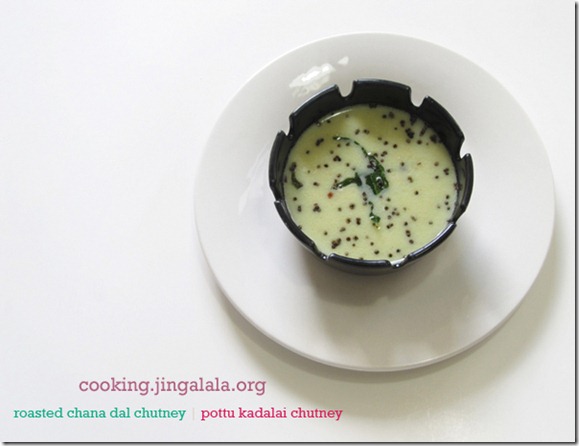 After we moved from downtown Madurai, our whole family missed this idly shop; its tasty chutnies especially

. Whenever we happen to drive pass that area, I create an imaginary vision of those "Idly Days" of that little idly shop: the lady tirelessly taking idlies after idlies from that huge steaming pot, hungry customers eating plates after plates of idlies topped with a nice ladle-full of all the chutney varieties, busy customers waiting impatiently for their parcels and the shop keeper parceling the HOT idly and the chutneys faster than a robot. I can only visualize the scene because the shop is no more in that place. The smell of this Pottukadalai chutney (roasted split chana dal chutney) and the smell of the steam from the idly cooker brought those memories in front of my eyes today.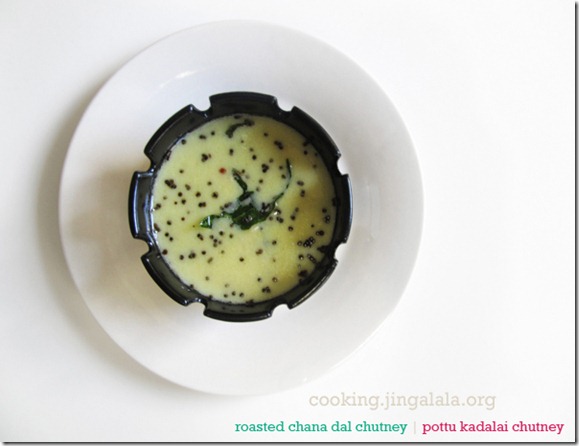 This chutney post is in memory of that humble idly shop.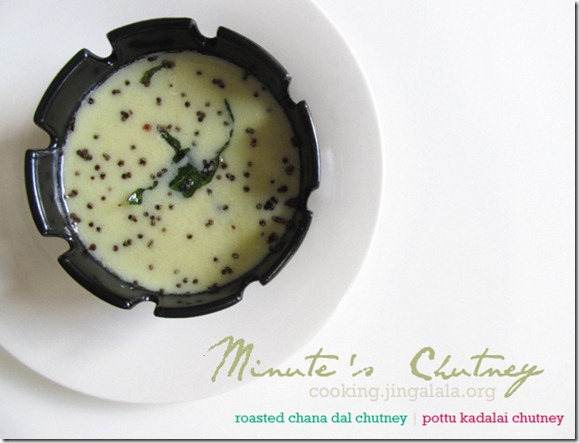 So from now on, what will you do when your tummy cries and shouts for food out of hunger? Do you effortlessly order for a pizza? Or drive to the nearby fast food counter? Or take just 60 seconds effort to prepare this yummy chutney thereby pleasing your tummy? I do the latter

.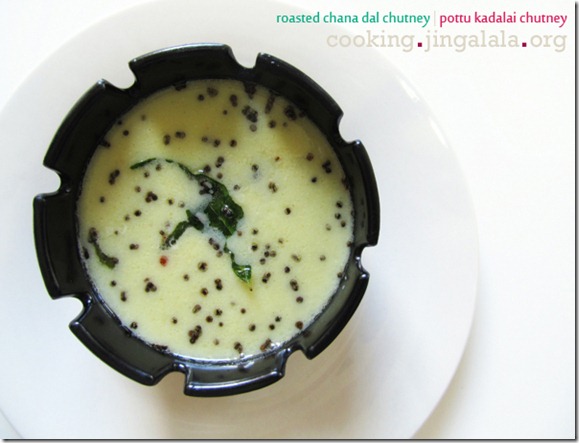 Roasted Bengal gram Chutney
PREP TIME: 0 min
COOK TIME: 0 min
TOTAL TIME: 1 min
YIELD: 2 adults
DIFFICULTY: easy
RECIPE TYPE: Idly-Dosai Dip/Chutney/Condiment
Ingredients:
Roasted gram/Pottukadalai – ½ cup
Green chili – 4 (adjust to your spice level)
Salt to taste
Water – ¾ to 1 cup
*\ To Temper *\ (optional)**
Oil – 2 tsp.
Mustard seeds/kadugu – 1 tsp.
Urad dal/ulundhu – 1 tsp.
Curry leaves – 1 spring
Mangala from Cooking.Jingalala.Org Eat Well!