How to stuff and mold kozhukattai – A Video
[youtube=http://www.youtube.com/watch?v=WxBZWNHiu5w\]
If you want to make your people at home behave like angels then we need to stuff their mouth with delicious food; a food so delicious that should stop their blah-blah talks; a food so enjoyable that shuts their mouth at least for five minutes at a stretch. If you are searching for such a smart dessert that could do the job, then you've landed on the right platform! This sweet kozhukattai recipe does the perfect business since it keeps their mouth engaged for at least full 15 to 20 minutes non-stop! Give them just one and they'll line up for the second, the third, the fourth and even more of these soft, sweet munchies. Their mouth will be munching each piece of these divine little modaks/kolukattais continually for at least 5 full minutes.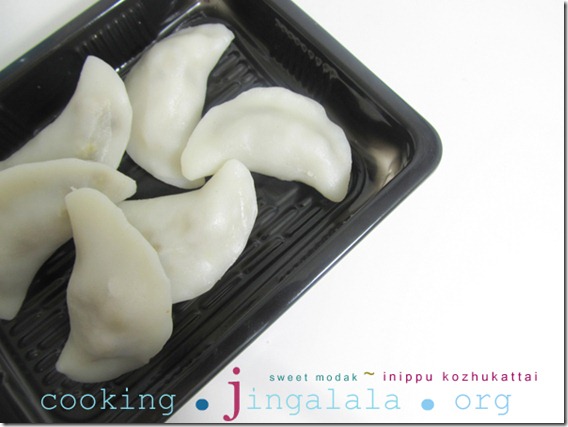 The kozhukattai recipe which I am going to explain is an authentic method that requires quite a lot of strength and practice. This is the first time I am making this kozhukattai dough myself and they came out exactly (or I should say "better than"

)) how my amma used to make them. I have seen and helped her in making these kozhukattai maavu (modak dough) for several years, especially in the kneading process that transforms the hot dough into soft and smooth dough for shaping and molding the modaks/kolukattais without a single crack!

How to make Kozhukattai - with step by step pictures
[Each picture can be enlarged if Clicked]
Step 1.
Take the measured idly rice and soak in water for minimum of 4 hours (you can soak overnight too)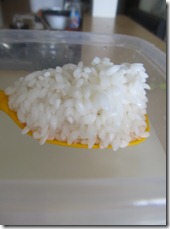 Step 2. Drain the water. Grind the rice with 1/2 tsp. salt and 1/2 cup water very very finely in a mixer grinder or a blender.
Step 3.** Grind the batter very finely such that you should not feel any grains. Grind it to dosa batter consistency. Check salt. Keep a wide pan/wok on the stove in very low flame.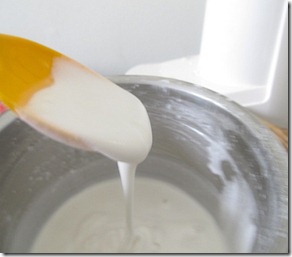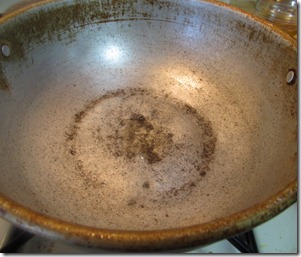 **
Step 4.** Pour the batter into the wok (If you need, use oil. I used 1 tsp. sesame oil). High care is needed after this. Use wooden ladle to stir the batter. Flame should be maintained in LOW at all times.
Step 5.** Lumps must not be formed. Stir hard especially in the middle of the pan since the batter gets tough and hard easily if neglected. Cook the batter nicely until the raw smell goes off and until it comes to a dough consistency. (This process takes 5 minutes)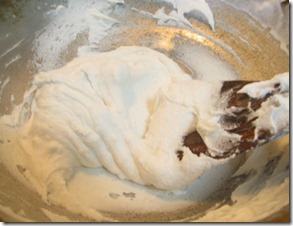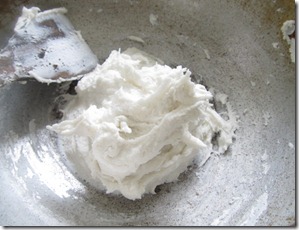 Step 6. At this stage take the pan out from stove and IMMEDIATELY continue kneading them with your hands.

Yes they'll be hot. You can apply few drops of oil while kneading. Knead them nicely pinching all the lumps you come across while kneading the dough.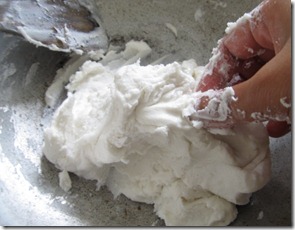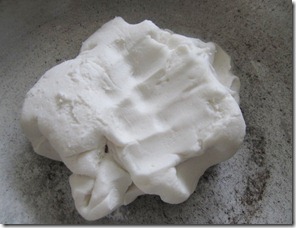 Step 7. Knead the dough at least for 10 minutes. Result – Smooth, clay-like dough! You can get the idea of the dough's consistency seeing the second picture below.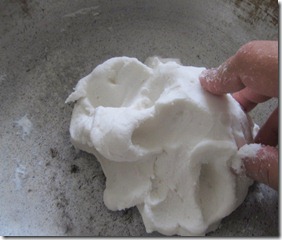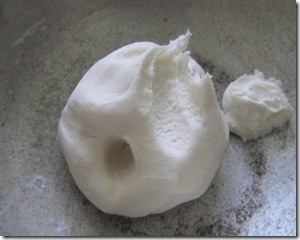 Step 8. After kneading the dough do not keep the dough in the vessel in which it was cooked because the dough will kinda form a hard papery layer due to the heat in the wok/kadai. This papery layer will result in cracks while shaping/steaming the kozhukkattai. So remove the dough/maavu from the vessel/wok, apply little oil or ghee (say, a 1/4 tsp.) over the dough and store it in a tight closed container like a plastic box - if you're not using the dough right away. However if you're using the dough right away to make the kolukattais transfer it to a lightly greased plate and work with it. .
Step 10. Set everything ready to mold the modak. I dip the tip of my finger in sesame oil just before shaping the kozhakattai. Video below gives complete instructions to mold the stuffing inside the kolukattai.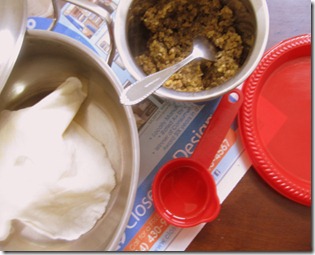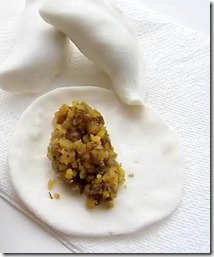 [youtube=http://www.youtube.com/watch?v=WxBZWNHiu5w\] **
Step 11.** Meanwhile preheat the idly cooker with the idli cloth and the lid closed for 5 minutes. Once they are heated, place the kozhakkattai in the clothed idly plate and steam them just for 7 minutes in medium-high flame. Then change flame to LOW and steam for 3-4 more minutes. When you feel the warm smell of cooked kozhakattai dough and when the kolukattai looks shining, it's ready to be taken out. Hot kolukattais will tend to break. SO take out the idli plate and wait for the steam to escape from the kolukattai for 3 minutes. Then take out the kozhakattai from the cloth. You can continue steaming the next batch of uncooked kozhukattai in the same way. (check the water in idly cooker before every batch is steamed)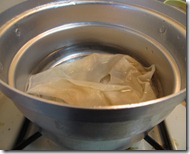 [![](/images/modhagam_thumb2.jpg)](/images/modhagam2.jpg)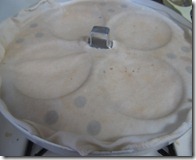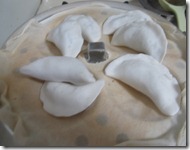 [![](/images/modhagam_thumb3.jpg)](/images/modhagam3.jpg)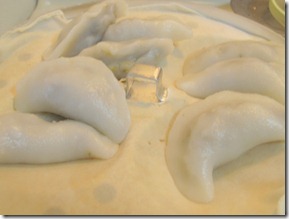 Step 12. Stuff in your mouth with these sweet and soft munchies.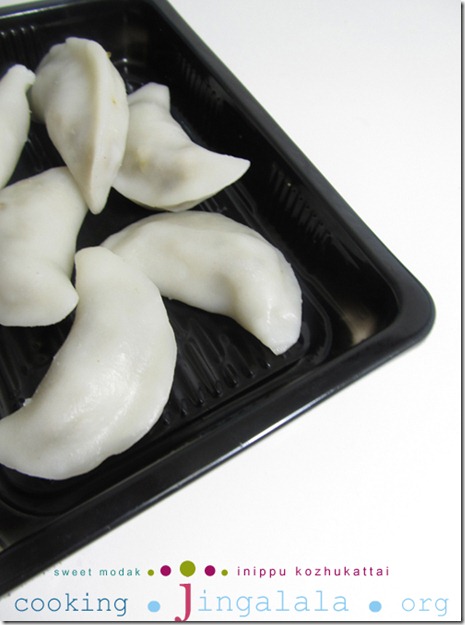 3Ts [ Tips | Tricks | Tactics ] for making Inippu Pooranam Kozhukattai
In my opinion, little stuffing (pooranam) is good for the modaks/kolakattai, both for taste and for molding the modaks/kolukattai. The real taste of kolukattai lies in the right amount of the stuffing. Only then this "super-hit-combination" of the steamed dough and the sweet stuffing can be realized while eating.
Perfectly kneaded kozhakattai (modak) dough is one which can be molded into any shape, just like how clay can be molded. The dough will never be cracked while shaping/molding/steaming, except that you should keep them LITTLE damp until it is ready to be steamed.
There are several methods to make the modak dough (kolukattai maavu) more quickly and instantly. But this is how we make traditionally (especially, on Ganpathi puja). This method of preparation is quite tricky. Need extra care, else the batter will harden and you'll end up cursing me
Oh yes, you can sure roll this type of kozhukattai maavu (modak dough) in chapatti/roti roller if my video did not give you the detailed instruction. Once the ends of the kozhukattai are pressed together, you can use small fork or your fingers to sculpt the lid. We just press them together and tap gently on the pressed ends and this makes a perfect sealing for the stuffing inside.
Personally, I wish to have the pooranam (stuffing) a little dry so that it is easy to stuff and mold. This means, I use only little jaggery for preparing the pooranam (sweet stuffing).
Mom, uses chana dal (kadalai paruppu) and makes nice moist kadala paruppu poornalu. Since the husband requested for his mom's version made the pooranam with pasipayaru (greengram). I first did not like the idea of preparing the pooranam with greengram, thinking we are not that old to fear of digestive problems thereby replacing pachapayaru for chana dal. Then picked to make just to see how it tasted. "Mmmmm….YES they tasted awesome" (says the husband)
These kozhukkattai stay good for 1 day. Reheat by steaming them for a minute in a preheated idly cooker.
More tips on the stuffing/pooranam in Paasi payaru pooranam post (greengram sweet stuffing)

Nowadays the husband is trying out his hands on cooking; may be he's inspired from my blog or want to escape from my cooking

. He molded three kozhukkattais (which you can see in step 11, far behind the focused ones

)).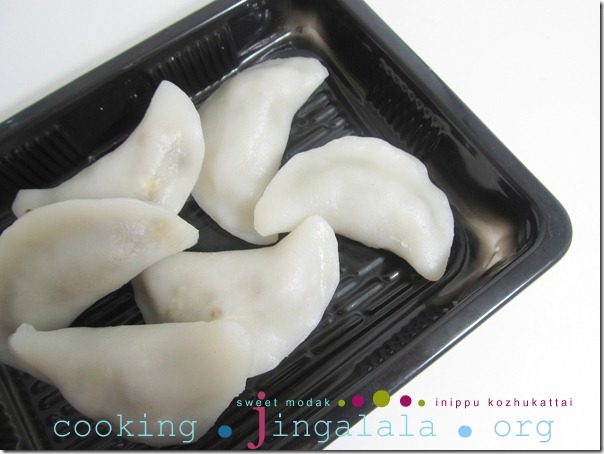 Have you seen two best friends smiling with arms around each other's shoulders? Well that's how the steamed rice dumpling and the green-gram-coconut-jaggery stuffing taste, going hand-in-hand perfectly!

.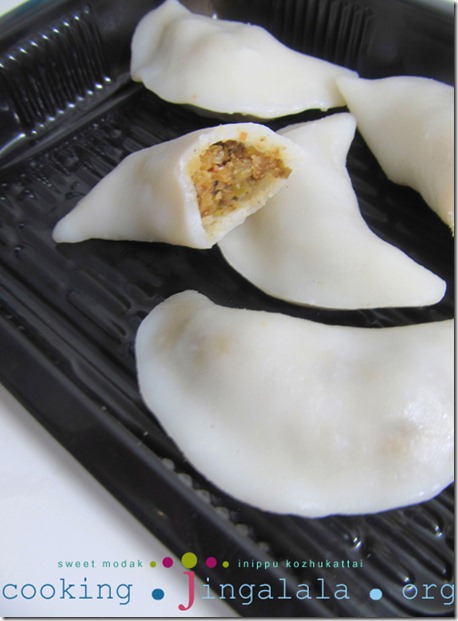 Tamilnadu Kozhukattai Recipe
PREP TIME: 5 h
COOK TIME: 20 min
TOTAL TIME: 5 h 20 min
YIELD: 20 dumplings
DIFFICULTY: medium
RECIPE TYPE: Dessert, Snacks, Prashadam
Ingredients:
Idly rice (uncooked) – 1 cup
Water – 3/4 to 1 cup
Salt – 1/2 to 1 tsp (adjust to your taste)
Sesame oil (optional) – 1 tsp.
Pooranam/Stuffing – 1 cup
Mangala from Cooking.jingalala.Org Eat Well!