Madurai Chutney Recipe | Spicy Chutney Recipe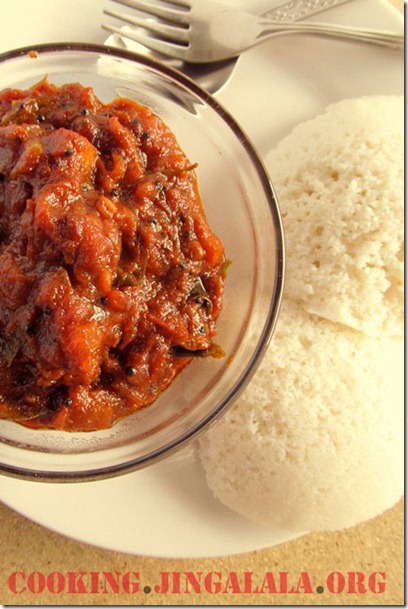 What more do you want than the white-hot-spongy idlies accompanied by red-spicy-tasty chutney and then thanking God when you get a good burp

? Chutneys are integral part of South-Indian food habits. The beauty with all the chutney varieties of Tamilnadu is the variations which you could make with the same chutney. Adding more tomatoes/tamarind makes the chutney tangy, adding little more chillies makes it spicy, adding a little sugar at the end gives a nice sweet taste to the chutney, grinding the chutney with coconut, without coconut, with tempering, without tempering, grinding the chutney in ammikal (hand mortar), grinding in aattu kal (hand-driven stone grinder), grinding it in mixie (blender)…. all these sure give a completely different taste to the same chutney.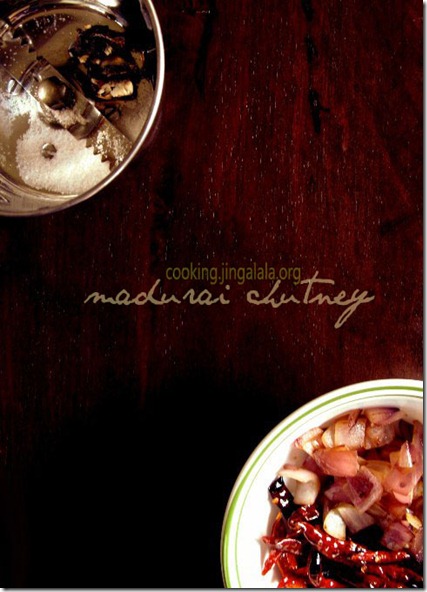 If I actually start to classify the chutney varieties that we make in our home it will run to pages. But as I even decide to post on a particular category of recipes I realize that at home we stick to only few food habits and forget about the rest of the recipes. Not that we abandoned them because of taste. Sure every recipe made at home tastes awesome, but in some way or the other, we just forget about the recipes and just never mind to eat and enjoy the routine recipes that are made in the round robin fashion. It's always nice to be a food blogger, for myself and the people at home get to eat a variety of recipes and we remember and record the home recipes which are nearly to extinct


How to make Madurai chutney – Guiding you with step by step pictures [Each image can be enlarged when Clicked]
Step 1.
Peel and wash the small red onions. (Note: I am using normal big red onions here since shallots are costly here). Wash the whole red chillies and remove stalk.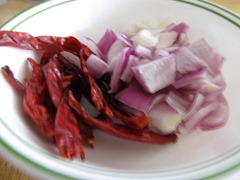 Step 2. Keep a dry wok in medium-low flame. Saute the red chillies with 3 drops of oil (until they turn shiny and their size increase).
Step 3. Next, throw in shallots (approximately 1 cup of whole shallots) and saute them. Onions must loose raw smell and turn golden-pink in color.
Step 4. Now let the roasted chilly and onions cool.
Take little tamarind, wash it and add it with the onions and chillies. Add little salt and water and grind them to a paste.
Step 5. Finely chop the remaining small onions ( 3/4 to 1 cup approx). Wash and finely chop the tomato (approximately 1 cup of finely chopped tomatoes). Wash two spring of curry leaves. Keep them aside.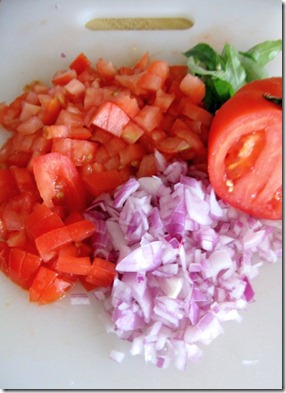 Step 6. Heat the wok in medium flame and add oil. When the oil is hot, add mustard seeds. Let them splutter completely. Add urad dal.
Step 7. When the urad dal tries to turn brown, throw in curry leaves and add the chopped onions. Saute the onions until they turn translucent.
Step 8. Add chopped tomatoes. Saute until the tomatoes reduce in volume and turn little mushy (not very mushy).
Step 9. Now add the ground chutney. Add little water (about 1/2 cups) and mix well. Wait for a minute or two. Switch off flame. Madurai chutney is ready now.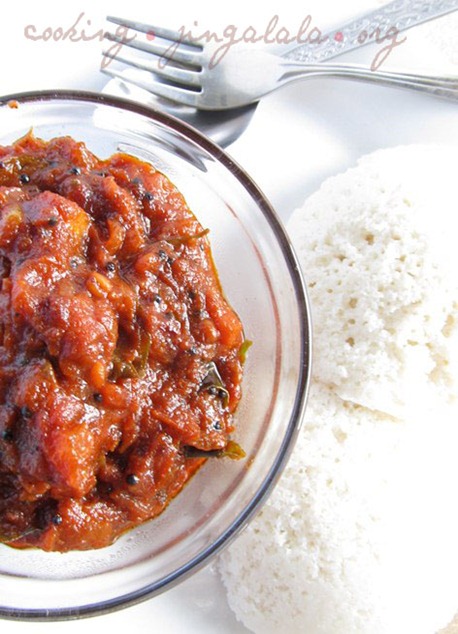 3Ts [ Tips | Tricks | Tactics and Secrets ] to make Madurai Chutney
Pick nice ripe tomatoes for making this madurai chutney.

Curry leaves add a wonderful flavor and smell to this chutney. So if you have more than two springs go ahead and add.

For any chutney recipes, I use whole urad dal (ulunthamparuppu) instead of split ones while tempering. I like the nutty texture while eating the chutney

If your chutney goes too spicy, just add a teaspoon of sugar to the chutney at the end when you switch off the flame. Adding sugar actually adds in a different taste that most of us will like.

Sesame oil gives a very good smell and taste to the chutney. You can use any cooking oil if you do not have sesame oil.

Take care while you saute chillies. They get roasted soon. Do not burn them else the chutney will have the roasted chilly smell.

I normally keep the chutney in sim for 10 minutes after the last step mentioned in the recipe. This reduces the chutney volume but increases its taste .

How many of you cry while peeling and cutting onions? I cook for years and every time I peel/cut the onions, I cry too much . There are funny facts like we should stamp some onion skin while peeling/cutting them. But here are some real tips. Have the fan switched off while you peel and cut onions. Or, soak the onions in water for 1/2-1 hour and then peel. This will really work on arresting your tears for onions .

So what are you waiting for? Make this onion tomato chutney for breakfast/dinner and enjoy with piping hot idly or ghee roast or medhu dosa. Ohhh, did I not tell how did this chutney get its name? It's an amusing fact that the cooking style and taste of the same recipe varies from house to house in Indian cooking. Even the way of tempering the food varies from my maternal grandma house and my paternal grandma house. Every time we visit our grandma's (mom's mom), house at Trichy, my mom used to make this chutney since this is my grandma's favorite chutney. The good thing here is, my mom learnt this spicy chutney recipe from her mother-in-law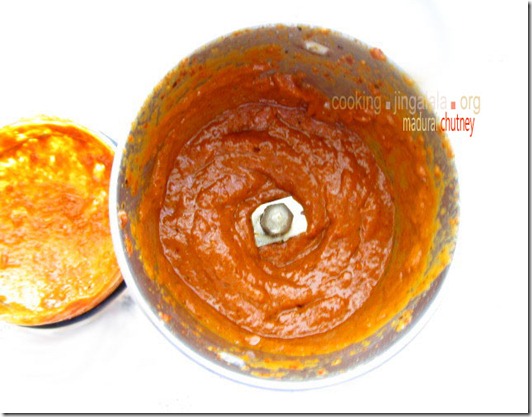 Spicy Madurai Chutney
PREP TIME: 5 min
COOK TIME: 15 min
TOTAL TIME: 20 min
YIELD: 3
DIFFICULTY: medium
RECIPE TYPE: Idli-Dosai Dip/Side dish/Condiment
Ingredients:
Small red onions (chinna vengayam) – 15 to 20 (can use normal big onions too)
Dry whole red chillies- 10 (can add more according to your spice level)
Large Tomato – 1
Curry Leaves – 2 spring
Mustard seeds – 1 tsp
Urad dal(ulunthamparuppu) – 2 tsp
Salt to taste
Water – 1 cup
Sesame/Gingely/Cooking oil – 3 tbsp
Mangala from Cooking.Jingalala.Org Eat well