Homemade Pizza Crust | Best Pizza dough | How to make Pizza Base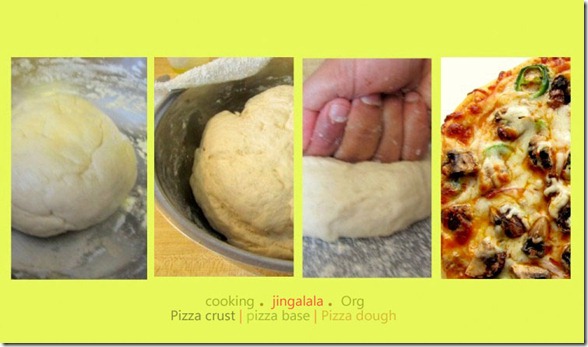 How will the people in your house react if the produce/product bought by you is not perfect? They give rotten comments, don't they

? I still remember this; the famous Pizzas were introduced to our city of Madurai by the 'British Bakery' when we were very very young. We never know about Pizza until my father brought a box full of small pizzas to home. When we tasted it we felt…'Yucckkkkk…. Is it really an edible thing??' and dumped the whole box into the bin. When we asked our dad what it was, he said, 'it's Pisssaa…'

It was too much chewy that our jaws begin to pain and we felt like a group of cows who got no other work other than chewing the food all day. We made funny comments that even dogs can't eat those. It is because, we did not know how a Pizza would taste, it is because we did not know that Pizzas must be eaten hot, it is because we never have smelt the smell of Olive oil in our foods.
Then slowly, as we started visiting Chennai and tasted the fresh pizzas, we were clean bowled for its taste. Its rich contents; the easy chewable pizza crust, the sweet pizza sauce, the fresh vegetable pizza toppings, the amount of cheese melting down the pizza pan, and lastly the smell of olive oil in the pizza … mmmmm… clean bowled… clean bowled everybody! It is important that for enjoying a perfect pizza, the pizza must be HOTTTT, right from the oven kinda hot. I like to watch how the hot melting cheese threads and breaks itself when you piece the pizza and take it from the pizza pan. It is even more a beauty to watch how the cheese thread break when you have a bite and take it away from your mouth. Today, pizza is my mom's favorite outdoor-food. More than us, she asks for pizza if we plan to go out for food. When I shared that I made the whole pizza myself at home, she was more excited than me

[btw, Madurai today has many famous pizza restaurants

]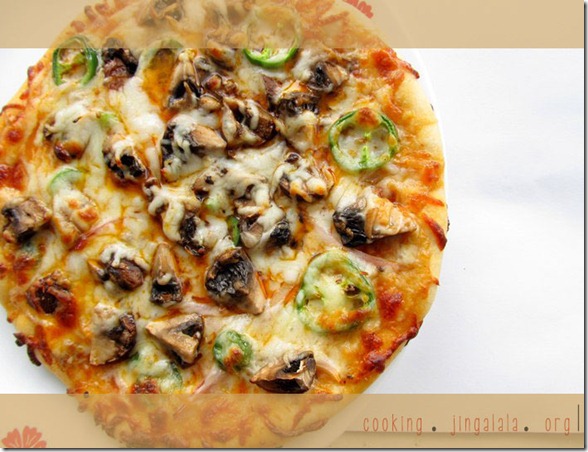 I am no pizza master, so I took the help of the pizza crust recipe that I found in the flour pack I got from Kroger. I also took the help of this video (how to blend pizza dough) to make pizza dough at home. This link is too awesome for it shows how to blend the flour into a perfect pizza dough. I am now using these tricks to actually let free my stress

, or at times I imagine that the dough is the effigy of that someone (I leave it to your imagination whom I'm thinking of

)) who I wished to whack nicely back and forth with many heavy punches in Vijaykanth's style

.


*How to make homemade pizza crust (Pizza base/Pizza dough) from scratch - with Step by Step pictures. [Each image can be enlarged if clicked]
*
Step 1. Make ready all the ingredients on the counter. I got this cute yeast sachet from the super market.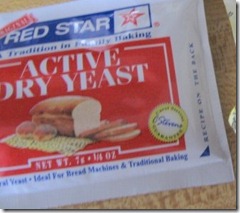 Step 2. Warm up the water.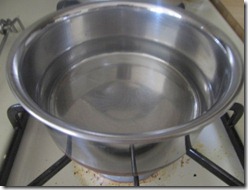 Step 3. In a large bowl, add yeast, honey and 1/4 cup of the warm water.
Step 4. Mix them well to dissolve and let it sit for 10 to 15 minutes to prove the yeast.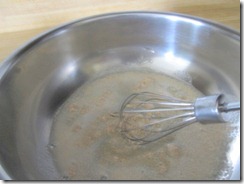 Step 5. Once the yeast foams up, add salt, olive oil and the remaining 3/4 cups of water.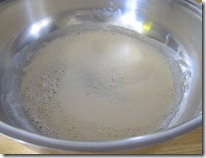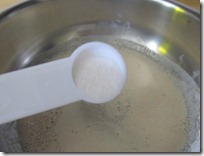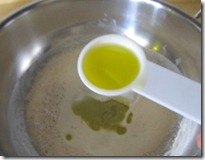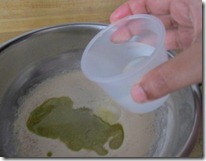 Step 7. Add the flour (one cup at a time) and blend them (alternately blending and adding the flour)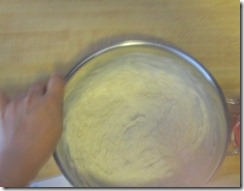 Step 8. Use your kitchen counter to nicely blend the flour to form the dough [blend at least for 10 minutes continuously. You can make use of the link which I shared to check how to blend the pizza dough].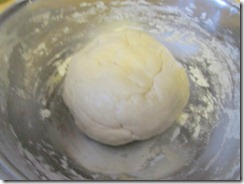 Step 9. Once you form the dough, close it with a damp kitchen towel. Preheat oven just for 5 minutes (200F | 120 degree C) and switch off the oven. Place the closed dough inside the warm oven for 45 minutes (Important: do not switch on the oven even by mistake. Ok, I consider my readers are not so senseless like me

))
Step 10. After 45 minutes, see how the dough has risen beautifully. Divide them into 4 equal size.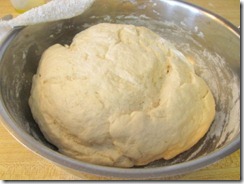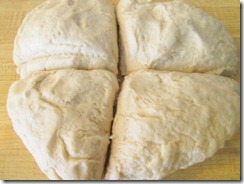 Step 11. Now, take each ball of dough and fold them (down/up) multiple times and form them to a nice rounded dough.
Step 12. Close it with the damp cloth and let it stay for 20 more minutes. After 20 minutes, the dough will rise 1 to 1 and a 1/2 times bigger in size. The homemade dough is now ready to use. You can use the post of Pizza topping and baking if you wanted to.

3Ts [ Tips | Tricks | Tactics] for making pizza dough/base/crust
Do not use yeast too much because you will then able to feel the smell of yeast in the baked pizza.

More the time and energy you spend to blend the flour into the dough, the more smoother the dough becomes.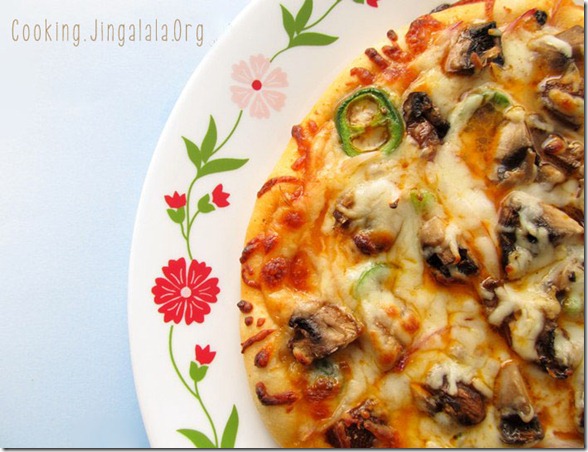 Do you see how great this pizza would have tasted? Do you see how we enjoyed eating this pizza? If not then make this pizza dough recipe and bake your own pizza at home. Feel the easy chewable pizza crust, the sweet pizza sauce, the fresh vegetable pizza toppings, the hot cheese melting down the pizza pan, and lastly the smell of olive oil in the pizza … mmmmmMM… get clean bowled!
Pizza Dough Recipe | Pizza Base
PREP TIME: 1 h 30 min
COOK TIME: 0 min
TOTAL TIME: 1 h 30 min
YIELD: 4 medium sized pizza crust
DIFFICULTY: medium
RECIPE TYPE: Main dish
Ingredients:
All purpose flour (Maida) – 3 cups
Salt – 1 tsp.
Active dry yeast – 2 tsp.
(extra virgin) Olive oil – 1 tbsp.
Warm water – 1 cup
Honey (or Sugar) – 1 tsp.
Mangala from cooking.Jingalala.ORG Eat Well!