Homemade Pizza Sauce | Best Pizza Sauce | How to make Pizza Sauce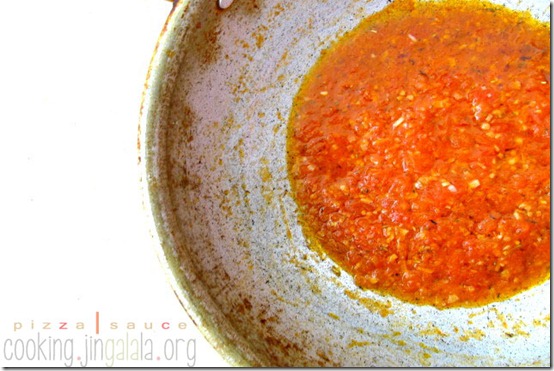 The moment I hear tomato sauce/ketchup I only remember how I used to greedily finish up the sauce bottle kept in the tables of bakeries and office cafeteria

. Every time we visit any bakery/restaurant we order the pizzas/samosas and quickly grab the sauce bottle from other tables. The sweet, spicy and tangy flavor makes me to dip my finger number of times into the paper plates. Then I make this finger licking and lip smacking noise until the person in the next table gets irritated

. At times, I enjoy the sauce just like that from the refrigerator. This is about the accompaniment sauce that comes with the main dish that we get in the bakeries. But here in this pizza sauce post, I'm going to show how I made and enjoyed my own pizza topping sauce. I enjoyed it no less than how I used to enjoy the bakery-accompaniment-sauce. The main factor that differentiates a normal tomato-chilly sauce from a pizza sauce is the Italian herbs that are added in the making of Pizza sauces.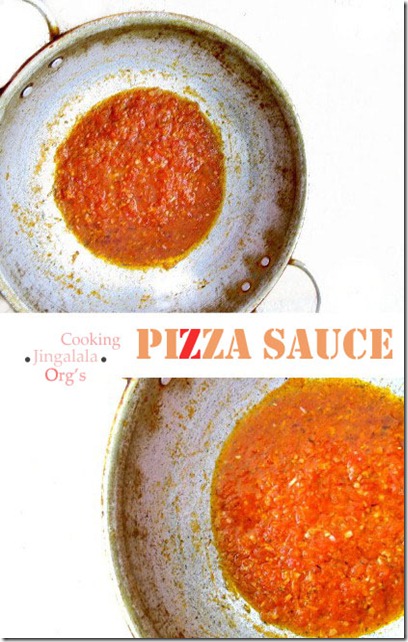 I know most of you must have experienced this. You wanted to make a recipe about which you do not know the exact ingredients to be added or the exact method of preparing it but will have a faint idea of the ingredients and the method of preparing it. But you fear to prepare the recipe with your own idea/assumptions and keep the ideas only in draft until you get the time to browse the net for the correct contents and method and end up finding that the ingredients and method happens to be Exxxxactly (or at least more or less) the same as you assumed? This has happened to me for many recipes. When you get to know that your assumptions and the facts are the same, you'll feel like raising your shirt-collar with a smug smile, as if you were born to be a chef.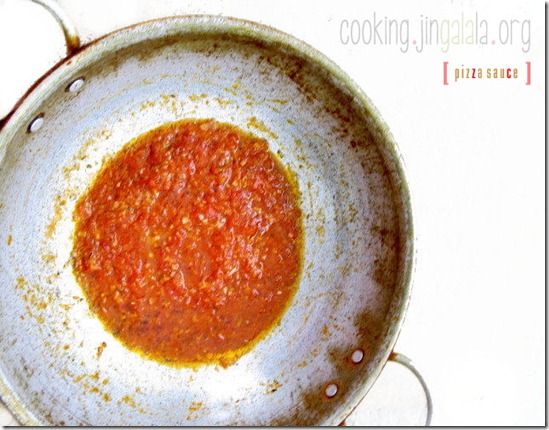 This recipe of pizza sauce was originally drafted in my brain by my taste buds. Then I referred many links and this link happened to match my assumptions of a homemade pizza sauce recipe. Sure that the taste of a pizza varies drastically with the type of pizza sauce used in it. Personally, I like Papa John's Pizza and the sauce used in the pizza. Of course, you can just open the fridge and pour in the store bought tomato ketchup/sauce to top the pizza, but I really liked my pizza sauce recipe. You cannot understand the amount of satisfaction and the amount of happiness in munching THE PIZZA where EVERYTHING about the pizza [the crust, sauce and the toppings] is entirely made by you, until you try it yourself.

How to make Homemade Pizza Sauce - with Step by Step pictures
[Each image can be enlarged if clicked]
Step 1. Make ready the herbs and spices. I got these cute little herb packs from Walmart. [The pack had minced garlic, marijoram leaves, oregano leaves, rosemary leaves and thyme leaves].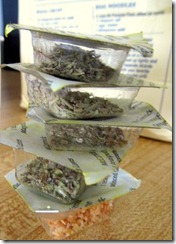 Step 2. Cut one whole dry red chilly into flakes. Mince the fresh garlic cloves.
Step 3. Heat 5 cups of water. When they boil, throw in the tomatoes.
Step 4. Blanch the tomatoes with closed lid (don't put the whistle) just for 5 minutes.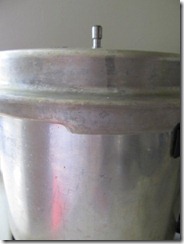 Step 5. After 5 minutes discard the water and let the tomatoes cool. Peel the skin and deseed them. [I roughly deseeded them in a bowl then filtered to get the juice from]
Step 6. Crush/mash the tomatoes nicely. You can use your hands or a nice wooden weight. Keep the crushed tomatoes aside.
Step 7. Heat a wok/sauce pan in medium-low flame and pour the oil. Add the minced garlic. [The minced garlic is very sensitive to oil. So keep the flame to medium-low]. Saute just for few seconds.
Step 8. Add the red chili flakes and the herbs. Saute for few seconds.
Step 9. Pour the crushed tomatoes and mix them.
Step 10. Add salt, pepper, sugar and water. Bring the flame to medium and bring it to a boil.
Step 11. Once they boil, bring the flame to sim/low. Let the sauce simmer for 30 to 45 minutes. Stir the sauce occasionally and check the salt and sugar taste and adjust them accordingly.
Step 12. Wait until the sauce thickens nicely. Once they thicken, switch off stove and wait until they cool to room temperature. Then use it to top your pizzas base.

*3Ts [ Tips | Tricks | Tactics and Secrets ] to make Pizza Sauce *
When you blanch the tomatoes, remove the tomato stalk and make a cross at the bottom of the tomato before dropping them into the boiling water. This will make the job of peeling the skin easier after blanching. [Click image to see an enlarged version]

If you need your sauce smooth, you can blend the blanched tomatoes instead of crushing them or you can cool the prepared sauce and blend the sauce.

Let the sauce stay on stove until it gets nicely thick because if you do not ensure for a thicker sauce consistency then there are possibilities that your pizza might turn soggy.

You can use garlic powder or dry minced garlic instead of freshly minced garlic cloves. You can use chilly paste/sauce/powder instead of dry red chilly flakes. Next time I make this sauce, I will find fresh oregano leaves to add instead of the dried leaves. And yes, feel free to use canned tomatoes instead of fresh tomatoes. If you use fresh tomatoes, pick nice red and ripe tomatoes for making pizza sauce.

Tomatoes will have salt content in them. So add only little salt. I prefer adding less salt, more of chili flakes and just little more sugar.

You can refer cooking jingalala's post for making your own pizza dough/base/crust and pizza toppings. Transform the routine, boring weekend to a D.I.Y Pizza weekend

.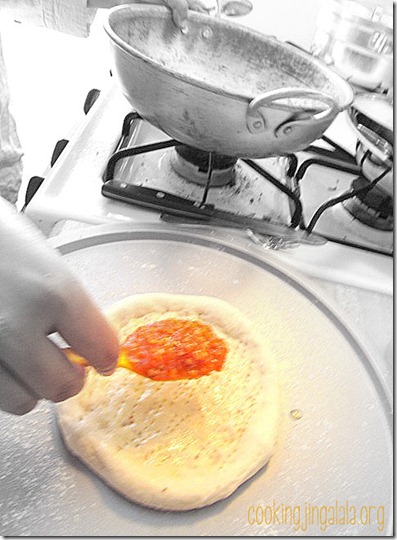 Had a good time?. Ring the bell!! Oh, it's Pizza hut's lines!

. Had a good time enjoying this recipe of pizza sauce? Share/Tweet/Pin/+1/Like the post

Pizza Sauce Recipe
PREP TIME: 10 min
COOK TIME: 45 min
TOTAL TIME: 55 min
YIELD: to top 4 medium pizza crust
DIFFICULTY: medium
RECIPE TYPE: Sauce/Pizza topping
Ingredients:
Fresh Tomatoes – 3 (I used Roma tomatoes)
Garlic cloves – 3
Oil – 2 tbsp. (I used olive oil)
Dry red chilly flakes – from 1 long chilly
Salt – for taste
Pepper – 1/4 tsp.
Sugar – 1 to 2 tsp.
Dry Oregano leaves – 1 tsp..
Other herbs (optional) [Marjoram leaves, Rosemary leaves, Thyme leaves] – just a pinch
Water – 1/2 to 1 cup
Mangala from cooking.Jingalala.ORG Eat Well!