*Best Mango Pie Recipe | No-Bake dessert ideas *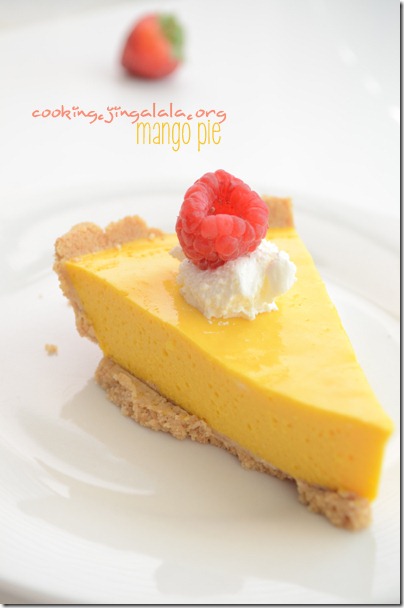 I never believed in love at first sight, but until I met this simple "Mango Pie". Months back, Jeevs had a potluck at his office. That evening, he brought me a slice of mango pie from the party. The moment I saw the pie, I fell in love with it

)


. The color was so glamorous, its texture… so shiny and silky, the taste… "oohhhh… so so divine!". I finished licking the plate in few seconds like a hungry little pussy cat

and asked him, "Why didn't you manage to grab some more slice of the pie?"

That day I learnt the recipe and saved it to be presented for the New Year 2013.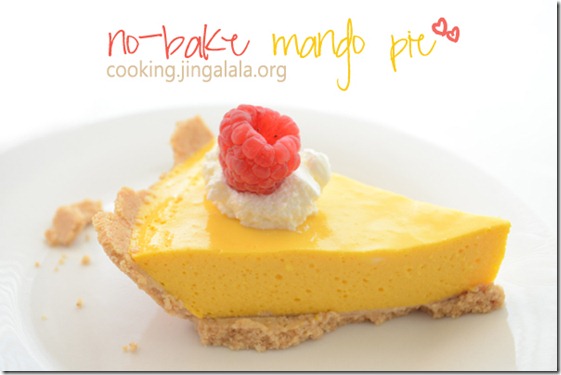 In fact, I should tell you that you've landed on the right spot if you're looking for a quick and easy dessert for your pot-luck parties. Yeah, this is a very simple mango pie recipe that needs no baking and involves no messing in your kitchen. Just pour in the ingredients, blend and refrigerate. That very simple dessert but one which will beat all other desserts brought to any big get-together parties

.
Before we move on to the steps on how to make mango pie, let me show you the ingredients required for making mango pie.
Pie Base: I got a ready-made no-bake crust (Graham's ready crust). It's a 9 inch pie crust. Save the plastic cover in the product. We will need it once we finish preparing the pie (Step 7).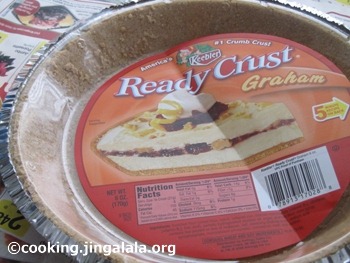 What gives the jelly consistency to the mango pie? I got Knox gelatin (unflavored). I used just one packet. That itself gave enough jelly-ness to the pie. You can substitute gelatin with agar agar.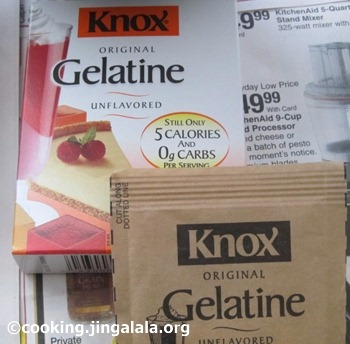 If you're lucky to make your own mango puree/pulp, fine. I got a tin of sweetened mango pulp
from the Indian stores. [If your mango pulp is not very sweet then you will have to use 1/2 cup of sugar (adjust sugar amount according to your taste). You can also substitute sugar with 1/2 cup of sweetened condensed milk]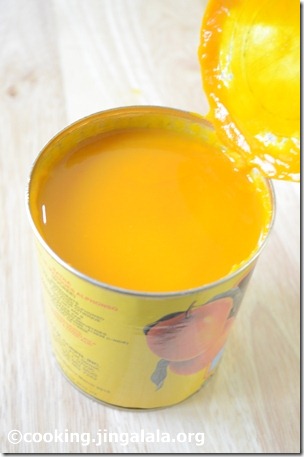 I used 1 full pack of Philadelphia cream cheese (226 g/ 8 oz.).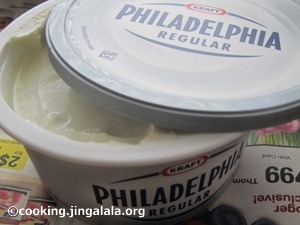 How to make Mango Pie – with step by step pictures [Each image can be enlarged if Clicked]
Step 1. Soften the cream cheese. I kept it on kitchen counter for an hour and beat with an egg-whisk.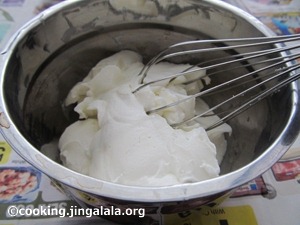 Step 2. Heat 1/2 cup of water. Once it begins to boil, take it from stove. Add a sachet of gelatin and stir continuously as you add. I used egg-whisk to make it dissolve. Set aside until it reaches room temperature. [By the time it reaches room temperature it will turn jelly. So don't get confused.]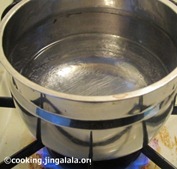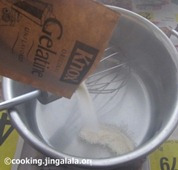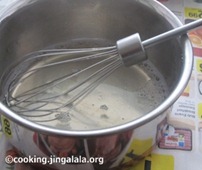 Step 3. Now add together the mango pulp, softened cream cheese and gelatin [if you use sugar/sweetened condensed milk, add them together] into the mixer jar.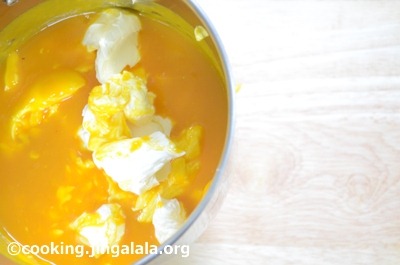 Step 4. I pulsed them for about 5-7 seconds in my mixie. [You can use your electric blender, if you have one. You can also beat them with hands using an egg-whisk, but since my gelatin firmed I used my mixer grinder]. Check the sugar.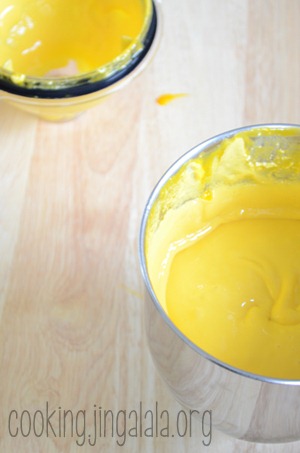 Step 5. Pour the mixing into the pie crust.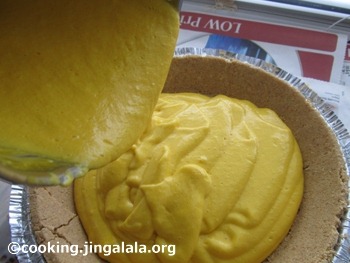 Step 6. The quantity given in the ingredients list exactly fits a 9 inch pie crust. See…

.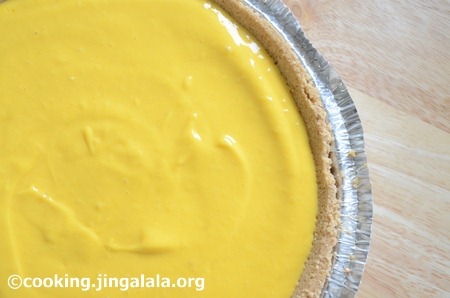 Step 7. Close the filled crust with the cover. Refrigerate it for 6 hours. I kept it in my fridge overnight. [By the way, it's up to you to decide if you really need a pie crust. Yeah, you can just pour them into a bowl/cup and simply scoop it and enjoy after refrigerating]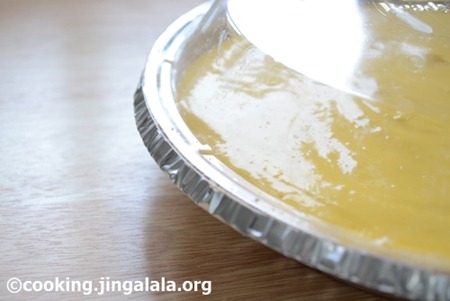 **
Step 8.** And…. the mango pie is ready. [Oh, you see two pieces missing before I presented them to you? I shared them with my neighbors

]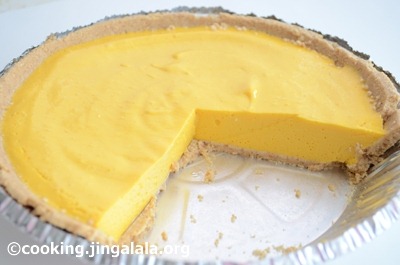 Step 9. Slice the mango pie gently with a knife and serve it. Here, I sliced one for you, topped with some whipped cream and raspberry. Enjoy

….. Ah… should I say kids love this mango pie?

[By the way, if my regular readers are wondering about my suddenly occurred skills on photography… it was all Mr. Nikon SLR Camera]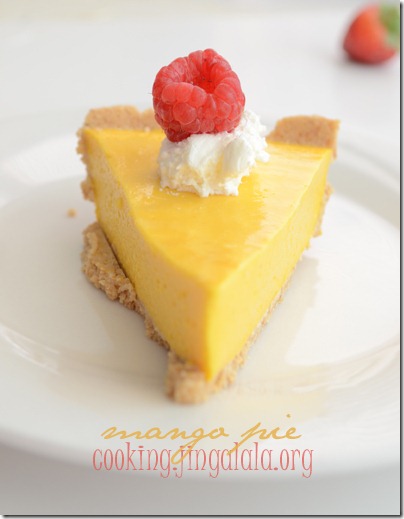 And this is how you've to eat and enjoy a mango pie. This time no bullet points. A Visual treat. Yummmmmmmmm…………..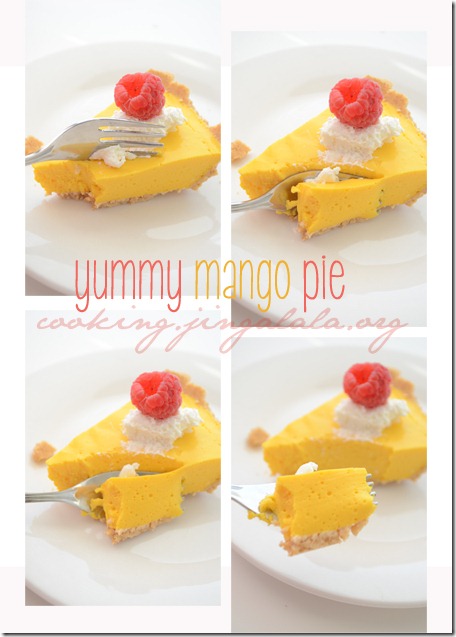 So, do you want appreciations for your dessert when you take it for a potluck? Want everybody at your get-together party to inquire "who brought this lovely dessert?"…? Want your friends to index "you" when people ask "Whose recipe is this?"…? Well, then you must try making this Yummy Mango Pie and serve them

.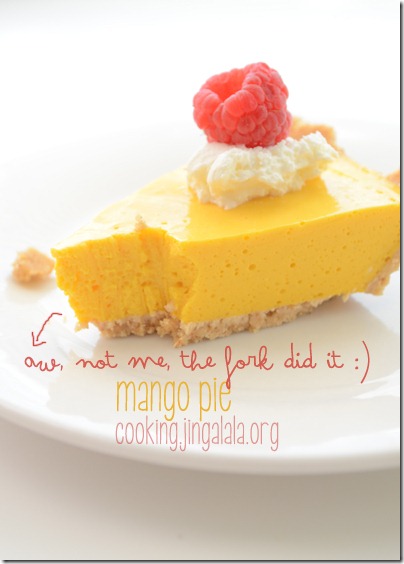 Mango Pie – Mango pulp dessert
PREP TIME: 6 h
COOK TIME: 10 min
TOTAL TIME: 6 h 10 min
YIELD: 8
DIFFICULTY: easy
RECIPE TYPE: Dessert
Ingredients:
Mango pulp – 2 cups
Water – ½ cup
Gelatin – 1 tbsp.
Cream cheese – 8 oz. (226 g)
Cooking Jingalala wishing you a very very Happy New Year 2013!
Mangala from Cooking.Jingalala.Org Eat Well !