Idly Upma Recipe | Simple Tamilnadu Breakfast Recipes
If there's got to be a tiffin recipe which can be made quickly and easily with not much of an effort, then it's this Idli Upma recipe. Idli Upma is so very simple to prepare if you have your leftover idlis from breakfast or from dinner properly stored. The one thing I like with this Iddly Uppma recipe is that it understands our crazy morning hurries and copes up with the rush. When I was single, many a days I used to quickly stir in these idly uppuma, shut them hot in my tiffin box and hurry to catch the office commute. Though this idli upma might not seem to be the best tiffin recipe, I will feel it that way once I manage to get a seat in the shuttle and start to spoon-in the warm idli upma!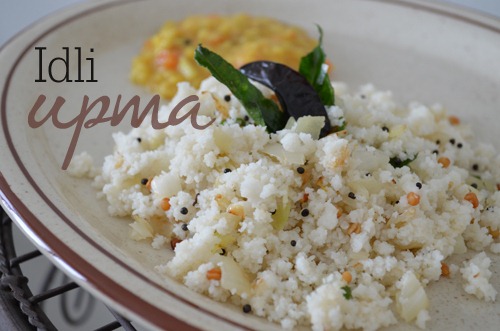 Appa likes Idli upma very much. In fact he likes it VERY VERY much. When Amma plans to finish the excess idli from dinner for the next morning breakfast, she tosses them quickly (like an experienced Chinese Fried Rice Chef) into steaming idli upmas. There are also incidents when these extra idlis have saved our grumbling stomachs like this one… Normally we step out for shopping after giving enough attention to our stomach with a nice and heavy breakfast of idli, dosa, kurma and chutneys. Heavy breakfast, so that we have sufficient stamina to pursue our shopping uninterrupted (here, you'll need to picture 4 ladies shopping for sarees and churidars). We'll be reminded of a home when the stomach starts to grumble slowly. And when we rush home (which is by dinner time), the idlis that were left in the hot pack on the dining table will be minced for a quick-hot-snacks of Idli Uppuma enough for us to survive until the real dinner is getting prepared.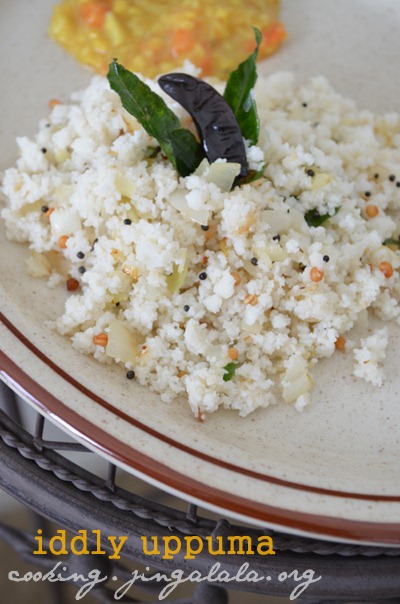 I like to have my Idli upma spicy, with tiny bits of green chilies for every spoon I mouth . That's why I have both dry red chili and green chili under the ingredients list. You can avoid any one of these if you wanted to have your Idly uppma less spicy or subtle. Here's how you make Idli Upma.

How to make Idli Upma – with step by step pictures
Step 1. Peel, wash and finely chop the onions. Wash and finely cut the green chili. Tear a dry whole red chili. Have the other ingredients (mustard seeds, urad dal and oil) ready on the kitchen counter.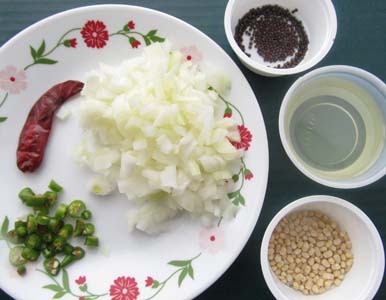 Step 2. Soak the idlis in some water for a minute. If you're using idlis out from refrigerator, you need not soak the idlis. Refrigerated idlies will be very dry thus can be crumbled easily. Just sprinkle little water on them and jump to next step.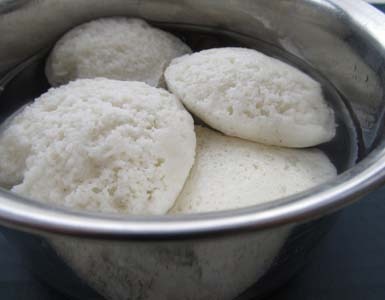 Step 3. Squeeze out the water thoroughly from the soaked idlies. Discard the water. Crumble the idlies into small bits pressing them between your thumb and other fingers. Keep them aside.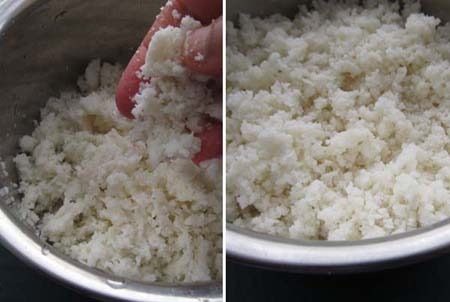 Step 4. Keep a dry wok in Medium-High flame. Add oil. Once the oil is heated, add mustard seeds. Once the mustard seeds splutter completely (4-5 seconds) turn stove flame to Medium, add urad dal, torn dry red chili, curry leaves and sauté for 4 more seconds. Add onions.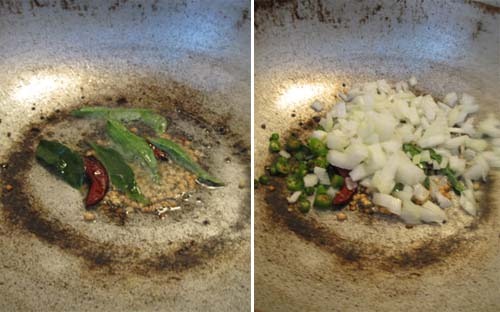 Step 5. Sauté the onions just for a minute, until they turn pale, turn flame to LOW. Add the crumbled idli pieces and give a quick stir for 20-30 seconds. Switch off flame.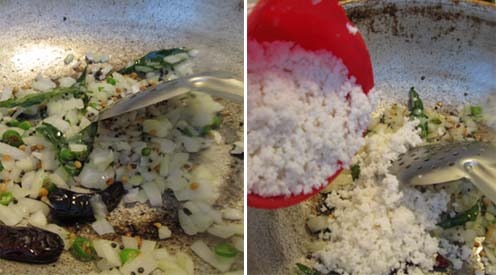 Step 6. The trick is just to give a quick stir such that the crumbled iddlies are warmed thoroughly during the tempering/tadka/thaalithal. We should not allow the idli crumbles to stick to the wok in the cooking heating process. The crumbles should be warm and yet retain the moisture with them.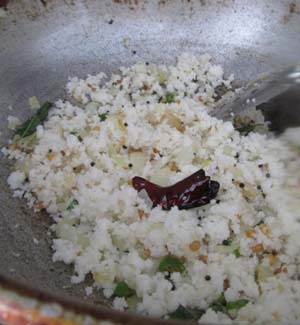 Step 7. Plate the steaming Idli upma alias Idli Puttu with your favorite chutneys. I have them as is, in fact, idli upuma tastes best when taken as is without any side dish. That day I happened to have some idli sambar left over. That's what you're seeing here… Dad and I also like to sprinkle some sugar crystals over the Idly Upma and enjoy :)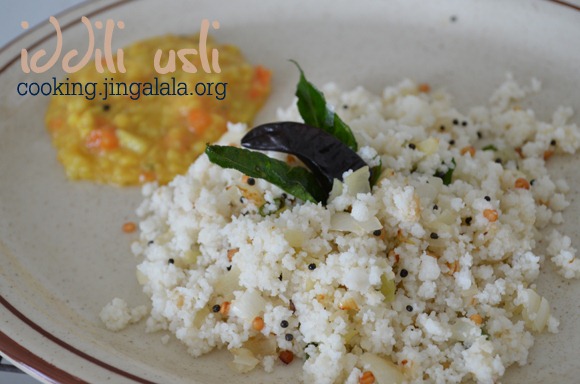 3Ts [ Tips | Tricks | Tactics and Secrets ] to make Idli Upma – Iddili Usili
For all my seasoning/tempering works: I use sesame oil (gingely oil/Idhayam nallennai). You can use any cooking oil. I use whole urad dal. Chinna vengaayam/Small pearl onions/shallots give extra taste when you do tempering/tadka works for any South-Indian recipe.
No need to add salt while preparing idli upma. There is already salt in the reused idlies and that will suffice for the recipe.
At home we normally avoid keeping idlys in the fridge. If there are excess idlis after breakfast we wrap the idlis in the idli-cloth and keep them aside. Then later during the evenings the idlies will be unwrapped and converted to this delicious idli kaima.
The taste of Iddly Uppuma lies in the finely chopped green chilli. But like I said, if you find it will be very spicy, then just one dry red chili will give enough punch to the recipe.
It's the moisture that makes the idli upma very soft. If you keep stirring them too much they'll loose the moisture and become dry. So take care. You can make use of this Idli Puttu recipe to make the savory version of your Rice Puttu. It's the same process to season any type of Puttu to make them taste spicy (follow from Step. 4)
We South-Indians have the habit of eating tiffin items such as Idli, Upma, Kichdi, Dosa etc along with ginger tea or strong filter coffee, especially in the evenings. Dad often demands for some tiffin during the tea time. A quick stir of hot Iddily Uppma from the kitchen instantly satisfies his demand!

Idli Upma | Iddili Usli | Idly Upma
PREP TIME: 5 min
COOK TIME: 5 min
TOTAL TIME: 10 min
YIELD: 2
DIFFICULTY: easy
RECIPE TYPE: Brunch/Snacks/Dinner/Breakfast
Ingredients:
Idli (Any variety of Idly) – 4
Onion (shallots or big onions) finely chopped – 1/3 cup
Green Chili – 2
Dry Whole Red Chili (Milagai vatral / Vara milagai) – 1
Sesame oil (or any cooking oil) – 2-3 tsp.
Water – To soak idlis
Mustard seeds (Kadugu) – 1/2 tsp.
Urad dal / Ulunthu (split or whole) – 1 tsp.
Curry leaves – 5 to 6 leaves
Mangala from Cooking.Jingalala.Org Eat Well !