Sourashtra-style Puliyodharai Recipe ~ Puli sadham Recipe ~ Puliyogare Recipe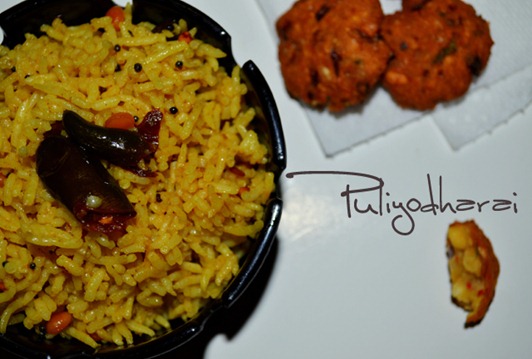 Call it an easy lunch box recipe or a recipe while on a picnic or a touring recipe, Puliyodharai alias Puliyogare is a versatile food! While some consider it to be a holy dish prepared with so much of devotion during the pujas for God, it is my comfort food. Comfort food because it involves no cutting of vegetables :P Pulikachal paste is very very handy, especially when you are hungry or when your morning wake-up alarm cheated on you. Moreover, Puliyodharai is a savior of a dying tongue. Savior because, since it has a spicy touch and a dominating sour taste, the moment you taste a spoon full of Pulisadham, your taste buds will blossom back thereby rescuing a bored tongue.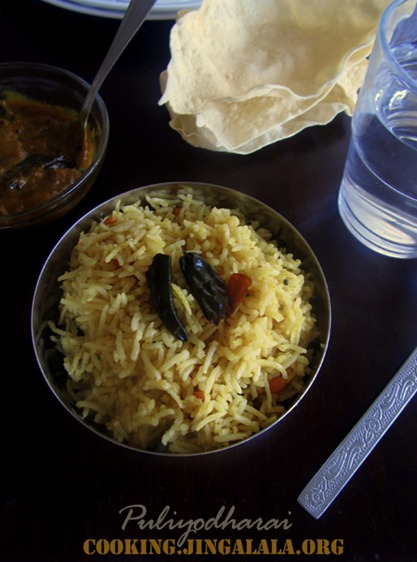 So today's recipe is about "how to make Puliyogare at home". Oh! not that soon, without making you listen to my stories about Puliyodharai? :D. Some families have the habit of taking an annual tour to a hill station or to a famous city. Somehow, our family never practiced this tradition. We never complained about it since we used to visit our Grandma's house for every holiday season. Then one fine day my sithappa(uncle) came up with the plan of visiting Coutralam. I should be nine years old then. Though I was freakily excited hearing the plan, I seriously doubted if the plan would be successfully executed.
Surprisingly, the plan kick started immediately that on the very same night my mom had to prepare large amount of pulikachal paste and mix it with a big pot full of rice to make puliyodharai for the next day's tour. I also remember how we struggled to run with the heavily packed luggage and food baggage just to catch a bus to Courtralam from the Madurai Bus depot. Mothers do a great job when it comes to packing lunch, be it for school or for a tour. The suitcases acted as the dining table, we had plantain leaves for plates, old newspaper to wipe the hands and puliyodharai, chips and thuvayal to enjoy. All the tiredness of running to catch the bus vanished the moment we started to taste the Puliyogare inside the bus :)!

How to make Sourashtra-style Puliyodharai – with step by step pictures
If you wanna check on how to prepare pulikachal/pulihora paste at home you can click this link
[Each image can be enlarged if clicked] Step 1.
Cook rice with two cups of water and 1/2 tsp. of salt. When the rice is cooked, transfer it immediately to a wide mouthed vessel and cool down the rice to room temperature. Once the rice is cooled down to room temperature, place a dry wok on the stove in medium flame. Pour oil.
Step 2. Once the oil is heated, add mustard seeds. Allow the mustard seeds to splutter completely.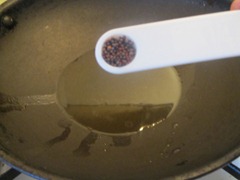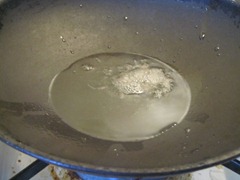 Step 3. Lower the flame to Low and add the bengal gram and sauté it until it turns dark orange in color. This should take a minute. If you have curry leaves add them now. Switch off the flame and pour the seasoning into the rice.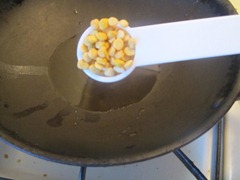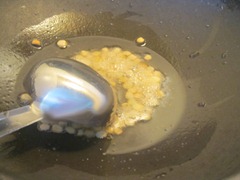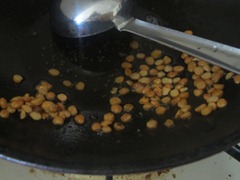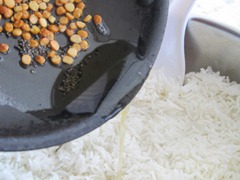 Step 4. Mix the rice gently. Take required amount of pulikachal paste [If you are using the puliyogare paste right from the refrigerator then, warm the puliyogare paste in a microwave for 20-30 seconds with 2 tsp of sesame oil or add it at last along with the above seasoning and warm them up in low flame for a minute.] Add the pulikachal paste and mix well. [Please read the 3Ts section for mixing tips]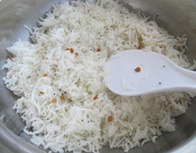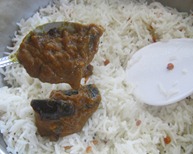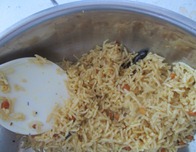 Step 5. Serve the puli saadham with your favorite condiment.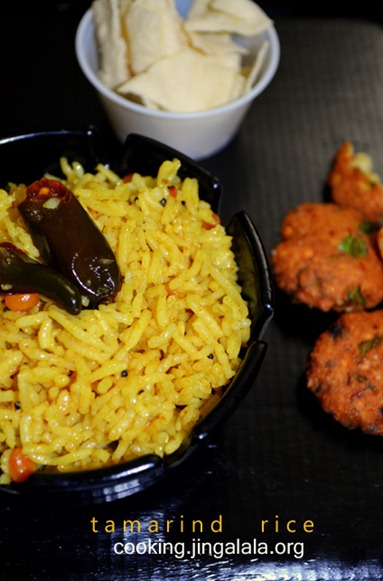 3Ts [ Tips | Tricks | Tactics | Secrets ] to make Puliyogare/Puliyodharai
The side dish options for tamarind rice are numerous. Apart from serving it with boiled eggs and calling it PuliyoBiriyani, you can serve it with appalam, thuvayal, aamai vadai (masal vadai), potato chips, simple potato fry or the simplest thattapayaru or konda kadalai sundal. Puliyodharai with thattapayaru sundal is the traditional condiment used by Sourashtrian cuisine.
The rice used to make puliyodharai matters a lot. It plays a huge role in bringing out the taste of the pulikachal paste used. Use either pacharisi or basmati. I personally like to use pachcharisi, but if you do not have any of them at home, you can feel free to use normal pulungal arisi (Indian boiled rice).
The taste of the tamarind rice increases hour by hour. So if you are planning to have Puliyogare for breakfast, make it during the night. If you are planning to have it for dinner, make it in the morning. Puliyodharai stays good for two days even in room temperature.
The amount of pulikachal paste required to mix the rice depends on your taste. Some like it to be subtle, like the picture shown below.

But I like the pulisadham to be dark and oily. I guess this is how most of us wanted it to be.And that's how it used to be in most of the the "kovil madapalli" too.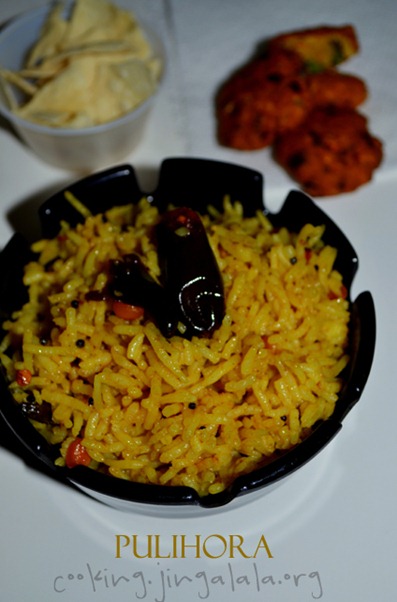 And now I'm going to bring you the secret behind the tasty tangy puliyodharai that tastes EXACTLY like kovil prasadham. A very simple trick which you might never have expected. It's in the mixing of the puliyodharai paste with the rice. Have you ever seen how the puliyodharai are mixed in the koyil madapalli (temple kitchen where daily food is prepared) ? In big temples, they used to warm down large quantities of rice in several mats. Then they pour the pulikachal and mix it with hands. Yes, mixing the puliyogare paste in the rice with your hands gives great taste. But some won't prefer this method doubting that the rice might get spoiled very soon. I guarantee you that the rice won't get spoiled. If you do not prefer to mix with hands, mix normally with a flat ladle.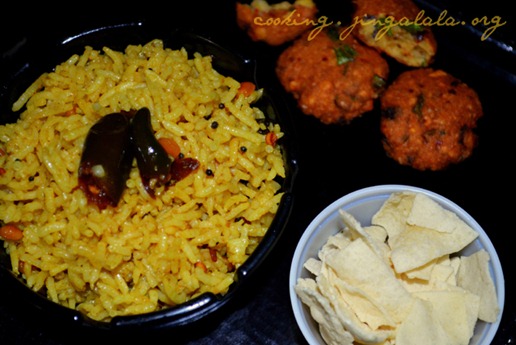 Every time we happen to eat puliyodharai served with boiled eggs at home, we never forget to remember and laugh about this particular comedy on PuliyanBiriyani from the film Nadigan. People who raise eyebrows on hearing this weird combination of Puliyogare with boiled eggs will never understand until you try the combination yourself. It is as good as the combination of Sathyaraj and Goundamani in the Tamil films :lol:.
Tamarind Rice | Pulisaadham
PREP TIME: 2 min
COOK TIME: 20 min
TOTAL TIME: 22 min
YIELD: 2
DIFFICULTY: easy
RECIPE TYPE: Main dish/Breakfast/Prasadam
Ingredients:
Pulikachal/Puliyogare paste – 2-3 tbsp.
Basmati/Indian Raw rice (Pacharisi) – 1 cup
Water – 2 cups
Salt – 1/2 tsp.
Sesame oil (Gingely oil) – 2 tbsp.
Mustard seeds – 1/4 tsp.
Bengal gram (kadalai paruppu) – 1/2 tbsp.
Curry leaves (optional) – 1 spring
Mangala from cooking.jingalala.org Eat Well !