** Idli podi recipe | South-Indian idli-dosa podi recipe | Idli-Dosa side dish**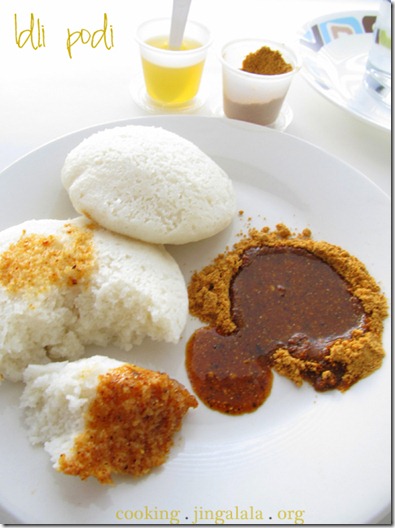 Are you an "On the go" kinda person? Then you probably should have this "magic powder" in your kitchen shelf. Magical because once you prepare it and have it stored, it is almost ready-made to use for your idli/dosai/paniyarams etc. If you have this magician bottled in your kitchen, you need not spend time to prepare any chutneys. Well, even if you find time to prepare special chutneys, what if your people at home did not like the chutneys? Don't worry, you can now shut the complaining mouths in the dining hall because today I've got you the recipe for "Idli milagai podi/Dry Chutney Powder". Or even if your chutneys taste great, this "dry chutney" will take over the lead role in your dining table. Whatever yummy chutneys you have on your dining table, everything will get knocked out the moment you open the idli-podi-dabba. The spices used in the idli-milagai-podi release wonderful aroma filling the entire dining hall, submerging the existing of any other chutney you show case during the breakfast

.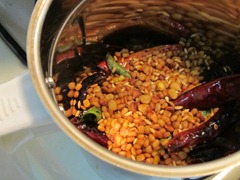 In all my other posts, I bragged about my Grandma's recipes. But I never liked this "Idli spice powder" in my Grandma's place. Shushushshushshsh. Let's have this confession as a secret
. The chutney powder used to be very smooth in texture, which sticks to our plate when we mix with oil. Moreover, it never used to be spicier at all. Since my taste buds were already in love with my mom's spicy-slightly-coarser version of idli-dosa-podi, they kinda not interested in grandma's Idli-podi. They even started mumbling if it is a spice powder or some Sawdust. [hush-hush-hushshshsh I said we're gonna have this confession our little secret.

Pleeease…]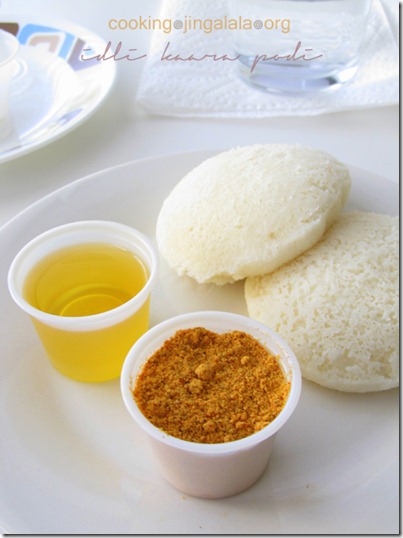 So guys, here's the deal. If you promise that you wont let out my little secret, I will show you how to prepare idli podi. Deal-a? No-deal-a?

. Fine, Deal!

How to make Idli milagai podi (Dry chutney powder for Idli and Dosa) - with step by step pictures. [Click each image to enlarge the photos]
Step 1. Set the ingredient for making idli podi ready on the kitchen table. Keep a dry wok on the stove in medium flame.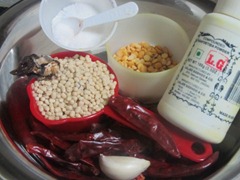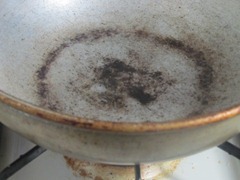 Step 2. Add the dry whole red chilies. Roast the red chilies with 2 drops of oil. Takes about 3 minutes.Once roasted place it in a flat plate. [Roasting red chilies is completely optional. My mother-in-law does not roast the red chilies. It gives a taste and color similar to the store bought idli podi e.g. "Aachi Idli Podi"]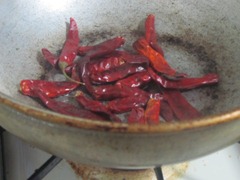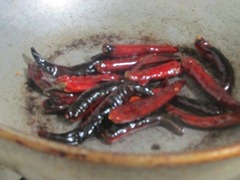 Step 3. Add urad dal (uluthamparuppu/black gram). Dry roast the urad dal until it turns golden brown. Takes around 5 minutes. Transfer the roasted urad dhal in the flat plate.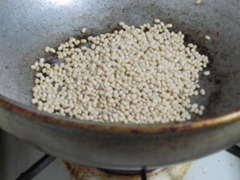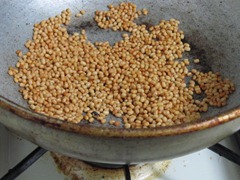 Step 4. Add bengal gram (kadalai paruppu/chana dal). Dry roast it until it turns light brown. (I use a drop of oil for roasting the urad dal and for roasting the chana dal) This step takes 3-4 minutes. Once roasted transfer it to the flat plate. [Using Chanadal is optional. My mom-in-law does not use chana dhal for making podi. Remember to balance the spice level if you do not use this bengal gram for making idli podi]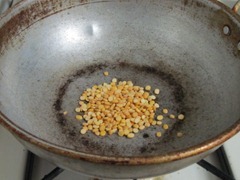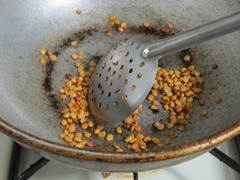 Step 5. Dry roast tamarind and asafetida. Roast it until the tamarind turns hard and firm. It takes around a minute. Once roasted place it in the plate.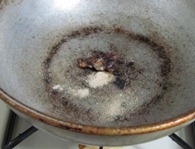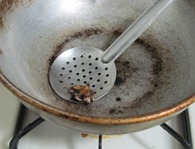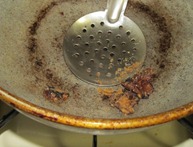 Step 6. Add curry leaves and roast it with 2 drops of oil for a minute until it turns to a papery texture.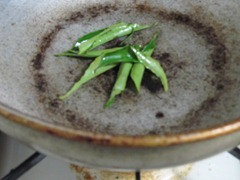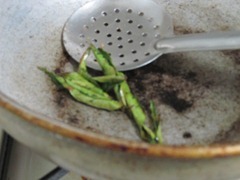 Step 7. Cool the roasted ingredients thoroughly before grinding. Once the ingredients are cooled, add them to the mixie/blender.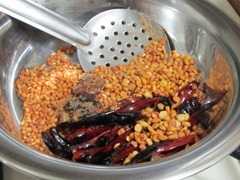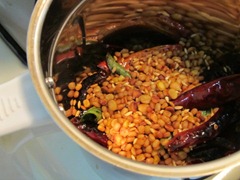 Step 8. Operate the mixie/mixer for 15 seconds until the ingredients turn to a coarse texture. Then take the content and put them back in the flat plate. Let them cool for few seconds. Add salt and mix thoroughly. Check salt. Now add garlic clove (need not peel) to the mixer (near the blade) and put back the powdered spices into the mixer. Give a nice whir until the spices turn into a nice powdery texture. (Please note that we need the powder to be little grainy, neither very coarse nor very floury in texture. The spice powder must be ground to a texture that is similar to free-flowing beach sand.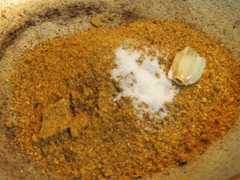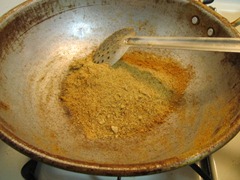 Step 9. Check salt again. Adjust and mix thoroughly. Pinch any lumps found with the ladle. Transfer to a dry air-tight container.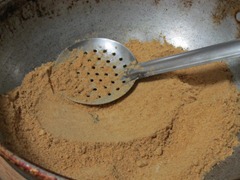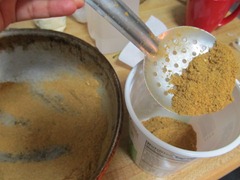 Step 10. Enjoy the spicy treat with idli and dosa.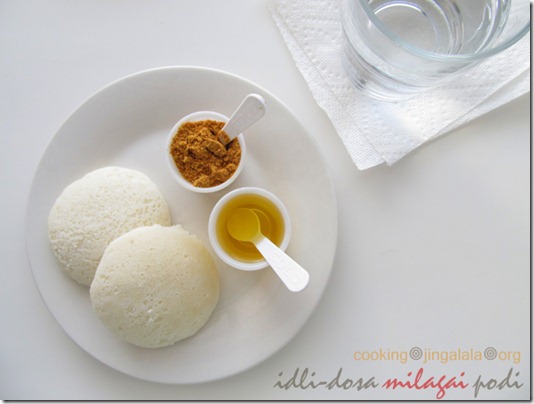 3Ts [ Tips | Tricks | Tactics and Secrets ] to prepare Idli-Milaha-Podi
You really need to cool down the roasted ingredients completely before grinding. Else they'll stick to the mixie/blender.

Mom sometime adds roasted black sesame seeds. This gives a nice brownish color to the idli podi. We tease her telling that her podi recipe is just like "Murugan Idli kadai style idli podi" . But sesame seeds start to give oily smell to the podi very soon.

Adding curry leaves and rice is completely optional. Curry leaves is to add extra aroma to the chutney powder. If you do not use rice, remember to reduce the chili count.

Mom uses "Katti perungayam" (asafetida bark). Since I do not have katti perungayam, I used asafetida powder.

My Dad likes podi very much. He pairs it with coconut chutney and enjoys his dosa and idli. He likes the "idli-dosa podi" so much that sometimes we have to lie to him that the stock got over.

In my life, I have never taken the risk of tasting podi with other cooking oils other than sesame/gingely oil. Mixing "idli molahai podi" with other cooking oil makes a bad pair in fact. But try tasting "Idli molahppodi" with some warm drizzle of ghee. I bet ya, every time you taste this combination you'll thank me for letting you know this pairing. Also, it's not always necessary to mix idli podi with gingely/sesame oil. Idli just with podi (no mixing with oil) will do just good. Especially, "kuli paniyaram" with-just-podi is an awesome combination, says my sis.

If you find the spice level too high after making the podi, you can balance it by roasting 2 tbsp. of rice (for about 3 minutes). Once the rice turns crispy, cool it and grind it to a nice powder and mix well with the podi. Check salt once again.

Other combinations that you could try with Idli milagai podi other than Idli and Dosa:

· Kuzhi paniyaram (sweet and savory) with podi.

· Make dosa and sprinkle some "idly milahai podi" over it before taking it from dosa pan. Or instead of drizzling plain oil to cook the dosa, mix podi with gingely oil and pour it while making dosai. Call it "Podi Dosai".

· Or you wanna make "Podi Idli"? Cut the left over idlies and in a wok stir together with little gingely (sesame) oil and "idli molagai podi". Idli should get coated nicely with the "idli milahai thool". Go ahead, call it "Podi Idli" and serve for evening snacks. Or deep fry the cut idli pieces and sprinkle little of this "dry chutney powder" on the fried idlies and call it "Idli fries"/"Idli Finger Chips"

This "dry chutney powder" is not only good with hot/warm idli and dosai, but is also perfect for left-over idlies. You can even enjoy it with rice mixing it with little ghee.

Idli molahpodi has a long shelf-life. You can store them for months. See to it you use dry spoon to take it. No water droplets should get into the container. Keep the container closed after every use to retain the aroma. If Amma sees the Idli podi container not closed after using… she shouts…"Dabba-va moodalaiyaaaaaa……." , then immediately she reduces the tone soothingly and says…"Vaasam poidum pa….". So close the Idli podi dabba/bottle after every use.
_
[hey reader. You should forgive my bullet-point writing style. It's probably the result of so many AnnaUniversity exams I took in my past years. Having done years of studies in India, the habit is not wearing-off from me. I should admit that this is how I used to write even for the most trivial ("unknown") questions that appear in the exam question paper. ]
_

_![idli-milahai-podi~idli-milagai-thool~Idli-podi~idli-dosai-podi~dry-chutney-powder](/images/idli-milahai-podiidli-milagai-thoolIdli-podiidli-dosai-podidry-chutney-powder_thumb.jpg "idli-milahai-podi~idli-milagai-thool~Idli-podi~idli-dosai-podi~dry-chutney-powder")__The scene in the picture above is  actually looking like the aftermath of a Volcanic eruption. Isn't it? ![Smile with tongue out](/images/wlEmoticon-smilewithtongueout1.png)_ 

The process of taking the podi from the container and setting it ready to eat itself is a beauty. Step1. Take a spoonful of the "aromatic spice powder" Step 2. Heap it near the Idli/Dosa Step 3. Form a wide depression on the heaped podi [making sure there isn't any leaks in the heap] Step 4. Pour gingely/sesame oil generously to fill the depression [keeping an eye that the oil does not overflow from the heap. But I purposely make it a point that the oil floods down the podi-mountain reaching the idli. No, nooo… "Idhayam Jyotika" did not inspire me

] Step 5. Use your index finger to mix the podi with oil [mnnn… I then usually lick the index finger coated with podi-mix and then resume eating. Uhoh… did I mention to close the idli podi container lid…..?]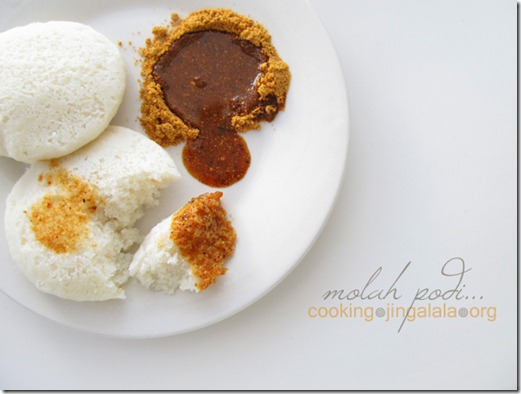 Though the hero of the post is referred by maaaaaany names like Idli podi, Idli Molaha podi, Dry chutney etc, we at home, just call him "podi". I wish to publish one of the comedies that happened in my Grandparents house. Watching the silly fights between grandpa and grandma is a real cute. My grandpa had the habit of sniffing podi (uhh… here I mean "Mooku podi/tobacco powder"). Which wife likes this habit of their husband? Once, when grandpa was searching for his podi, he asked my grandma, "podi pathiya tha?" ["Did you see my powder hon?"]. My grandma called me and curtly said…"andha idli molaha podiya eduthu kudutha…" ["Bring him the spice powder to sniff"]. Hearing the reply my grandpa smiled and silently resumed searching like a temple rat. We all had a good laugh hearing our grandma's spontaneity. Lol…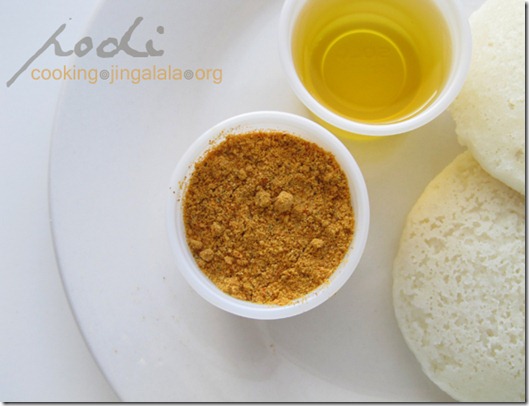 Ok, now beware:

Sometimes this "idli-dosa-podi" can behave very rude. He kinda makes the diners to shun other chutneys that were specially prepared for the breakfast.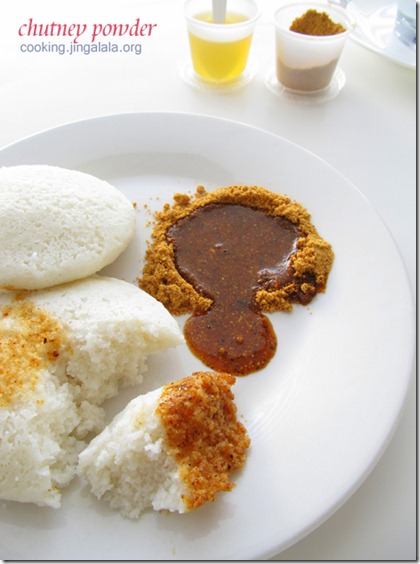 Chutney Powder | Idly Podi
PREP TIME: 10 min
COOK TIME: 20 min
TOTAL TIME: 30 min
DIFFICULTY: easy
RECIPE TYPE: Side dish/Taste Maker Powder
Ingredients:
Dry whole red chili – 15
Black gram/urad dal/uluthamparuppu – 1/2 cup
Chana dal/bengal gram dal/kadalai paruppu – 1/4 cup
Rice – 2 tbsp [optional]
Salt 2 tsp
Asafoetida/Perungayam-1/2 tsp
Tamarind/Puli – 2″ piece
Curry leaves – 1 spring
Garlic – 1 big clove
Oil – 6 drops [optional]
Mangala from Cooking.Jingalala.Org Eat Well !