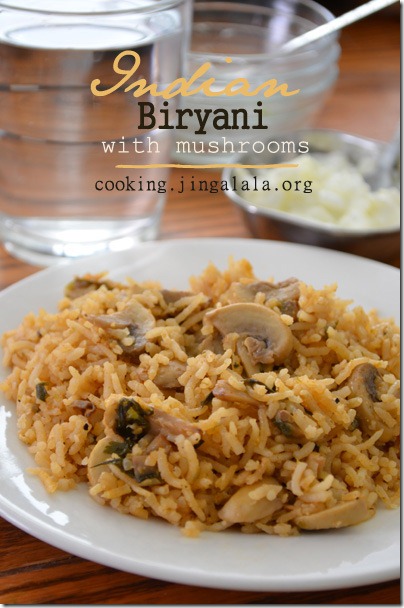 Kalaan/Mushrooms were not a regular thing in our kitchen-chart at least until 10 years back. No wait, I should say, mushrooms were not at all a picture in our kitchen-chart at least until ten years back. Those days there were no super markets in Madurai so we had to rely on street vendors, especially for special produce like mushrooms. Also the costs of mushrooms tend to vary everyday with an alarming 2-digit price tag. When I was younger I remember how we were woken up by the loud hawking of this mushroom vendor, especially during the weekends. Pressing the pedals of his bicycle hard and fast, he yells out …"kaalaan…kaalaan…." We had to run from our kitchen to the main door to stop his bicycle. The running will be mostly done by me to inquire the cost of mushroom packets. Then running back to kitchen to report the cost to mom, running again to the main door only to answer the vendor, "bro, we'll get tomorrow". But that tomorrow never came until we moved to another house in the bypass.
Shifting to a new house in a new area changed nothing about the price of the mushrooms. Apart from getting Mushroom Biryani (Kalan Biriyani) from Madurai "Gowri Krishna" hotel at least once in three weeks, mushrooms were still not invited into our kitchen in the produce form. Then slowly the super markets like Nila, Pazhamudhircholai emerged in Madurai, stocking fresh and lovely white mushrooms almost daily in their stores! Mom did not wait more. She then happily invited these cute little white beauties to home every time she shopped in the super market. Amma then started to create mock-up recipes with mushrooms by referring many of her non-vegetarian recipes, e.g mushroom varuval (mushroom fry / kalaan varuval) that resembles exactly like mutton varuval (mutton fry). I personally like her Mushroom kurma (kalaan kuruma) which pairs beautifully with soft dosai. Mushroom Biryani was then in the line with our regular Chicken Biryani and Mutton biryani to make the weekend smell special. Though I do not have her other mock-up recipes in hand today, I have her recipe for Mushroom Biryani with me. So you ready to start cooking the mushroom biriyaani as I explain?
Before that, few details. We make biryani in pan rather than using a pressure cooker. We normally add coconut milk and tomatoes in our biryani recipes. That day I used the last leftover tomato to make chicken curry. But that did not impact my decision to make biryani. I substituted curd/yogurt and lemon/lime juice for tomatoes to prepare this mushroom biryani recipe. The end result was aw… aw… awesommme!!! Coconut milk is not compulsory to make biryani. So if you're looking for a biryani recipe without using tomatoes or without using coconut milk, then I say, this one will be perrrrfect for you!

How to make Mushroom Biryani – with Step by Step pictures
[All the images can be enlarged] Step 1. Rinse basmati rice two times. Soak the rice in 5 cups of water for half-an-hour. By then we'll cut the vegetables and set the spices ready to make the mushroom briyani.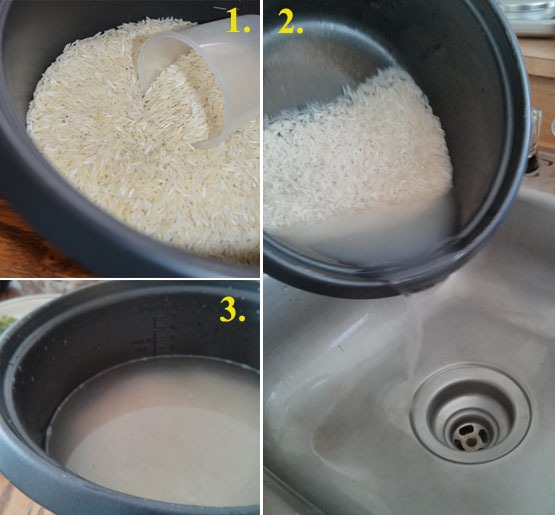 Step 2. Peel and wash 10 to 15 small onions (chinna vengayam/shallots). Peel and wash 8 garlic cloves. Wash and remove the stalk from 10 green chillies. Peel, wash and finely chop half of one big onion. Wash and peel the skin of ginger (1 inch ginger piece). Wash mint leaves (no need stalk, just the leaves – a handful - loosely packed). Wash and cut one lemon/lime (half-a lemon/lime, remove the seeds)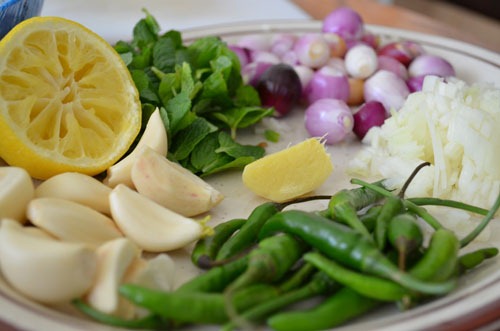 Step 3. When it comes to washing mushrooms do not over do. Mushrooms can drink in more water just while rinsing them. I clean them with a wet kitchen paper or dip them briefly (very very briefly) in water and pat them dry using a kitchen towel or tissue paper. Cut them roughly. You can have them cut into big chunks, anyway they'll get cooked soon.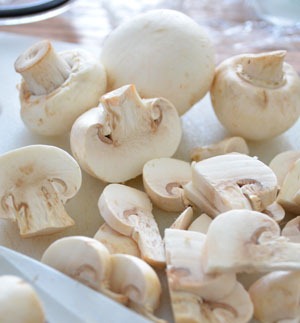 Step 4. In a mixie (food processor) add 1 inch cinnamon and 10 black peppercorns. Grind them for 4 seconds and then add the small onions together. Grind them just until the onions are crushed. Transfer the onion paste to a small bowl.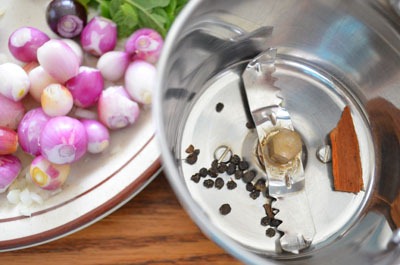 Step 5. In the same mixie jar, add the green chillies. Add 2 tsp. of water. Grind them to a paste. Transfer it to a bowl. Add the garlic cloves and the ginger in the same jar and grind them without adding water just until they're crushed. Transfer the garlic paste into a bowl. [You can use 1½ tbsp. of store-bought ginger-garlic paste if you do not have fresh garlic cloves or time]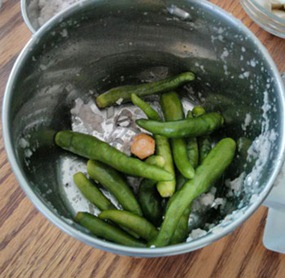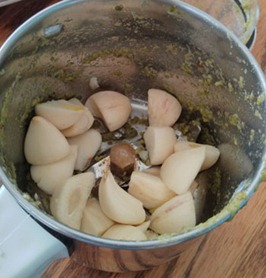 Step 6. Keep the ground onions, chili and ginger-garlic paste aside. Set the whole spices ready. Right-side picture, from top, clock-wise. Bay leaf (birinji ilai), star anise (annasi poo), cloves (lavangam/krambu), cardamom (elachi/elakkai), fennel seeds (sombu), [I had few feathers of kalpaasi (dagad phool) left over in my spice box. I used them. They're only optional] and cinnamon (pattai).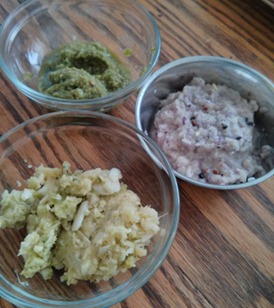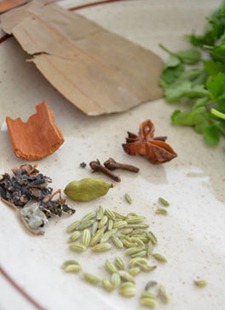 Step 7. Heat a dry wok in Medium heat. When the wok/kadai is hot pour oil. Add ghee (clarified butter).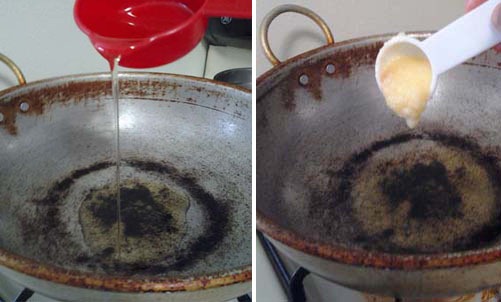 Step 8. Add all the whole spices (bay leaf, cinnamon, star anise, cloves, cardamom, fennel seeds <and kalpaasi, if any>). Leave them in the oil for 10 seconds.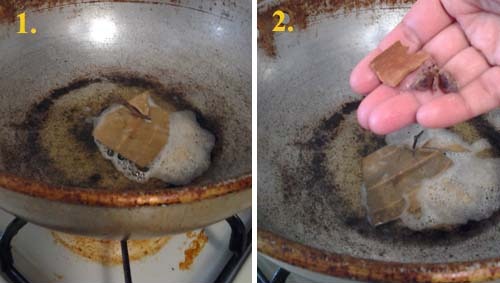 Step 9. Add the onion paste and the chopped onions. Sauté until the raw smell of the onions disappear (say, 7 minutes) Add the green chilly paste.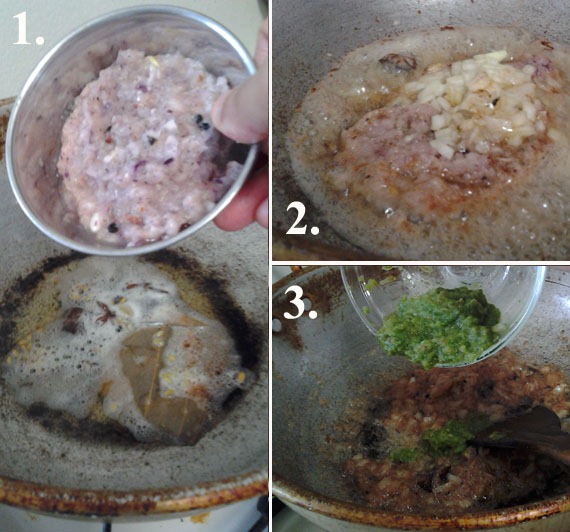 Step 10. Sauté the chilli paste for 2 minutes. Add the mint leaves. Sauté the mint leaves (pudhina) for 2 minutes.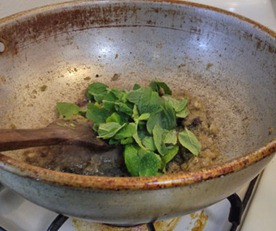 Step 11. Add the ginger-garlic paste. Sauté them for 2 minutes. Ginger garlic paste tend to stick to the wok, so take care.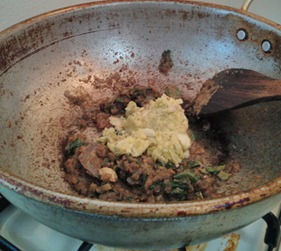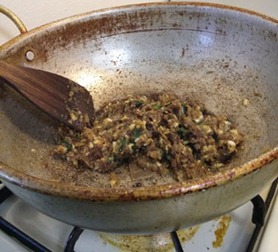 Step 12. Add the cut mushrooms.Mix them well.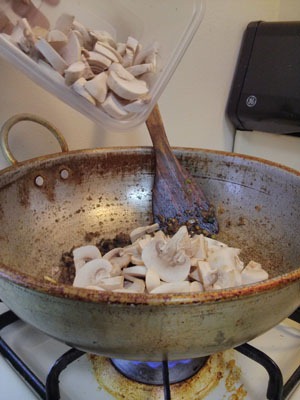 Step 13. Sauté the mushrooms exactly 5 minutes stirring twice in between.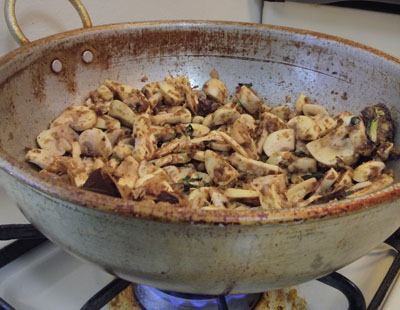 Step 14. By now, the mushrooms will shrink leaving out some of their water content. Add chopped fresh coriander leaves and 1/4 tsp. red chili powder. Mix well and sauté for a minute.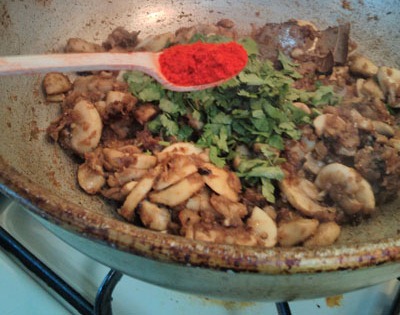 Step 15. Turn flame to Medium-Low. Add the curd (yogurt). Mix.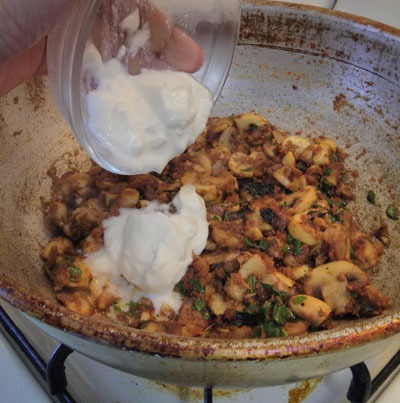 Step 16. Drain out the water from the soaked basmati rice. Add the rice.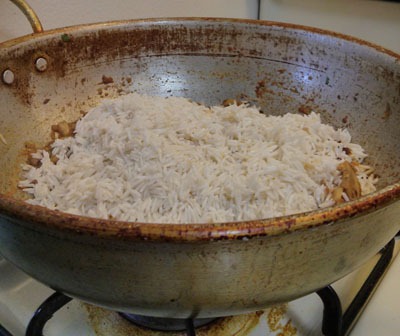 Step 17. Gently stir the rice for 2 minutes. Stir along the sides of the wok, this prevents the rice from breaking.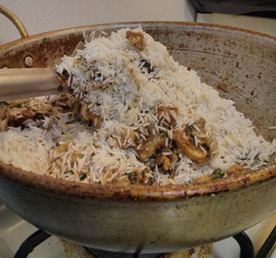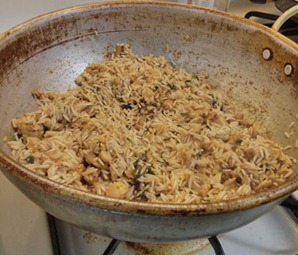 Step 18. Add water (3 cups – i.e. 1 ½ cups of water for every 1 cup of soaked basmati rice.) Add salt. Stir and check the salt.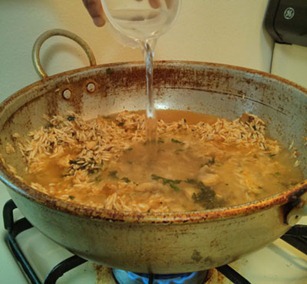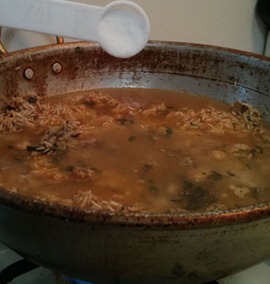 Step 19. Bring it to boil (Continue the flame in Medium-Low). Takes about 8-10 minutes.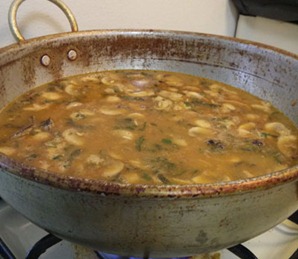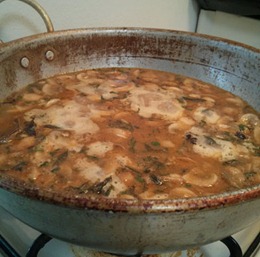 Step 20. Once the water level is about to equal the level of rice in the wok, reduce flame to LOW. Stir the rice once more before leaving them undisturbed. Cover the wok with a lid. [Now we need to Cook Bloom the basmati in LOW flame… kinda giving a spa bath to the basmati rice.]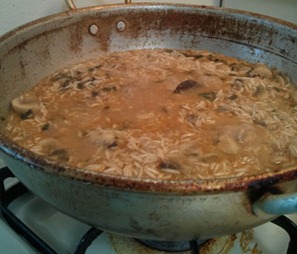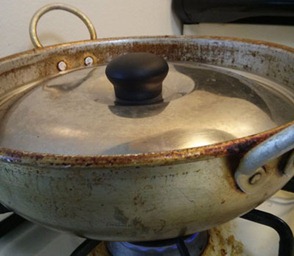 Step 21. IMPORTANT: Leave the rice covered and undisturbed for 10 minutes. Please DO NOT open the lid during this time. After 10 minutes of cooking by covering the pan SWITCH OFF the stove. Leave them that way (i.e leave them closed) for 10-15 more minutes. I consider this to be the crucial time, since any uncooked rice will also get bloomed with the available steam circling inside the closed wok.
Step 22. After this 10 minutes (or 15 minutes) waiting period, open the wok and squeeze half-a lemon or lime. If you're using curd/yogurt which are very sour, squeeze only 1/4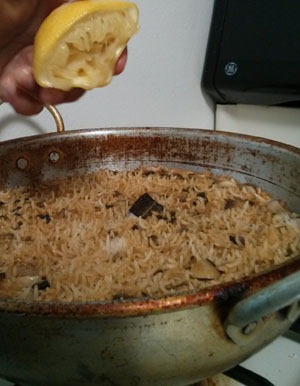 Step 23. Give a good stir by running a flat ladle along the sides of the wok (bottom-up stirring technic). You see how the rice grains are beautifully separated? You will achieve even more better results of cooking basmati biryani if you use a little more of ghee or oil. An aromatic one-pot meal is ready! Serve the Mushroom Biriyani with your favorite raita or pachadi.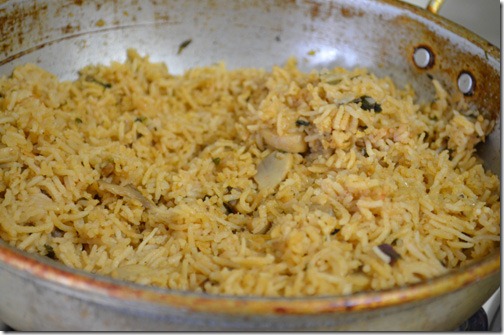 All images of the process steps of this Mushroom Biriyani was taken with this Google Nexus Mobile Phone.

When it comes to cooking basmati rice without pressure cooker I left the main trick in the recipe procedure above (Step 21, especially). I use Royal Basmati Rice for all my Biryani and Pulav recipes.

I prefer making biryani in closed pan method. You can prepare this mushroom biryani in pressure cooker too. After adding salt and stirring (Step 18), pressure cook (in Medium-High flame) for exactly 4 whistles and switch off flame. Let the pressure subside. Open the cooker after 15 minutes. Stir the content along the sides, stirring bottom-up.

You might think that the basmati rice tend to break if it's soaked for 1/2 an hour, but believe me, it will not. Soaking the basmati rice before cooking brings out the complete aroma of the basmati. It also helps the basmati to get cooked perfectly, exactly like how the tiny buds of the spring flowers bloom.

You can substitute the red pearl onions (chinna vengaayam) with 1 cup of finely chopped big onions.

This Kalaan Biriyani / Mushroom Biryani recipe made the husband almost "Foodicted" to the whole pot of biryani I made. I say this because it made him request me to refill his plate three times!!! [which he very very very rarely do never do]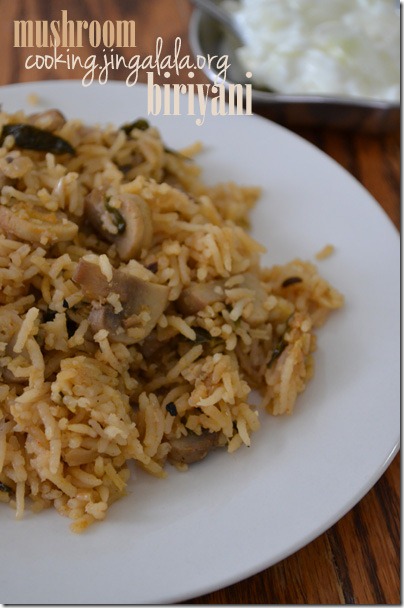 Mushroom Biryani – Kalan Biriyani
PREP TIME: 30 min
COOK TIME: 45 min
TOTAL TIME: 1 h 15 min
YIELD: 4
DIFFICULTY: medium
RECIPE TYPE: Main Course
Ingredients:
Basmati Rice – 2 cups
Mushrooms (kaalon) – 8 oz (225 gm spprox) [You can use any edible variety. I used white mushrooms]
Red pearl onions (chinna vengaayam/small onions/shallots) – 10 to 15 pieces (75 gm approx) [or substitute with 1 cup of finely chopped big onions]
Big onion – Finely chopped – 1/2 (30 gm approx)
Green Chili – 10
Mint leaves (pudhina) – handful, loosely packed
Fresh Coriander leaves – (malli chedi/kothamalli) – handful
Ginger – 1″ piece (5 gm approx)
Garlic cloves (vellapoondu pallu) – 8
Curd/Yogurt – 3 tbsp.
Lime or Lemon – 1/2
Red chili powder (paprika) – 1/4 tsp.
Water – 3 cups
Salt – To taste [ I used 4-5 tsp.]
Oil – 1/4 cup
Ghee (Clarified butter) – 1/8 cup (or substitute with 1/8 cup of cooking oil)
*\ Whole Spices ***
Cinnamon (pattai) – 2 one inch pieces
Cardamom (elakkai/elachi) – 1
Clove (krambu/lavangam) – 2
Bay Leaf (birinji ilai) – 1
Star Anise (annasi poo) -1
Fennel seeds (Sombu) – 1/4 tsp. [Optional]
Mangala from Cooking.Jingalala.Org Eat Well !