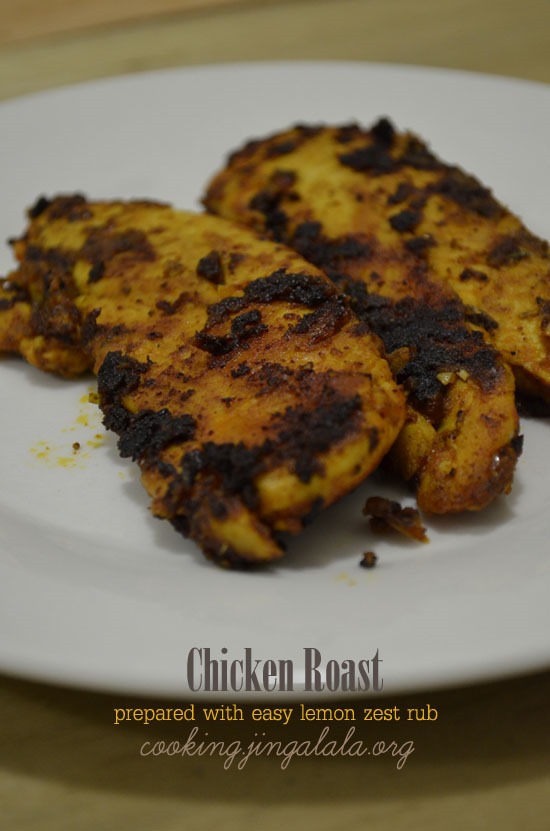 You're Welcome. Yes, you're welcome! Because I know I'm going to get loads of paper garlands from my readers with THANK YOU notes written in it ;) This Chicken Breast recipe is going to get an overwhelming response like how my Pepper Chicken Fry recipe did!There used to be days when we used to enjoy Chicken Tandoori for most of the week-end nights. We somehow got bored of it and desperately wanted to have a different recipe to marinade the Chicken. Thus came this Simple, Quick and easy Chicken rub recipe. Preparing this Chicken marinade or the Chicken rub is no big deal. It is a 'No-Grind' marinade recipe. All it needs is fresh Lemon or Lime, for the zest and the juice. Yes we'll be using both the juice and the essential oils from the lemon/lime skin (lemon/lime zest) along with some cracked pepper and finely minced garlic.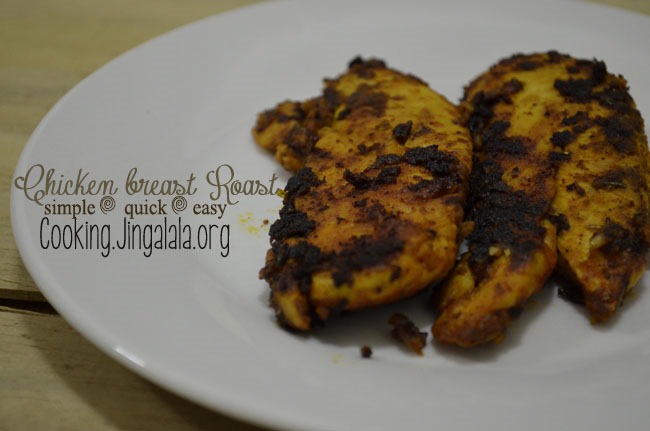 You must know that this Chicken rub is like: '1 rub, N dishes' type of a recipe. I've made this rub several times and so far used it with Chicken breasts, Chicken wings, Chicken sausages, Turkey Sausages and Mushrooms too. Jeevs, who does not like mushrooms at all, is now all for mushrooms. I'm planning to use this rub with Paneer/Cottage Cheese too. Will let you know how it turned out. If you want to modify this recipe for a party or potluck, choose Chicken wings instead of Chicken breasts. Also, use an oven to roast the Chicken wings. This can be the Best Chicken starter/appetizer recipe for any parties or potlucks. You'll come back to this space just to write, 'hey my chicken roast was the party winner!', all for no effort. All you'll need to do is: Clean the chicken, whisk the marinade, rub the marinade to the chicken and put it in the oven. So shall we see how to make this effortless Chicken rub/marinade for Chicken breasts and Chicken wings? Come on, lets do it.

How to prepare simple rub/masala for Chicken breast/Chicken wings – with Step by Step pictures
Step 1. Set the ingredients required to make the Chicken marinade ready on the kitchen table. Wash the lemon/lime. Using a lemon zester or the smallest hole in a grater, grate the lemon/lime zest. Take care if you're trying to zest for the first time. We need ONLY the Yellow or the Green skin from the lemon/lime. We should not grate too much such that the white skin beneath the yellow/green skin comes along. If it does, it releases a bitterness. So grate just 2 strokes on every spot on the lime/lemon. Take a clean bowl. Add the lemon/lime zest into it.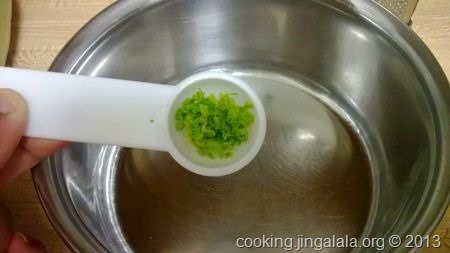 Step 2. Add the olive oil (or any cooking oil).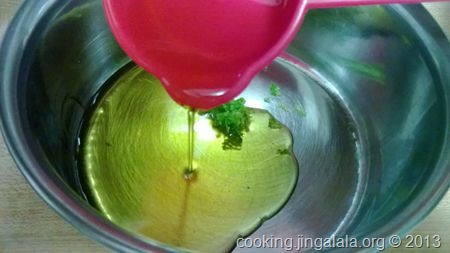 Step 3. Peel, wash and mince the garlic cloves. If you are not able to mince the garlic finely, that's okay, you may crush/pound them. Or use the smallest hole in a grater or a citrus zester, Easy! Add them in.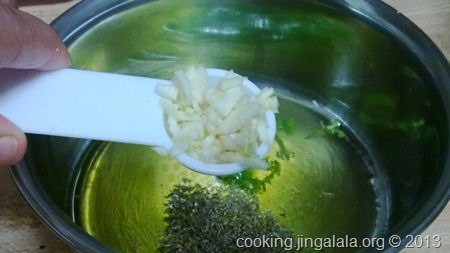 Step 4. Add the Red Chili powder.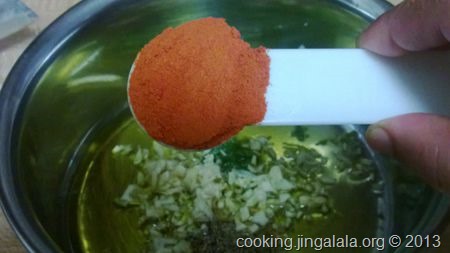 Step 5. Add the freshly cracked/ground black pepper.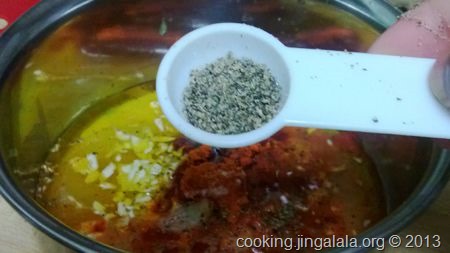 Step 6. Add salt.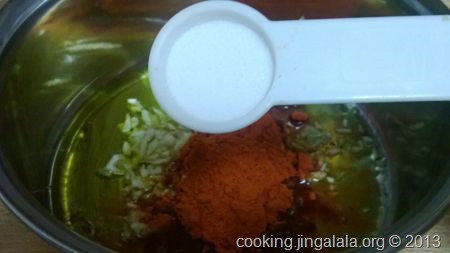 Step 7. Now, squeeze fresh juice from that lime/lemon. Add the fresh lemon/lime juice.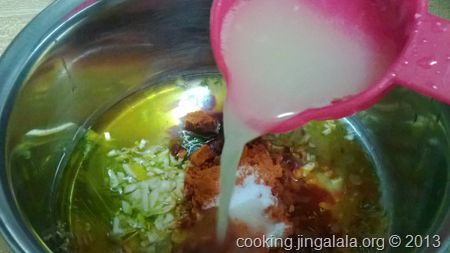 Step 8. Mix the mixture using a spoon/egg whisk. I prefer not to add water. The oil and the lemon juice should give enough moisture to make a paste. Check the taste.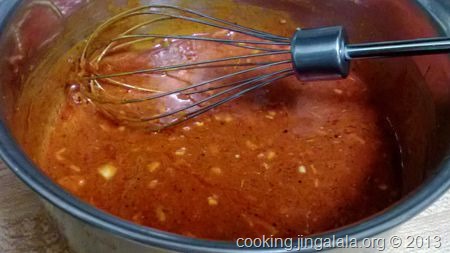 Step 9. [Optional Step] If you have Garam masala in your pantry, you may add them in too. This is however optional only.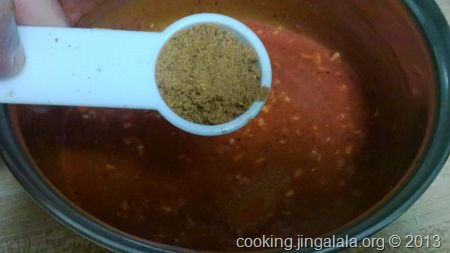 Step 10. [Optional Step] I kinda add turmeric powder to all my non-vegetarian recipes. So if you prefer to add turmeric powder, you may add it to the masala. Mix.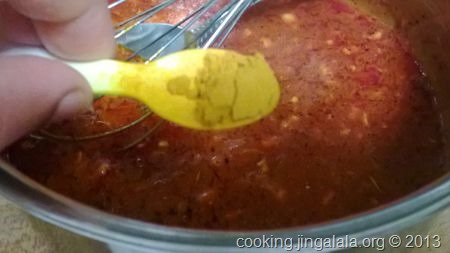 Tip: The lime/lemon juice adds in nice citrus flavor to the Chicken. _The lemon/lime zest adds in even more of a strong citrus flavor. So preparing this marinade is all about doing a taste check by adjusting the ingredients [oh you remember the same lines from my Coriander Chutney recipe?! :D] After mixing the ingredients, check the taste of the rub/masala. You may need to add more salt/chili powder/lime juice/garam masala/garlic/pepper to balance your taste.___
Step 11. Clean the chicken. I made tiny slits on the chicken_ (really not necessary but I wanted the masala to get in nicely)._ Since I used boneless Chicken breast I preferred to pan sear rather baking them in the oven.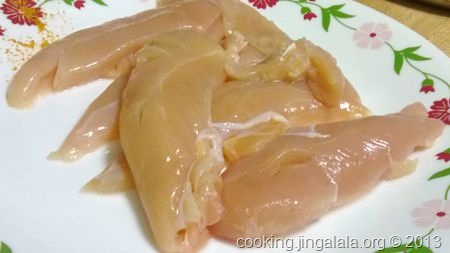 Step 12. Rub the chicken well with the masala. Now you may cover the chicken and let it marinade in the refrigerator for 1 to 2 hours. [I normally make this Chicken breast in a hurry, so I start to fry them immediately

. I used the left over masala for my Mushroom fry on the same day. Believe me this Pan Seared Mushroom recipe is a Killer recipe.]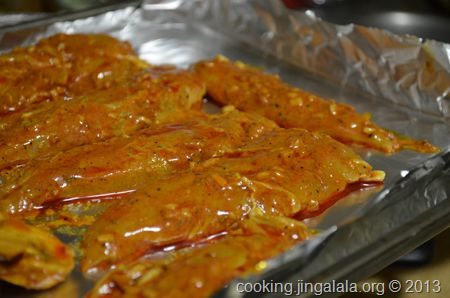 Step 13. Keep a skillet (I used iron tava) on the stove in Medium flame. (Need not add oil). Once the pan gets hot, add the marinated chicken pieces (in batches). [ishhhhhhh…. can you hear them sizzle?

] I would suggest you to use cast iron skillet or a cast iron grill pan for best taste. [If you are using Chicken wings for this recipe, bake them uncovered in the oven at 400 degree Fahrenheit for 45 minutes or until the chicken is done and roasted nicely, turning them once or twice in between the baking time. I've used both the convention and convectional oven to make this Chicken roast. Results were beautiful in both the ovens.]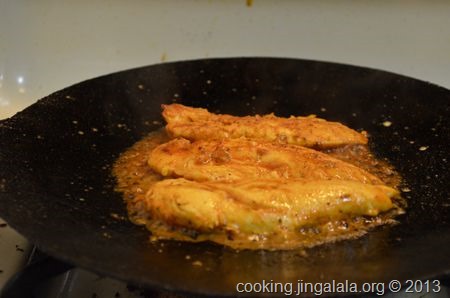 Step 14. Cook the Chicken 5 minutes and turn/flip it using a spatula. Cook the other side for 5 minutes. After each side is cooked 5 minutes, turn flame to LOW and turn the Chicken pieces once or twice until the juices are absorbed completely and the Chicken browns nicely. If you want to check for doneness, cut the chicken in the thickest part. It should not be pink. The meat must be firm and not loose. [Repeat Step 13, 14 for the remaining Chicken pieces]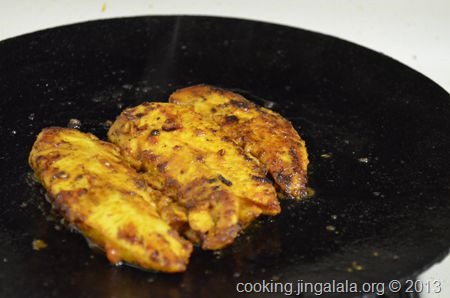 Step 15. Remove the Chicken from the pan and let the Chicken roast rest for few minutes. Serve the Chicken Breasts warm. You may cut them into slices if you want. I like to have the outer layer of the Chicken nicely roasted and charred. Yumm…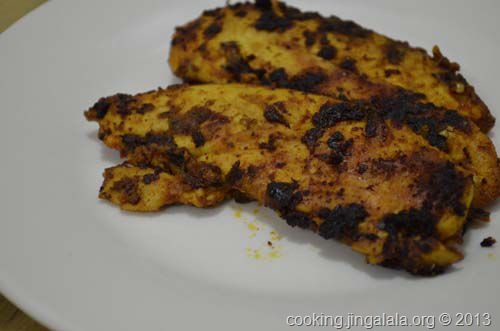 Feel free to use this Chicken rub recipe for any sausages. I used it with some plain turkey sausages and they tasted great too!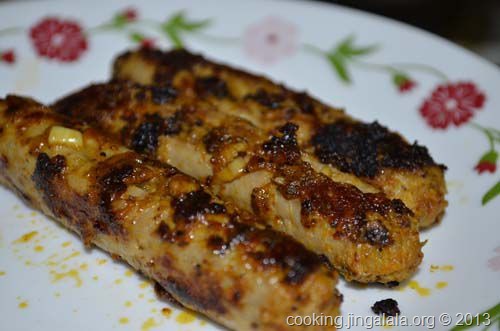 Every house has a special smell, especially on week-ends: Some spread the beautiful aroma of Biryani, some send the wonderful scent of flavored rice, or the grilled fish from another's and it's this lemony-spicy-charred smell of Roasted Chicken from my kitchen windows. I just spread the recipe of the same here. You too may spread this Chicken Breast recipe by sharing it in your facebook/twitter/googlePlus/Pinterest. Open your kitchen windows for it can shout, 'It's week-end. lalaalaa'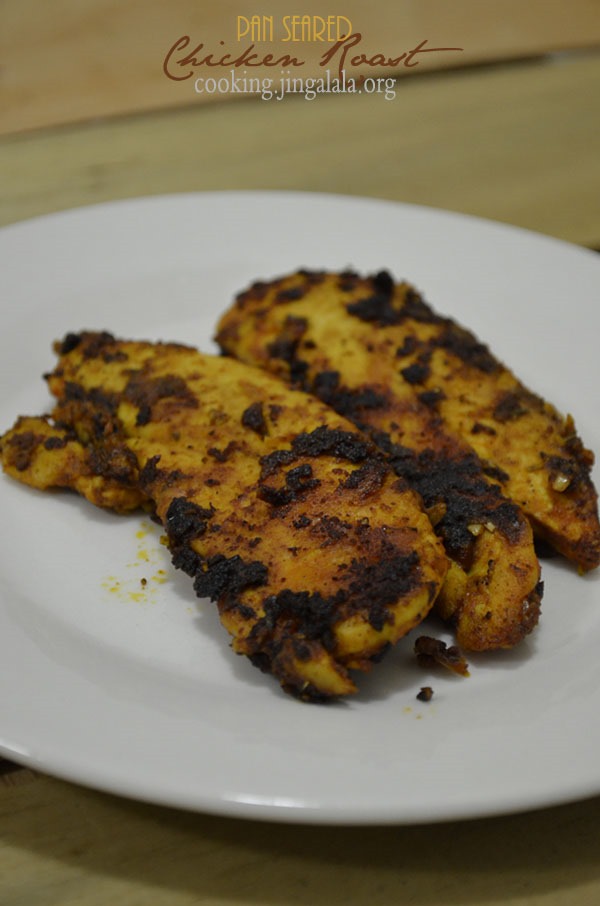 Chicken Breast with Lemon Zest
PREP TIME: 10 min
COOK TIME: 20 min
TOTAL TIME: 30 min
YIELD: 4
DIFFICULTY: easy
RECIPE TYPE: Appetizer, Starter
Ingredients:
6 Chicken Breasts (boneless, without skin) [Feel free to use Chicken wings too]
1 1/2 tsp Lime zest (finely grated) [Feel free to substitute with Lemon zest)
1/8 cup fresh Lime juice (or fresh Lemon juice)
1 tbsp Garlic, finely minced
1 tbsp Red Chilli powder (add 1 tsp more if you want it HOTT)
Salt, to taste
1 tsp freshly ground Black Pepper
1/8 cup oil (I used extra virgin olive oil)
1 tsp. Garam masala powder (I used Aachi Curry masala powder for this recipe) [Optional]
1/4 tsp Turmeric powder [Optional]
Mangala from Cooking.Jingalala.Org Eat Well !