Cashew Nut Burfee | Mundhiri burfee | Kaju Katli | Diwali Sweets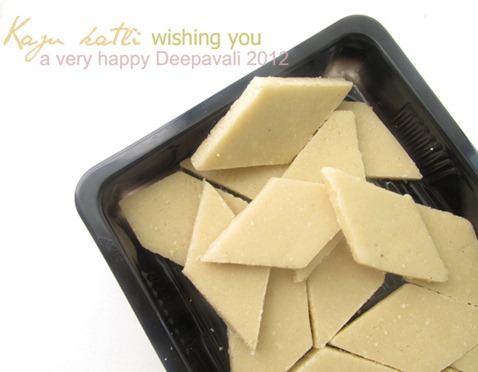 I never thought preparing Kaju Katli will be THIS INSTANT!!!!! Cashew+Sugar with some 4 minutes stirring AND a little patience yields wonderful cakes of Cashew burfi!
I won't be ashamed to confess the fact that I'm a foodie (uh, the word "foodie" won't be right. To be precise it is "thinnipandaaram" in Tamil language

)). I'm the exact opposite to my mom when it comes to eating habits. May be I should inquire my grandmother or my periyamma about the eating habits of my mom when she was my age. Before my marriage, we were a family of six. So it's mandatory to hide all the snacks, sweets and biscuits from the four imps somewhere in the kitchen.
I, being an active participant in the kitchen right from my childhood I know where mom hides the snacks. It will mostly be buried inside the paruppu dabba (dal tin) or the arisi anda (big can for storing rice) or sometimes under the stove or inside the grinder. He he he… but nobody knows the fact that I know about all these secret storage places. So I was doing this stealthy rat business in the kitchen quite for some years. But this mask of

"the good girl helping in the kitchen" of mine got torn by this new sweet which came to our house one day

– The Kaju Katli or the Mundhiri Burfee.
People at home noticed this Cashew Burfee surviving a little longer in the kitchen than the normal sweets and snacks. And they also noticed that I didn't like the Cashew burfee. So it was easy for them to corner the kitchen culprit. I got caught. I still did not get the fact why I did not like this wonderful sweet that time.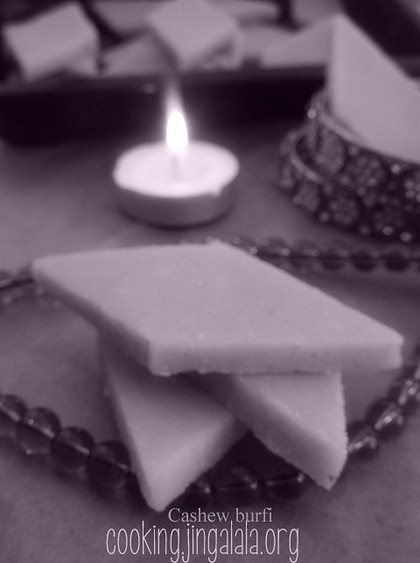 But Kaju Katli is not a sweet which we used to get often at home, because it was a very costly sweet for us then. So I never got an opportunity to taste more of Kaju Katli and it stayed in my "I-don't-like-it" list very long. I got a chance to taste it only many many, many many years later when I joined my job in Chennai. The practice at office is: be it a birthday, a promotion, a marriage or whatever good news it is, there will be a box full of sweets (which is usually Kaju Katli) in their desk to share with friends and colleagues. Generally, a common mail will be sent to the group with the phrase… "Sweets at desk#". It's like this; the moment we see this phrase popping in our screen, we abandon whatever important work we do, go search the desk number and grab the sweet :D Oh, yeah we need not even search for the desk number for it'll be easily identifiable by the "bee-hive-like" thronging around that particular desk.
Most of us won't even read the mail; we just see the subject blinking or just see friends rushing to the desk where the sweets box is placed. Some of us even forget the courtesy of telling 'Congratulations' or a 'thank you' to the sponsors. Worst thing is, people like me won't even know who the sponsor is

. But who cares, we know who Kaju Katli is, so…rushshsh…. And if we're too busy stuck with some status calls that is holding us from rushing to the get the sweets, we signal our friends to take our share of Kaju katli for us. Some even had the guts to put the phone's mic on mute, rush, grab the burfee and continue the status calls. Yeah it's like that. Though everybody is affordable to get whatever snacks we need, it's kinda nice and fun to rush and grab the sweets from our friends' or colleagues' desk before the box gets empty. That's how I got to eat enough of Kaju Katli, soooooooooo much of Kaju Katlis that I was able to familiarize it to start loving it.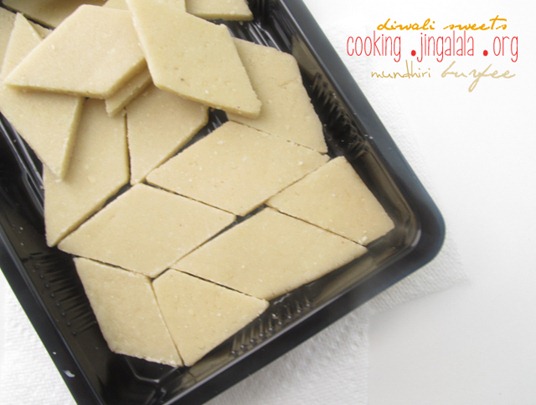 And today, after marriage; whenever we do our grocery, the Big Chief of my house picks some sweets box. When he picks it I'll give a stare as if "hey, why do you take readymade frozen sweets? I'm a food blogger and I will make them fresh for you. Now keep that down". Then I'll get a stare back from him as if "when you say 'I will make them', only God knows WHEN". Staring that way, he picked up Haldiram's Cashew Burfee dabba from the frozen food section during last month's grocery.
That moment I took a vow that I should somehow make him awe at my sweets making skills ;) Also since Diwali is ringing the door bell and I HAD to post an Indian sweet recipe in my blog for my readers, I decided to make these Kaju burfee. I know that 'Kaju' means 'Cashew nut' and 'Katli' means 'Slice', but wanted to find what other items they add to make this delicious sweet. I checked the Haldiram's pack to see the ingredients of Kaju Katli. The ingredients read: "Cashew Nuts (Coarse paste) - 52% and Sugar." I literally gasped since it was just Cashew and sugar. I was expecting some milk powder, koya, elachi, milk, and other blah-blah-blah stuff. Knowing the ingredients and the proportions I got a blurred view of how to make Kaju Katli at home. Then checked few sites on how to make them and I was comfortable with Nishamadhulika's method. Here we go to the recipe for making Kaju Katli.

How to make Kaju Katli at home – With step by step pictures (Click each photo to enlarge the image)
Step 1. My amma says "Pray before starting to make any sweets or snacks" (especially when you prepare Deepavali sweets). So Pray

Step 2. Take a dry mixer jar. Add the cashews and grind to make it a powder. Take care while you grind. Use the pulse option in the mixie/mixer grinder. I did "whirr-waitasecond-whirr-waitasecond" kind of pulsing.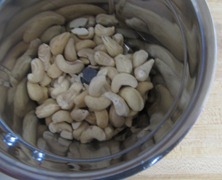 Take care you do not grind the cashew continuously since they start to release their oil and will turn into a paste instead of powder. In mid-way of grinding just take the jar and shake the powder with spoon since they'll stick together at the bottom. Then continue pulsing. You need not strive for a fine powder. It's okay if your cashew powder is little coarse.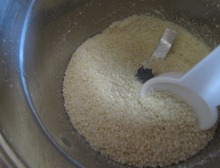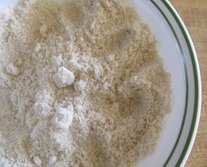 Step 3. Set the tools ready. Grease a flat plate with little ghee. Grease a spoon and chapatti roller pin. Set a butter sheet or an aluminium foil on another flat plate (I used my cookie bake-ware plate]. Grease the butter sheet/aluminium foil with little ghee.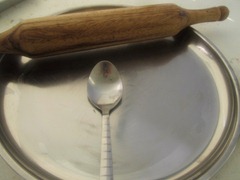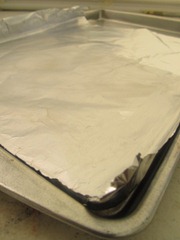 Set the items ready on the kitchen table.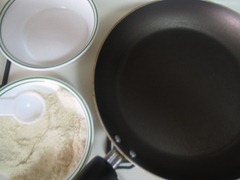 Step 4. Put the sugar in the pan. Pour exactly 4 tbsp of water. Now switch on the gas and have the flame in medium.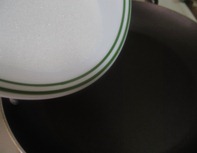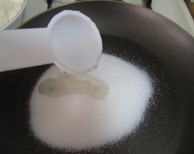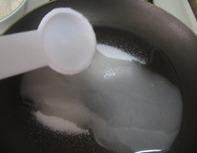 Step 5. Stir the sugar such that it melts in the water. Once it melts, it begins to boil immediately. Just cook the syrup for exactly two more minutes. Never allow the syrup to become very thick. [This step totally takes 2-3 minutes only] Now reduce the flame to LOW.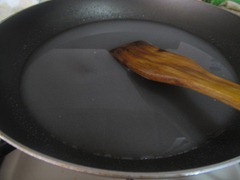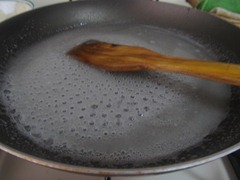 Step 6. Add the cashew powder and immediately stir them.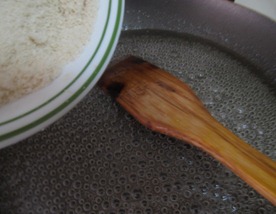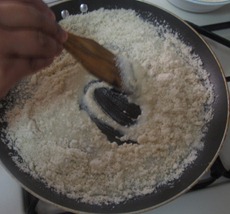 Don't allow any lumps to form. Keep stirring.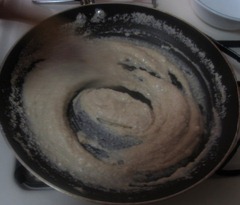 The stirring should lead to a thick cashew paste (hot koya/hot pal kova consistency) [This should take only 2-3 minutes]. Switch off the flame.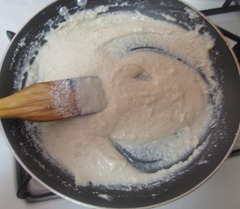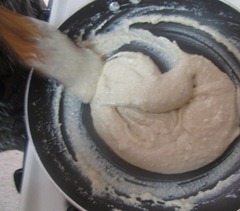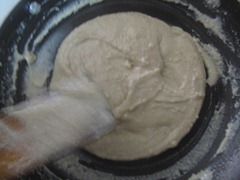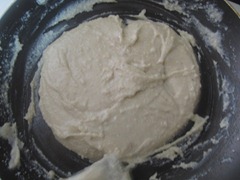 The total cooking time will be only 5-6 minutes. Sure not more than that.
Now, we should act quickly. Pour the hot cashew dough on the greased plate.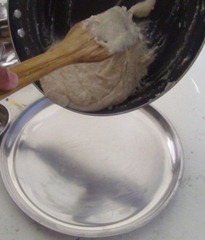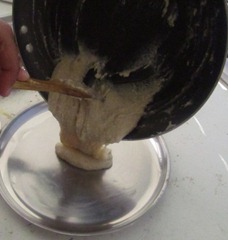 Step 7. Scrap all the cashew from the ladle. Using a spoon just turn the dough up and down for some time (may be a minute). This will allow the heat to escape helping us to handle the hot cashew dough with our hands. Do not over-do this step since if all the heat is gone, then it'll be difficult to set the burfi as they might start to crumble.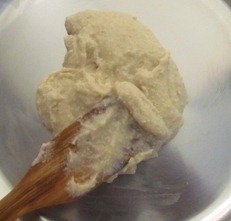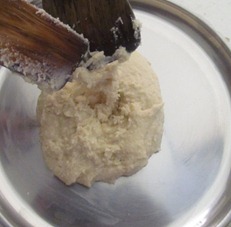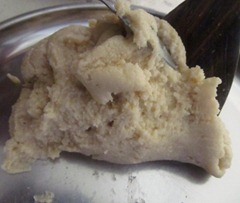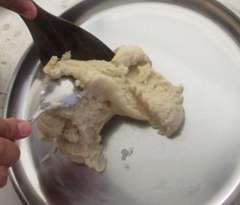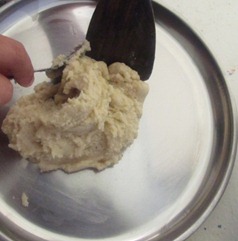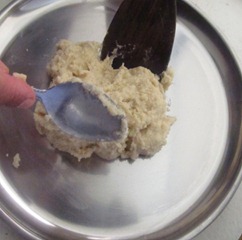 Step 8. Now it's time to handle the hot cashew dough with your hands. Again, grease your palms with little ghee (I always use my homemade ghee). Knead the cashew dough gently just for minute and gather them together.
Step 9. Shift them from one palm to another aiming to form a nice big ball [if you know 'hot-cross-buns song, you can sing it as you do this step

]. Do the shifting of the cashew dough just for a minute. DO not over-do this step, since too much handling of the cashew dough with your hands will make the cashews to release their oil. Also, remember not to release all of the heat by kneading. We need some heat in the dough while we make them sit to get their shape. Handle the kaju dough gently but firmly.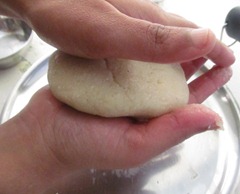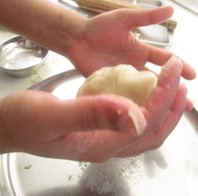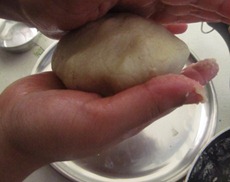 Step 10. When they gather nicely into a shining ball, put the ball on the greased butter sheet/aluminium foil.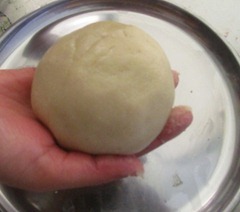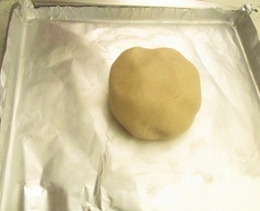 Step 11. Pat the cashew dough with your fingers [like how you pat ragi roti]. Pat them to form a layer.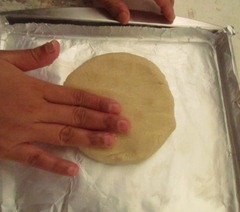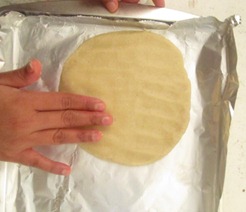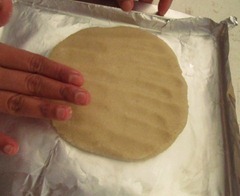 Step 12. Now roll the dough gently with the rolling pin making a ¼ inch layer. (Do not try to cut them now. We'll do it after the burfee nicely sets).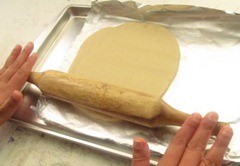 Step 13. Shape them into a rectangle using a sharp kitchen scale (I used my dosa ladle). [My aim to form a rectangle ended up like an octagon

].
Step 14. Leave the dough for half-an-hour. I left it to sit like this for one-and-a-half hours.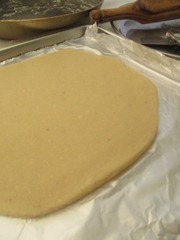 Step 15. The Cashew burfis were wonderfully set after 1 ½ hours easy enough to cut them into cakes. I am not good at Geometry. So I drew slight lines to form diamond shapes on the dough.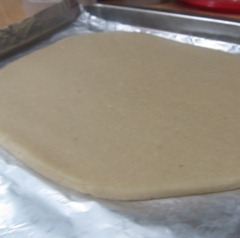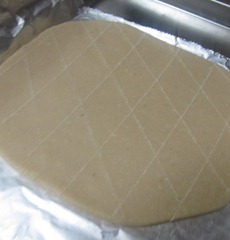 Step 16. Once I got the shapes right, I started to cut them. Cut them and slide (pull) them gently.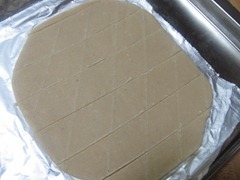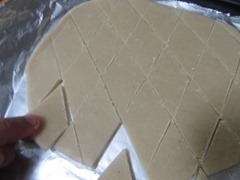 Step 17. Keep them in an airtight container. I refrigerated it so that the shapes set even tightly. [ahuhh… do not taste. It will sure taste divine! If you start to taste then, no cashew burfee will be left over for Deepavali

. They tempt you to eat more that you'll not know they are getting over]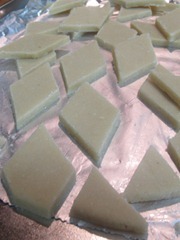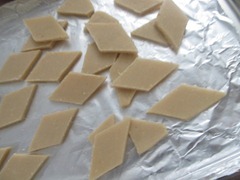 3Ts [ Tips | Tricks | Tactics ] to make Kaju Katli (Cashewnut burfi)
I always like to write the 3Ts section. It allows me to help the novice cook. I know sometimes I get too deep and write unnecessary details, but that's how I want to build my blog. Experienced cook might give sarcastic smile or shrug at my small, small tips, or even think, "hey girl we have common sense and we know how it works", but whatever point I leave here are the ones which I learnt from my mistakes. The more the list grows, it means that many mistakes I've committed earlier with the recipe. I wanted the visitor never to get wrong with the recipe. So if you feel 3Ts to be "too-much", just ignore the section darling.
For cashew burfee I have got only two tips for you since I got it right easily.
Do not over-do any step.
Act fast.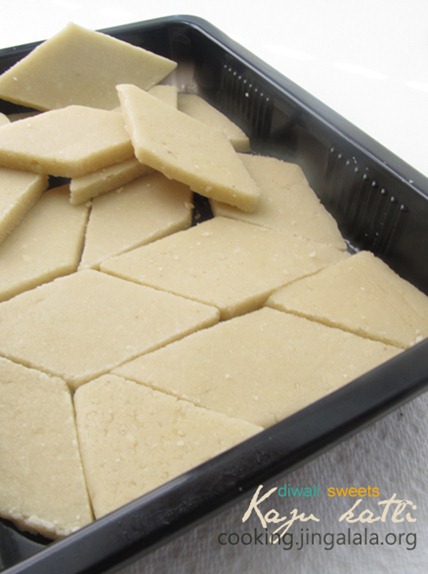 It sure IS a Minute-Khana! I served few pieces of these yummy Cashew burfis to my Big Chief. He says.. ."I'm sold". Let's ask what my taste buds had to say…"Ohh, we're slaved"

.
Cashew nut Dessert | Kaju Katri
PREP TIME: 45 min
COOK TIME: 6 min
TOTAL TIME: 51 min
YIELD: 20 pieces
DIFFICULTY: easy
RECIPE TYPE: Dessert/Diwali Sweets
Ingredients:
Cashew – 1 ¼ to 1 ½ cups [ I used whole cashews ]
Sugar – ¾ cup
Water – 4 tbsp.
Ghee [Just enough for greasing. I used only 2 tsp.]
Happy Deepavali 2012 dear readers and visitors!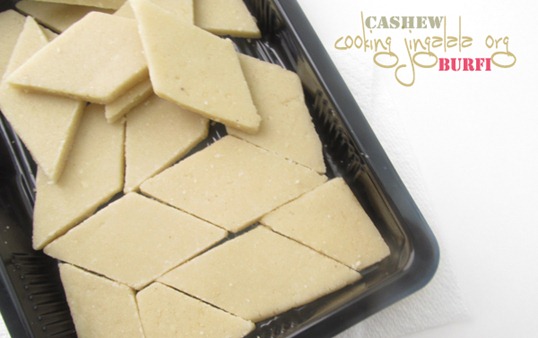 Mangala from Cooking.Jingalala.Org Eat Well!