Thoothukudi Macaroons | How to make Meringue-Cookies | Tuticorin Cashew Macaroonns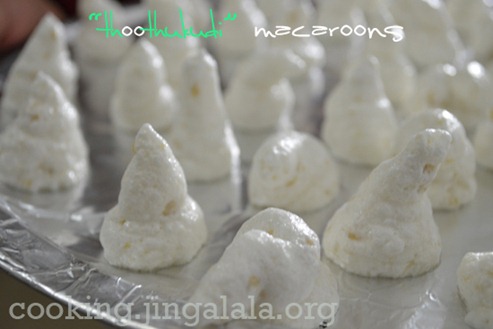 Have you ever experienced this? At times, some of our favorite sweets or snacks or any food for that matter turn out to be the costliest stuff in the store, isn't it? When I was a small girl there were times when I rushed to the bakery with the thoughts of these yummy macaroons in my mind, but end up getting a coconut puffs or vegetable puffs instead. Uggh… the awkwardness you feel when you could not offer to buy your favorites, especially in front of the bakery store-keeper

. Yeah, macaroons were/are costly cookies (because they've got cashews added in them) in the bakeries of my city, Madurai. But when you discover that such costly eatables are too very easy to make and that they need only the minimum ingredients…how luckcky you'll feel? I felt sooo much lucky when I learnt how to make these yummy little Macaroons/Meringues. So what's special about "Thoothukudi" Macaroons? Scroll down reader.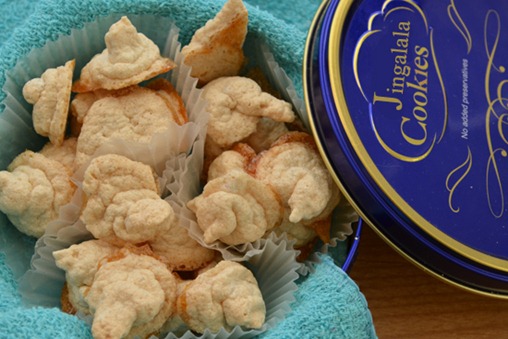 Now, do not get shocked by looking at the structure of the macaroons. You should read further to understand its taste

Be it Tuticorin or Madurai, to me, Macaroons are macaroons. To me macaroons from Madurai bakeries also taste exactly the same like Tuticorin Macaroons. They too have cashews added in them. They too are as light as cottonweeds. The fact is that, this particular meringue-cookie thrived and flourished in the city of Thoothukudi for many many hundreds of years! It all started during the years when trading started in India. There was this tall Italian merchant wearing a black coat, hat and boots trading with a humble South-Indian merchant, exchanging a trunk full of macaroons for a tin full of tomato chutney. Then the Italian merchant sailed back to Italy in his big ship and sold the tomato chutney for huge profits (and then the sold tomato chutney was apparently used in their pizza as the topping sauce

)) [oh come on…. do not believe my cooked-up history lessons on Macaroon. Please google yourself for the right history of thoothukudi macaroons (and of course Italian Pizza sauce may be

))]. Hm, I should not worry too much about Macaroon history; I should just thank the Italians who invented them and the Thoothukudians who actually kept the Macroon business going. So let's put aside the curiosity on History of Tuticorin Macaroons and concentrate on **how to make thoothukudi macaroons.
**

How to make Thoothukudi Macaroons (Meringue-cookies) – with step by step pictures (Click each photo to see an enlarged image)
Step 1. Preheat the oven to 200 degree Fahrenheit ( 95 degree Celcius). Separate egg whites from 3 eggs. Please follow the rules mentioned strictly

to achieve best results. When you separate the eggs and pour into the bowl, the bowl must be clean from grease/water. Egg whites will be easy to separate when they are cold. See to that you do not see even a speck of yolk in the separated whites. Do not use your finger into the whites to take any speck of yolk/shell. Use a grease-free spoon. Wait until the egg whites reach the room temperature. Once they reach room temperature, pour them in a wide and tall, grease-free dry vessel. Use a grease-free whisk and beat them with hand until they become frothy.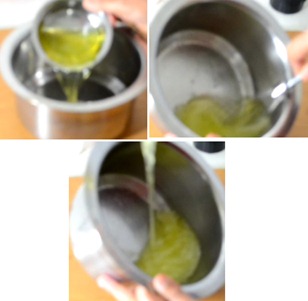 Step2. Once the egg whites become frothy, add a pinch of salt. Now beat the eggs with the electric beater (in low speed) until they become foamy. Continue to beat (about 3 minutes) until they form soft peaks. [Do not even imagine to beat the egg whites with hand. You definitely need an electric beater for this recipe].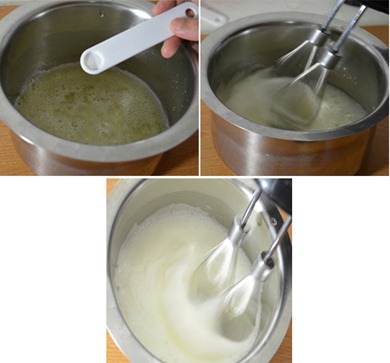 Step 3. When the egg whites formed soft peaks, start to add fine sugar (if you have granulated sugar, grind them in your mixer to get very fine granules). Add sugar only 1 tbsp. at a time. Beat them in medium speed.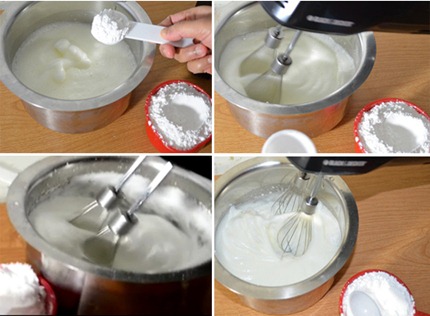 Step 4. As you beat and as you keep adding the sugar little by little, you'll witness the egg whites becoming like a soft batter. Increase the speed of the beater to high as you continue to add sugar.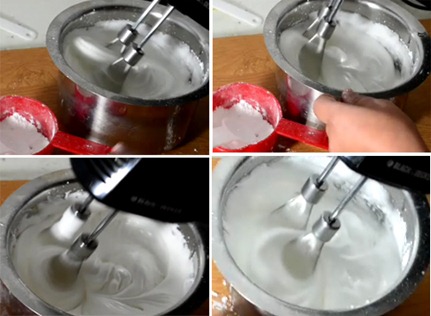 Step 5. The volume of the mixture will keep rising as you beat and as you add the sugar (the ratio of sugar and egg whites is: 1/4 cup sugar for 1 egg white). Sugar must be thoroughly mixed into the egg whites. Just rub a little of the mixture between your thumb and index finger. You should feel like touching thick butter. Your fingers should not feel even a little of sugar granules. If you feel, continue to beat them. Beat the egg whites until they form stiff peaks. That is, when you try to lift your whisk, or try to tilt the vessel upside down (the former option is easier

)) the mixture should be thick like firm clouds and they should not slide down. Something that is in the consistency of whipped cream. This step took me around 8 minutes.

Step 6. [Optional step]
If you wish to add little vanilla essence (1/2 tsp.), add it and give a good beat.


Step 7. Now, pound/crush the cashews (cashews must also be in room temperature. Do not grind them, just pound them.) Add them into the egg whites batter and just give 3 folds. Do not fold them too much. Use a grease-free spoon/ladle to fold.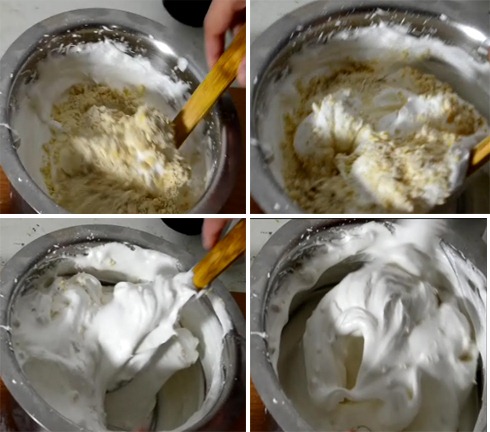 Step 8. Line a baking sheet with aluminium foil. Take a zip lock/piping bag and fill it half way with the meringue-mixture. Use a grease-free spoon/ladle to fill. Tight the bag releasing any air inside. Cut a small hole in one corner and start to pipe the macaroons. You can check the video on piping the macaroons below. If you do not have zip lock or piping bag, you can just use two spoons to form clumps, if you do not worry on the structure of the macaroon. [Important: Kalpna, a regular reader of CJ gave a very important tip. She says: "after making very stiff peaks, v shud immediately transfer into plates and bake.. my last plate of cones were droopy"]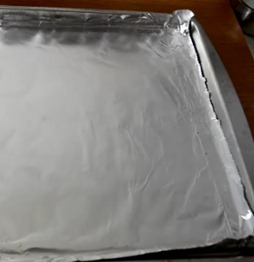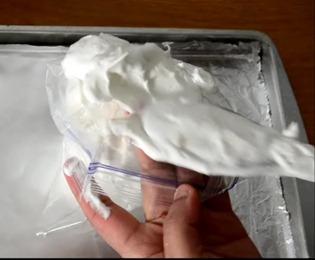 Piping Macaroons
Step 9. Bake the macaroons for 1 to 1 1/2 hours. Once they are baked, switch off the oven and let the meringues stay inside until the cookies are completely cooled down (3 hours may be). Once they are cooled down, store them in air-tight tins/bottles. You can keep them for weeks/months in room temperature.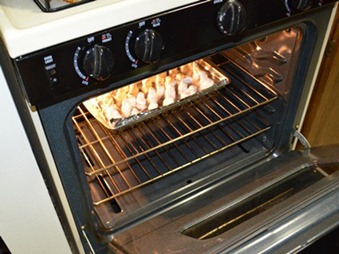 3Ts [ Tips | Tricks | Tactics and Secrets ] for making Macaroons
I will update this section once I master in making Macaroon. Until then, you can learn about my Takes in the making of Macaroons.
Take 1. I actually had plans to make these white little angels as a surprise gift for my brother on Raksha bandhan. He he he…, the macaroons turned out to be a THOROUGH FLOP. Hey wait, by thorough flop I meant only its structure and not the taste. The structure turned out like a cracker/bark, but the taste replicated the ORIGINAL "thoothukudi macroonns"

. The mistake which I made in Take 1 is that, I did not wait to bring the egg whites to room temperature. So I was not even able to achieve soft peaks.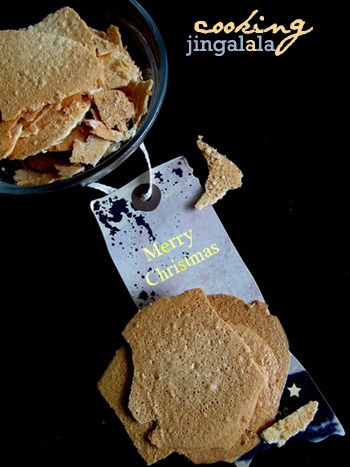 **
Take 2.** Though the "structure" of the macaroon discouraged me in Take1, their taste whispered to me to give another try. So I tried few days back. I really do not know what mistake I made in Take 2. Everything was perfect until I sent the tray of piped macaroons inside the oven. After that they began to cry. Sugar/water/whatever-that-is started to leak from the meringues. I hated to look at my crying meringues. I suddenly had a doubt if the chicken which laid these eggs cursed the end-user! But that thought was not enough for me to give up the idea of "baking my own macaroons". So I waited until they were baked, Mm, structure of the macaroon was not too bad this time. I called them Baby-macaroons since the cones got shrunk in height and size. Don't question about the taste. It was FABULOUS!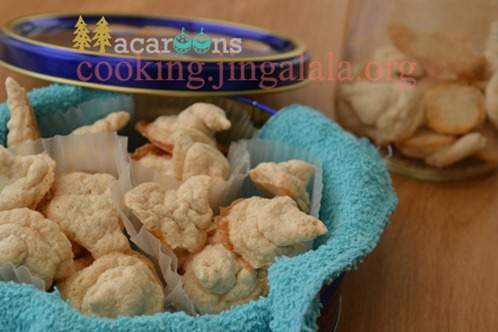 Okay, now the interesting part! How to eat the macaroons? Ahem, the style of eating these meringue-cookies differs depending on the environment. Scene 1: If you're sitting beside an annoying bus mate… You can make a noisy "Crrunch Crrunch" sound as you finish the outer crust of the macaroons and then do a loud "Munch Munch" sound when you reach the inner fluffy and chewy part of the macaroon. Wait, it's not over yet. And when the cashews come along, say a loud…"Mmmmmhhhhnnnn" closing your eyes

. Scene 2: If you're in your classroom … You can silently break a macaroon, throw it inside your mouth and close the mouth shut (enjoying the meringues melting quietly inside your tongue, when the teacher thinks you're the only soul in the class listening keenly to her lecture. [Tips: See to that your chins are up and you push your spectacles up to sit tight on your nose and you shrink your eyes slightly…. This makes easy for the lecturer to identify the "smart kid" in the classroom

].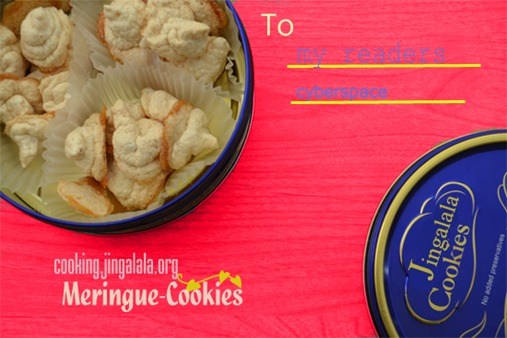 Want me to narrate the experience of how these macaroons slid down into my throat? Well, they were like a bride wearing her pretty white gown gliding gracefully to the altar

. BTW, if you succeed in baking wonderful macaroons, you should probably store them in tins that have security code or a biometric fingerprint reader attached to open its lid. Else you won't know who emptied the tin

.
Thuthukudi Macaroon Recipe
PREP TIME: 1 h
COOK TIME: 1 h 30 min
TOTAL TIME: 2 h 30 min
YIELD: 40 cookies
DIFFICULTY: easy
RECIPE TYPE: Dessert
Ingredients:
Egg whites – from 3 eggs
Fine Sugar – 3/4 cups
Cashew – 1/2 cup [Optional]
Salt – a pinch
Mangala from Cooking.Jingalala.Org Eat Well ! [I had this plan of making thoothukudi macaroons in the list of "To-Do before 21-Dec-2012" (you know what's special with this date, right? The Mayan Calendar story…). Well, if the Earth continues to spin tomorrow, I can try mastering the macaroon making and show you a picture of macaroon that "looks" exactly the same like Thoothukudi Cashew Macaroonns

.]