Tamilnadu Gravy Varieties | Chettinadu Style Pakkoda Kuzhambu | Pakora Gravy
My mom was born and brought up in Chettinad district. She used to tell us a lot of stories, events and happenings that took place in her beloved village "Kalayarkovil". Be it the food, her school, the pond, the market, the backyard well, the house or the temple, I almost know everything she experienced in her village. Many interesting stories piling up for my readers

. So having said that she's from the Karaikudi area, I need not talk much about her cooking. Her sauces, be it vegetarian or non-vegetarian, they're always lip smacking, nobody will say "enough" if she prepares and serves snacks, especially paniyarams. This Pakoda kuzhambu is one of the gravies which I learnt from my mom. In our home, amma makes this at least once every month. Read through to find the mystery spice involved in this spicy pakoda kulambu recipe.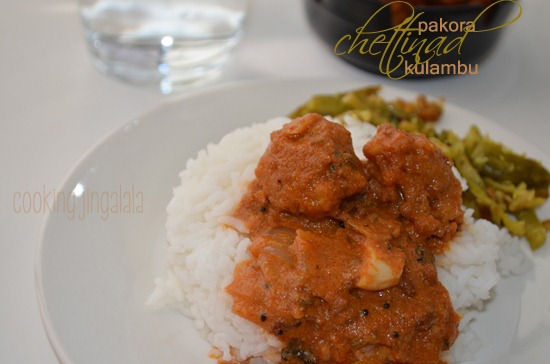 Pakoda kuzhambu is nothing but a gravy made by soaking deep fried pakodas in spiced tamarind sauce. The pakodas can be made at home using chana dal or you can use the readymade store bought pakoras. The speciality about this Pakoda gravy is its flavor. The guy who adds this special flavor to the sauce is this spice called "kalpasi" (see picture below). Kalpasi is a type of lichen that grows on rocks. In texture, this spice is very delicate like a feather. But even a small amount of kalpasi added to your dish brings what you call it, "that edge" to the curry. Add a very small pinch of kalpasi (about 2 feathers/bark) to your curry and it dominates almost all other spices added in the curry. When you season the gravy/curry, kalpasi releases a strong sweet aroma the moment it gets added to the oil. Due to its feathery texture, it might get burnt quickly if you cook them in high flame. So always take care in handling and take care on the quantity you use for the gravy/curry. To know more about Kalpaasi, click here.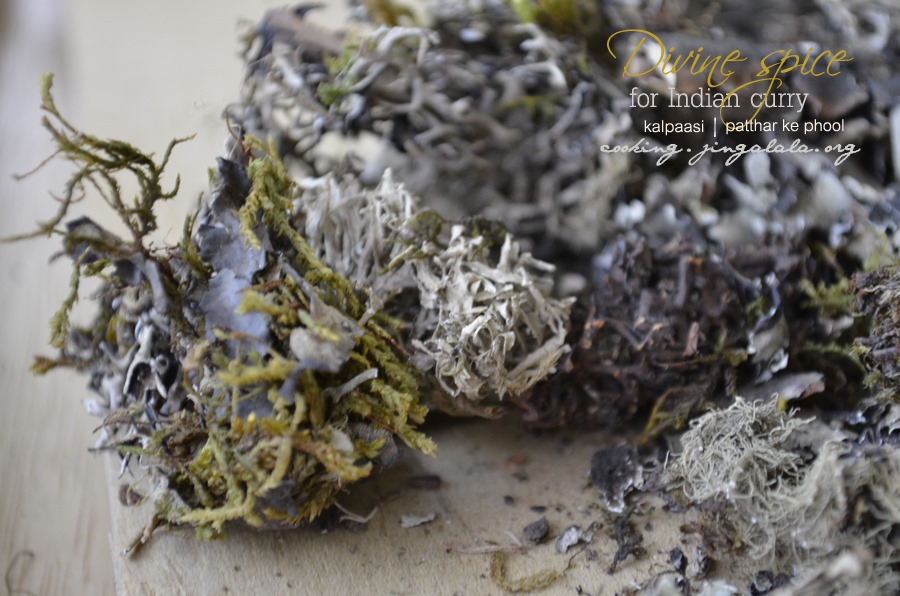 Mom uses this kalpasi mostly in non-veg recipes like Chicken varuval, mutton varuval etc. In this pakora kolambu, the kalpasi adds so much of "sweet curry smell" that the aroma will not leave the wok even after washing the wok with vim/any dishwash liquid

. I brought one full packet of kalpasi when I came to the US. Now the spice box is left with very few powdery feathers. But that itself is enough to bring flavor for a pot full of Biriyani! So before my spice rack run out of Kalpasi, I thought I should show you how to prepare pakoda kuzhambu – in a more traditional method using this special Chettinad spice.


How to make Pakoda Kuzhambu/Pakora Gravy – with step by step pictures (Click each photo to see an enlarged image)
Step 1. Soak tamarind in warm water for 10 minutes. Once they become soft enough to pinch easily, start to extract the juice by squeezing and pinching the tamarind. Use a tamarind colander to distil the tamarind residue (I do not have a colander, so I just use my hands to distil). If you find you can extract more juice from the pulp, add little more water and extract more juice. Discard the tamarind residue.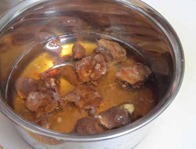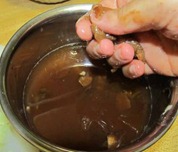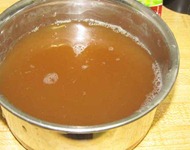 Step 2. Add red chili powder, coriander powder and salt to the extracted tamarind juice. Mix them nicely and check salt. Keep this extract aside.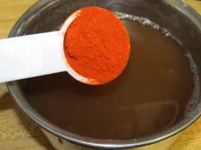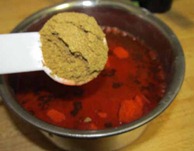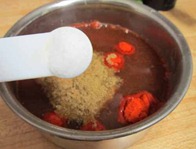 Step 3. Chop onions into rough chunks. Cut the garlic cloves into two. Slit the green chilies (simple slits, not slitting all through it horizontally). Cut the tomatoes. Wash and set the curry leaves ready. Keep the chopped vegetables aside.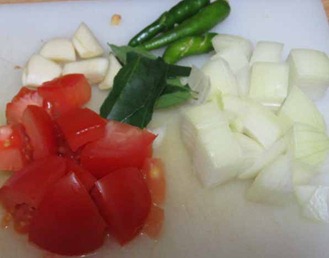 Step 4. Keep a dry wok on the stove in medium flame. Pour oil. Once the oil becomes hot, add the mustard seeds. When the mustard seeds splutter completely, add the urad dal.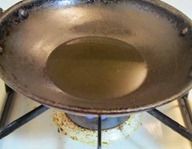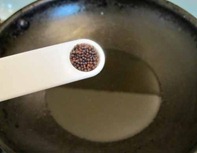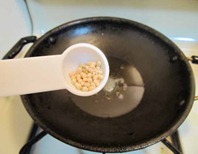 Step 5. Reduce flame to low and follow immediately by adding the spices (cinnamon, cloves, star anish, kalpasi and fennel seeds) [Please check 3Ts section to check more on this step]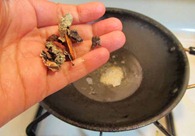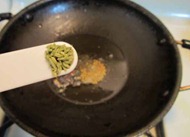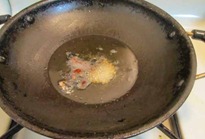 Step 6. When the fennel seeds turn slightly brown, add the green chilies (people who wanted to reduce spiciness can omit green chilies), onions and curry leaves. Mix and sauté the onions for 2 minutes in low flame.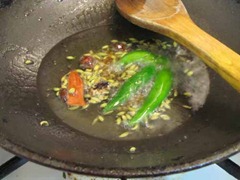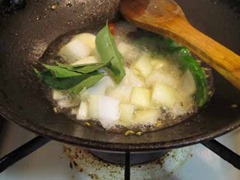 Step 7. Add the garlic cloves. Mix and sauté them for a minute or two.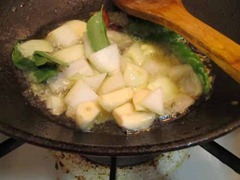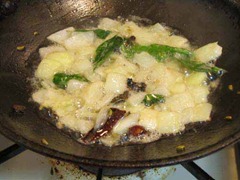 Step 8. Once the onions turn translucent, add the tomatoes. Turn the flame to medium. Mix and cook them until the tomatoes become soft, may be 2 minutes.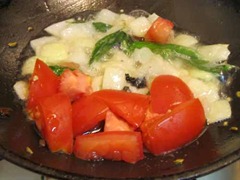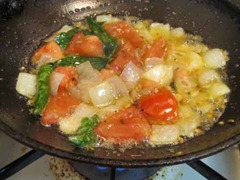 Step 9. After one more minute the raw smell of the tomatoes will be vanished. Mash the tomatoes and pour in the prepared tamarind extract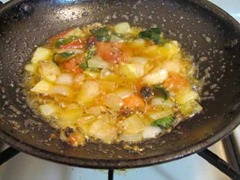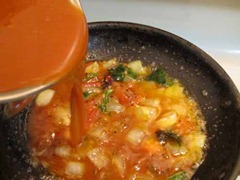 Step 10. Mix and close the wok with the lid ajar. Turn flame to High. Wait for 10 minutes.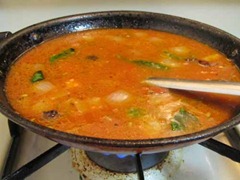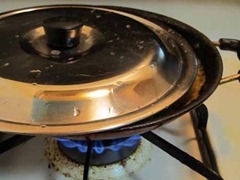 Step 11. When you open the lid after 10 minutes, the gravy will be boiling nicely. Turn the flame to Medium. Continue with medium flame for 5-8 more minutes.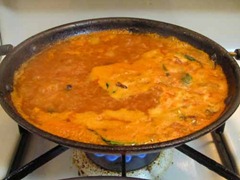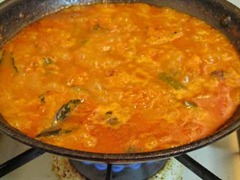 Step 12. After 5 minutes, turn it to Medium-Low flame. Wait until the gravy turns thick or to your desired consistency. I wait until oil separates on the top of the gravy. This will take 15 minutes in Medium-Low flame. Now add the deep fried pakodas into the gravy.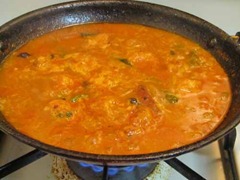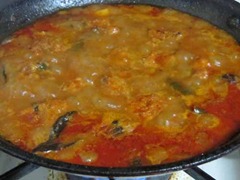 Step 13. Grind the shredded coconut with 2-3 tbsp. of lukewarm water. Grind it to a smooth texture. Add it to the gravy. [Adding coconut paste is optional. Check 3Ts section for more tips]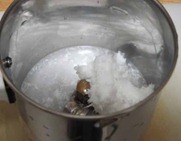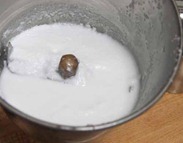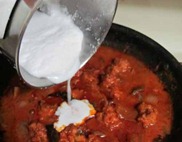 Step 14. Mix the gravy and let it sit in low flame only for a minute. Switch off stove and close the wok with a lid. The pakoras will be cooked in the heat of the gravy itself. Do not cook the gravy more than a minute after adding pakodas and coconut.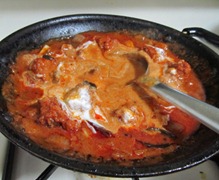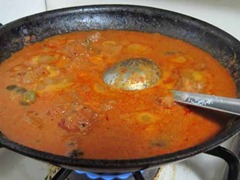 Step 15. Serve the Pakoda Kuzhambu with rice/idly/dosai. I accompanied the rice with Kovakai poriyal and deep fried pakodas

.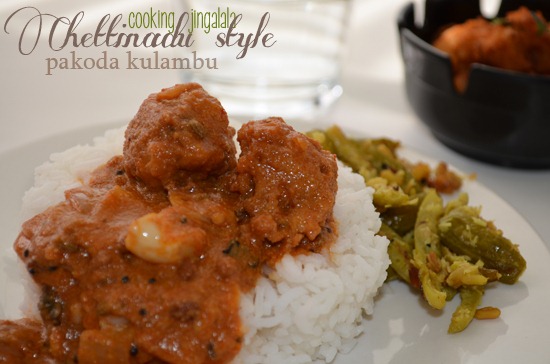 3Ts [ Tips | Tricks | Tactics and Secrets ] to make Pakoda kuzhambu (Pakora Gravy) 1. When you temper in Step 5, first put cinnamon, cloves and star anish. Once the cinnamon releases it's flavor (takes 5-7 seconds) add the kalpasi. In texture, kalpasi is a very delicate spice. But the moment you put them in the oil, they quickly react to release a strong flavor. Take care you do not burn this spice. Reduce the flame to low when you handle this spice in hot oil.
2. Adding coconut paste is optional. But it gives a wonderful touch to the recipe. I always add coconut paste. During snowy days/winter, I cook the gravy in the night without adding coconut. I will not keep the gravy in the refrigerator. The next morning, the pakoras will be nicely fattened by absorbing more gravy. Just before packing the lunch, I reheat the gravy in low flame for 5 minutes or until gentle boil, then grind the coconut paste, add to the gravy, mix and continue in low flame for a minute. The pictures which I've shown in step 13, 14 are done in this method.
3. See to it the size of the pakodas are small when you deep fry the pakodas for gravy. Because if the deep fried pakodas are big, they will become bigger once you add them in the gravy. Sometimes, the pakodas are selfish absorbing all the gravy themselves without leaving anything for us (uh, how can I blame the pakodas if the gravy tastes so much good. In first place I should not have soaked them in the gravy

)). So in such case, add 1/2 cup warm water to the gravy and reheat it for 5 minutes or until gentle boil.
4. My grandmother used to grind coconut with 2-3 small onions in ammikal (stone mortar) and add the paste along with the tamarind extract in Step 2. This gives a warm village touch to the gravy.
5. We never have tried the gravy with store bought pakodas. If you people try, let me know how it turned out.
6. This pakora gravy increases in taste the next day. So whenever I make this pakoda kulambu I make more quantity and store them in fridge for 2-3 days. I wait eagerly to taste it with Dosas


Yeah, for few of you this recipe might sound similar to "Paruppu urundai kuzhambu", but the taste sure differs because of the "special spice" added. And yeah, the pakoras are nothing but mini versions of masal vadai. And of course yes… yes, you can call this pakoda gravy as "Vada Curry" too and enjoy mashing the soaked pakodas and spreading the gravy inside your hot roast dosas

. People who do not like tamarind sauce can completely omit making the tamarind sauce and make the gravy using ripe tomatoes instead.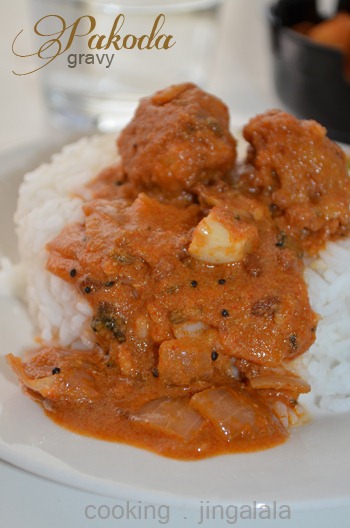 When I set my plate to enjoy this gravy with rice, I always have two soaked pakodas, 3-4 fried pakodas along with beans poriyal/cabbage poriyal or any poriyal that is less spicy

.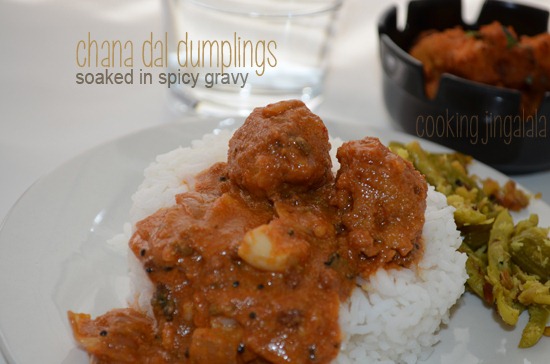 Pakora Gravy | Pakoda Kulambu
PREP TIME: 10 min
COOK TIME: 45 min
TOTAL TIME: 55 min
YIELD: Enough for 3 adults
DIFFICULTY: medium
RECIPE TYPE: Gravy/Sauce for Rice/Kuzhambu
Ingredients:
Tamarind – lemon sized ball
Water – 2 cups
Red chili powder – 1 tbsp.
Dhania powder/Coriander powder – 1 tbsp. + 1 tsp.
Salt – 1 tsp. (adjust to your taste)
Shredded coconut (ground smoothly) – 1/4 cup [Optional]
Home-made pakodas/Store bought pakoras – 8
*\ For Tempering ***
Gingely oil (Sesame oil) – 3-4 tbsp.
Mustard seeds/Kadugu- 1/4 tsp.
Urad dal/Uluthamparuppu – 1/2 tsp.
Fennel seeds/Soambu – 1/4 tsp.
Cinnamon/Pattai – 1/2″ stick
Cloves/Lavangam/Krambu – 1 ( 2 if they are very small)
Star Anise seeds/Annachi poo) – just 2 petals (from one flower)
Kalpaasi/black stone flower- 3 petals
Onions (small/big) chopped – 1/2 cup
Garlic cloves – 2
Tomato – 1/3 cup
Curry leaves – 1 sprig
Green chilies – 2 [Optional]
Mangala from Cooking.Jingalala.Org Eat Well !