Indian Pakora Recipe | Chana dal Pakora Recipe| Tea-time Snacks recipes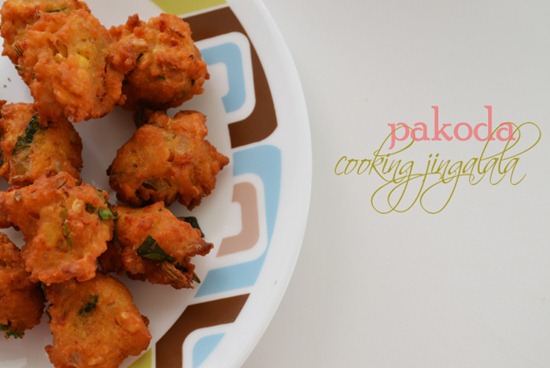 Consider it an appetizer for a party or a late afternoon snack to accompany your late afternoon reading, this pakora recipe does a very good job in both roles. We normally make this pakoda when we prepare our traditional Chettind Pakoda Gravy – a spicy curry made by soaking fried pakoras in spiced tamarind sauce. The remaining pakora-batter will be transformed into this crunchy version and will be enjoyed as a side dish for the rice and gravy or as our tea-time snacks. But if mom had plans to make it as the side dish, she knew that she has to spend some more time in the kitchen frying more and more pakoras. Yeah, we'll gobble the pakodas as and when it is fried since we're not resistant to its smell nor its taste

.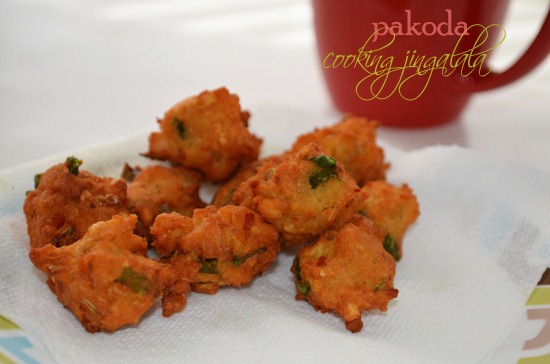 How to make Chana Dal Pakora – with step by step pictures [Click each photo to see an enlarged view of the image]
Step 1. Soak the chana dal (split chickpeas) for 6-7 hours (or for at least 2 hours) . [You can add 1 or 2 dry whole red chilies along with it. This is completely optional. You can omit the red chilies if you're not comfortable with the spiciness.] Once the chana dal is soaked for 7 hours, drain the water.
Step 2. In a mixer grinder (mixie) or blender, grind the chana dal with fennel seeds. DO NOT add water [only then the pakoras will be roasted nicely giving you a crunchy texture when deep fried]. Grind it to a coarse texture.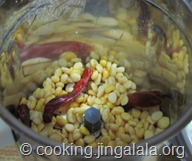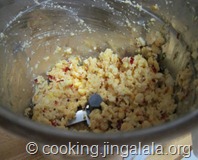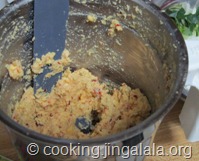 Step 3. Finely chop the onions, green chilies, fresh coriander (cilantro) and curry leaves. Mix them with the ground pakoda batter. Add salt while mixing. [ I forgot to add fennel seeds while grinding the pakora batter, so I added it while mixing

]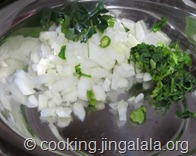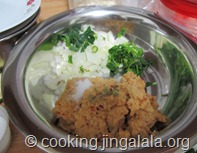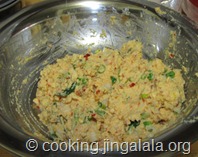 Step 4. Heat a dry wok with oil in medium flame. Heat it for 5-7 minutes (i.e until you see little vibrations in the oil) Once the oil is hot take a small clump of the pakoda dough with your fingers (or spoon) and put it in the oil gently. The number of pakoda lumps you deep fry in one single batch should not affect the temperature of the heated oil. I normally fry 7-8 pakoras in a single batch. [Please have look at the 3Ts section for tips]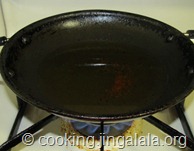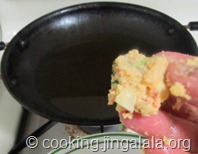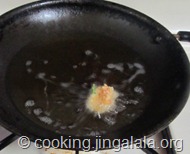 Step 5. Now listen carefully. If you're making these pakoras for your curry/kulambu, then follow step 5 and 6, else [jump to Step 7.](#pakoda variation) Deep fry the pakoda partially. i.e. not undercooking the pakodas but we need to deep fry the pakoras briefly for a minute or two both sides. They should not be roasted too much. Remove the pakodas with a slotted ladle by draining the oil briefly for few seconds.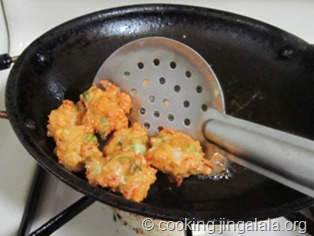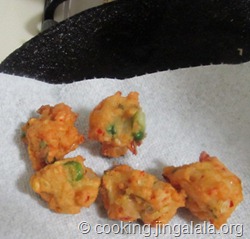 Step 6. Place the pakodas on a kitchen tissue and let it stay there for a minute or two before you add them into the pakoda kulambu/gravy.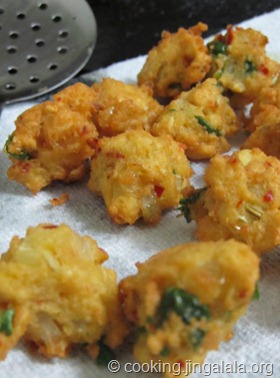 Step 7. If you are preparing the pakodas for an evening snack or appetizer, then deep fry them nicely on both sides for about 2-3 minutes. Roast them until you feel the crunchy texture with your ladle. Remove the pakodas with a slotted ladle by draining the oil briefly for few seconds. Place the pakodas on a kitchen tissue and let it stay there for a minute before you serve them.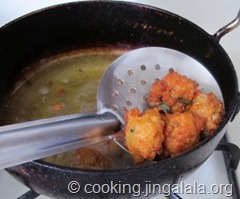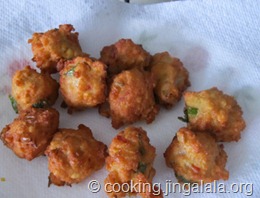 Step 8. Serve the pakodas with hot tea or coffee or use as a special side dish for your rice and gravy.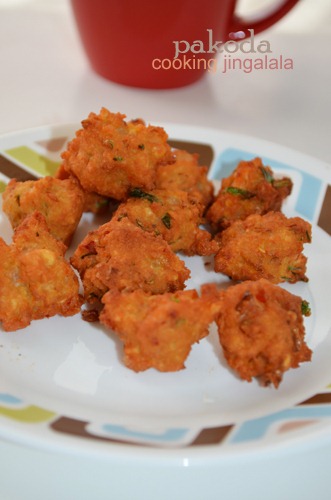 3Ts [ Tips | Tricks | Tactics and Secrets ] to make Pakora
Soaking the kadalai paruppu (split chickpeas) for 6 to 7 hours will give great taste and texture (crispiness) to the pakodas. Soaking for 7 hours is the real secret behind this Pakora recipe.
See to that the temperature of the heated oil stays same. Do not overcrowd the wok with the pakora clumps, because adding too much of pakoda batter in one batch will bring down the temperature of the oil and the pakodas will not roast properly. Chances are there that the pokodas can even suck oil if the temperature of the heated oil drops. SO take care. The hint is to keep the oil sizzling hot (not smoky hot). The pakoda clumps must sizzle with an excited sound every time you drop them in the heated oil.
If you are making the pakoras for pakoda-gravy, have the pakora size to be small since they'll become big once soaked in gravy.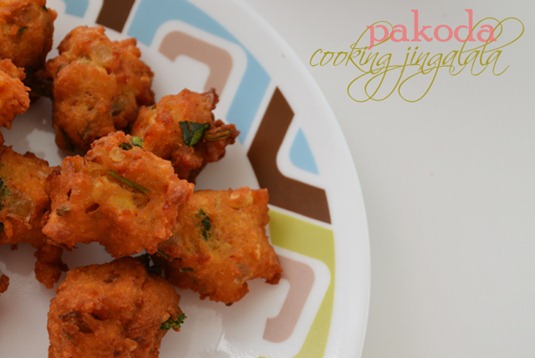 Ah, why accompany these pakoras with tea or coffee? Just gobble these cute pakora-bites as you enjoy reading the gossip page in the newspaper supplementary or enjoy it with your neighbor-friends during your late-afternoons get-together.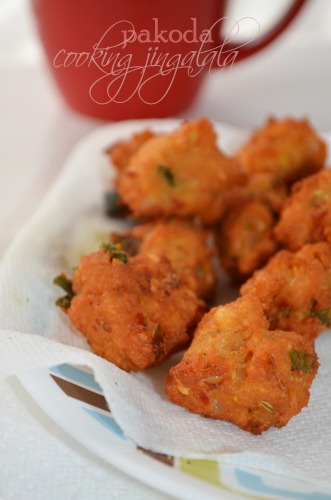 Split Chickpea Pakoras
PREP TIME: 3 h
COOK TIME: 15 min
TOTAL TIME: 3 h 15 min
YIELD: 20-30 small pakodas
DIFFICULTY: easy
RECIPE TYPE: Snacks/Side Dish
Ingredients:
Chana dal/Bengal gram dal/kadalai paruppu – 3/4 cups
Fennel seeds/Soambu – 1/4 tsp
Green chillies – 1 or 2
Onions (big/small) – 3/4 cups
Curry leaves – 5
Fresh coriander/Cilantro/Kotthamalli – handfull
Salt – 1/2 tsp (adjust to your taste)
Dry Red Chilies – 1 or 2 [Optional]
Mangala from Cooking.Jingalala.Org Eat Well !