**How to use unfermented idli-dosa batter ~ How to make dosai using unfermented idli-dosa batter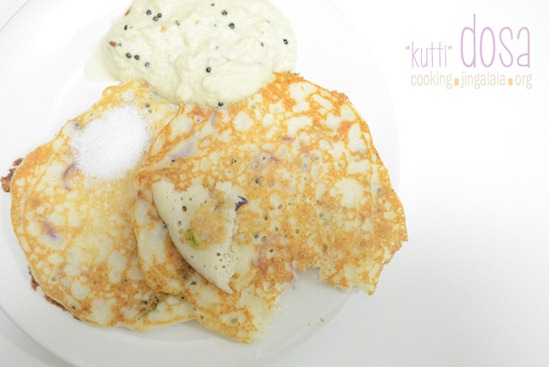 **
I told you that it was the heavy snow season when I first landed in the US, right? I hardly saw any human-being walking in my apartment street

. I had doubts if people even lived in the other apartment blocks. The husband too turned out to be a 'cyber-being' warming up his spot in the sofa with his eyes glued to his laptop screen. At times I've wondered what if I place some eggs underneath his warm seat so that it hatches into chicks and I can use them to make some chicken korma

. Fat furry squirrels running across the street to pick the pine nuts was all I could see from my glass windows. Snow made me too weak that I had to stay shivering in the furnace room like a sick chick

. And to add to my winter trouble list, there came the problem (or should I say Challenge) of fermenting the idli-dosa batter <theatrical music playing>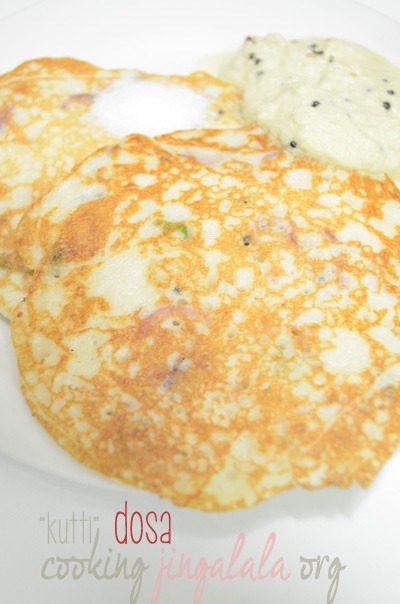 While winter means inviting hot soups and spicy curry to the dining table, it also means inviting problems in fermenting idli-dosa batter. Oh wait! Before I open up the topic, would you mind reading my ESSAY (!!!) on easing the fermentation process of idli-dosa batter during the winters? (you would understand the metaphor better if you read it.) Like how we cuddle and snuggle lazily under the silk quilt willing not to rise up during the winter mornings, the idli-dosa batter too wish not to rise up during the winters

. At times, even the old trick of placing the idli-dosa batter inside the warm oven won't help. I seriously had doubts if the idli-dosa batter liked staying inside the warm oven like how we like to stay warm under the centralized heater during the winters. But why blame only the winters? At times even during the summers in the US, the idli-dosa batter won't have any mood to rise. So in such cases, when the idli-dosa dough is lethargic to obey your fermentation tricks… Scroll Down

.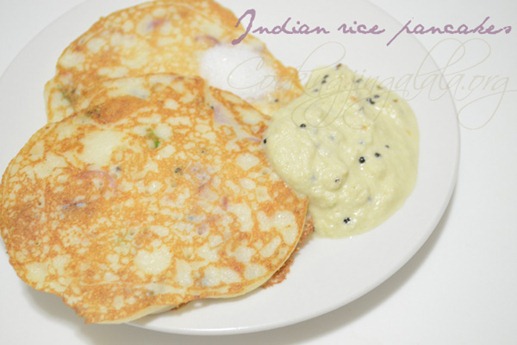 There is no doubt that the idli-dosa batter ferments beautifully in less than 6 hours during the summers in India. But sometimes we can't wait until the idli-dosa batter finishes its fermentation. Amma makes these Kutti Dosas at home when her idli-dosa batter is not completely ready or if the batter only partially fermented (especially during the winter). She makes use of shallots (small red onions) for this recipe which gives added taste. But no harm in using finely chopped big onions too. Mom prepares spicy coconut chutney to go along perfectly with these kutty dosas. We named it "kutti" dosa since it's very small in size. We use only gingely oil (sesame oil) for making dosas. That gives an excellent taste and smell to the dosas and pushes you to eat two more dosas before you say the actual "enough" during the serving. So here's for you, my mom's "kutti dosa recipe using unfermented idli-dosa batter".


How to make use of unfermented idli-dosa batter – Kutti Dosai Recipe with step by step pictures [Click each photo to enlarge the image]
Step 1. Peel, wash and finely chops the onions (I used red pearl onions). Wash and chop green chilies. Wash curry leaves. Keep the chopped vegetables aside. Heat a dry wok in medium flame with 2 tbsp. oil. When the oil becomes hot add mustard seeds. Once the mustard seeds splutter completely, add the urad dal.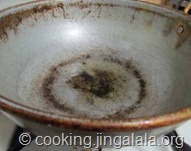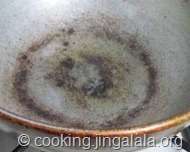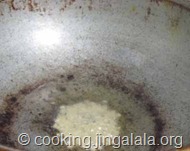 Step 2. Add the chopped vegetables. Sauté them just for for 2 minutes.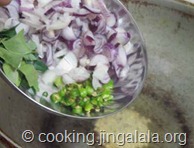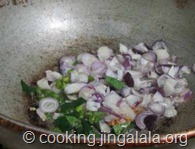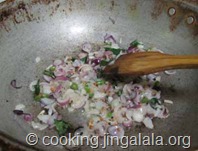 Step 3. Take 2 cups of the idli/dosa batter [I normally do not add water for this type of dosa. But if you wish, you can add 2 tbsp. of water or 2tbsp. of curd/buttermilk]. Add the seasoning into the idli/dosa batter. Mix well. Keep it aside.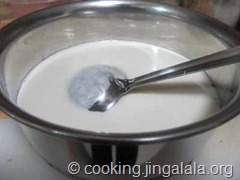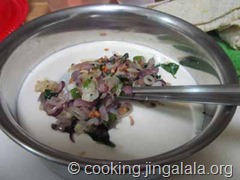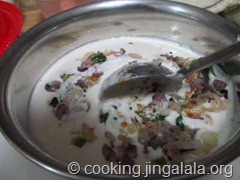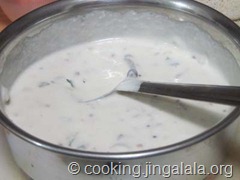 Step 4. Heat the Dosa pan (I use my cast iron dosai kal) in high flame for a minute. Turn flame to medium once the pan is heated. Pour a tsp. of oil. Wait for 5 seconds.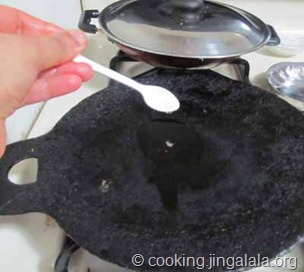 Step 5. Take a ladle of dosa batter and pour it over the heated oil. You need not spread the batter. [I spread gently around the corners slightly]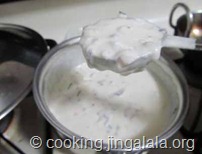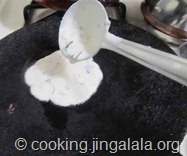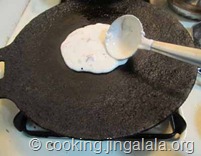 Step 6. In 30 seconds you'll see holes forming on the dosa. Wait for 30 more seconds. You need not close the dosa pan with a lid.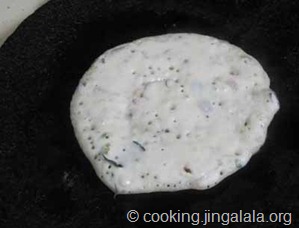 Step 7. Now, flip the dosa with a flat spatula. See how beautifully it has browned?! Add little more oil [1/2 tsp.] around the dosa if you wish. Wait for 45-50 seconds.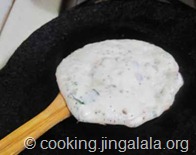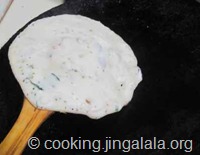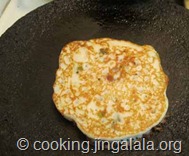 Step 8. Flip the dosa again to check if it is done on the other side. Yes, it's done! [If you see batter sticking to the dosa, cook it for few more seconds.]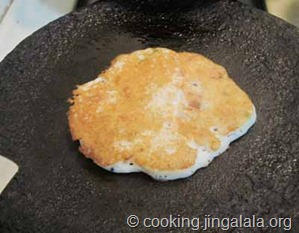 Step 9. Serve it hot with spicy chutneys. I normally serve these dosas with coconut chutney [I add 1 or 2 chilies more while preparing the chutney, especially when serving for this dosa]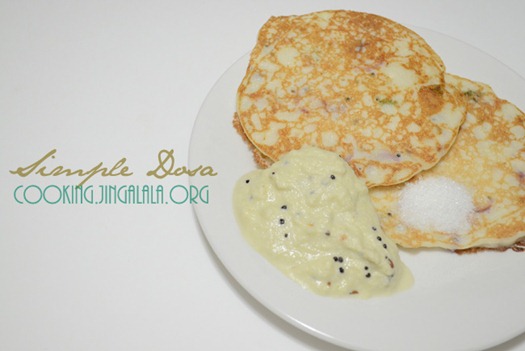 3Ts [ Tips | Tricks | Tactics and Secrets ] in making Dosai
Since the recipe here is with a dosa batter that did not ferment well, we cannot expect a taste similar to normal dosas. For some, who has got a devil's tongue like mine, these kutty dosas might taste bland. If you feel so, add a tbsp. of sour curd or 2 tbsp. of sour buttermilk with the idli-dosa batter before making them.
Make any spicy chutney to go with this dosa. i.e. Any chutney, but a spicy one. I eat these crepes just with sugar :)
You can add a little more (may be a tsp. more) sesame oil than suggested in the ingredients while making these dosas on the pan. This gives more taste and smell to the dosa.

Yes… There will sure be a time when the prepared idli-dosa batter will be stubborn to raise and you will have no Plan B for breakfast or dinner. Or there will be an unexpected guest in the middle of the night when the idli-dosa batter will be in the middle of fermentation process having no mood to serve the guest. In such cases, remember this simple dosa recipe of Mangala's**

**.
Crepes | Dosa
PREP TIME: 5 min
COOK TIME: 5 min
TOTAL TIME: 10 min
YIELD: 6 dosas
DIFFICULTY: easy
RECIPE TYPE: Breakfast/Dinner/Snacks
Ingredients:
*\ For making dosas ***
Idli/Dosa batter – 2 cups
Sesame oil (Gingely oil) – ¼ cup (1+ tsp. for each dosa)
*\ For seasoning ***
Sesame oil (gingely oil) – 2 tbsp.
Small onions – 4 to 5
Green Chilies – 2
Mustard seeds – 1/2 tsp.
Urad dal (ulutham paruppu) – 2 tsp.
Curry leaves [Optional] – 5 from a sprig
Mangala from Cooking.Jingalala.Org Eat Well !