Homemade Strawberry Jam Recipe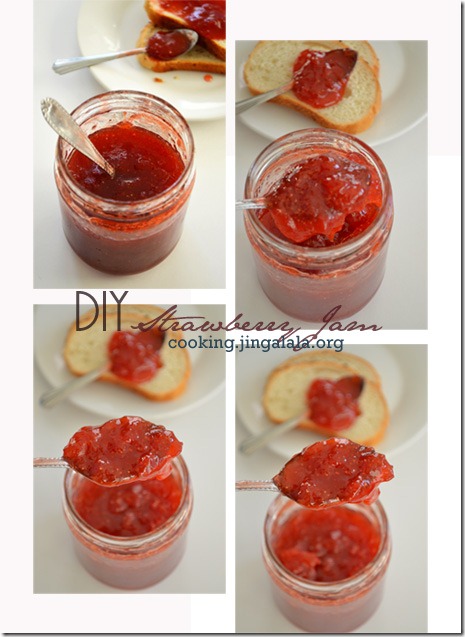 After a nice chatty lunch in a hotel if somebody asked what milkshake I want, I'd said "Anything, but Strawberry". Every month when they order cakes for birthday celebrations at office, I go to the birthday celebration team and had silently requested them to order any cake but strawberry. When Appa goes to ice cream parlor to get a box of ice cream for the special Sunday lunch I'd called him and ordered not to get strawberry flavored ice cream. See what notion I got about this strawberry flavored foods? Be it the strawberry ice cream, or strawberry cakes or the strawberry milkshake, I always felt some medicinal tonic smell associated with it. But all these false notions about the Strawberry fruit got erased when I ate a box full of fresh real strawberries in its peak season here in the US. The fruit was so sweet, fleshy and luscious.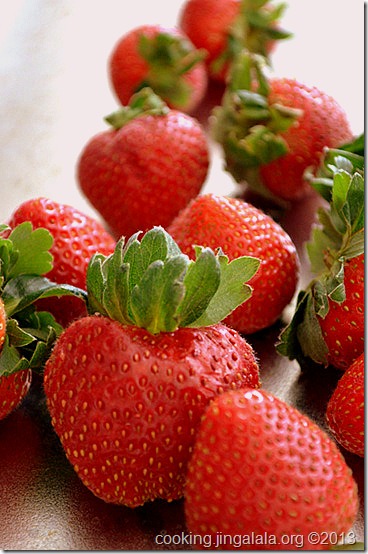 And from then on whenever we go for groceries, we add to our cart a box of strawberries. On one such day while shopping for provisions the strawberry section had brochures that read "How to make fresh Strawberry Jam at home?" I think the marketers of these Strawberry companies are very brilliant. They invent smart ideas to make us buy the strawberries even if we do not have them in our grocery list. I immediately picked the recipe brochure and stuck it in my fridge to make and show you **how to prepare Strawberry Jam from scratch!
**

How to prepare Strawberry Jam at home – with step by step pictures
Step 1.
Wash the strawberries, hull (remove stem and leaf) and cut them. Put them in a heavy bottomed stainless-steel-vessel. [Optional: You can mash them if you want. I kinda wanted to feel the achene of the strawberries and wanted to have a chunky textured jam, so I neither mashed nor blended. If you wanted to have a smooth jam then blend them in a food processor.]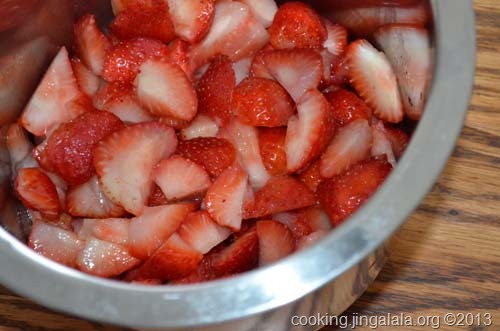 **
Step 2.**
Add sugar and squeeze the lemon to extract the juice. [I used lemon squeezer, If you do not have one, squeeze the lemon with hand and filter it using a strainer to collect seeds and pulp thus collecting only the juice.] I did not have a lemon, so used lime instead.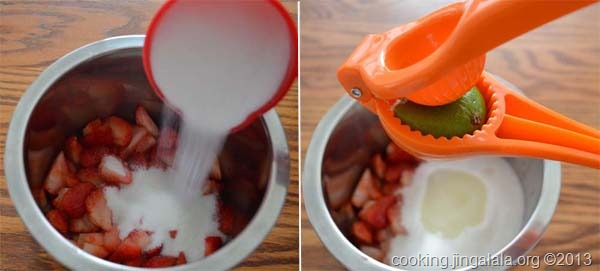 Step 3.
Mix them well. In few seconds of mixing you'll see the mixture turning juicy, that's because of the sugar. Place the vessel on the stove in low flame. Stir the mixture until the sugar dissolves completely (takes 2-3 minutes).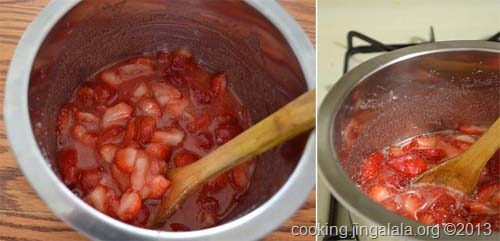 Step 4.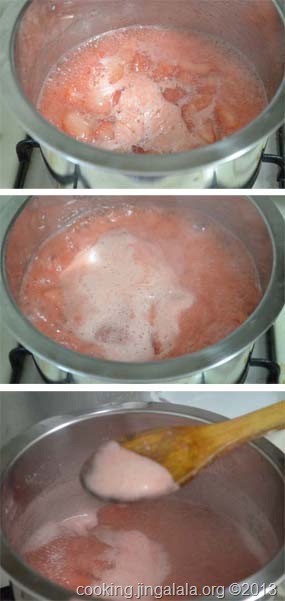 Once the sugar dissolves completely, change the flame to High. Bring the content to a full rolling boil. During this stage, a lot of foaming will be formed. Collect all the strawberry froth/scum (patiently) with a ladle. Discard the collected froth [or collect all froth in a bowl silently lick them before anyone notices.] We want to remove these froth so that a CLEAR, VIBRANT, RED color is obtained for the strawberry jam. I took care that I removed all of the scum. In this stage the mixture will be in pink color.
Step 5.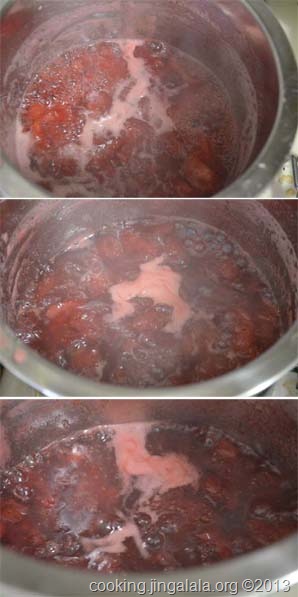 In 15-20 minutes, the strawberry mixture will begin to thicken. Formation of foam will begin to reduce. Reduce the flame to Medium. Stir in the mixture often, because sugar will try to burn below the mixture, we wont be knowing until we realize the smell of the burnt mixture. So stir often. In this stage the mixture changes from pink to deep pink color.
Step 6.
Meanwhile, sterilize the jam containers. I reused my cheese dip bottle. Bring a large pan of water to rolling boil. Put the glass bottle and the cap in the hot water for 10 minutes. Switch off stove and lift the jar and lid carefully with a clean kitchen tongs dripping out every drop of water. So we've set the jam jar ready.


Step 7.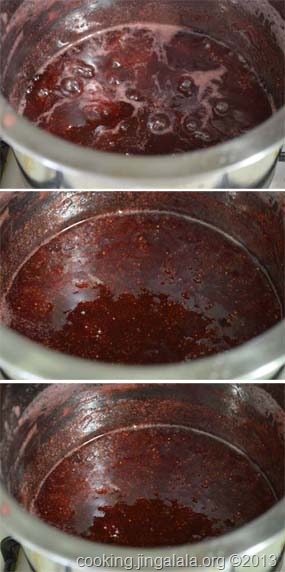 (After step 5.) In another 10 minutes the bubbles of the hot jam will sound slow and thick (as if they're tired boiling). The mixture will turn to a very deep dark red color. To test if the jam is ready for canning, there is an interesting tip. I got this tip from the recipe brochure I got from the market. Keep a small plate in freezer for 10 minutes. When you want to check the jam consistency, remove the plate and place some hot jam on it. Wait for 30 seconds. Tilt the plate nicely. If the jam has reached the right consistency, it wont slide from the plate. If it slides then the jam should stand in the stove for few more minutes. For me it took total of 40 minutes (Step 3 –> 3 minutes, Step 4&5 –> 20 minutes, Step 7 –> 15+ minutes) to prepare the jam.
Step 8. Finding the right consistency to take the jam out from stove is important. Do not cook the jam too much waiting to get a consistency as that of store-bought jams. This will harden the sugar. The cool-plate trick shared in above step will sure help in finding the right time to switch off the stove. The jam will thicken nicely once it is cooled. Transfer the hot jam into the jars immediately leaving little space between the top of jam and the lid (see picture in Step 9). Close the jar tightly. Let the jam sit in the jar for a day in room temperature. Once the jam is cooled to room temperature, keep it in refrigerator.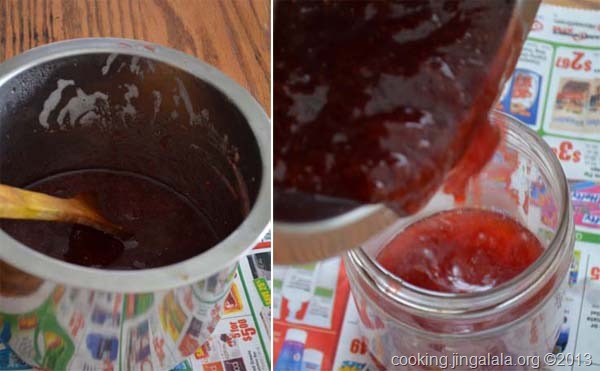 Step 9. Delicious, yummy, YOUR OWN "homemade" strawberry jam is DONE! Very easy right? [I don't know if you'll feel the same after making a jar of fresh jam… I felt a sense of utmost satisfaction and pride after making my own strawberry jam

. The husband really liked it. He enjoyed a small bowl full of jam and gave me "I'm-just-tasting-you-know" sorta look.]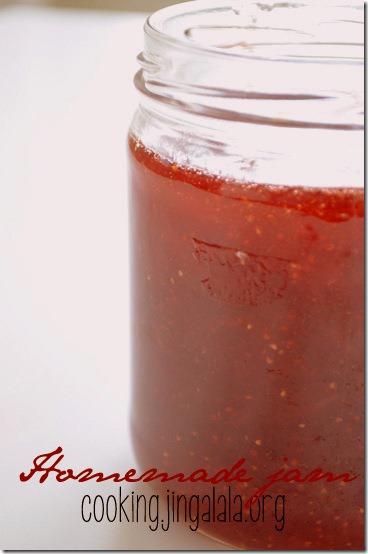 3Ts [ Tips | Tricks | Tactics and Secrets ] for making Strawberry Jam at Home
If you have a sweet-tooth, go for adding 2 cups of sugar instead of the 1½ cups sugar mentioned under the ingredients for making strawberry jam.
Choose nice ripe strawberries for making jam. Plan to make them in peak strawberry season (April-June) to get the wonderful sweet smell and taste.
If you find more froth forming while making jam, add 1/2 tbsp. of butter (in Step. 3-4-5) while cooking the jam. Adding butter will reduce the scum formation.
I do not have the practice of storing jams for more than a month. If you're planning to store them more than a month then please take time to read perfect canning procedure from this link.
I did not add pectin to make this jam. Pectin will give a super-jelly texture to your jam. Will post a Pectin-version of this strawberry jam soon sometime this year.
Another good tip in jam making is, mix strawberry and sugar and allow it to sit in refrigerator overnight. This will allow the strawberries to soak in sugar nicely. This will release more juice. Then next morning add lemon juice and continue from Step 3.

Hm, this strawberry jam gave me the joy of smelling Summer in this "Brrrrr" winter. When I feel sluggish I open my fridge and scoop a spoon of strawberry jam in a plate. Just smelling the rich strawberry flavor activates my lazy head

. Spread this jam on a slice of bread and have it first thing in the morning, it drives away the
"feel-sleepy" mood.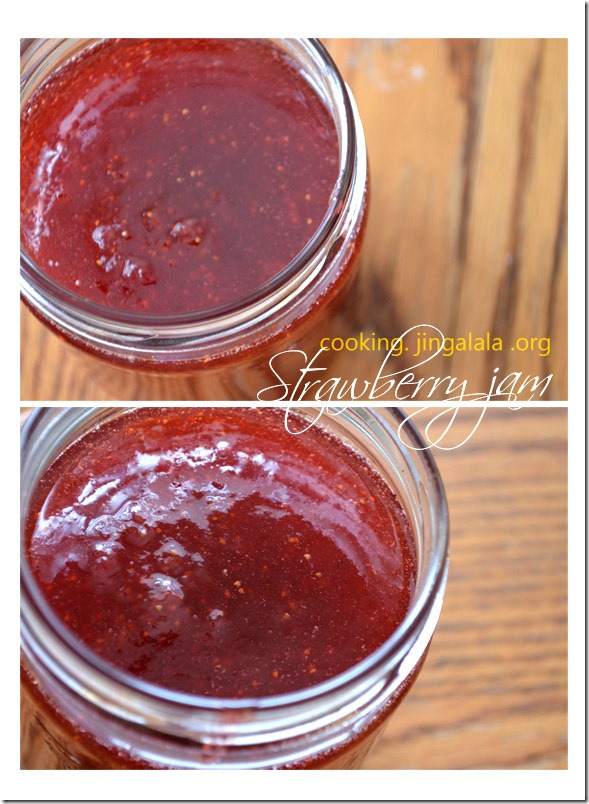 You can enjoy your Strawberry Jam with ANYTHING. Bread? Chapathi? Phulka? Dhosha? Yogurt? I said Anything! I made Strawberry smoothies and Strawberry Mango Rasamalai using this fresh homemade strawberry jam. Write to me what recipe you made using this yummy strawberry jam. Will ya?
Strawberry Jam – from scratch
PREP TIME: 10 min
COOK TIME: 40 min
TOTAL TIME: 50 min
YIELD: 2 cups of jam
DIFFICULTY: easy
RECIPE TYPE: Jam
Ingredients:
Ripe Strawberries (hulled and cut into chunks) – 3 cups
Sugar – ½ cups
Lemon juice – 2 tsp. [I used lime]
Mangala from Cooking.Jingalala.Org Eat Well!