Banana Halwa - Vazhaipazham halwa
Those days we used to get nice sweet green bananas (pachai vaazhai pazham). Every day after work my dad buys a nice bunch of bananas to home. By the time appa reaches home, mostly I fall asleep. My share will always be there for me the next day. So the next day, I get up with the lovely thought that I have a nice long sweet banana to eat :D. I brush my teeth in a hurry. Grab a small bowl and a spoon from the kitchen. Peel the banana, put it in the bowl, mash it with the spoon, go to the terrace and enjoy the mushy-mushy banana myself…. After enjoying the banana and the birds in the morning I will climb down very happily to get ready for school. This was my affair with banana. But this affair did not last long.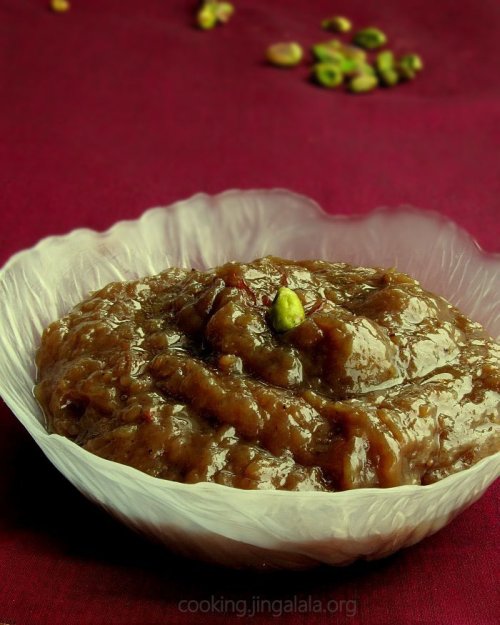 The habit vanished somehow by the time I reached college. But then we used to have banana after dinner mostly. Sometimes, bunch of bananas lay very sadly on the dining table during the festive seasons. The bananas in the dining table used to ripe soon and finally I will await for it to be given to cows and buffaloes that come in our streets every day. Those times, I never knew if such an easy yet wonderful dessert can be made with bananas – The Banana Alwa. You will for sure adore the surprise given by the roasted cashew bits which we are going to add in the halwa….hmmm…. Jeevs liked it very much.
Ingredients to make banana halwa are very simple. Procedure… very very simple. We got a nice, firm, shining, banana bunch from the store. The store near my home has only one variety of yellow banana. It was not ripe when we got. Then the fruits ripened all at a time and was in my counter. When I searched for banana recipes, I got this from Usha's page. I did not have cashews at that time, so decided to use pista. But cashews go best with this halwa.

How to make Banana Halwa (Vazhaipazham Halva) - with Step by Step pictures [Each image can be enlarged when CLICKED]
Step 1.
Take banana, sugar and ghee (clarified butter) in a large bowl. I opt for home-made ghee. But if you do not have it, no problem you can use store bought ones.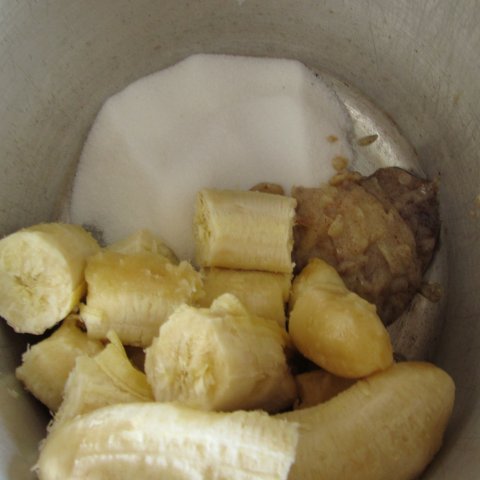 *Step 2. *
Mash the ingredients nicely. You can use a blender or you can mash it with a ladle using your hands. If there are any lumps after mashing try to mash them nicely, else no big deal.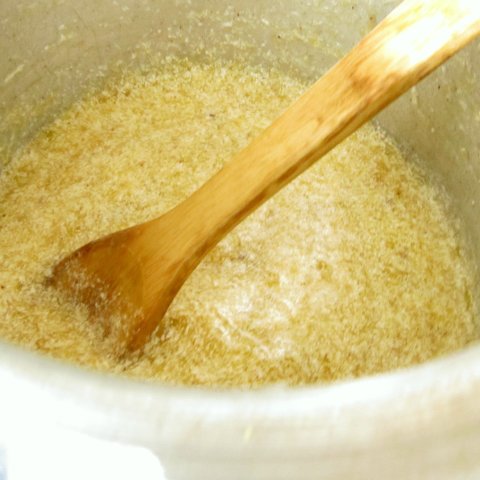 Step 3.
Meanwhile, break the cashews into small pieces and roast them with a tspn of ghee and keep aside. Powder one cardamom and keep aside.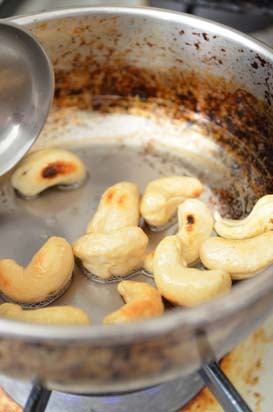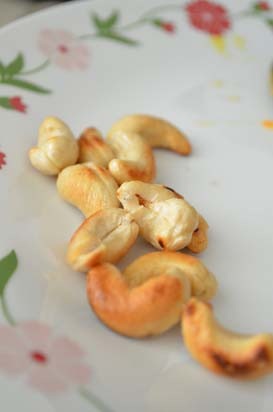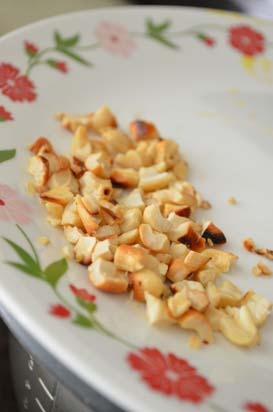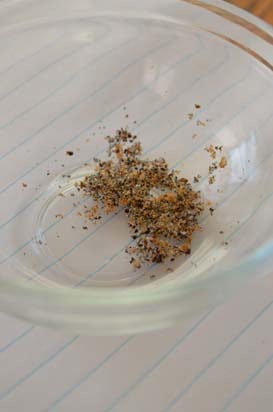 [Updated process pictures by reusing the photos from Carrot Halwa recipe]
Step 4. Heat a heavy bottomed vessel in medium flame. Add this mashed ingredient to it. Stir the mixture from time to time. The mixture will turn from straw color to deep straw color like shown in the picture below.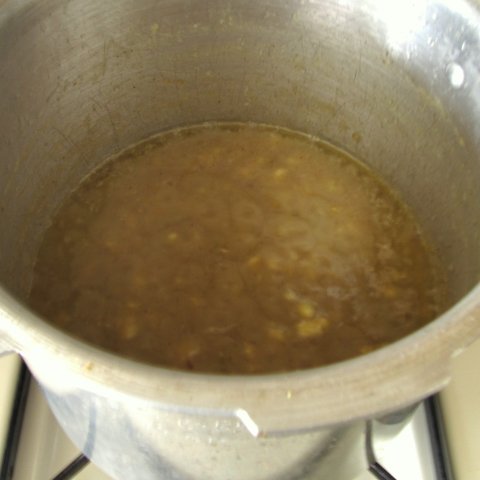 Step 5.
Swirl the ladle into the mixture nicely… clock-wise, anti-clock-wise, clock-wise, anti-clock-wise… but not disturbing the mixture too often. The mixture turns to thick consistency. At one stage the ghee will start separating from the mixture. This is the right time to add the cashews and the cardamom.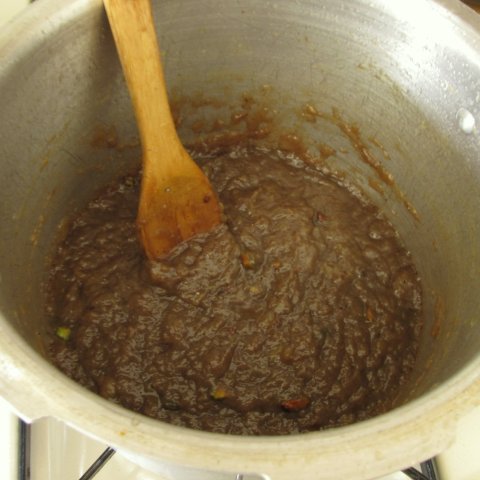 Step 6. Keep stirring the mixture, not too often but a little now and then. The mixture will turn into a gorgeous dark brown color - Good time to transfer the halwa into a dry bowl. Excuse me, do not try to taste it in a hurry since the halwa will be too hot that your tongue cannot handle them. If you need to taste it, take little in a plate, let it cool for few seconds and then taste. Tasting the halwa when it is hot is really a pleasure.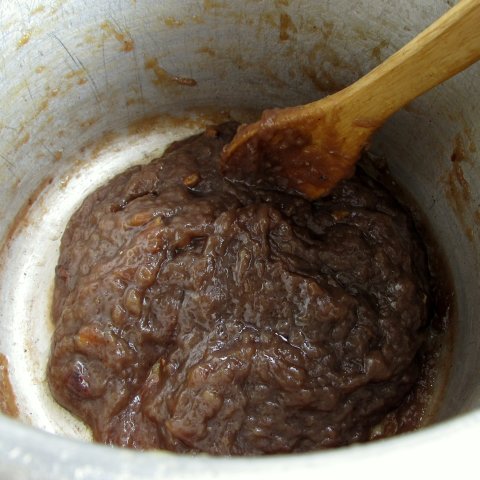 Step 7. Cool the halwa to room temperature, close it and you can refrigerate it. Eating just a spoon of this banana halwa after a lovely spiccccy lunch is like visiting heaven when you are on earth! This bowl of banana halwa lasts in my fridge at least a weak (unless Jeevs does not enjoy it himself stealthily).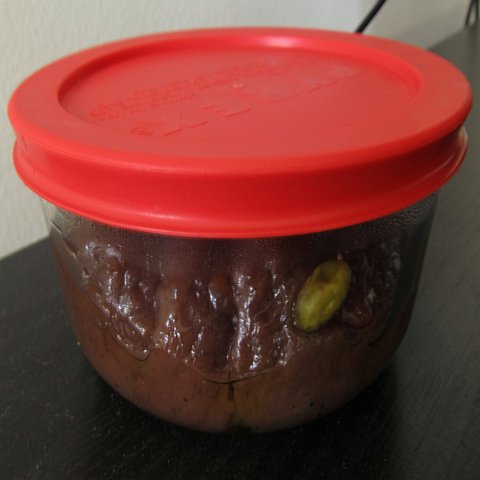 Try the recipe and see how it tastes. If it is not tasting that good, then tell the mantra written below 10 times without stammering and try eating it again…. :D
"Vazhai pazham vazhukki kizhavi oruthi vazhiyil nazhuvi vizhundha"

Valaipalam Halva | Banana Halua
PREP TIME: 10 min
COOK TIME: 45 min
TOTAL TIME: 55 min
YIELD: 4
DIFFICULTY: easy
RECIPE TYPE: Dessrt/Sweet
Ingredients:
Bananas – 4
Ghee (clarified butter) – 3/4 cup
Sugar – 1 cup
Cashews – 10
Cardamom – 1
Mangala from cooking.jingalala.org Eat well!