Trichy, Grandmother's home
I was introduced to puttu in my ammachi veedu (grandma's house). She used to prepare huge-huge amount of arisi puttu for the whole family in several batches :D while my chithi used to scrap many coconut heads and my aunt used to steam them in mega size idli-steamer, mix with sugar, coconut, gingely oil and give them hot in plates. Mmmm… I used to enjoy eating them. But if I remember, I first had godhumai puttu from my amma's kitchen. And after tasting it for the first time, I fell in love with it and almost forgot about arisi puttu :). Yeah. Falling in the aroma that spreads outside the balcony when my mother roasts the wheat flour… it's like a sweet spell. In this post, we'll see how to make whole-wheat steamed cake/kothumai puttu.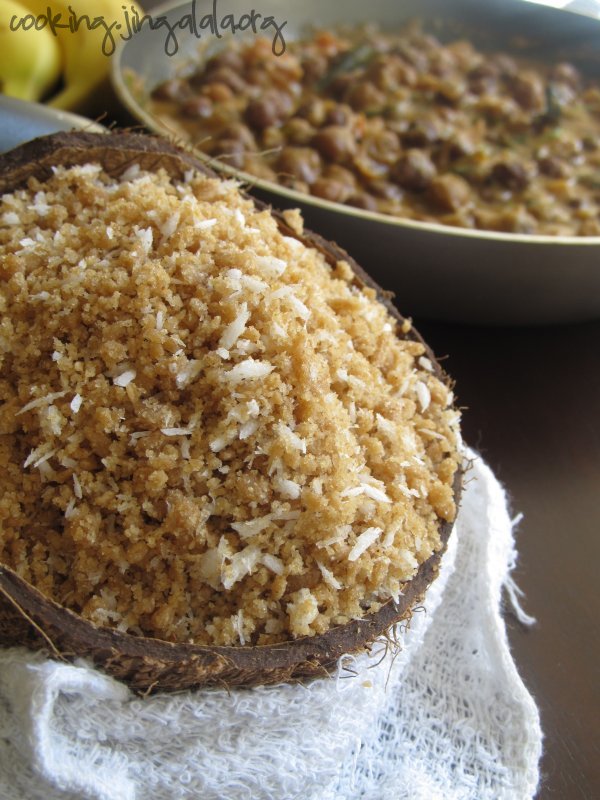 You can check my Puttu Making Video by clicking here. Below is the step by step pictures for treating the flour to make soft puttu.

[Each image can be enlarged when CLICKED]
Step 1.
Take a wide pan, something like a nicely cleaned iruppu chatti. :) nicely cleaned because, the flour might take smell and color from the pan. I am not lazy, but do not give much attention to cleaning this wide-deep skillet since it hurts my fingers very badly :(
Ok, no stories. Take the wheat flour in a wide skillet and put them on LOW heat on stove. You need a wide mouthed skillet because the heat must be spread evenly to the flour. You should be very careful while frying flour. Flour will easily get heated and might get burnt and become black at the bottom and might smell too bad. If that happens, you should only discard the flour and start from beginning. So please take care. You should continuously be stirring it using a nice wooden ladle. Wooden, because it might not give that kreech-kreech noise when you fry. Do not attend the door or any phone calls when you do this process. If you had to, then better switch off the flame.
Stir-stir-stir… fry-fry-fry nicely and evenly until you feel that heavenly roasted smell. If google had an up-loader for smells, I would have gladly uploaded it for you :) . You will feel roasted wheat smell in some 10-15 mins of dedicated vigorous stirring. You can see the color of wheat flour changed to a nice dirty brown, darker than raw flour (not too dark). At this stage, switch off the flame. Take it from the stove and keep stirring since the flour will be too hot and that heat might disturb the perfectly fried flour. Remove from heat and stir it lightly until it loses its heat. Warning: Do not eat this fried flour immediately from the stove like me if the smell rules you too much, you'll have your tongue badly hurt and will result in choking. Picture below is a nicely fried flour.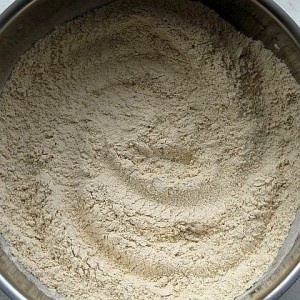 Step 2.
Mix salt in warm water. When the flour is completely cooled to room temperature, sprinkle water little by little to the flour and scribble the flour with fingers.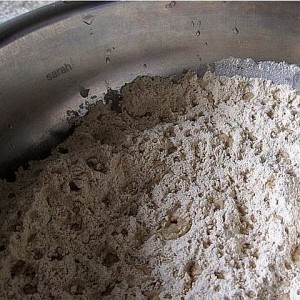 *Step 3. *
Keep sprinkling and scribbling continuously until nice small granules are formed out of the flour.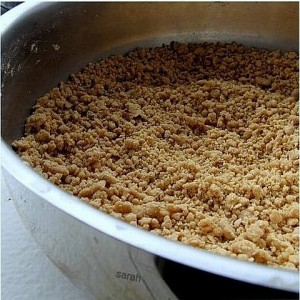 You should feel the texture of crumbled bread when you are done. The crumbles must be soft.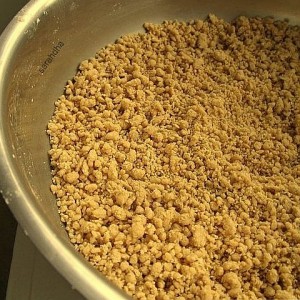 Step 4. Meanwhile, pre-heat your idli-cooker, along with the idli cloth spread in the idli plate. When the granuled flour is ready, spread them in the idli plate and steam them in medium high. 5 mins after in stove, reduce the flame to low and steam for 5 more mins.
What you see below is steamed puttu. Can you see the color change?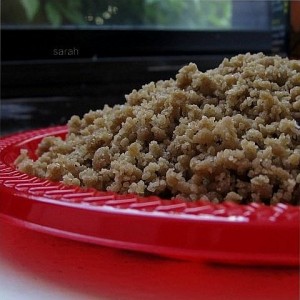 You will feel a nice cooked puttu smell from the cooker. Also, if you touch the steamed puttu, it will not be sticky. Remove them from stove and spread them in a wide mouthed vessel.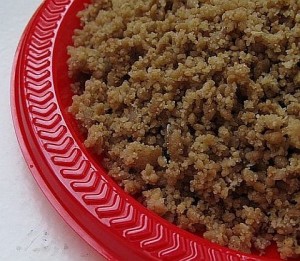 Step 5. After some 3 mins, add sugar, freshly grated coconut and gingelly or sesame oil. Mix them up well. I use my hand to mix them up :)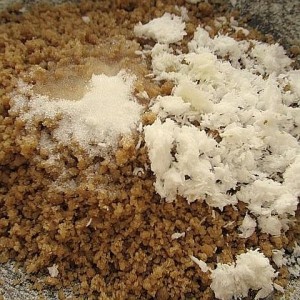 What then? Take nice fist-ful puttu and present them in a plate with curry of your choice. I normally have them as-is. The various other options people enjoy with puttu are kadala curry, banana, spicy coconut chutney or green-gram/whole-moong dal curry. Enjoy eating!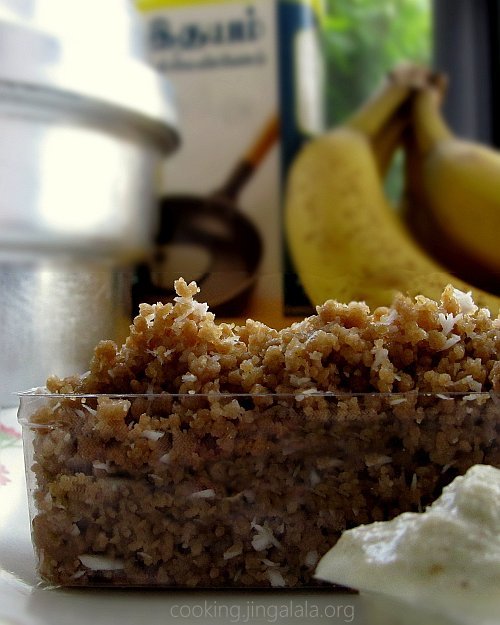 You can make the puttu rich by adding home-made ghee instead of oil, jaggery/vellam instead of sugar and cashews roasted in ghee :). I like to have this simple version of puttu so that I can eat more. If I had to add ghee and jaggery I will feel guilty of eating too much. My mom usually presents puttu for us by making a mould with her hand, she takes a nice amount of puttu and forms a hard fist out of it. I normally take two large mould of puttu from her fist :)
In up-coming posts, I'll show you how to make arisi/rice puttu and ragi/keppai pittu. They all have the same method of preparation but jaggery/karupatti works best with keppai puttu.

Wheat Flour Puttu | Gothumai Puttu
PREP TIME: 20 min
COOK TIME: 10 min
TOTAL TIME: 30 min
YIELD: 2
DIFFICULTY: medium
RECIPE TYPE: Main Dish/Breakfast/Snack
Ingredients:
Wheat flour – 2 cups
Salt – 1/2 tsp
Gingely oil – 1 tbspn
Water (warm) – 1/2 to 1 cup
Grated Coconut – 1/2 cup
Sugar – 2 tsp
Mangala from cooking.jingalala.org Eat well!