Kadala curry (Puttu kadala curry) - Black Chana curry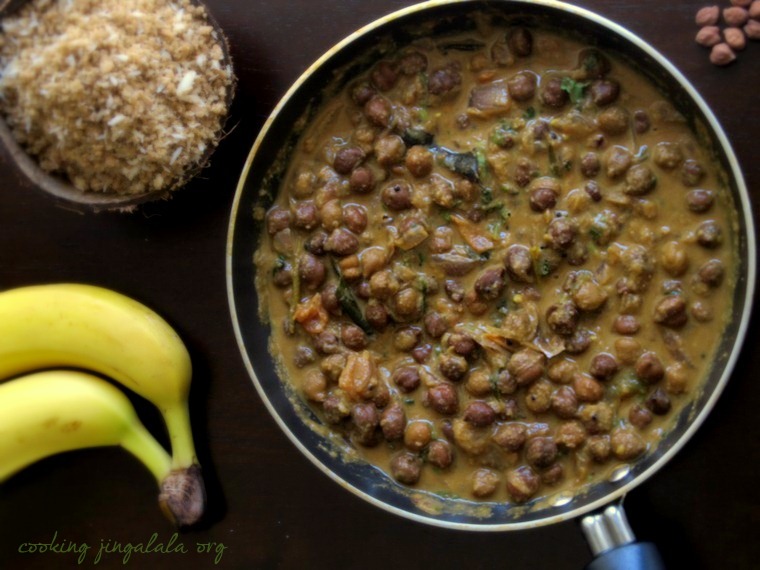 Is it kadala curry or kadalai curry? Or do you call it kadla curry?
Distance between Trichy and Madurai is 130+ kms and traveling in bus took 3+ hrs to reach those days. The bus normally halts for about 10 to 15 minutes in some unusual place for refreshment (!). The wind and breeze in that place will smell awful since there were no proper rest rooms. I hardly breathe during that time and sit with the only thought that the driver and the conductor should return to take the bus quickly. It is really an annoying place, where the tea shops play songs you haven't ever heard of since your birth and where hawkers get into the bus and sell snacks and edible produce like cucumber and guava. It is during one such travel when my grandpa met with this kadla vendor, sorry kadalai vendor.
I think all vendors are gifted with a special kind of voice box - a voice box that can be tuned only to the highest possible volume. So this hawker went to and fro inside the bus hawking…"kadla kadlaaaa… kadla kadlaaaa…". My grandfather got irritated to the way he pronounced 'kadalai' and called that guy and took a brief lesson on how to pronounce the word "kadalai". Yeah, a scene similar to the famous joke in the film 'Indru poi naalai vaa'. He asked the guy to pronounce it '_Kadalai_' and not 'kadla'. The guy listened to the lesson and hawked back down the bus…'kadla kadlaaa…'
I'm trying to pronounce kadalai as ka-da-lai or at least ka-da-la after hearing this incident from my grandpa :)
Now on to how to make kadala curry. I usually do not prefer any sides for puttu. But yesterday I felt like making Kadala curry for it. Here's the recipe for kadala curry.

How to make Kadalai Curry - with step by step pictures
[Each picture can be enlarged when Clicked]
Step 1. Soak black chana overnight or at least for 8 hrs.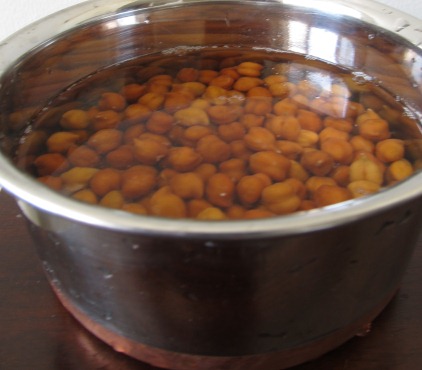 Step 2. Chop the onions. Slit the green chillies. Cut the tomatoes. Keep aside.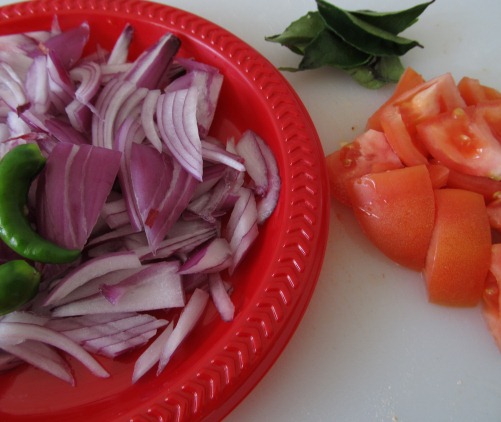 Step 3. Drain the water from the soaked chana. Pressure cook the black chana by adding a bay leaf, crushed ginger, little salt and 3 cups of water to the black chana. Adding bay leaf and ginger here really gives a fantastic flavor to the channa. Wait for 2 whitles. Simmer the stove and let the chana stay in the cooker for 10 to 15 mins. We need soft chana. But take care not to over cook them. Switch off the stove after 10 mins and let the pressure get released by itself. Discard the bay leaf and the ginger. Drain and save the water from the cooked chana. This water will be used for making the gravy. Keep the chana and this water aside.
Step 4. Grind the coconut to a fine paste by adding little water. Keep aside.
Step 5. Place a wok on the stove on high flame. Once the oil is hot, lower the flame to medium-low and add mustard seeds. Once mustard splutter, add fennel and then jeera. Take care that you do not burn fennel and jeera.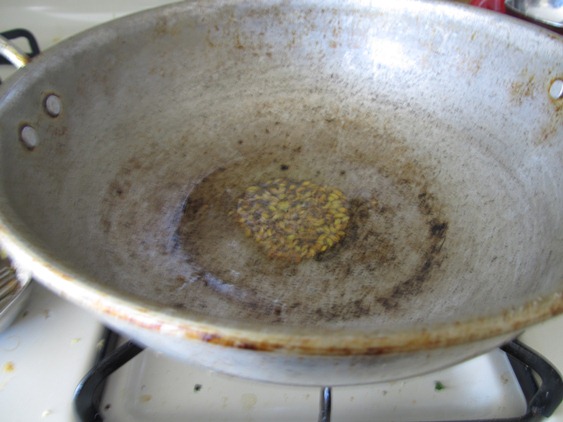 Step 6. Add onions (I do not get small onions here. So I used 1 big onion) and green chillies and fry them. Turn flame to medium. Let the onions become them become soft – will take around 3 to 4 mins.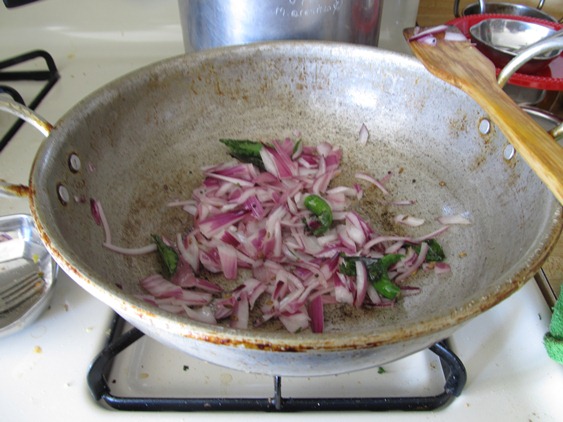 Step 7. Add ginger-garlic paste. Saute them for 2 minutes.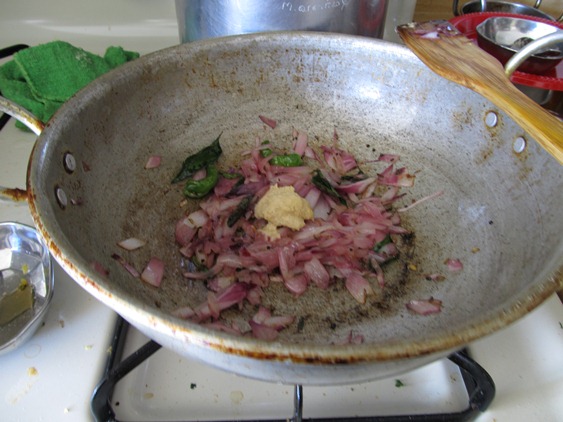 Step 8. Add tomato, turmeric powder, chilly powder, coriander powder, salt and sauté well. Remember that the chana water will also have salt in it. So adjust accordingly.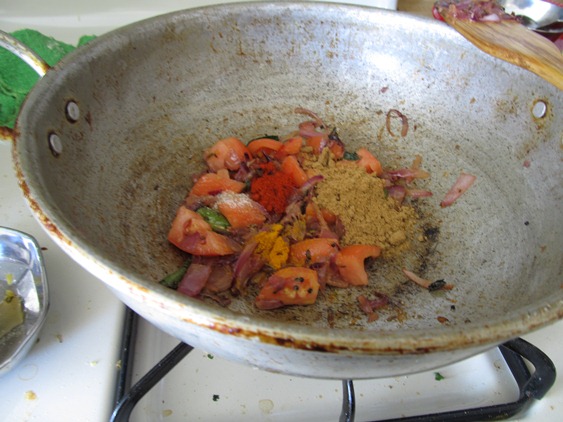 Step 9. Once you smell the flavours of the cooked masala add 2 cups of the water (water from the boiled chana). Turn flame to medium-high and bring it to a boil.
Step 10. Add the chana and let it boil for 5 to 7 mins.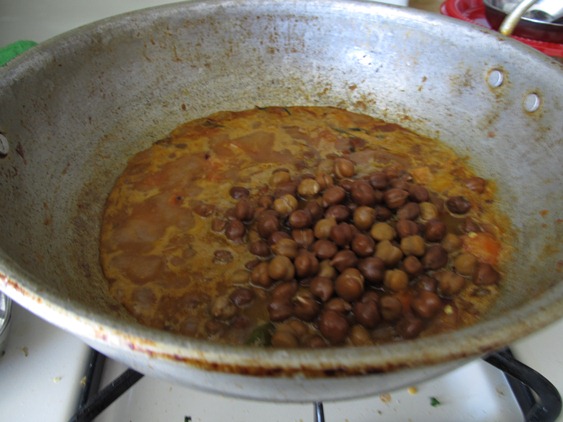 Step 11. When the gravy thickens turn flame to medium and add garam masala and mix well.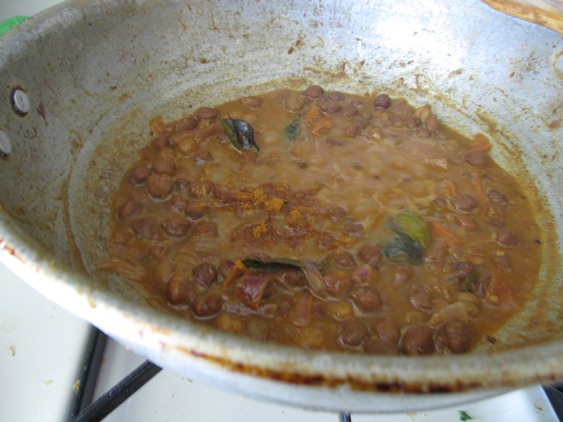 Step 12. 5 minutes after adding garam masala, add the ground coconut, stir and switch off the flame.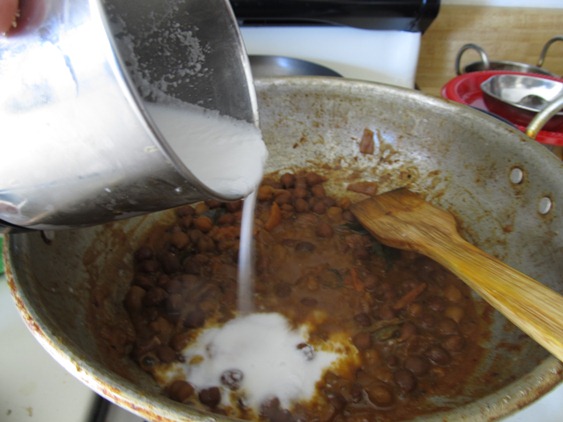 Step 13. Add freshly chopped cilantro and enjoy with your favorite puttu (steamed rice cake).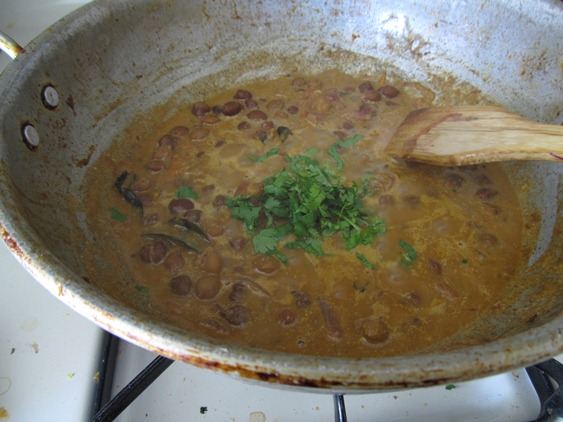 This kadala curry can also be used as side for roti, dosa, idly or rice.

3Ts [Tips | Tricks | Tactics] for making Kadala Curry
Soak the chana with ample amount of water - at least 3 to 4 cups for a cup of chana.
Pressure cook really well in 'sim' mode – atleast for 10 – 15 mins so that the chana will be really soft (but not mushy)
Do add crushed ginger and bay leaf while pressure cooking. They are the real secret tips. This tip was shared by one of my friends Nethra.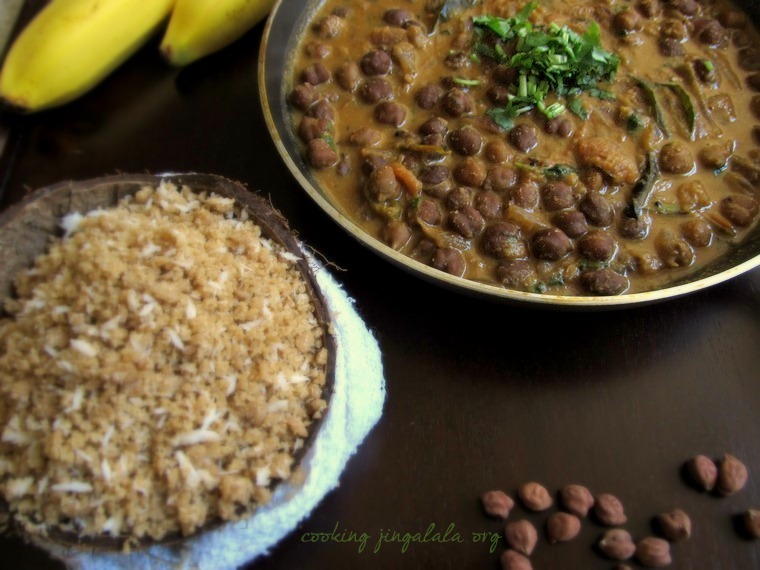 Normally you do not require tomatoes to be added for the kadala curry recipe. But I wanted them to be added. Also there is another version of kadalai curry where we roast coriander seeds, coconut and other spices, then grind and add them to the gravy. This version will be spicier. Will post it some time in my site.
Chickpea Curry Recipe
PREP TIME: 8 h
COOK TIME: 40 min
TOTAL TIME: 8 h 40 min
YIELD: 3
DIFFICULTY: medium
RECIPE TYPE: Sauce for Puttu/Idly/Dosai
Ingredients:
*\To boil***
Black chana (black chickpea) – 1 cup
Bay leaf – 1
Ginger – 1" piece crushed
Salt for taste
*\To temper***
Mustard seeds – 1 tspn
Fennel seeds – ½ tspn
Jeera – ½ tspn
Curry leaves – 5
*\For gravy***
Red pearl onion – chopped 1-1½ cups
Tomato – Just a quarter
Green chilly – 2
Ginger garlic paste – 1 tbsp
Turmeric powder – 1 tspn
Chilly powder – 1 tspn
Corriander powder – 2 tbs
Garam masala – 2 tsp
Fresh Cilantro/coriander – a handful
Coconut – grated ½ cup
Salt for taste
Mangala from cooking.jingalala.org Eat Well!