Fritters out of Banana blossom - Vaazhaipoo vadai

Madurai, Gran' ma's home
When my mom runs out of tomatoes or curry leaves in her kitchen, she used to send me downstairs to my grandma's house to get some. Being a kid, I run down so fast and when I ask for them to my grandma, she will ask me to take it myself from the fridge. We had a nice gorgeous fridge painted in white. But when I open the fridge, there will be a weird smell and somehow I figured out that it came from a fat, bullet-like, maroon vegetable in the vegetable box. I never had idea what was that maroon thing, or what was inside it, but was sure that it's a vegetable since it was in the fridge's vegetable box. I did not bother to ask my grandma what was that vegetable but was hurry fleeing from that not-so-nice smell. I noticed that my grandma's fridge had this grumpy maroon vegetable at least once in twice a week and I hated its strange stinging smell.
Only during high-school I realized that this grumpy weird smelling maroon vegetable is nothing but Banana blossom/Banana flower. I also learnt what was inside the banana blossom when my mom started doing vadas using it. When I was looking for a perfect metaphor to describe banana blossom, VJ uncle wrote an apt phrase on my FB and here it is for you.
If you know how to separate the little flowers inside the big banana blossom, then a "Very good" tag for you. If not, I will take you through a Botany class. Click here to listen to the botany class on how to dissect the banana flower. If you yawn during the class, the page will get closed automatically :P :P. If you have your best buddy with you for an evening, and decided to make some snacks, then this fritters out of banana blossom is the right choice, for, you can gossip on all cinema tidbits as you dissect and clean the banana blossom together. By the way, 'poo' in Tamil language means 'flower' :D
It's been a month since I drafted this recipe in my laptop. Here's the procedure to make Valaipoo vadai.

How to make Fritters using Banana Blossom (Banana Flower) - with Step by Step pictures
[Each image can be enlarged when CLICKED]
Step 1. Soak Bengal gram in water for 2 hours.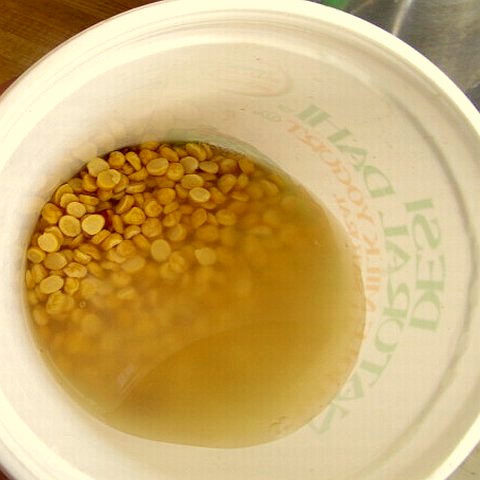 Step 2. Meanwhile, chop onions and fresh cilantro, mince ginger, cut chillies and pluck curry leaves from string and keep it ready.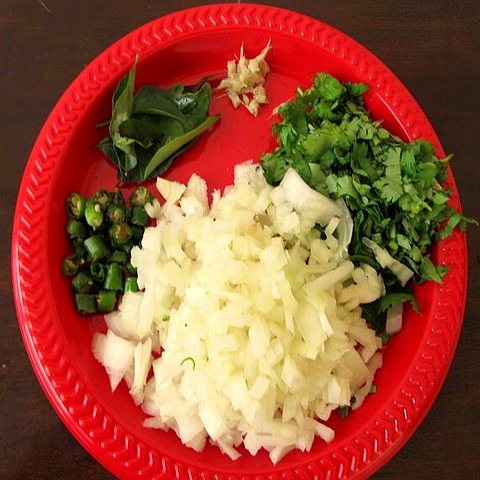 .
Step 3. In a blender, take red chillies, fennel seeds and the bengal-gram. Don't add water, since we soaked bengal gram for 2 hours in water, that moisture itself will be enough to grind the mixture. You can blend this mixture coarsely and then add the chopped banana flowers and blend once more coarsely. But I blend everything together in a stroke: the red chillies, fennel seeds, Bengal gram and chopped banana flower. See to it you grind them coarsely. I used to take care that I see few Bengal grams in full form believing they add a kind of beauty to the fritters :). You can add LITTLE water if you need while grinding.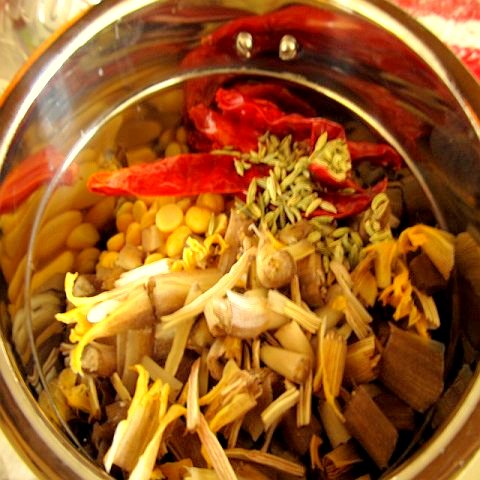 To avoid several 'takes' while learning the recipe: The dough should not be too loose nor should it be too very tight. The dough should be easy enough to make shapes. If the dough is too very dry, the shape will break. In that case, you can add little water and mix the mixture well. If the dough is too tight, fritters will be very hard to eat. To treat this, just add little chopped banana flowers to the dough and little water. Mix well. If you do not have extra banana flowers, just add little water and mix well. If the dough is too loose, it will observe more oil while deep frying. So here I think you got on how the dough should be for making the fritters :)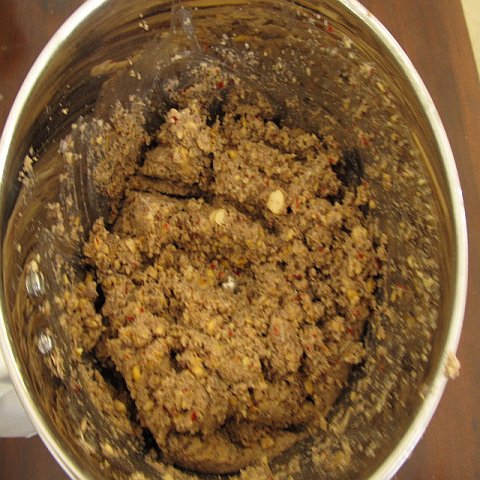 Step 4. Take out the ground mixture from blender into a bowl. Add chopped onion, chillies, curry leaves, cilantro, ginger and salt to taste. Mix them with the mixture well.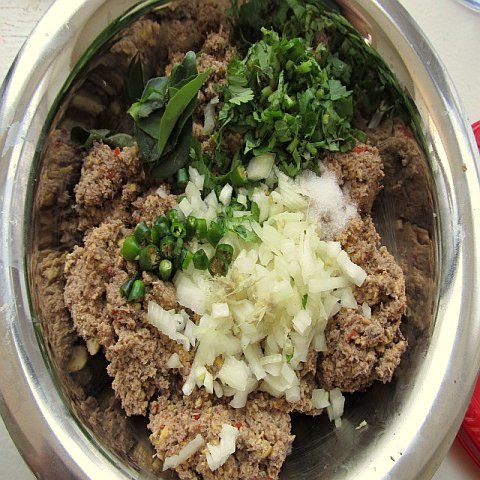 Step 5. Make small disc shapes out of the dough with your palm.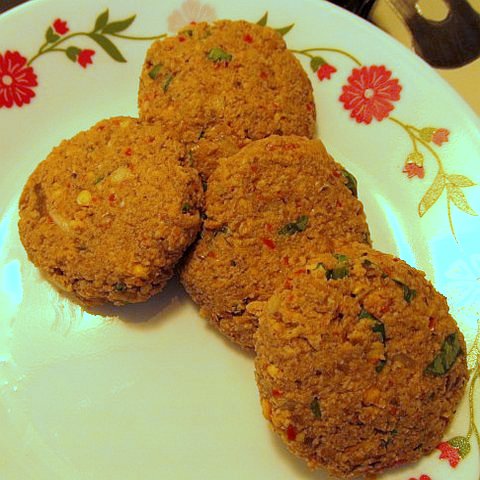 Step 6. In the meantime, heat a kadai/wok for deep frying. Add oil to the wok and heat it in medium flame. You will need oil such that the fritters can be fully immersed in the wok of oil.
Step 7. When the oil is heated up thoroughly, drop these discs one by one from the sides of the wok into the oil. I made 15 to 16 vadas out of this measure I gave in the ingredients list. I deep fried 3 to 4 vadas in each set since my wok is too small.
Step 8. In a minute or two, the discs will rise and float in the oil.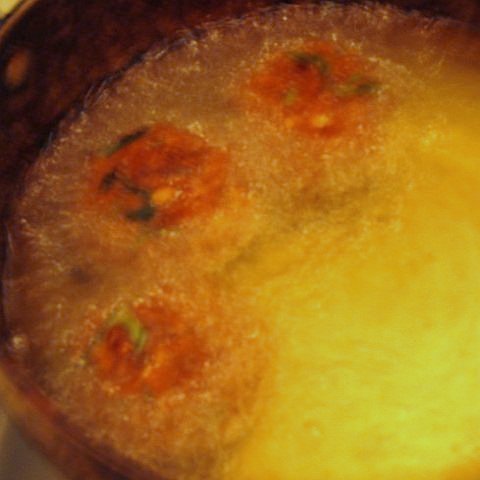 Step 9. At this point, turn the discs with the ladle. Let them get fried for two more minutes. You will feel the crispiness of the vadai with your ladle. When the fritters are nicely browned, remove them from oil, and place them in kitchen paper towel. If the dough is in right texture, there won't be any oil in the paper other than that came with the ladle.
Serve them with coconut chutney or sauce. As always, I have them as is :)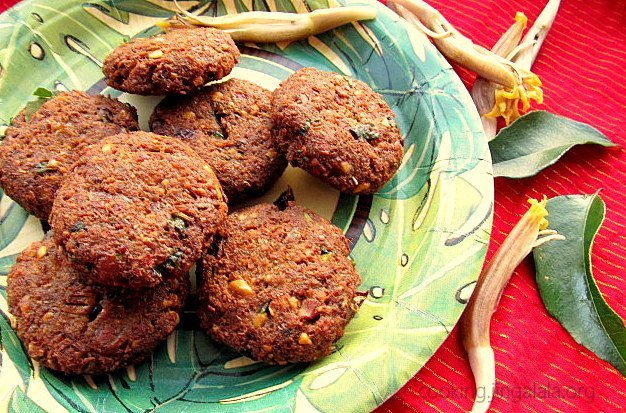 Valaipoo Vada – Banana Flower Fritters
PREP TIME: 2 h
COOK TIME: 20 min
TOTAL TIME: 2 h 20 min
YIELD: 4, each having 4 fritters
DIFFICULTY: medium
RECIPE TYPE: Snacks/Side dish
Ingredients:
Bengal gram – 1 cup
Chopped banana flower – 2 cups
Red chilly – 4
Fennel seeds – 1 tspn
Onion – 1 medium sized (Chopped)
Green chilly – 3 (chopped)
Curry leaves – 1 string
Fresh Coriander/Cilantro – Chop it. Take 3 tspn
Ginger (optional) – 1 tspn (Minced)
Salt – to taste
Oil – for deep frying
Mangala from Cooking.jingalala.org Eat well