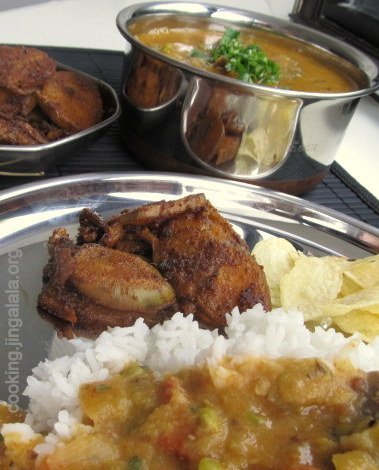 Madurai, my home.
Coming from school and eating a plateful of sambar rice with vazhakai varuval (raw banana spicy fry) is one which can never be forgotten. Our school had just two buses then and we were put in the second trip. But second trip in school bus had its own advantages. Need not hurry to catch the bus after the school hours, can have extra chat with friends, can loiter in other class rooms, can scribble in the class room black boards, can stealthily submit record notebooks in the staff room, can listen to the stories of the gardener, many and many such memories….
By the time we reach home, we will have good appetite. On reaching home, after the few minutes (yeah, FEW minutes) of prettiness-check in the mirror, we will realize the smell of sambar and vaalakai varuval getting reheated in the kitchen. Sitting in front of the TV while mom serves a plateful of sambar rice with a spoon of ghee on it and a cupful of vazhakai varuval….Hmmmmmmmm….. Heavenly memories.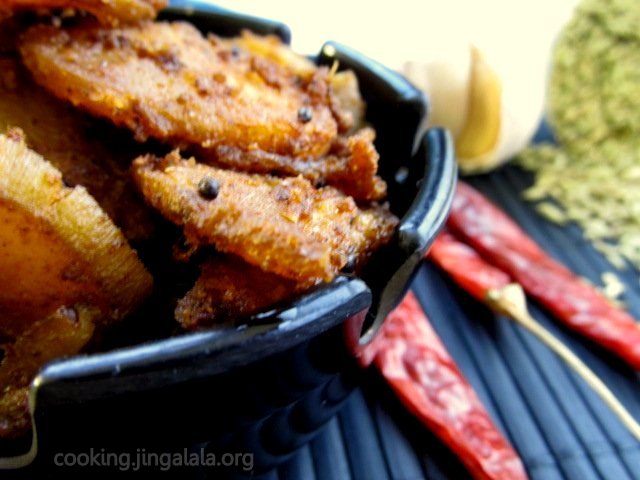 How to make Vazhakkai Varuval (Raw Banana Spicy Masala Fry) - with step by step pictures [Each image can be enlarged when CLICKED]
Step 1. Making this raw banana spice fry is easy. In a mixie/blender take red chilly, garlic, fennel seeds, coconut, salt and little water. Grind it to a paste. I do not peel the garlic skin. But you can peel if you don't like to have the skin. Grinding the mixture to a coarse touch will give a nice texture to the recipe. If you do not have red chilly, you can use 2 tspn of red chilly powder.
Step 2. Peel the raw banana skin with a peeler. Slice them either horizontally or vertically. I always slice them vertically (kind of THICK julienne) since the outcome will look something like double roasted fish finger.
Step 3. Add the ground masala to the raw banana slices and mix well. Take care that the raw banana sticks are not broken when you do this. Mix them gently but the masala should stick to all sides of the raw banana slices.
Step 4. Heat a kadai/wok in medium-high flame. Add oil. Once the oil is heated, add mustard seeds. Let it splutter. Add Urad dhal. I always prefer to use whole urad dhal for tempering. When the urad dhal tries to turn light golden color add in the mixed raw banana.
Step 5. Mix them up well. After 2 mins, add ½ to 1 cup of water (such that the content level and the water level must be same). Turn flame to medium-low and let the content boil. Check to see that the flame is not put in high by mistake. Else the water will evaporate very soon and the raw bananas will not be cooked properly.
Step 6. Continue in medium-low flame. After 15 mins, the water must be fully drunk by the raw banana. At this point you can add more oil if you wanted to have the fry nicely roasted. In my early days of cooking, like a maniac I used to add at least 2 tblspn (Uuuggggggghhhhh!!!! :) ) of oil. The taste and texture will definitely be so great. But now I add just 2 tspn of oil :)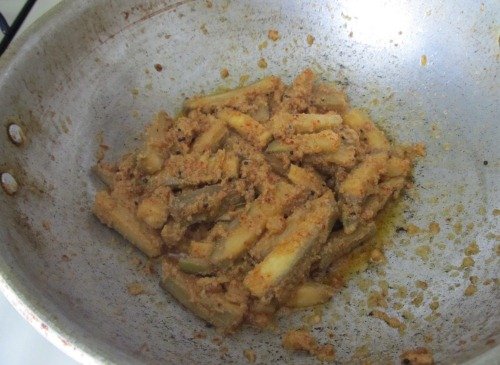 Step 7. Turn flame to medium and mix them well. Turn the mixture from time to time. Keep in stove until they get nicely roasted. This will take around 10 to 15 mins.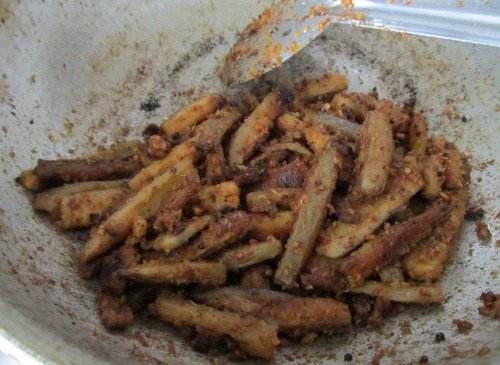 I like to have the recipe simple. Some add little black pepper corn together with the masala to be ground. This gives extra spiciness to the recipe. You can also add chopped onions while you temper. Add chopped onions once mustard splutter and urad dhal tries to turn golden. Fry until onions turn light golden color. Then add the masala coated raw banana and follow the steps as said above in my recipe.
This spicy fry goes extremely well with curd rice, dhal rice and sambar rice.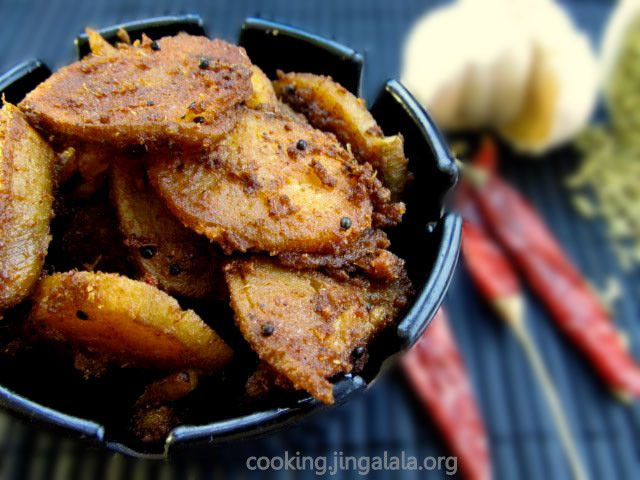 Self-note: Vvooooo… in a row, posted three recipes of banana. Try to post recipe of some other produce next time.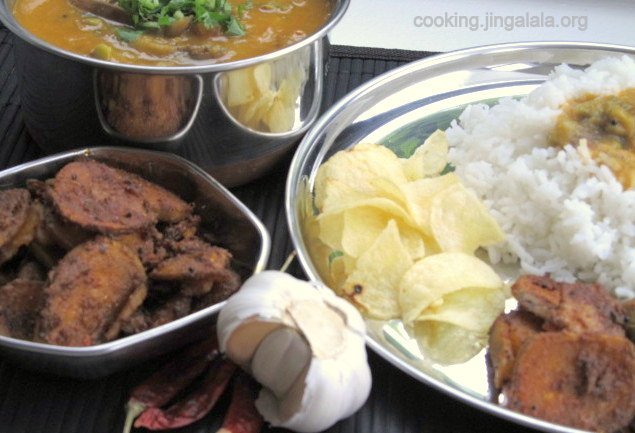 Raw Banana Masala Fry
PREP TIME: 10 min
COOK TIME: 30 min
TOTAL TIME: 40 min
YIELD: 3
DIFFICULTY: easy
RECIPE TYPE: Side dish for Rice & Gravy/Sauce
Ingredients:
Raw banana – medium sized – 2
Red chilly – 6
Fennel seeds – ½ tspn
Garlic clove – medium sized – 1
Coconut – Grated or sliced- ¼ cup
Salt – to taste
Oil – 2 tbsp. and more if you like
Urad dhal – 1 tspn
Mustard seeds – 1 tspn
Water – for boiling
Mangala from cooking.jingalala.org Eat well!