Making Popcorn at Home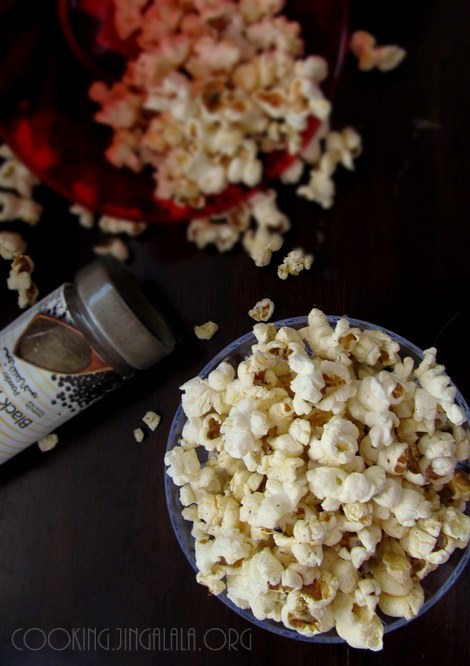 Madurai, my school.
Who doesn't like popcorn? No wonder I can eat a sack-full of popcorn for one whole day. Not joking :D
If other foods tempt me with their tastes, popcorn tempts me with its smell. It has got that hot spicy smell. If we're to fight a war for pop-corn, and if I'm to lead a group, I'm sure my team will win the battle. That much fanatic I am for pop-corn. Ok, no more exaggerations :P
A little larger than a fat dog's kennel, old oily smelling walls, dark room, girl with itchy head who always looks boring… irrrrkkkk!!!! this is the description of my school canteen and the salesgirl in-charge of it. But you know how many throng its door daily just to get those snacks?! both lunch hours and after-school hours?! And I was one among them :D . Yeah, only to get that 20 paise popcorn packet. I choose to buy this popcorn for these reasons…. they're the cheapest in the canteen, they are packed inside plastic bags and thus will never get in contact by that itchy-headed salesgirl :P … AND …. because I like th'm, I like th'm. There were times when the crowd was too huge and too violent that, being a tiny little girl those days, I will be left suffocated and thrown out of the 'so-called' queue, crying very badly and losing my 20 paise in the crowd. But to my surprise, that salesgirl happened to be kind enough that she noted me, called me inside and gave me a bigger pack (40 paise) of popcorn. I was thinking then, I found a new way of getting things using this simple tool - CRYING :D
So that was my fight for popcorn :)

How to make Popcorn at home - with Step by Step pictures [Each image can be enlarged when Clicked]
Step 1.
Popping corn is fun. We will need a heavy bottomed wide vessel. I used my pressure cooker. Add oil, popping corn, salt, pepper, turmeric powder and chilly powder into the vessel.
Step 2. Mix them well. Place the vessel in high flame and close the vessel with the lid having a small opening left so that the steam escapes or so that you can enjoy watching them popping.
Step 3. In 30 to 45 secs on stove, you will start to hear mild popping sound. This will get intense for the next minute. The corns will get so excited and begin to jump fast. You can watch them pop through the light opening we left. But do not try to open the lid since the popcorn will escape to the floor or they may even hurt you while popping. When the third minute starts, the popping will subside. Make gentle jerks to the vessel and switch-off the flame. Open the lid. You will witness the miracle of how just a half-cup of corn became a vessel full of popcorn :) Do you want to watch the video of Corns getting excited!?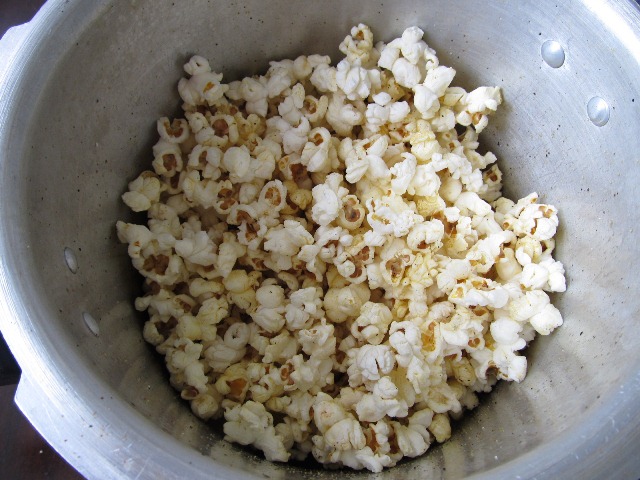 Step 4. Immediately transfer the popped corn into another vessel. Now melt the butter and pout them inside this vessel of popcorn. Shake the vessel well. Enjoy the aroma of the salted-spiced-buttered popcorn for a minute. Then bring the whole bowl in front of the TV, pop them inside watching a movie or simply make a paper pottalam (bag) and have it on your evening walk.
[![Popcorn - Transfer it to another dry vessel](/images/popcorn-7.jpg "Popcorn - Transfer it to another dry vessel")](/images/popcorn-7.jpg)          [![Popcorn - Add melted butter and shake](/images/popcorn-8.jpg "Popcorn - Add melted butter and shake")](/images/popcorn-8.jpg)          [![Popcorn - Get lost in its smell - Eat well](/images/popcorn-9.jpg "Popcorn - Get lost in its smell - Eat well")](/images/popcorn-9.jpg)
O yeah, pop-corn can be made in a variety of flavors! Sweet, spicy, buttery, chocolaty and if you want to know all other crazy flavors, there is really a popcorn fanatic group in Twitter. Follow them and get updates. Else, invent your own flavors to it. As a child, I liked caramel popcorn. Today, I like it to have it blank, even without salt or pepper or chilly powder or turmeric powder. I add just 2 tspn of oil, pop them real fast and have it hot while they are in the cooker vessel :D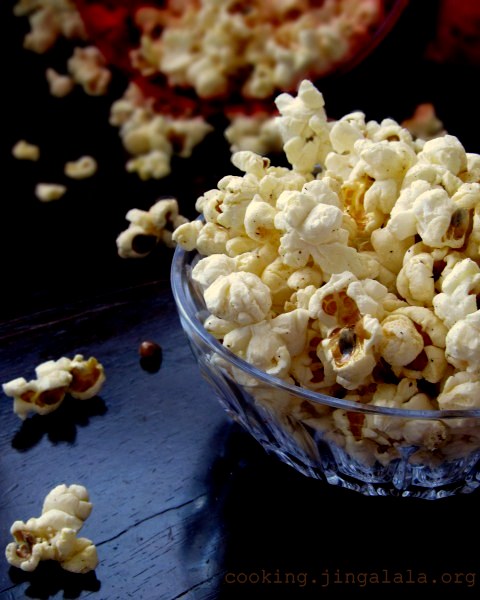 3Ts [ Tips | Tricks | Tactics ] to make popcorn at home
If you want the corns to start popping even more faster, then first heat the oil. When the oil is little hot, add salt and a generous pinch (atleast a tspn) of turmeric. Then quickly add the corns and give a stir and close the lid of the pressure cooker upside down leaving a small opening as mentioned in the post.
To get a tastier bunch of popcorns, add little more oil - 3 to 4 tblspn for half-a-cup of popping corns.
I like to pop the kernels just with oil, salt and turmeric.This gives a simple taste thus making you feel to eat more and more.
If you prefer to have a spicier version, you can add chat masala while popping the kernels.
Do not try to open the lid when you are in in the process of popping the kernels because, the corns jump too much that many kernels will get wasted by falling down. Open when the popping sound subsides nicely.

Popcorn Recipe
PREP TIME: 2 min
COOK TIME: 3 min
TOTAL TIME: 5 min
YIELD: 2
DIFFICULTY: easy
RECIPE TYPE: Snacks
Ingredients:
Popping corn – ½ cup
Salt – 1 tspn
Chilly powder (optional) – ½ tspn
Pepper powder (optional) – ½ tspn
Turmeric powder – ½ tspn
Oil – 1 tblspn
Unsalted Butter (optional) – 1 tblspn
Mangala from cooking.jingalala.org Eat Well!