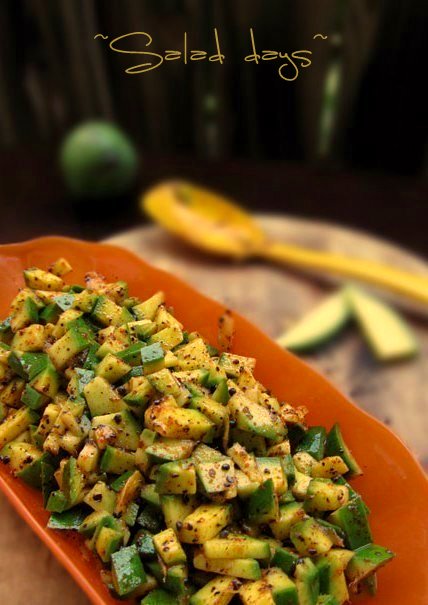 Trichy, Gran' ma's home.
Like how the Gupta period was the Golden Age of India, the summer vacations are the Golden age for any child in India. And this green mango salad brings before me, a big box-full of my childhood memories. When I saw those green mangoes in the Indian market here, it was like a huge rusty dusty iron trunk, fell hard on my head, opening up all the sweet old memories that were squeezed and jam-packed inside the trunk. I quickly picked up the scattered stuff and put them back inside the box, closed it tight and carried home to blog about them. Rather emptying the whole box down and getting completely lost in the recollections; I thought I should pick one stuff at a time from the trunk and have thorough pleasure writing about it.
Almost 100% of my summer vacations during my school days are spent at Trichy, my grandma's place. If I'm to direct some TV series like 'Malgudi days', I will name my series - 'Salad days' and it'll run to eons. Though I was a very shy, and 'not-in-the-gang' type of girl (o, that's how my people think) in my childhood, I have vivid remembrance of all my childhood memories. Especially those spent in Trichy. Starting from my grandpa's early morning alarm ( I meant his noisy farts – pardon me my decent readers :P ), aunt's anklets jingling to and fro from backyard to front door to clean and put kolam, the cows mooing; yeah we had cows in our backyard, municipal water getting leaked into the tanks, washing vessels, smell of strong coffee getting brewed, the dinggg of the huge clock in the hall striking 7 am, and then the yell of my grandma coming straight like a whip into my sithi's (aunt) ears to wake her up :), but I think the yell meant for us too :P. Omg, that's not it, the list is almost endless! May be one day I might run out of recipes to post, but not stories anyday.
We had this nice small shop (petti kadai) near to my grandma's house where they sell all kinds of odd but cheap eatables: javvu mittai, ilandha vadai (or is it elantha vadai), ilandha pazham, ilandha podi, and this maanga-molaga podi. Maangai molaga podi is what I'm calling 'Mango Salad' here :P :lol:
Green mango salad is so famous in that shop. We call them maanga keethu or keethu maanga or just molaga podi maanga. My aunt like them very much and she used to send me to get those. The shop is run by a couple and they normally cut the mangoes into long thin slices, make slits and apply salt and chilly powder and make them ready for an easy 'take-away'. But my aunt makes it a point that I have to ask them for a fresh mango and make them cut in front of me :D. The shopkeeper never bothered to cut a fresh mango though he'd have many ready-to-take mango salads in the old magazine papers. They used to have two variety, one just chilly-salt and another with chilly-salt-mustard. We normally get the salt-chilly variety and enjoy them eating with my aunt and cousins, all making that 'narrrgg-narrrukk—machik machik' noise while eating.
Ok, realizing that I'm to post about the recipe, I stop the story here.
How to make Spicy Green Mango Salad - Indian Style - with step by step pictures [Each image can be enlarged when Clicked]
Step 1. Wash and cut the green mango. The mango type called 'kili mooku maangai' (parrot beaked mango) is preferable for this recipe.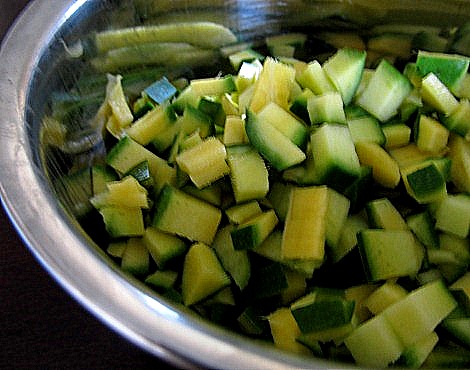 Step 2. Heat oil in a wok and pop the mustard seeds. Crush the spluttered mustard seeds slightly. [When you crush the mustard seeds, you'll get that lovely smell. I think I would perform well as a bloodhound dog, because I'm always falling for smell while cooking. May be if I'm invited for that horrific program called 'Mun jenmam' in Vijay TV, I may admit that I was a bloodhound dog in my previous birth :D]
Step 3. Add chilly powder, salt, partly crushed mustard seeds, remaining sesame oil if any in the wok and sugar into the cut mango and mix them up well. Then enjoy it eating.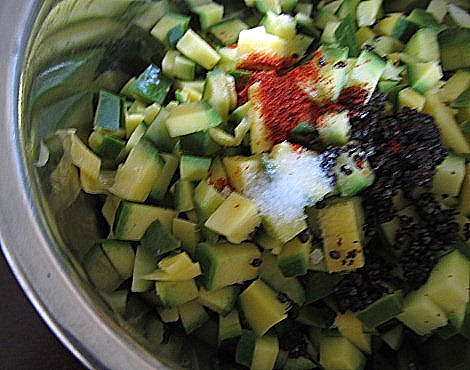 My brother when he was a kid, he used to love green mangoes and make the salad himself except the mustard spluttering part. I would help him in the mustard spluttering part and have them added into the salad. He enjoys it eating with much noise and weird face expressions if it is too spicy or sour :D.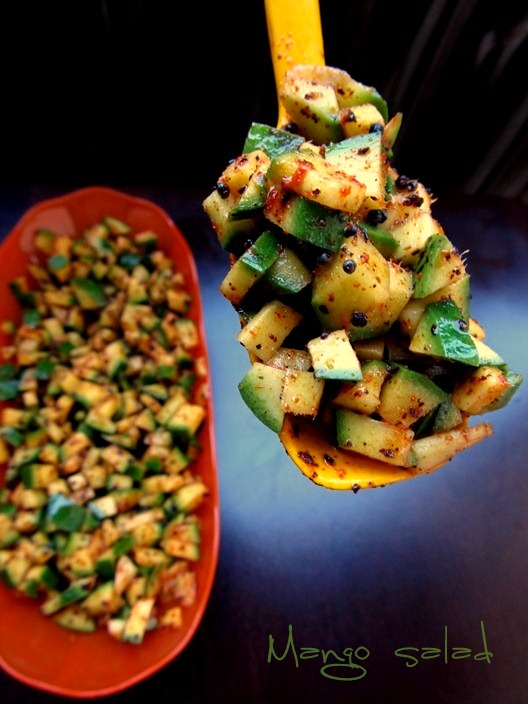 Today, though most of us are busy in our own way, I'm sure everybody of us has had such wonderful memories of our childhood days. We might get time to think about it, but they mostly vanish quickly in the middle of our works. But I'm sure each one of us would cherish them when we have a company by our side; your friend, niece, nephew, aunt, uncle, grandparents, cousin or whoever it is. How nice it is to get a call from an old cousin or a friend about whom you almost forgot or how nice it is to call that old cousin or friend who almost forgot about you. Though carrying this sweet little load of trunk may demand our time and sometimes bother us, it's kind 'f a nice feeling; "We really had had a lovely time buddy" kind of feeling.
Halo…anybody here reading…. ? Well, if anybody thought how dare am I to consider this as a recipe and post it in a cooking blog… then sorry. I just could not resist writing about it in my blog :D And please don't curse the green mangoes which made me write about my green memories. Jaiho Green mango :D. Ok before I start another irrelevant discussion here, run away to some other recipe page of mine. O, don't bother about my first two paragraphs of stories in each of my recipes. You may as well jump straight to the recipe methods here after. I'm creating a link for that.
Indian Green Mango Salad
PREP TIME: 2 min
COOK TIME: 5 min
TOTAL TIME: 7 min
YIELD: 2
DIFFICULTY: easy
RECIPE TYPE: Salad/Side dish for yogurt rice (curd rice)
Ingredients:
Green Mango – 1
Salt – 1½ tspn
Chilly powder – 1 tspn
Mustard seeds – 1 tspn (optional)
Sesame oil – 2 tspn (optional)
Sugar – ½ tspn (optional)
Mangala from cooking.jingalala.org Eat well!