He said: 'MMmmmmmmm…..mmmmm… you nailed it'. The dish was 'Mutton Varuttha Kari'- a recipe passed on from my paternal grandmother to my mom……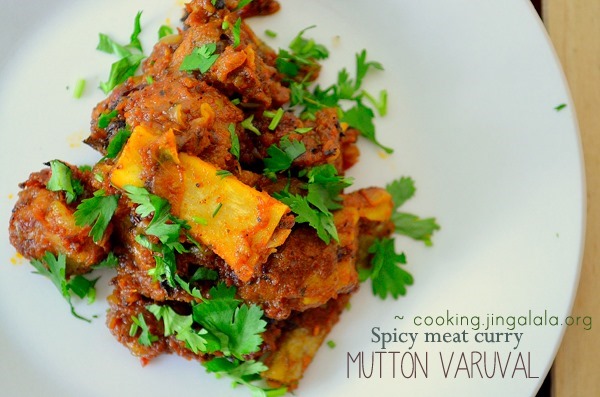 Did I tell you that Sambhar was the first recipe I learnt from my mom? I'm still continuing my culinary education in her University, but now it is distance education (actually should be called 'a-lonnnnnng-distance-education'). She conducts the theory classes from India over the phone and I dry run the recipe during the hands-on in my very kitchen here in the US. Just listening to the theory I will be able to replicate the DNA ribbon of the original recipe to almost 85% in my first trial. However, there will be at least 15% defect in my RUN1 of the recipes [as assessed by the tester, who is the husband here.] The tester reports: 'masala formula not correct' or 'masala not perfectly cooked' or 'something's missing' or 'just not your mother's recipe'. I've thus failed the tests many a times in an attempt to mimic her recipes.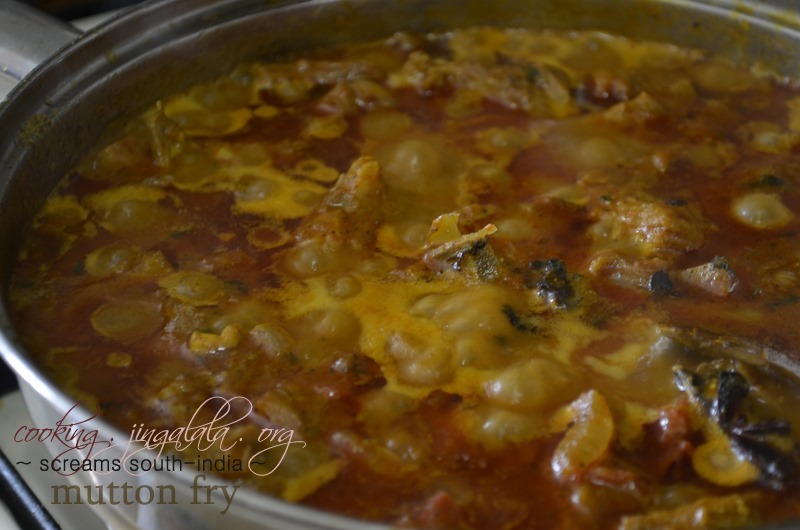 Once the tester pass on his comments for the defects, I used to feel real bad, just like how a relay player would feel when she drops the relay stick during the pass. My mom would have done her best in passing ALL the tips and techniques of the recipe to me over the phone. But I somehow somewhere overlook the instructions and miss to pick-up the recipe. So with the test reports of all my recipes, I drew a graph to narrow down in what 'category' of my mom's recipes I lagged the skill. The graph showed wonderful spikes for the chutney recipes, but the lines went really down for the non-vegetarian recipes! Gotcha!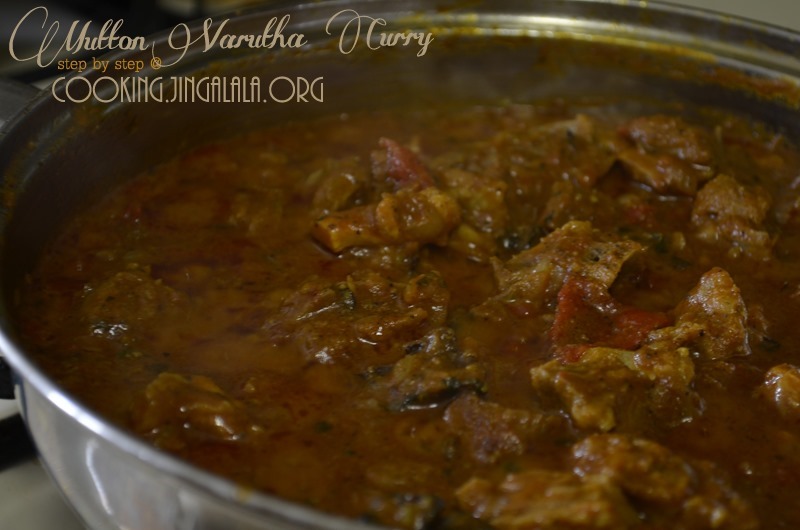 I've enjoyed all the non-vegetarian dishes of my mother but not often times have cooked or handled the meat by myself before my marriage. In fact, few years back I kinda lost interest in eating non-vegetarian dishes prepared by me. I felt something bizarre when both the cleaning and the preparation of the meat were done by me. This led me to cook the non-vegetarian dishes without an interest. And I know I'd ruin a dish when I cook it without that interest. Finding the root cause for the recipe defects, I explained the problem to my mom. She almost IMMEDIATELY gave me a cool tip to get rid of my problems with handling meat. She asked me to treat the meat like any other vegetable I would handle in the kitchen. Cool idea isn't it? From then on I never felt that 'irk' feeling when I clean the fish/meat/poultry. This interesting idea of hers made me to cook as well as eat the non-vegetarian dishes well. From what used to be a 75:25 80:20 'Share' ratio between the husband and me of any meat platter prepared by me, it has now turned out to a 50:50 55:45. Not bad at all, right?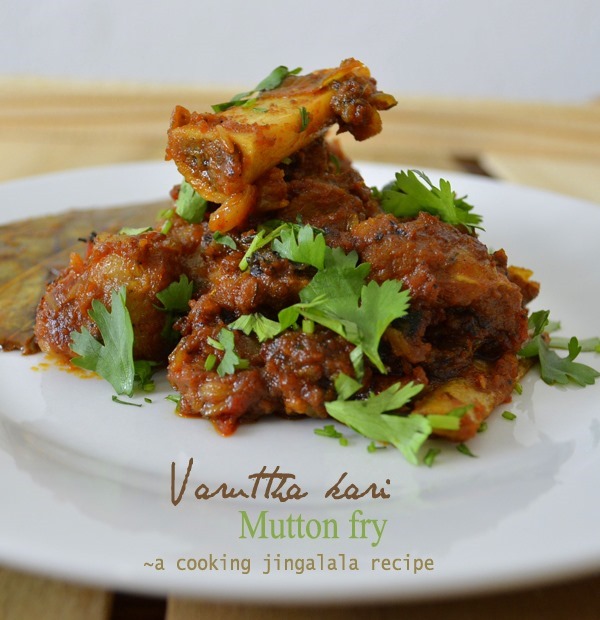 It was thus how I worked towards getting better comments from the Quality Control Officer in my kitchen. He said: "MMmmmmmmm…..mmmmm… you nailed it". The dish was 'Mutton Varuttha Kari'- a recipe passed on from my paternal grandmother to my mom. Hearing the QC's test results, I knew that I not just successfully passed the relay stick but won the race itself!
So here I'm, delivering you the DNA sequence of my family recipe: Mutton Varuval (Mutton Varutha Curry Recipe). Try to replicate the DNA sequence and write to me your feedbacks. [Do not get dizzy seeing the number of steps in the recipe. I did not use my usual camera for the step by step pictures. So forced to put each image in a separate line. In real, this mutton varuval recipe has only few steps and easy to make]
Both video and Step-by-Step photographed procedure available for this mutton fry recipe.

How to make Tamilnadu style Mutton Varutha Kari (Spicy Mutton Fry – Indian-Style) [Each photo can be enlarged if CLICKED]
Step 1. Set the ingredients required to make the mutton fry ready on the kitchen table.

Step 2. Peel and wash the red pearl onions [I did not have red pearl onions that day. So used shallots. You can of course use big onion (red/yellow), but red pearl onions give a better taste]. Peel and wash garlic cloves. Wash, peel and cut the ginger.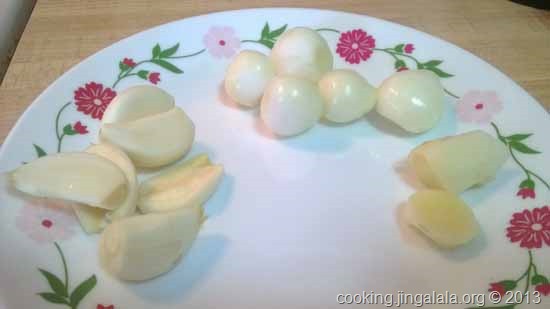 Step 3. In a mixer/blender, put the cumin seeds, 1tsp. fennel seeds, black pepper corns, clove garlic, red pearl onion and ginger. Need not add water since garlic and ginger give enough moisture to make the paste. However if your mixer is finding it difficult to grind, you may add 2 tbsp. of water while grinding. Grind it to a paste.
Step 4. Wash and keep the mutton ready. Drain all the water nicely after cleaning the mutton.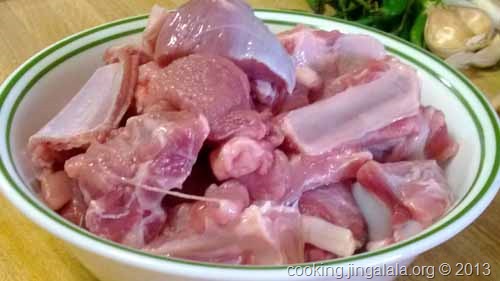 Step 5. Take a pressure cooker, add the cleaned meat.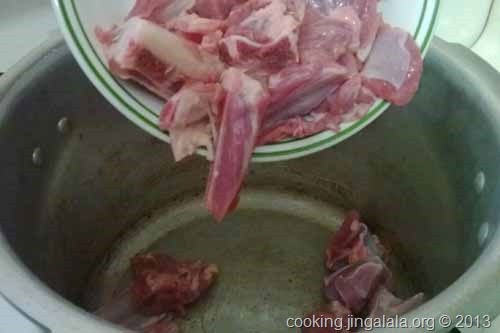 Step 6. Add the ground masala, turmeric powder and little salt (say ½ tsp.)
Step 7. Add 1 cup water. [At home in India, Amma adds very very little water (may be 1/4 cup) for this amount of meat. She says, mutton will release more juice while pressure cooking.] Mix well. Close the cooker.
Step 8. Keep the pressure cooker in High flame. Wait for 5 whistles (takes 5-7 minutes).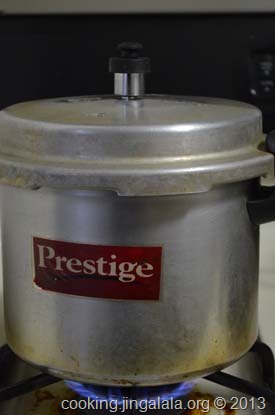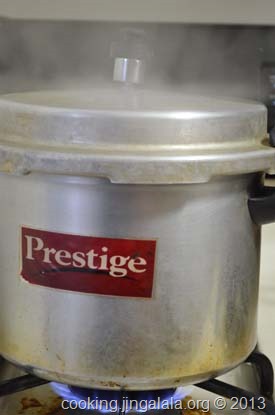 Step 9. In the meantime, set ready for tempering the meat. Clean and chop the onions (Red pearl onions work best, but I used finely chopped yellow onions. You may also use shallots or red onions). Peel and wash 2 garlic cloves, cut them roughly. Wash and chop the tomato. Clean and chop the fresh cilantro. Clean and take the curry leaves. Set aside. [uh oh…

I forgot to take the pictures of this step. Kindly adjust] Tip for US newbies: Curry leaves are pretty costly in the place where I live. So I got homemade curry leaf powder (Thanks to Pachchamma, Pondicherry

)) from India. Recipe will be soon on Cooking Jingalala.
Step 10. After the 5th whistle, change flame to SIM/LOW and wait for 5 minutes. [At home mom waits for just one whistle. Then she keeps it in SIM for 10 minutes. But here in the US, the meat does not get cooked in 1 whistle]. Switch off the stove.
Step 11. Wait until the pressure subsides by itself. [I always think the aroma will go out in air, leaving no flavor in the mutton if I manually release the pressure from the cooker. So I wait patiently until the pressure subsides by itself. You may continue with next step in the meantime.] Once the pressure subsides, o_pen the cooker and check the doneness of the meat. The meat must be cooked 85-90%. Keep it aside. We will cook the remaining 10% in the coming steps. _[Pease remember that the number of whistles to cook the meat varies based on the thickness of the meat and the pressure cooker. If your meat is not 85% done, continue to cook for more whistles.]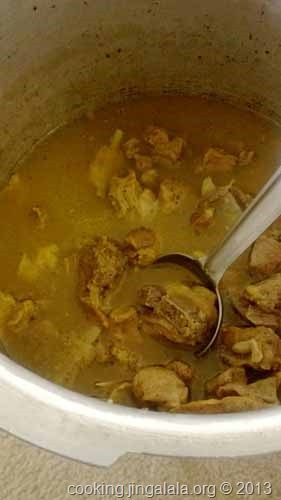 Step 12. Set the whole spices required to temper the mutton curry ready on the kitchen table. [From left: kalpasi, bay leaf, cinnamon stick, clove, star anise]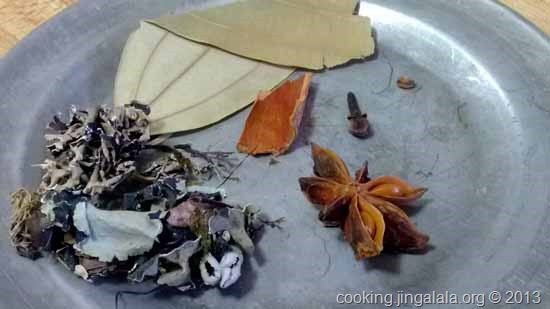 Step 13. Keep a fry pan/wok on the stove in Medium flame. Add oil. Wait for 2 minutes for the oil to get hot.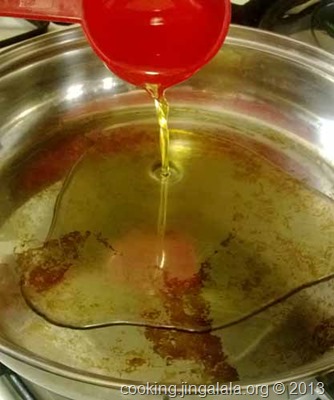 Step 14. Once the oil is hot, add the whole spices in this order: bay leaf, cinnamon stick, clove, kalpasi and 1/8 tsp of fennel seeds. Wait until the fennel seeds turn brown (takes 7-9 seconds).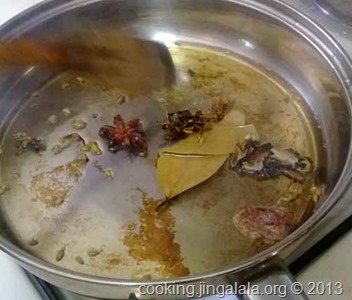 Step 15. Add the chopped onions. Mix and sauté for 3 minutes.
Step 16. After 3 minutes of sautéing the onions, add the chopped garlic cloves. [Adding garlic cloves is optional though in this step. But will increase the flavor]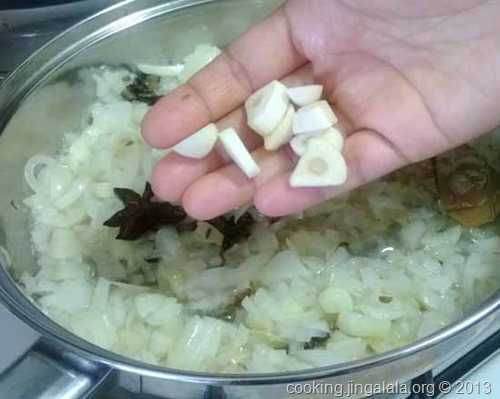 Step 17. Mix and continue to sauté for 7-8 more minutes.
Step 18. After 8 minutes, the onions must be brown releasing the oil back to the pan.
Step 19. Now add the chopped tomatoes, 1/4 cup fresh cilantro and curry leaves. [You see the green powder in the below picture? That's the curry leaf powder I talked about in one of the previous steps.] This mutton dish also depends greatly on the flavor from the curry leaves apart from kalpasi and the other whole spices. So you may add curry leaves generously.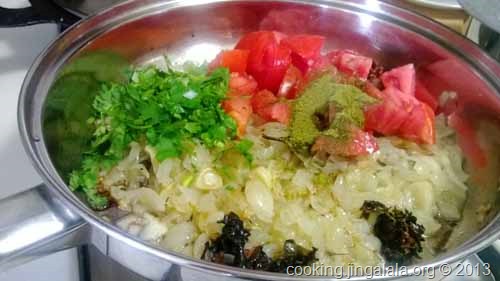 Step 20. Mix well and sauté.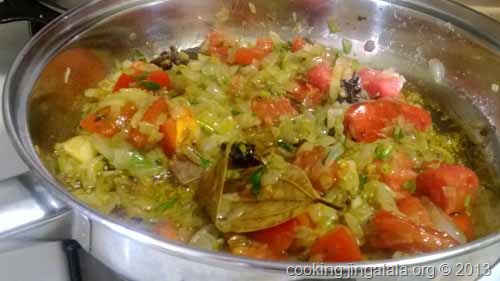 Step 21. Sauté until the tomatoes loose shape. (Takes 5-7 minutes)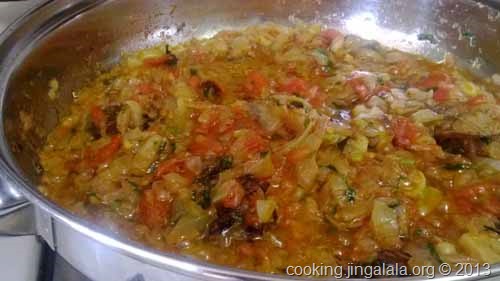 Step 22. Add the pressure cooked meat along with the masala water. Let us add all the spice powders now. Add red chili powder.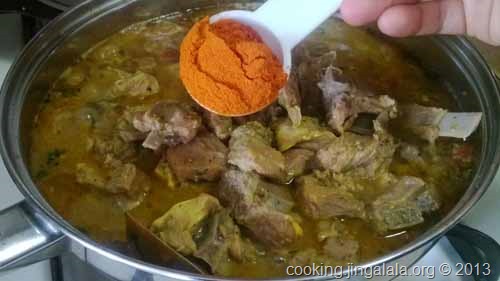 Step 23. Add coriander powder.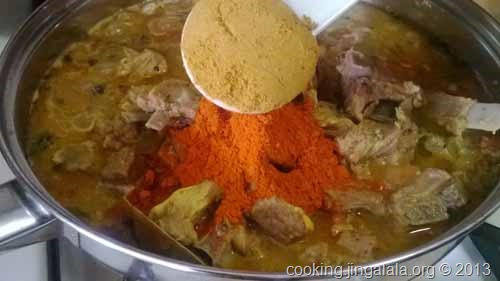 Step 24. Add salt. Keep salt less since we already added some salt while pressure cooking the mutton. I have a habit of adding salt from time to time, little by little. Since we will be thickening the curry, adding more salt will make the dish too salty. So take care.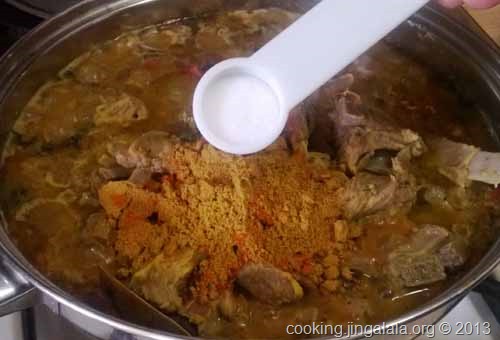 Step 25. Mix well.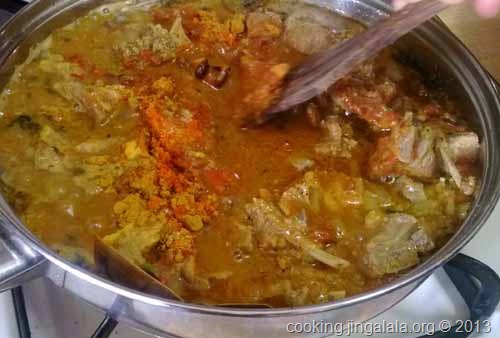 Step 26. We need not add any more water. The meat will start to release more juice while boiling. Continue to cook.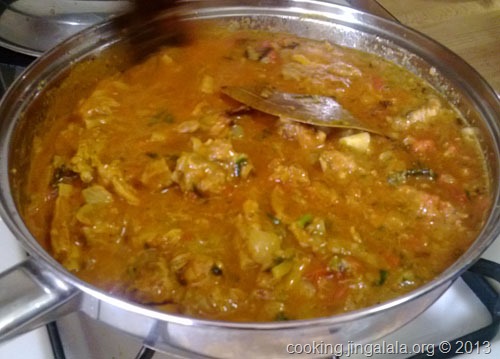 Step 27. In 5 minutes or so, the mutton curry will begin to boil.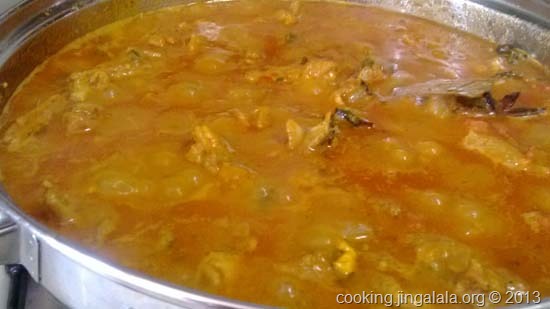 Step 28. Let the mutton curry continue to boil. Stir the curry from time to time, since the masala tends to stick to the wok. In 10-15 minutes, the mutton must be cooked. You must see oil gathering and forming a layer above the curry. Like this. mmmmm…yum no?
Step 29. Do not forget to stir from time to time in each step from here on. In 10 more minutes, the masala will start to thicken nicely. [If you have a restless family who peeks into the kitchen from time to time, it is best to serve them a little in a plate now

. Back in home, mom used to serve us the curry with this masala and breads.]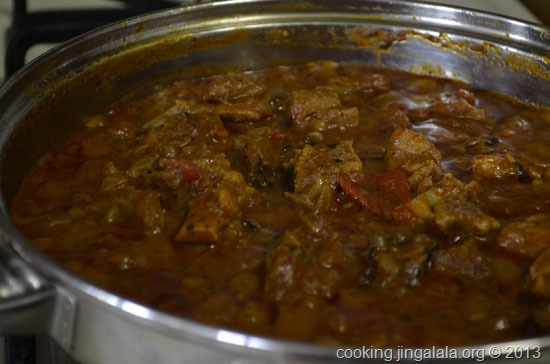 Step 30. As the mutton varuval begin to thicken, better stay near the stove. Turn flame to Medium-Low. We need to stir the base of the pan nicely very frequently.
Step 31. In another 10 minutes, the mutton will be fully coated with the curry masala, like the picture below. Add 1/4 cup fresh cilantro, mix and serve.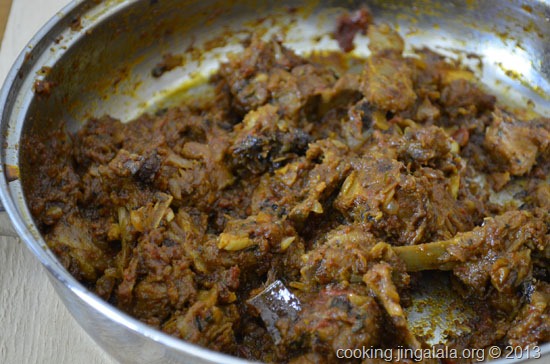 3Ts [ Tips | Tricks | Tactics and Secrets] for making Spicy Indian Mutton Kari/Curry/Vauval
1. If you are a vegetarian you may mimic the recipe using Mushrooms or Soya chunks. 2. Once the mutton fry is made and when Amma transfers it to bowl, she leaves few mutton pieces and the masala in the wok. Then she adds little steamed rice, ghee and salt, mixes it nicely and serve us hot. We call this Varutha soru (fried rice). Same happens when she makes chicken varuval and crab masala too. Ssssslluurrpp… 3. This mutton varuttha curry goes well with chappathi and dosas too. Parotas (Paratha/Prota/Brota) works best too with this mutton varuval. It also pairs awesome with Steamed rice and Sambar. This mutton fry is a good side dish for curd rice/yogurt rice too. 4. Needless to say to an Indian cook. Take out the whole spices [bay leaf, kalpasi, cloves, star anise and cinnamon] before serving. I normally do not take it out. 5. I use Prestige Pressure cooker for my cooking. If you are looking to purchase any good pressure cookers online, you may find these links useful. 6. Like I say in most of my recipes, I use Idhayam Sesame Oil (Gingely oil) for all the recipes that requires tempering. Sesame oil gives great aroma and taste to the dish, especially for non-vegetarian dishes.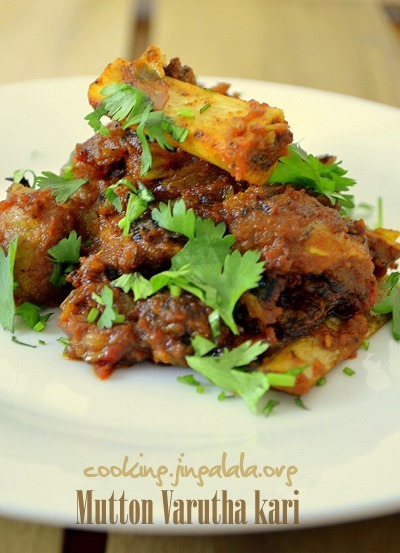 South-Indian Mutton Varuttha Kari
PREP TIME: 10 min
COOK TIME: 1 h
TOTAL TIME: 1 h 10 min
YIELD: 4
DIFFICULTY: medium
RECIPE TYPE: Appetizer, Side dish, Curry
Ingredients:
700 g Mutton, chopped small/medium
½ tsp Turmeric powder
1 tsp Salt (to cook the meat)
1 cup Water
*\To Grind ***
1 tsp Fennel seeds (Sombu/Saunf/Perunjeeragam)
1 tsp Cumin seeds (Seeragam/Jeera/Zeera)
1 tsp Black Pepper corns (Milagu)
5 Garlic cloves (Vella poondu pallu)
2" Ginger (i.e cut an inch of ginger, the size of one garlic clove)
5 Red Pearl Onions (Chinna vengayam/Shallots)
*\ To Temper ***
1" Cinnamon (Pattai)
1 Star Anise (Annasi poo)
1 Bay leaf (Biriyani ilia/Birinji ilia)
1 Clove (Krambu/Lavangam)
2 clouds of Kalpasi (Black stone flower/Dagad phool)
1/8 tsp Fennel seeds (Sombu/Saunf)
200 g Onion (Red pearl onions are better. May substitute with shallots or normal red/yellow onion), finely chopped
150 g Tomato, chopped
2 Garlic clove (Poondu pallu)
5 sprig Curry leaves (Karuveppilai)
¼ + ¼ cup Fresh Cilantro (kottha malli/fresh coriander)
1½ tbsp Red Chili Powder (Milahai thool) (add ½ more tbsp. if you want it HOTTTT)
1 tbsp Coriander Powder (Dhaniya powder/Malli thool)
¼ cup Oil (I use Idhayam Sesame oil for all my gravies)
½ tsp Salt (for masala – adjust to your taste)
Mangala from Cooking.Jingalala.Org Eat Well !