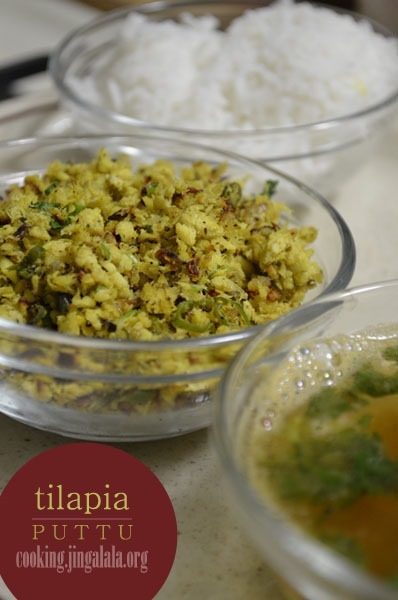 A humble lunch; Steamed rice – Hot Rasam – 'Warm Tilapia Fish Puttu' –> If you are enjoying this sitting at home, consider you are blessed!
Did I say I used to feel weird when the cleaning-cooking-eating is done by me while handling meat/poultry/fish in my previous post ? Several years back, when I prepared my 'first' non-veg dish [which was Chicken Varutha Kari – a family recipe], that night, I had ugly dreams of handling and cutting countless chicken pieces and mutton pieces with great difficulty. I can still remember how my face looked in that dream. It looked like an angry butcher working with a blunt knife

. I felt as though the chicken is taking the revenge by haunting me in my dreams. It's true that the same dream re-played every time I had to work with meat/fish. But it's all 'thoughts'. Once I started to follow the trick on handling meat/fish from my mom, I had no more replays of that ugly dream.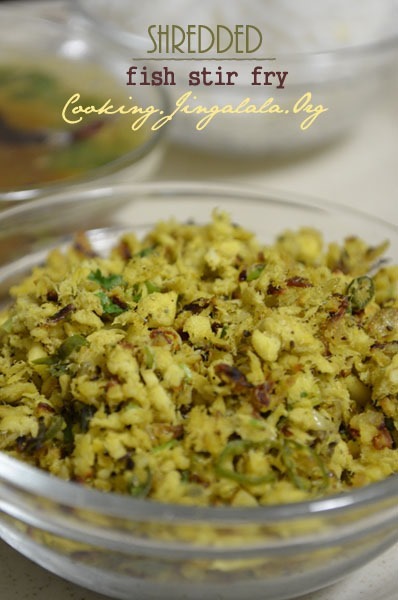 Lucky for me, in the place where I live today, the meat, sea food and poultry come pre-processed, which means it requires only little cleaning or sometimes no cleaning at all! Also the fish which I get from the nearby market used to be so nice to handle since they are in fillet form. When I cut a piece of fish, I feel as if I'm cutting a bar of butter

. With no more further bragging, let me present you the recipe for preparing Tilapia Fish Puttu. - the first Fish recipe in CookingJingalala.
Recipe inspirations from one of my friends, Renu, during a chat. One good thing about chatting and gossiping with friends is, Recipe Cross Pollination (wow! nice term right? Term 'RCP' coined by me me meee

)). You happen to try 'their' recipes in 'your' kitchen and they end up cooking 'your' recipes in 'their' kitchen. The best part is, you may also end up creating some 'hybrid' recipes too! Moral: Chat, gossip and forget not to exchange recipes

.

How to make Meen Puttu (Fish puttu/Shredded fish fry) using Tilapia – Step by Step pictures
Step 1. Clean the tilapia fillet. Drain the water and keep the tilapia fillet aside. Bring some water in a pot to a nice boil in Medium-High flame. I use my Idli satti (idli cooker/steamer).
Step 2. Place the tilapia fillet on the idli plate and close the cooker. Maintain the flame in Medium-High.
Step 3. Wait until steam comes out from the pot. Tilapia gets cooked really very fast, say 5 minutes. After 5 minutes open the cooker and take out the steamed tilapia fish fillet in a plate. Let it cool.
Step 4. When the steamed tilapia is comfortable to handle with hands, crumble/shred it. You may also use a fork to shred the steamed fish. Set all other ingredients required to make fish puttu ready on the kitchen table. Crush black pepper corns. Peel, wash and finely chop the onions. Peel and wash the garlic cloves. Wash and finely chop the green chilies. Wash and separate curry leaves from the sprig. [The green powder you see below is curry leaves powder. I use the curry leaf powder since I do not have fresh curry leaves handy (To know the real reason why use the curry leaf powder, you should read my Mutton Varutha Curry post.)]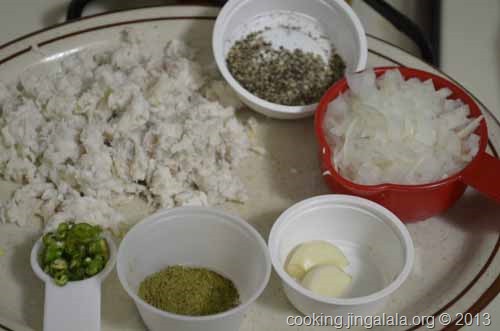 Step 5. Keep a wok in Medium flame. Pour oil. Once the oil is nicely heated (takes 2 minutes), add the mustard seeds. Wait for all the mustard seeds to splutter completely (takes 30 seconds)
Step 6. If you're using fresh curry leaves, add them now. Add the chopped onions. Sauté the onions.
Step 7. Once the onion browns (takes 3-4 minutes), add the chopped green chillies.
Step 8. Mince the garlic clove [I use my cute grater to mince garlic]. Add them in. Since I use the curry leaf powder, I add it at this stage rather in the beginning.
Step 9. Mix well and sauté for 2 minutes. Add the shredded tilapia.
Step 10. Add turmeric powder and salt.
Step 11. Shred the tilapia further with the help of the ladle so that they crumble finely. Mix well such that every fish crumble should take on the color from the turmeric. If you feel you need more color add 1/4 tsp more of turmeric powder. [Remember, turmeric powder also adds to spiciness. So take care] Sauté nicely for 3 minutes.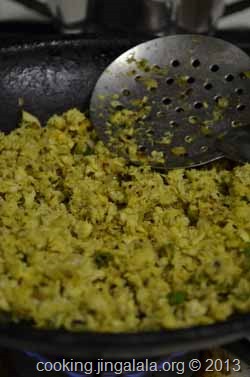 Step 12. Add freshly ground pepper. Mix well. Keep in SIM/Low-flame for 3-4 more minutes. [Check on 3Ts section below to improvise the dish in this step.]
Step 13. Clean and chop fresh coriander finely. Add to the fish fry and stir well. Switch off flame.
Step 14. Serve warm with Steamed rice and Rasam. [I enjoy the fish puttu 'as is' if the Rasam and the rice are not ready yet

. The husband enjoys it with plain steamed rice if the Rasam is not yet ready. So by the time both Steamed rice and rasam are ready, we will hardly have any scrambled tilapia fry left in the wok

. I then end up making some scrambled eggs hastily for a side dish.]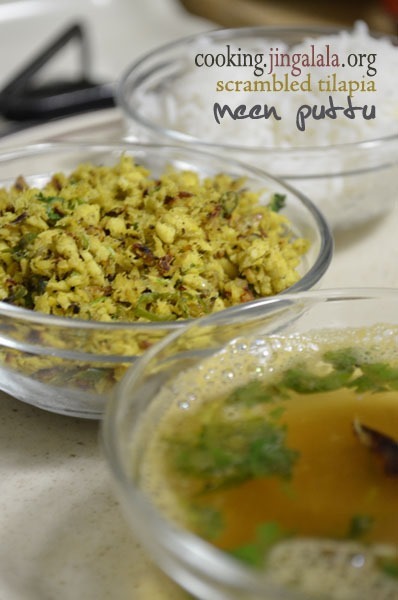 3Ts [ Tips | Tricks | Tactics and Secrets ] to make Tilapia Meen Puttu (Scrambled Tilapia)
I use Sesame oil (Gingely oil/Idhayam Nallennai) for all stir fries, seasoning and tempering. Sesame oil adds great flavor.

I use freshly crushed black pepper for red chili powder. Black pepper really adds a punch to this fish puttu recipe.

The green chilies must be chopped really thin so that we can eat it along with the fish. Once I cut the chilies finely, I kind of ignore the seeds that are on the cutter board. This way you wont feel the_ tilapia fish puttu_ to be too spicy.Tilapia has a mild taste. So the green chilies and black peppers are enough to give spiciness and flavor to this simple dish. That's why I don't prefer to add red chili powder when I make fish puttu using tilapia.

While cooking this dish, if you feel your tilapia stir fry is getting dry, sprinkle little drops of water with the tip of your fingers and mix well. Use the same tip (apply in Step 12.) if you want to make a moist fish puttu, something in the texture of scrambled eggs.

Red pearl onions (chinna vengayam) add great taste to any stir fry recipes and this thilapia meen puttu recipe is no exception.

Vegetarians may try the same recipe using steamed raw banana instead of tiapia. We call this Vazhakkai puttu.

You can try this puttu recipe replacing crab meat for fish and call it Crab Puttu / Nandu Puttu

Call it the 'Lazy Combo' or the 'Humble combo', Tilapia fish puttu with steamed rice and hot rasam is the 'best combo'. Simple, easy and a quick lunch combo, ready in no time! Try it. Share it. Write your feedback as always.
Spicy Scrambled Tilapia
PREP TIME: 5 min
COOK TIME: 10 min
TOTAL TIME: 15 min
YIELD: 2
DIFFICULTY: easy
RECIPE TYPE: Appetizer, side dish
Ingredients:
1 Tilapia fillet (about 200 g)
Water, for steaming the fish
2 tsp Oil (I use Idhayam Sesame Oil )
1/4 tsp Black Mustard seeds (kadugu)
5-6 sprigs Curry leaves (lucky if you have more fresh sprigs)
1/2 cup Finely chopped Onion (Try to use Red pearl onions, else that's alright)
2 Garlic cloves
3 Green chilies (about 1/2 tbsp when finely chopped)
1/2 tsp Turmeric powder
1/4 tsp Salt, adjust to taste
1/2 tsp Freshly crushed Black pepper corns, adjust to your spice level
1 tbsp Fresh Cilantro (Coriander/Kothamalli), finely chopped
Mangala from Cooking.Jingalala.Org Eat Well !