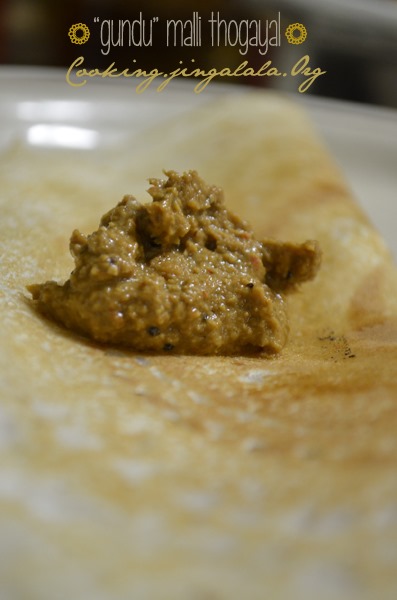 When there is still a compartment full of chutney recipes from my family and extended family that are yet to be posted in Cooking Jingalala, I chose to try out some new chatney recipes from magazine supplements. I carried with me piles of magazine supps. from India that had good collections of chutneys, sweets and snacks recipes. This 'Gundu Malli Chutney' is one of many other thuvaiyal/chutney recipes which I encountered from these books.
Heads-up, regular followers of Cooking Jingalala… Like all other chutney recipes of mine, this time I wouldn't guarantee that you'll greedily eat idlis after idlis and dosas after dosas with this Dhaniya chutney. But it's definitely not a bad recipe to try. And yes, this chutney takes in a strong flavor from the dried coriander. You may need to increase the heat and/or the tart by adding more chilies and/or tamarind respectively in order to balance the taste.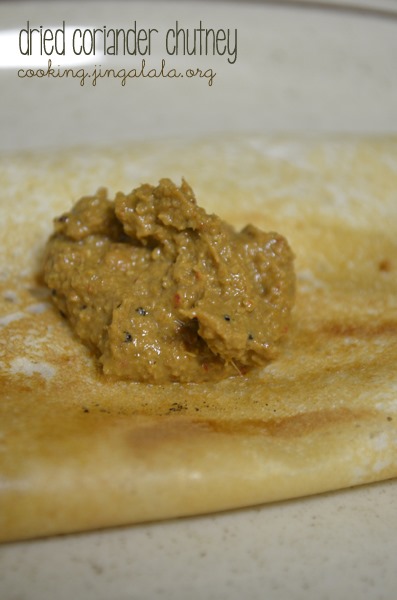 Fans of GoJingalala, be tuned in, lot more new NEW New chutney recipes on their way. Lately I also tried the Ginger chutney (Inji Chatney) from the recipe-book-pile and I liked it! I shared the recipe with my mom and she liked it too! You would like it too! So, watch this space for Inji Chutney updates.

How to make Gundu Malli Chutney (Dried Dhaniya Chutney) – with Step by Step pictures
*Step 1.
*Set all the ingredients ready on the kitchen table. Peel and wash garlic cloves. I normally wash the red chilies and the tamarind too. [I do not have fresh curry leaves, so used my homemade curry leaves powder. My garlic cloves were small, so used 4 garlic cloves] Check if the tamarind has any seeds. Remove and discard the seed.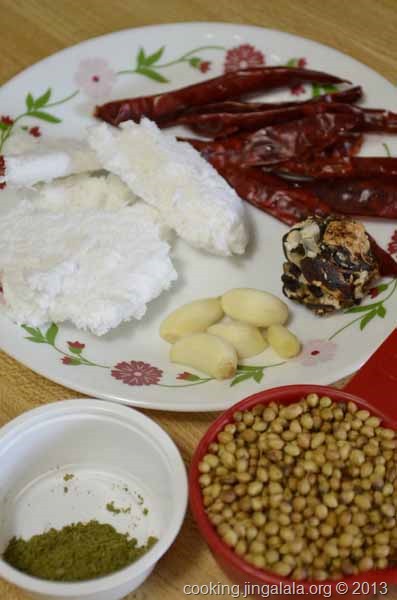 *Step 2.
*Place a pan on the stove in Medium flame. Add the coriander seeds and roast it until it changes color. Take care not to burn. Once it is nicely roasted it releases a strong aroma. Takes about 5 minutes. [When I buy coriander, I normally roast them and keep it in an airtight container. So for this recipe I just warmed them a bit] Once the coriander seeds are roasted, transfer them to a plate. Let cool.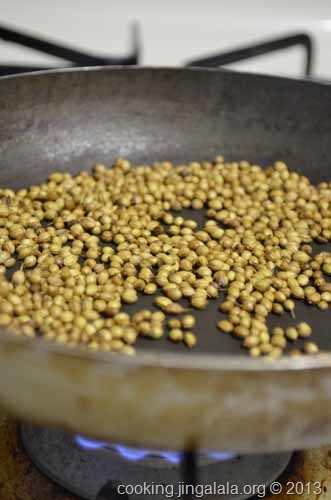 *Step 3.
*In the same pan, add 2 tsp oil. Once the oil is heated, add the garlic, curry leaves, whole red chilies, tamarind and the shredded/grated coconut together and sauté them.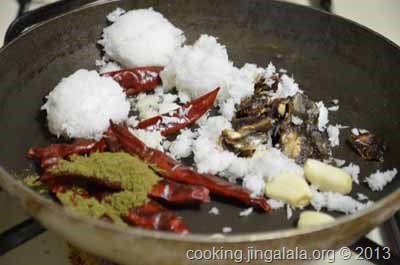 Step 4.
*Sauté them for about 7-8 minutes until the chilies get roasted and the coconut looses it's moisture beginning to release their oil. *Switch off stove. Let the mixture cool to room temperature.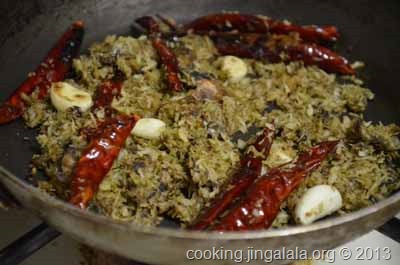 *Step 5.
*Once the mixture cools down to room temperature, add the roasted coriander seeds and the roasted spices into a blender/mixie. Add salt.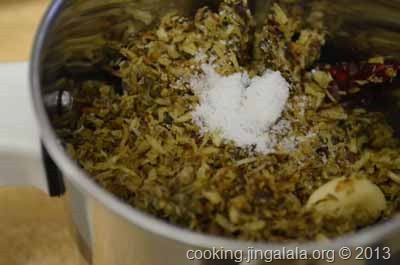 *Step 6.
*Add water. Close the jar and grind it.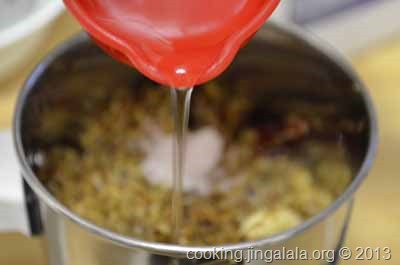 *Step 7.
*Grind them until smooth. I like to have them a little less than smooth.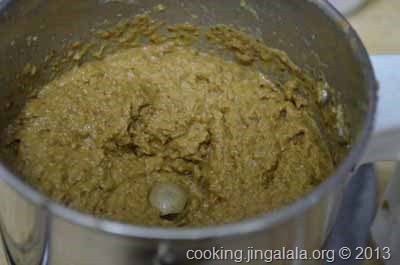 Step 8.
*Transfer the chutney into a bowl. *Coriander seeds Chutney is ready. If you wanted to temper the chutney, proceed to next step.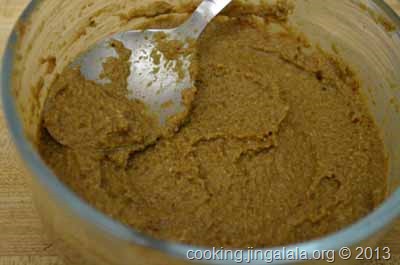 *Step 9.
*Keep a small pan on stove in Medium flame. Add 2 tsp oil.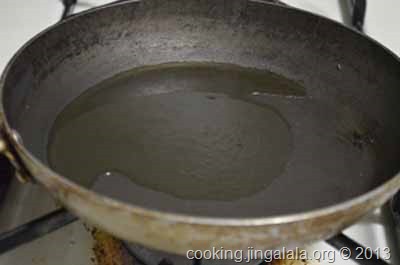 *Step 10.
*When the oil just begins to fume, add the mustard seeds. Wait until all the mustard seeds splutter completely.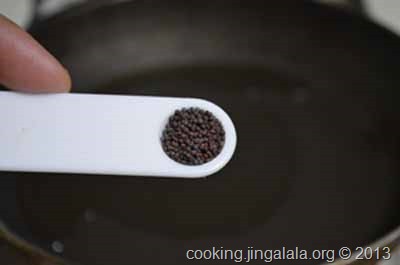 *Step 11.
*Change flame to Low and add the urad dal.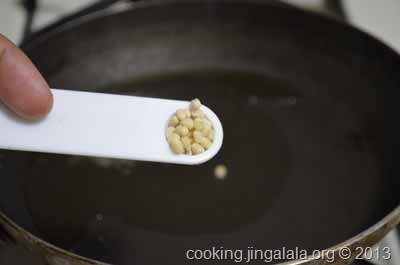 *Step 12.
*When the urad dhal begins to brown switch off the gas. If you prefer to add little curry leaves (say 5 leaves), add them to the oil now. Careful, curry leaves will splutter too.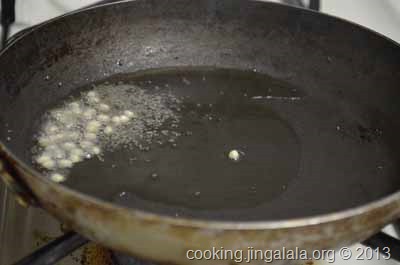 *Step 13.
*Immediately pour the tempering into the chutney.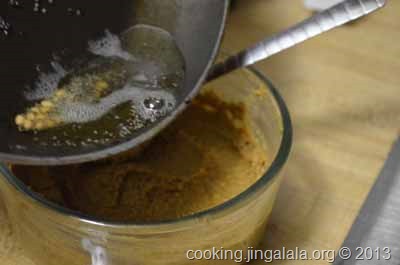 Step 14.
*Mix well and check salt. *'Gundu Malli Thuvaiyal' is now ready to serve!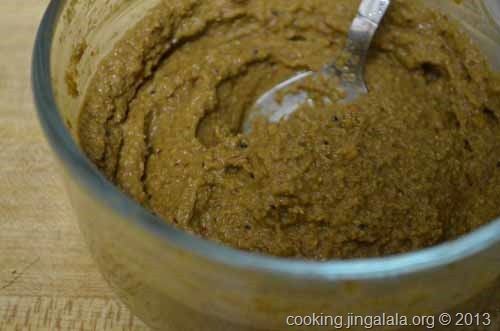 Step 15.
*Serve the *Dhania Chutney with hot Idli. We had it with Dosas. You may also pair it with Yogurt rice/Curd rice.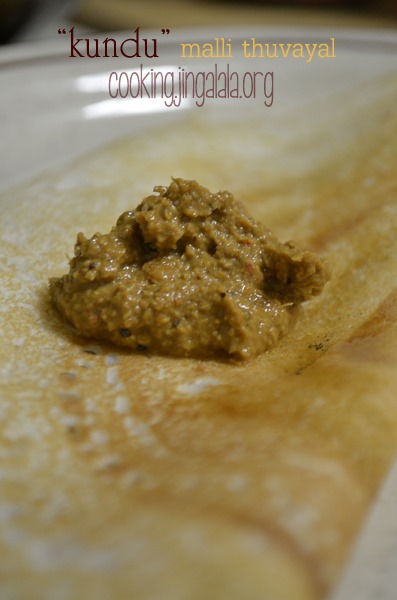 3Ts [ Tips | Tricks | Tactics and Secrets ] to make Kundu Malli Thogaiyal (Whole Coriander Chutney)
Grind the chutney to a thicker consistency (i.e. thovaiyal consistency). So we'll need to use only little water to grind. But coriander seeds take a little longer to grind and also thickens quickly while we grind. So we should add water LITTLE by LITTLE, as and when required while grinding.
Like I said in the prologue, to make any chutney, all we need is balancing; Balancing of the tartness, sweetness, spiciness and the salt. This tip applies to this Dhaniya chutney too. Since the Dhaniya seeds give a strong flavor to the chutney, we may need to add or lessen the chili/tamarind/salt as and when we're grinding. I normally roast extra chilies and tamarind and add them as and when needed while grinding. Yes, we need to check for taste in the midway of grinding any chutney.
The original recipe demanded to use 1/4 cup of coriander seeds. But I reduced the coriander seeds by 1 tbsp (i.e I used only 3 tbsp of coriander seeds). This is because some may not like the strong flavor from the dried coriander. So when making this chutney for such people, you'll need to lessen the quantity of the dried coriander for making this chutney.

There's something good about trying out new recipes, else we'll end up developing a palate-boredom [but do not blame me if you end up having a palate disorder

]. The recipe book said that this 'Kundu Malli Chutney' helps reduce mouth bitterness and bile [pittham/பித்தம் in Tamil]. So now is it not a worth trying chutney recipe? IT iSSS!
Roasted Coriander Seeds Chutney
PREP TIME: 3 min
COOK TIME: 15 min
TOTAL TIME: 18 min
YIELD: 4
DIFFICULTY: easy
RECIPE TYPE: Chutney, Dip, Idli Dosai Sidedish
Ingredients:
3 tbsp Coriander seeds (Gundu malli/Dried Dhaniya)
10 g Tamarind (size of a big gooseberry/periya nellikai)
7 Whole Red Chilies (Patta milagai/Vara mlagai/Milahai Vatral)
2 Garlic Cloves (Vellai poondu pallu)
4 tbsp Shredded Coconut (Thengai thuruval. I used frozen shredded coconut)
2 sprig Curry Leaves (10 to 15 leaves for roasting and 5 leaves for tempering)
4 tsp Oil (I use Idhayam Sesame Oil/Idhayam Nallennai)
1/4 tsp Black Mustard seeds (Kadugu)
1/4 tsp Urad dal (Uluthamparuppu)
1/2 tsp Salt (adjust according to your taste)
Mangala from Cooking.Jingalala.Org
Eat Well !