If somebody asks me for a word that is synonymous to TAMILNADU or let's put it as SOUTH-INDIA, I'll scream without even thinking…. "SAAMBAAR" (சாம்பார்). Steamed rice and Sambar is what Spaghetti and Marinara sauce are in Italy. I can blindly bet _'Show me ONE and take with you ONE Million_' kinda challenge if you can show me one South-Indian who does not know what Sambar is!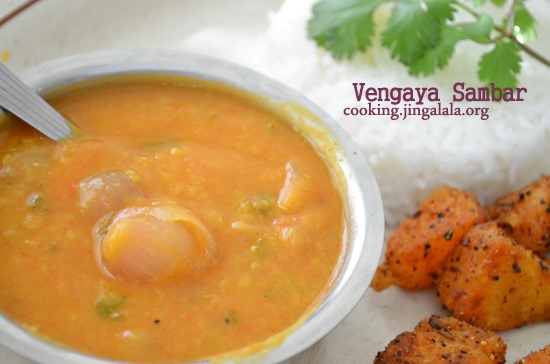 Saambaar (saam as in calm and baar as in bar), the humble stew made with lentils and vegetables, prepared at least once in a week (predominantly on Fridays) in most parts of Tamilnadu, is the first dish my Amma taught me in her kitchen

. I do not even remember how old I was then. She chose to teach me the Sambar recipe first because Saambar is the EASIEST and SIMPLEST of ALL the stews (or should I say gravies/sauces) that we make in our kitchen. During my lessons on Sambhar with my Amma, I learnt the types and variations one could make with a Basic Sambar recipe! I was like; 'why not take a Ph.D in Sambar Science?!' [He he …ok please, you may smile, it's a joke. But it would really be nice if I have a name board 'Dr. Mangala Meenakshi, Ph.D. Sambar Science' hanging in front of my house door. ….Sssss….. rubbing goose bumps…

] I realized there are so many (read as: Soooooo mannnnyyyyyy) classifications of Sambar that I will need more than a jury to assess my dissertation if I still wished to do a doctorate .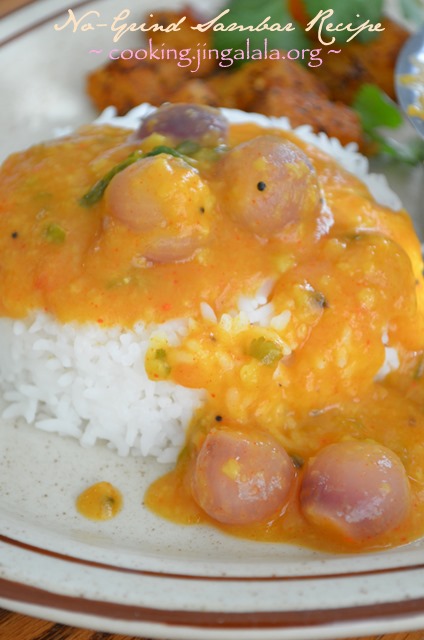 We have Sambar varieties based on the lentils used; Thuvaramparuppu sambar (Split pigeon peas sambhar), Paasi paruppu Sambar (Greengram Sambhar), Masoor dhal sambar etc. We have Sambar classifications based on the geographical origin; Tamilian sambar or Tamilnadu Sambar, Sourashtrian sambar, Andhra sambar, Bombay Sambar aka Maharashtrian Sambar, Kerala Sambar, Bengaluru Sambar, Goan Sambhar etc ETC and Etcetera classified based on the spice mix or the masala used in each region! We have Sambar types based on the vegetable(s) that is used; Plain sambar, kathirikkai sambar (aurbergine sambar), vendaikkai sambar (okra sambaar), murungakkai sambar (drumstick sambar), vengaya samabar (onion sambaaru), poosanikkai sambar (pumpkin sambar), avarakkai saambar (broad beans sambar), mullangi sambar (raddish sambar), paavakkai sambar (bitter gourd sambar), surakkai sambhar (bottle gourd saambaar), nookal sambar(turnip sambhar), keerai sambar (greens sambhar), kadhambam sambar (mixed vegetable sambar or rightly called as Leftover vegetable mix sambar). Variations made in Sambar by the method used to prepare sambar; Sauteed Vegetable Sambar, Unsauteed Vegetable Sambar, Nonveg sambar, which some call as Dhalcha, Arachchuvitta sambar, no-grind sambar, no-coconut sambar, podi sambar, podi-less sambar… Sambars are also classified based on the main dish they are coupled with; Say Idli Sambhar, Dosa Sambar, Rice Saambhar, Vadai Saambar, Ven Pongal Sambar. Classes of Sambar based on the famous hotels in South-India; Saravanabhavan Sambar, Murugan Idli kadai Sambar, Adayar Anandhabhavan Sambar (A2B Sambar), Hot Chips Sambar… <'nuf 'nuf 'nuf… @#$%!*head spinning*!%$#@… Readers please do not imagine me reading out all the sambar types like how Kushboo lists the Goddesses names in this song. If you wanted to know all the sambar types in the planet, I suggest you to follow my Sambar thread

. Discontinuing the list with the only notion to keep the paragraph small

>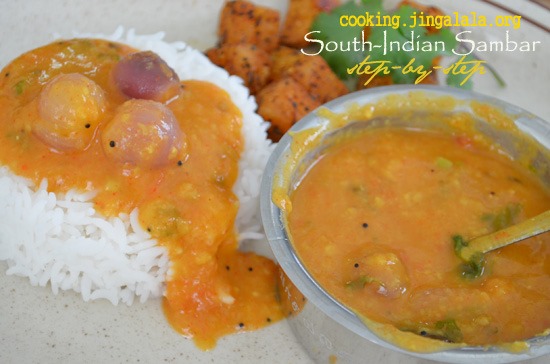 So even as I was listing the Sambar types, the thought of me pursuing a Doctorate in Sambar Science was very daunting

, especially when I was thinking about the number of years it might take to complete the thesis. I started to think about the possibilities of the University allowing my granddaughter or grandson to continue my thesis if I was not able to complete it in my days. But then, why put my time, thoughts and efforts into the Study of Sambhar when I know very well that my documents are only going to lay still in the University library? Hence, I decided to publish all that I learnt and am learning about the SAMBAR recipe to the public. Now the very thought of me getting listed FIRST in browsers when people searches Doctor of Philosophy in Sambar Science (ok lets act the search engines doesn't know about the sambar deer type

))….ssssss….. rubbing goose bumps again….

.. Huh…the day is not so far.
SO here, first in the row: Vengaaya Sambar (Red pearl onions sambar recipe) - A basic sambar recipe without using coconut (aka sambar recipe without using mixie/blender) and without using sambhar powder.

How to make Simple Sambar – with Step by Step pictures [Each picture can be enlarged if CLICKED]
Step 1. Set the ingredients required for making Sambar ready on the kitchen table. Peel and wash the onions. Wash and partially slit the green chilies. Wash and cut the tomatoes. Wash the cilantro. Soak tamarind in half-a-cup of warm water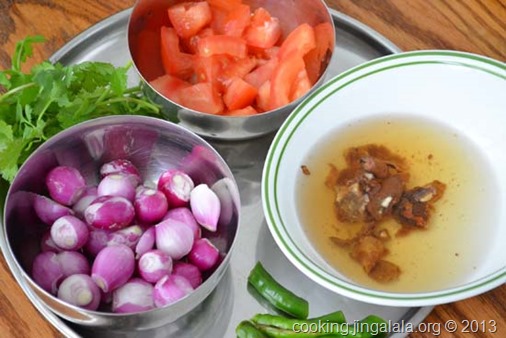 Step 2. Rinse pigeon peas well and drain the water. Add turmeric powder, cumin and curry leaves [I had no curry leaves then. So you won't be seeing in this picture] I will give you a quick tip. I add 1/4 tsp. of asafoetida and 1/4 tsp. fenugreek seeds. Adding these two ingredients in this step will give the sambar a WONDERFUL smell.
Step 3. Add 2 cups water to the lentils. Close the pressure cooker and place it on the stove in HIGH flame. Wait for 3 whistles (Takes 5-7 minutes). Switch off the stove after the 3rd whistle. [My pigeon peas gets cooked in 3 whistles. If yours doesn't, have them in LOW flame for 10 more minutes after the 3rd whistle. Check 3Ts section to check how to make sambar if you do not have a pressure cooker.]
Step 4. Once the pressure subsides by itself (Takes 5 minutes), open the pressure cooker (hummmmm… the lentils are smelling awesome already!) and stir it nicely with a ladle such that the lentils loose shape. Now add 1½ cups more water. Stir and place the pressure cooker on the stove in HIGH flame.
Step 5. Wait until the tur dal begin to boil (Takes 7 minutes). Once the dhal begins to boil, add the vegetables (onions, chilies, tomatoes, curry leaves). Add salt now. [Remember to add salt at this step. If you add salt at a later stage, only the sauce takes the salt leaving the vegetables bland.]
So the Sambaar looks something like this at this stage. Continue to cook it, but in MEDIUM flame. Stir every 4-5 minutes else the toor dhal might burn.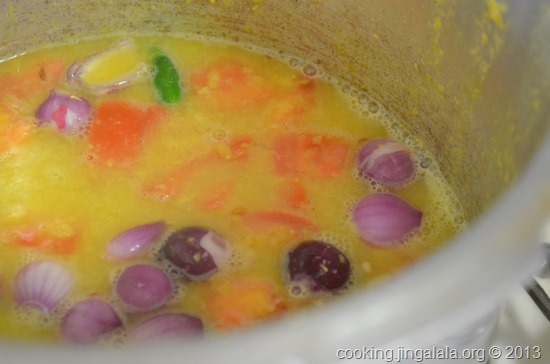 Step 6. Let the tuvar dal and vegetables boil for 10 minutes. When you find the vegetables almost half done (70% cooked), add the red chili powder. Stir and continue to cook. [You may close the vessel with the lid ajar. Optional if you want the vegetables to cook fast. You may need to add little water if you find the sauce to be very thick at this stage. It's good to have some warm water ready.]
Step 7. In another 7 or 10 minutes the vegetables should be cooked (In the meantime extract the juice from tamarind). You see the lovely cooked red pearl onions below? By this stage the raw smell of the chili powder must also be vanished.
Step 8. Once the vegetables are completely cooked and the raw smell of the red chili powder goes, add the extracted tamarind juice. (Check 3Ts section if you wanted to know how to extract juice from tamarind)
Step 9. Stir. Saambaar is almost done. Turn flame to Medium-Low and simmer the sauce for 5 minutes, just until the tamarind looses its raw smell.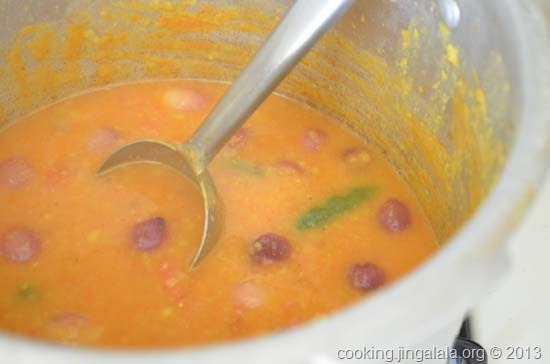 Step 10. Let's temper the sambar. Heat a small wok in Medium flame. Once the oil is heated nicely, add the mustard seeds. Wait for the mustard seeds to splutter completely. Then tear a whole red chilly and add to it. Change flame to LOW. Add fennel seeds. Once the fennel seeds turn brown add the fenugreek seeds. Take care not to burn fenugreek seeds. [You may also omit the fenugreek if you have already added them while pressure cooking the dhal.] Add 1/8 tsp. hing. Hing tends to stick to the pan, so act fast. Switch off flame.
Step 11. If you have fresh coriander, chop them and add during tempering. Quickly toss the tempering into the sambar. Stir the sambar. Change flame to LOW. Let it simmer for 5 minutes. Switch off flame and close the sambar.
Step 12. South-Indian Sambar is ready. Wooo… you see the roasted potatoes too? Check in 3Ts for more of side-dish options for Sambar rice.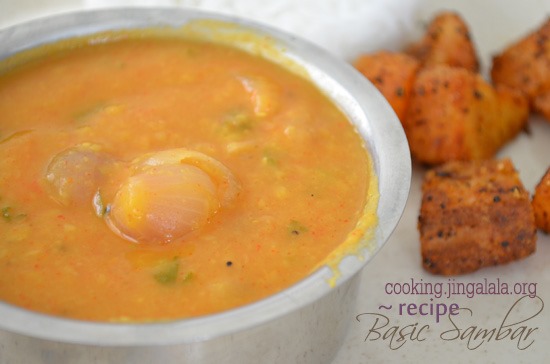 3Ts [ Tips | Tricks| Tactics and Secrets ] to make Sambar
Winning chances are very very less if a party stands in election without an alliance. Same goes with making Sambar without any hing/asafetida/perunkayam added to it. It is hing that gives any Sambar a distinctive flavor and taste. If you make sambar and your family say 'sambar is good, but something is missing', it means you missed adding asafetida or did not add enough asafoetida in your sambar. Adding it while cooking the lentils is optional. However, never forget to add it when you temper sambar.
Curry leaves also give wonderful smell and flavor to sambar. I add them while pressure cooking the dhal and when adding the vegetables too.
It is safe not to add fenugreek seeds (vendhayam) than making them burn while tempering. Burnt fenugreek (methi seeds) leaves an awkward bitter taste in the sambar when you eat it. That's why I add them when I pressure cook the pigeon peas. Doing so will add a nice odor to the sambhar.
I remember my grandmother (ammachi) shouting…'சாம்பாரு உப்பே இல்லாம கொதிக்குது பாரு'…. Which means that sambar is boiling without salt. She notifies this just by laying in the hall bed to my aunt who prepares sambar in the kitchen. Just with the smell of the boiling dal and vegetables she finds that salt is not yet added. It is important that you add salt along with the vegetables. I also remember how my Amma too finds out that I'm cooking the vegetables without adding salt just by the smell of the lentils from the kitchen. Today, I too can find whether I added salt to the vegetables just with smell without tasting the dhal . That being said, I have a peculiar behavior when it comes to adding salt to my recipes. I add salt (little by little) throughout the preparation of my recipes. i.e. I add little while boiling the vegetables, then a little when masala is added, then little when tamarind is added etc. Concentrate on the word LITTLE. I follow the same behavior for most of my recipes.
Adding cilantro/kothmalli is optional. I add it because I feel they give a beautiful aroma and taste to the Saambar.
Add chilly powder only after the vegetables are half done cooking. Adding chili powder well before will give a harsh taste to the sambar (what they call கடுத்துவிடும் in Thamizh).
Tamarind must be added only when the vegetables are fully done. My mother says, the vegetables wont get cooked fast if tamarind in added before. So we add the extract and simmer only for 5 minutes. I prefer not to add too much of tamarind extract. Also do not have sambar too long in stove after adding tamarind juice. This too will bring a harsh taste to sambar.
If you want to know how to extract tamarind juice: Soak 10 g of tamarind in ½ cup of warm water (minimum of 10 minutes). When the tamarind becomes loose, pinch it nicely to release its juice. Strain the juice using your hand or using a tamarind colander. If your tamarind residue is thick, you may use the residue to take second round of juice. Discard the residue.
If you prefer not to add tamarind extract in Sambar, increase the amount of tomato by 1/3 cup for this recipe. Or you may substitute tamarind with a tbsp. of lemon juice like how my neighbor friend Meg does it.
Rather cooking the vegetables in open pan method, Sambar can also be prepared fully in a pressure cooker too. Will create a separate post for, how to prepare sambar in pressure cooker. However, some won't like the taste of sambar if it's cooked in the pressure cooker.
If you do not have a pressure cooker, you can still make tasty sambar. In fact Sambar tastes great when you cook the lentils in open pan method. After all, that's how your grandmother or your mom must have cooked sambar. I've seen some people who dislike sambar if it is made in pressure cooker. They want the entire procedure, right from cooking the dal done in open pan method. It's because pressure cooker pressurize the lentils and the vegetables in order to cook fast. Whereas when we cook the lentils and vegetables in open pan, we are not pressurizing the produce to cook fast. We are allowing the lentils and the vegetables to take their own time to react. This method of making sambar in open pan gives the true essence and taste of the produce. In case you are looking to buy a good pressure cooker, you may check out this link (click here). Has a pretty good variety of pressure cookers.
To cook the lentils if you do not have a pressure cooker: Rinse lentils nicely and drain the water. [You may soak the tuvar dal if you wanted it to cook little faster.] Bring 3 cups of water to a nice boil in a sauce pan. Add the lentils, cumin seeds, turmeric powder and curry leaves. [Mom used to prepare sambar in open pan method when I was younger. I remember her adding a tsp. of oil too. She explained that it will heat up the water and the lentils fast.] Lentils must be cooked until soft. Stir for every 5 minutes or so else the lentils may scotch the vessel. Check if there is enough water in the sauce pan from time to time. It's good to have some warm water ready, if you may want to add more water. Once the lentils are done, you can follow the remaining steps 'as is' in this sambar recipe.
Adding ghee (brown butter) instead of oil for tempering gives an awesome taste and flavor to the sambar. But some will find it to be too heavy. Or you may also add ½ a tsp. of ghee with rice while serving sambar. This is how we used to enjoy in our home. A good sound sleep is guaranteed when you eat sambaar with added ghee. There are instances where my friends and I went late to our afternoon classes during college days. After eating sambar and ghee in the hostel mess, we used to lay lazy with sleep (like a group of pretty pigs )) in our hostel rooms. Hm….
I can suggest you a truck load of side dishes that goes well with Sambar. Here, are the husband's favorites: Potato roast and Dried Anchovy roast. Recipes will be submitted in Cooking Jingalala soon.

Basic Sambar – Tamilnadu Style
PREP TIME: 5 min
COOK TIME: 35 min
TOTAL TIME: 40 min
YIELD: 4
DIFFICULTY: easy
RECIPE TYPE: Gravy/Sauce/Stew/Broth
Ingredients:
1/2 cup Split Pigeon Peas(Tuvar dal/Thuvaram paruppu/Toor dhal)
1/4 tsp Turmeric powder (Manjal thool)
1/4 tsp Cumin seeds (Seeragam/Zeera/Jeera)
1/4 + 1/8 tsp Asafoetida (Hing/Perunkayam)
1/4 tsp. Fenugreek seeds (Methi seeds/Vendhayam)
3 sprig, Curry leaves (Karuveppilai/kari patte)
2 + 1 ½ + ½ cup Water
20 Red pearl onion (Chinna vengaayam) [May substitute with 1/2 cup moderately chopped big onions too]
1/4 cup Tomato, chopped
4 Green Chili
1 tbsp. Red Chili Powder (Milahai thool/Milagai podi)
1 tsp. Salt (Adjust to taste)
5 g Tamarind (Puli/Imli), which is a gooseberry size [May substitute with 2 tsp Tamarind paste]
2 tsp Oil (I use Idhayam Nallennai for tempering in all my recipes)
1/4 tsp Black Mustard seeds (Kadugu)
1 Whole dry red chili (Varamilagai/Milahaivatthal)
1/8 tsp Fennel seeds (Sombu/Saunf)
2 tbsp chopped fresh Cilantro (Mallithalai/fresh Coriander)
Mangala from Cooking.Jingalala.Org Eat Well !