This is my Mom's special recipe – Indian style gravy using Mutton Keema. Mom uses mutton chunks in this gravy. Since I prefer to eat mutton in Qeema form I used minced mutton. A notable difference in this Mutton gravy recipe is the addition of split chickpeas (kadalai paruppu). Apart from making pakodas, pakoda kulambu, beans-kadalai paruppu poriyal, beetroot kadalai paruppu poriyal, valakkai-kadalai paruppu kootu, cabbage-split chick pea kootu, kadalai paruppu pachadi, kadalai paruppu sundal and the 'N' other kadla paruppu recipes that we make in our home, this Kadalai Paruppu Kuzhambu is the darling of the home masses. I do not remember if my Grandmother made this Ground mutton gravy but I remember my mom making it on the week-ends when I was younger.
The other day my friend Sup visited us and when we exchanged recipes she raised brows when I said that we add split chickpeas to mutton gravy. I told her why we add kadala paruppu for this particular recipe. The sweetness from the mutton and the split chickpea compliments very well with the spices and the spice powders. The chick pea also gives volume and a thick body to this Qeema gravy. She is now curious to make this Kadalai paruppu kulambu on her own. Readers if you're curious too, here's the recipe to make a different yet tasty mutton gravy. Pair it with rice, appalam and any vegetable stir fries.

How to make Indian style Ground Lamb Gravy (Mutton Kheema Kuzhambu) – with Step by Step pictures [Each image can be enlarged when CLICKED_]_
Step 1. Once you decide to make this Kadalai Paruppu Gravy, rinse and soak the kadalai paruppu (split chickpea) in water. It is enough to soak the split chickpea for 15 minutes i.e. by this time we can prepare the masala for the gravy.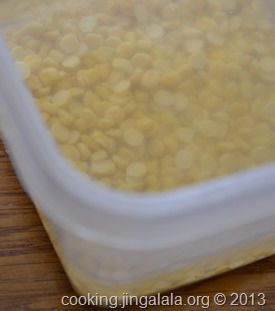 Step 2. Set the spices and vegetables ready on the kitchen table. Peel, wash and chop the onions. Wash and cut the tomatoes. Peel, wash and cut the garlic cloves into two. Wash and slit the green chilies. Wash, peel and cut the potatoes into medium chunks/cubes. [Have your ground lamb/goat meat ready too: you may keep the mutton out from the refrigerator now. Vegetarians you can follow the recipe as is except for the steps that involves meat.]
Step 3. Place a skillet on a MEDIUM-LOW flame. Pour the oil. Once the oil heats up add the whole spices (bay leaf, cardamom, star anise and cinnamon. In about 10-15 seconds, the spices will begin to release their aroma. Now add the fennel seeds (sombu/saunf).
Step 4. The fennel seeds will brown in 5-7 seconds. If you have kal paasi (dagad phool) add it now. Add the slit chilies.
Step 5. Add the chopped onions and garlic cloves. Mix them. Sauté for 3 minutes.
Step 6. Add the potato cubes. Mix them.
Step 7. Add the tomatoes. Add turmeric powder.
Step 8. Add the chili powder and dhaniya powder (coriander powder).
Step 9. Mix them well.
Step 10. Sauté the mixture until the tomatoes loose shape. Takes 5-7 minutes.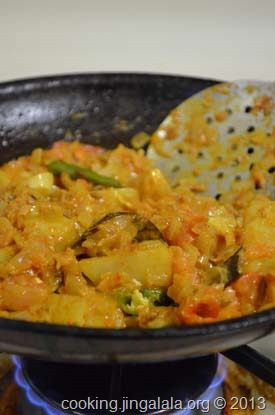 Step 11. Now take the soaking split chickpea. Drain the water. Add the split chickpea into the masala. Mix well.
Step 12. Add the ground mutton. Once you add the mutton, work nicely with your ladle. Stir and break the minced meat well into the masala. Let the pink meat turn brown and release its fat (watery substance) into the masala. Takes 7-8 minutes.
Step 13. Now transfer the curry into a pressure cooker. Add 1 cup water and salt. Check the salt. [Please scroll down to 3Ts section to check on the recipe if you do not have a pressure cooker]
Step 14. Mix well. Do not add too much water since the gravy might turn too watery. It should look something like this before you put the pressure cooker on HIGH flame.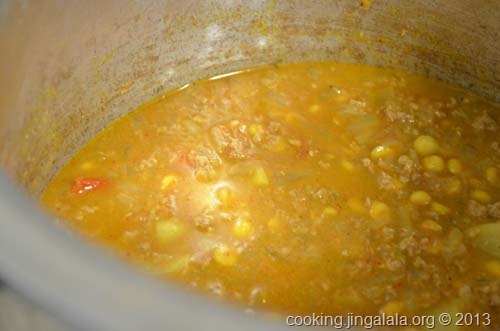 Step 15. Close the pressure cooker and set the flame to HIGH. Wait for 3 whistles (Takes 5 minutes). After 3 whistles, turn the flame to LOW and let it be that way for 10 minutes. Then SWITCH OFF the stove and wait for the pressure to subside (Takes 5 minutes).
Step 16. Chop the cilantro (fresh cilantro leaves). Once the pressure subsides, open the cooker lid. Add the chopped cilantro. Mix well such that the potatoes loose shape (the starch from the potatoes give thickness to the gravy). Taste and check if salt is correct. [If your gravy looks watery after mixing, you may cook it (do not put the lid) in MEDIUM flame until the desired consistency. If your gravy is too thick, add little more water (say 1/2 more cup of water) and cook the gravy in MEDIUM flame until it begins to boil.]
Step 17. [If you have fresh lime/lemon squeeze 1 to 2 tsp. of it in the gravy] Mutton Kheema gravy ready. Serve hot with rice.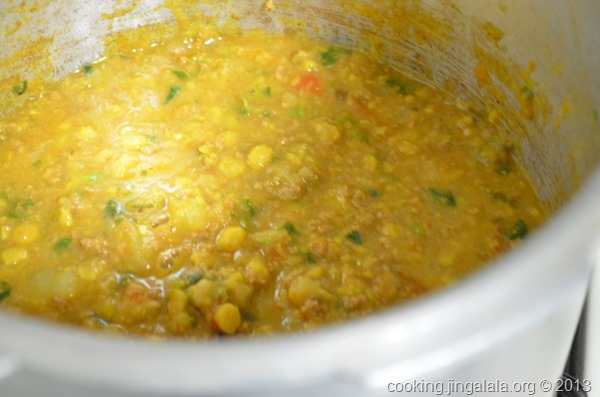 3Ts [ Tips | Tricks | Tactics and Secrets ] to make Mutton Kheema Gravy
Feel free to modify this Mutton Keema gravy recipe with mutton pieces (sheep/lamb/goat) instead of ground/minced mutton. If you prefer to add mushrooms or ground chicken or minced turkey, you may add them instead of the meat.
If you prefer to avoid split chick peas you may do so like how I did in this Chicken keema gravy recipe.
If you are a vegetarian please skip the steps involving the mutton and proceed with rest of the steps
Adding fresh juice from a 1/4 of a lime/lemon gives that punch to the gravy. In fact I wouldn't decide to make this kadalai paruppu gravy if I do not have lime/lemon in my refrigerator.
Not necessary that you should peel the potato. Sometimes I add the potato chunks with the skin. However, I remove the skin just before eating.
You may also leave out potato from this recipe if you feel the recipe is too heavy for your tummy. Potato gives a nice thick body to the gravy.
The split chickpea in this recipe must be nicely cooked. But they should not be cooked to a mushy consistency. They should hold their shape after cooking but when touched should yield to the pressure lightly.
If you do not have a pressure cooker, close with lid ajar and cook in MEDIUM-LOW flame until the split chickpeas, potatoes and the meat are cooked. Stir from time to time and add water if the gravy turns thick before it is cooked. You may check this link (click here) if you're looking to buy a good pressure cooker online.
If you like to reduce the spiciness reduce 1 tsp of chili powder and substitute it with a tsp. of coriander powder. i.e. 1 tsp chili powder and 3 tsp coriander powder for this recipe. If you find your gravy very spicy after making, add 1 tbsp of coconut milk or grind 1/8 cup of fresh coconut with little water and add it at the end (Step 16.) Simmer for a minute and switch off.
Gingely oil (Sesame oil) gives great taste for any South-Indian gravy recipe. I use Idhayam Nallennai (Idhayam Gingely oil) for all my cooking.
Since I used packaged and pre-processed meat I did not wash the keema (now don't say 'yuck'). Wash your ground meat if yours is fresh meat. Drain the water well before adding it into the masala.

Kadalai Pappu Gravy using Ground Meat
PREP TIME: 5 min
COOK TIME: 30 min
TOTAL TIME: 35 min
YIELD: 3
DIFFICULTY: medium
RECIPE TYPE: Gravy
Ingredients:
150 g Mutton (chopped / minced / ground sheep/lamb/goat)
1/2 cup Split chickpeas (kadalai paruppu)
1/2 cup (100 g) Potato, cut into chunks
1/2 of 1 big Onion (150 g)
3/4 cup Tomato, chopped (120 g)
3 Garlic cloves (Vella poondu pallu)
3 Green Chili
1/8 cup Oil (I used sesame oil)
1+½ cup Water
1/4 tsp Turmeric powder (manjal thool)
2 tsp. Red Chili Powder (milagai thool)
2 tsp. Coriander powder (Dhaniya powder/Malli thool)
1 tsp Salt
1″ Cinnamon (pattai)
1 Bayleaf (Biriyani ilai)
3-4 Kal Pasi (dagad phool), optional
1 Green Cardamom, optional (elachi/elakkai)
1/2 tsp Fennel seeds (Saunf/ sombu/perunjeeragam)
1/4 cup Fresh Coriander, chopped (Cilantro/malli chedi/kotthamalli)
2 tsp. lemon/lime, optional
Mangala from Cooking.Jingalala.Org Eat Well !