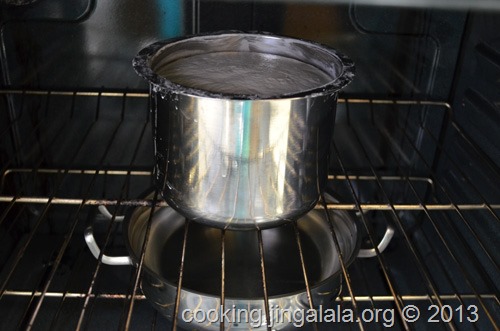 My experiments with Idli-Dosa batter will continue as long as I stay in these snowy parts of the US. Yes, it's end of March and it is still snowing. This snow season (December-March), I experimented on how to ferment idly-dosai batter without using baking soda/powder. I also experimented how to aid the fermentation of iddli-dosa batter without using oven during severe snow season. I took this experiment so serious that I even created a folder named 'Idli-Dosai batter fermentation experiments – USA' in my laptop. I already armed you with sack full of information to deal with the idli-dosa batter if they had attitude problems. Yet few of my readers contacted me to know how to ferment idly-dosai batter without using an oven or if they do not wish to use baking soda/powder for fermentation. This is a special post for them.
I used my electric rice cooker's measuring cup (see below picture) to measure the rice and urad dhal (ulundhu). I used mixie (Indian blender) to grind the idli-dosa maavu (batter) since I do not have a wet-grinder. If you're looking for how to achieve soft idli by grinding batter in mixie, click here. The link has step-by-step pictures showing how to grind idly-dosai batter in a mixer grinder. The link also has few tips on how to ferment idli batter without using oven.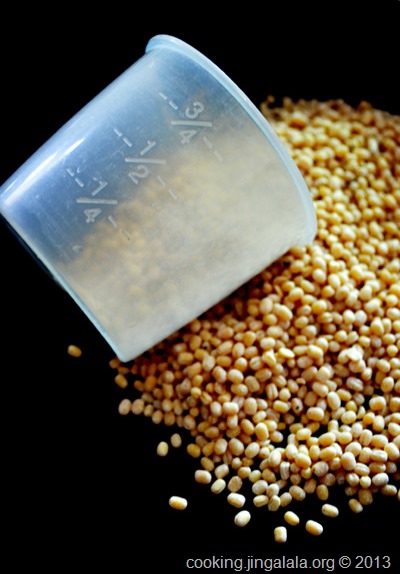 Once you finish grinding the idli-dosai batter, close the vessel. Keep the vessel inside your cupboard/oven. [Remember, if you are using your oven, double check that your oven is switched OFF. You need not preheat your oven. You need not keep the oven lights ON.]
Now run the hot water tap to its fullest. Wait until steaming hot water starts to pour from the tap. Fill a large bowl with this hot water. If you do not have running hot water facility, boil a large bowl of water.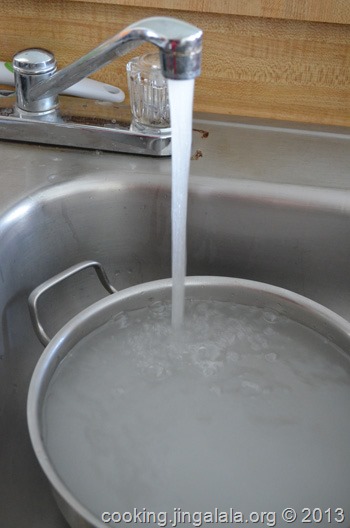 Keep this bowl of steaming water in your cupboard or oven (need not preheat or need not switch on the oven lights). I place the steaming water bowl just below the batter vessel. If it's your cupboard, place the steaming water bowl little near to the batter vessel.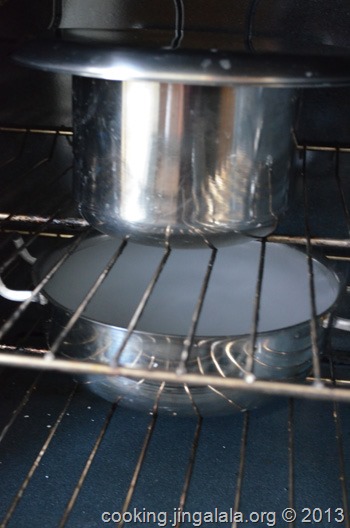 Close the cupboard/oven immediately. Do not open the cupboard/oven for few hours because we do not want the steam to escape. Do not disturb the batter too in the name of checking for fermentation.
Change this bowl of water with fresh steaming water every 6 hours or so.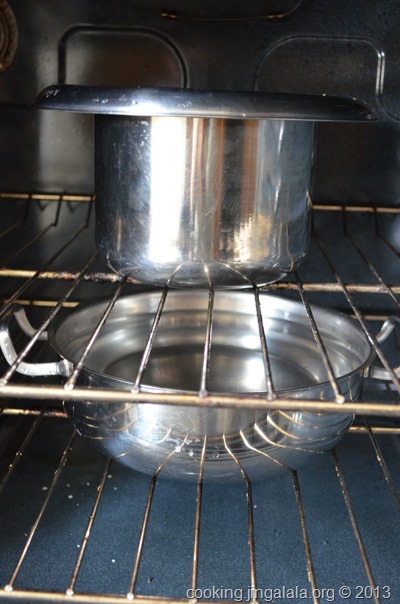 This tip works like a charm. However this tip has a limitation. The limitation is, it takes 24+ hours (yes, 1 full day + 3 to 4 hours) for the idli-dosa batter to rise and ferment. Also, since we are closing the oven/cupboard we'll tend to forget about the batter. So better set alarm, to check the batter

.
After this 24+ hours of fermentation time, open the batter vessel. The iddly-Dhosa batter will say a 'Good Morning' to you with a happy face. Take required amount of batter for your use and store the remaining batter in refrigerator immediately.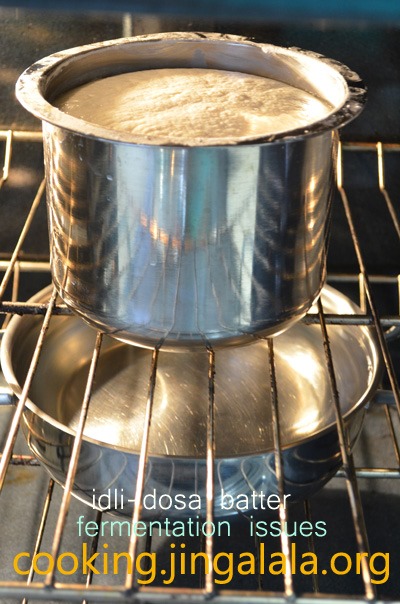 Do you see how beautifully the batter has risen in the below picture? A close-up shot.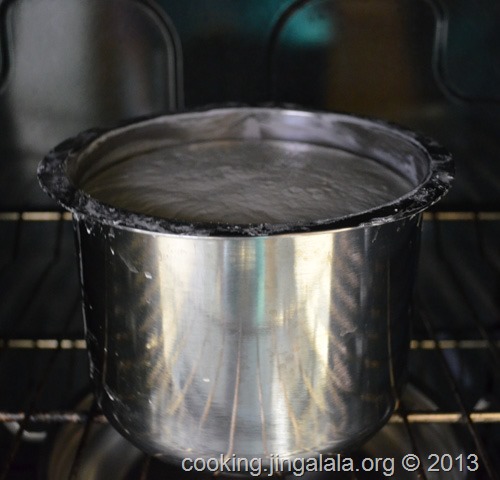 Throughout this snow season I prepared Idli-thosai batter using this experiment of mine. It gave me same result as that of my previous experiment result. Even after arming you with all these results of my Idly-Dosai batter experiments, if your batter still denies to prove, inform me. I'll send in my commando force to deal with the problem in your kitchen

Idli-Dosa batter fermentation
PREP TIME: 30 h
COOK TIME: 0 min
TOTAL TIME: 30 h
DIFFICULTY: easy
RECIPE TYPE: Batter for Idli/Dosa (main dish)
Ingredients:
Idli rice – 3 cups (leveled – used electric rice cooker cup to measure – 3 cups rice = 485 gm/1.07 lb)
Urad dal (Ulundhu/Ulunthamparuppu) – 1 + ¼ cups
Fenugreek seeds – ½ tsp.
Salt – 4 tsp.
Ample amount of water to grind.
Mangala from Cooking.Jingalala.Org Eat Well !