One of my uncles says, You can make 'chutney' with anything edible! just add chilli and something sour and a bit of sweet and salt of course. It's similar to LIFE! :) He suggested GoJingalala to go exotic and try various chutneys with different produce… even with horse radish and wood apples

. I kinda postponed to implement his suggestions in my chutney recipes until I encountered quite a lot of funny but tasty chutney recipes in a cookbook from where I picked this coriander seeds chutney and ginger chutney. I'm now all set to try out chutneys with various other produce too, say, apple chutney, radish chutney, cabbage chutney, carrot chutney, chowchow chutney, Gooseberry chutney, snake guard chutney, bottle guard chutney and so on. Apart from this list, my mom makes few other unusual chutneys like Pirandai Chutney and Thoothuvalai thogayal. In Madurai, we get fresh brunches of Pirandai from the Friday market and Thoothuvalai plant grows just like that in our streets. Readers don't get hyper…. you'll have to wait until I compose and publish all these 'unusual' chutney recipes. In the meantime, I thought I can write about few of my South-India's 'clichéd' Chutney recipes, like this Tomato Mint Chutney recipe.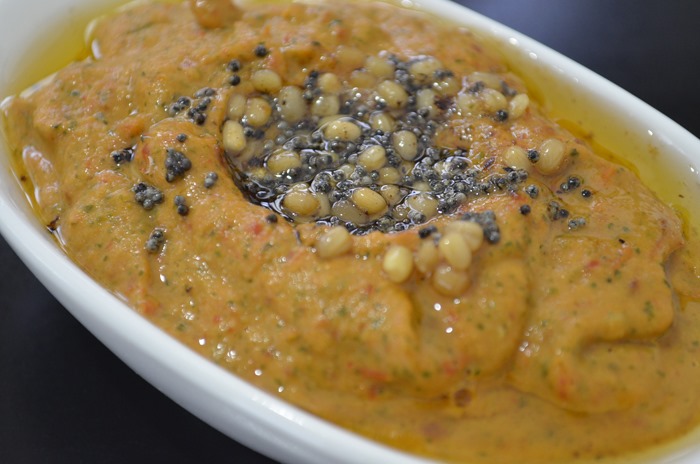 _Thakkali Pudina Chutney (Tomato Mint leaves Chutney) - _Pairing it with steamy idlis or double roasted dosas with ghee or gingelly oil is bliss! My mom's recipe for'Pudhina Thakkali Chutney' is similar to this Uluthamparupppu Chutney (Urid dhal Chutney recipe). She just substitutes mint for cilantro in this recipe. But the cookbook which I talked about suggested making this Minty Tomato chutney without using coconut or Orid dhal. Gave it a try and it resulted in steaming an extra batch of idlis. Watch out, if you're making this Tomato Mint Chutney for a crowd, you may even be pushed to grind several batches!

Step 1. Set the ingredients ready on the kitchen table. Peel, wash and slice the onion. Wash and chop the tomato. Wash, scrap and cut the ginger. Remove the leaves from mint stalk and wash them thoroughly. Keep a dry wok on the stove in Medium flame. Add 1 tsp oil.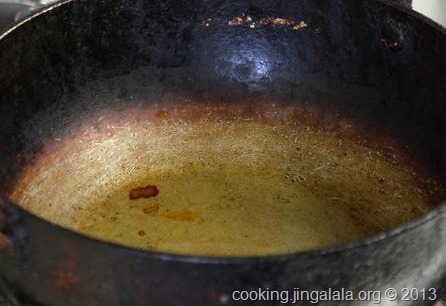 Step 2. Once the oil becomes hot, add the sliced onions.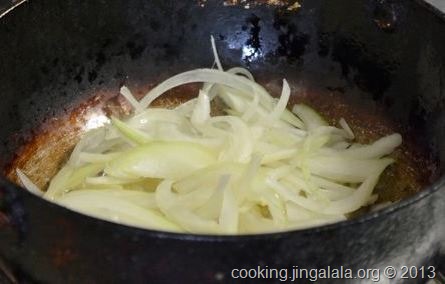 Step 3. Mix well.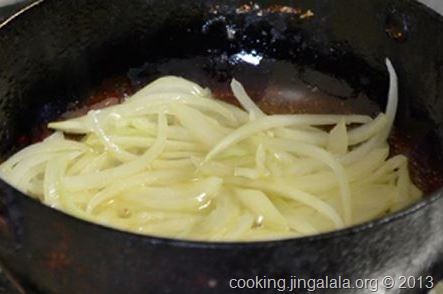 Step 4. Sauté the onions until they sweat and wilt. Takes 3 minutes.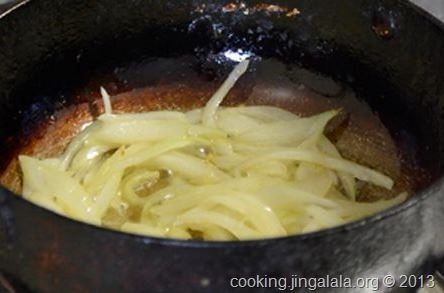 Step 5. Now add the dry red chilies and ginger. Mix.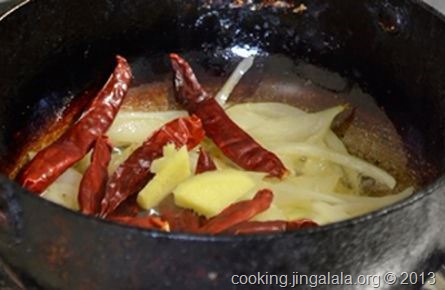 Step 6. Sauté them until the red chilies are roasted, say 2 minutes.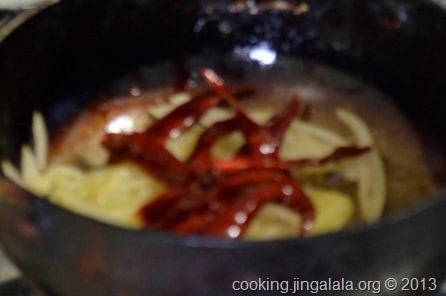 Step 7. Add the chopped tomatoes and the fresh mint leaves_ [These are mint leaves from my kitchen sill :) ]_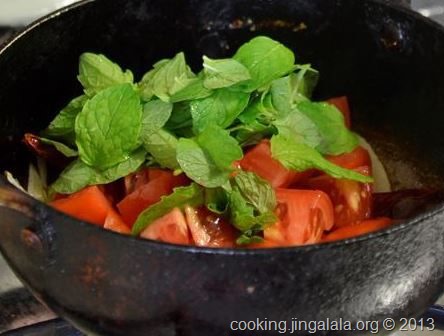 Step 8. Mix. [You may add more oil, say 1 tbsp. now. Tomatoes when sautéed in more oil they give a fantastic flavor and taste to any chutney.]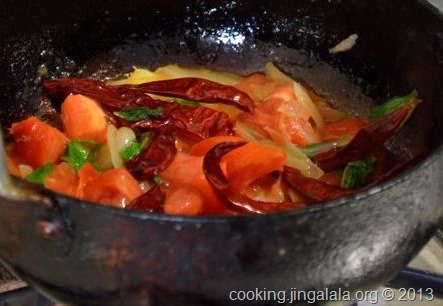 Step 9. I add a little salt while sautéing so that the tomatoes get cooked soon.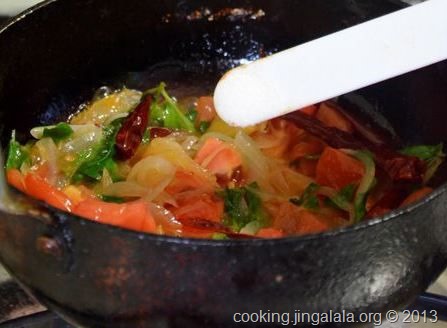 Step 10. Sauté the mixture until the tomatoes turn mushy. Takes about 5 minutes. [You may mash the tomatoes. ahhh… the flavor released by the sautéed tomatoes and the fresh mint is so wonderful that it'll kick start your appetite instantly.]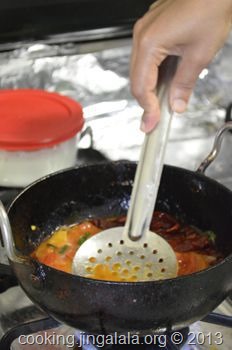 Step 11. Once the tomatoes loose their shape Switch Off the stove. Let the chutney mixture cool to room temperature.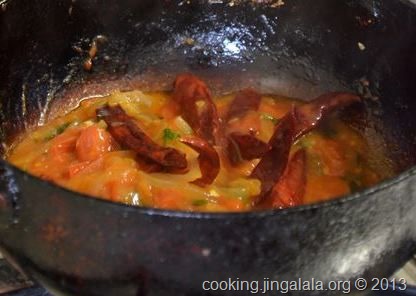 Step 12. Once the chutney cools to room temperature, put the content into a blender (I use Preethi mixie/mixer grinder). Close the lid and grind. I like to grind this mint chutney little coarse and not to a paste consistency._ [Need not add water for grinding. The tomatoes will give enough moisture to grind the chutney. But if your mixer grinder finds it difficult to grind, you may add 2 tbsp of water. You may check for salt/taste in the midway of grinding and adjust the salt/chilies. I always have additional red chilies sautéed and if need be I add them while grinding.]_ Tangy Minty Tomato Chutney is now ready. Transfer the chutney to a bowl. I like to have them as is without tempering. If you like to temper the chutney go to next step.
Step 13. Now lets temper the Tomato Mint chutney. Heat a small wok on the stove in medium flame. Add 2 tsp. oil. When the oil is smoking hot, add the mustard seeds. Once all the mustard seeds splutter, add the urad dal and curry leaves. Switch off stove.When the urad dal turns golden brown, add this tempering to the bowl of chutney. Mix.
Step 14. Appetizing Thakkali Pudina Chutney is now ready to serve with Idlys and Dosas.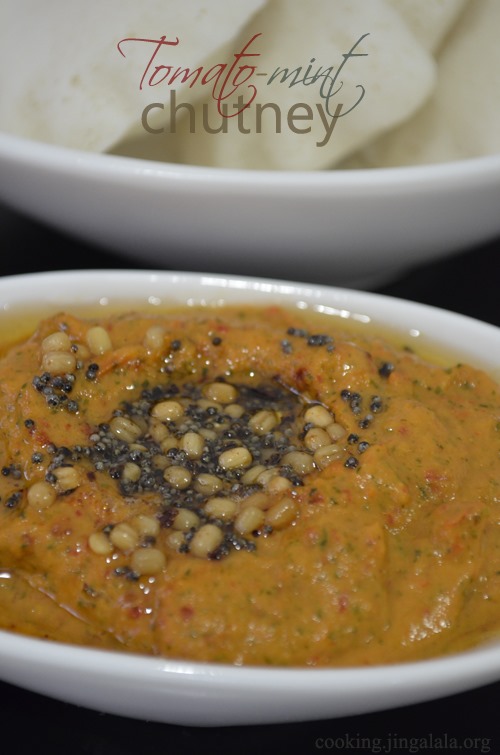 3Ts [ Tips | Tricks | Tactics and Secrets] to make Thakkali Pudhina leaves chutney (Tomato, fresh mint leaves chutney)
Using nicely ripen tomatoes increase the taste of this Thakkali Mint Chutney.

For all the South-Indian chutney recipes and for all other seasoning and tempering, I use Iddhiyam Sesame Oil (Idhayam Nallennai/Idhiyam Gingelly oil). It increases the taste and flavor of the dish.

Before grinding any chutneys I make sure the content is not hot and is in room temperature. Grinding the content when hot will give a different color to the chutney and worn out your mixer grinder easily.

This Tomato Mint Chutney has a long shelf life since we did not use coconut and water in it.

If your chutney turns out spicy, have a spoon of ghee or sesame oil when you eat it with idlis.

Feel free to substitute dry red chilies with green chilies in this chutney. Feel free to substitute mint leaves with cilantro (fresh coriander leaves) and call it Tomato Cilantro Chatni.

This _*Pudina Thakkali Satni *_goes well for Sweet and Savory Paniyarams too.

Red pearl onions (chinna vengayam) gives best taste for any chatney. However if you don't have it just use big onions.

Minty Tangy Onion Tomato Chutney
PREP TIME: 5 min
COOK TIME: 10 min
TOTAL TIME: 15 min
YIELD: 2
DIFFICULTY: easy
RECIPE TYPE: Idli Dosa Side dish, Dip, Condiment, Accompaniment
Ingredients:
170 g Tomato (about 3/4 cups when chopped)
8 g Mint leaves (Pudina) (about 1/4 cup)
2 g Fresh Ginger (1/2 ")
3 g Dry Red Chilies, about 5 or 6 (Patta milagai/Vara milahai)
70 g Onion (small or big, about 1/2 cup when sliced)
1/2 tsp Salt, adjust to taste
3 tsp Oil (I use Idhayam Gingelly oil/Idhiyam Sesame oil )
1/4 tsp Black Mustard seeds (Kadugu)
1/4 tsp Urad dhal (Ulutham paruppu)
Mangala from Cooking.Jingalala.Org Eat Well !