Vanilla Cake Recipe | Soft and Spongy Vanilla Cake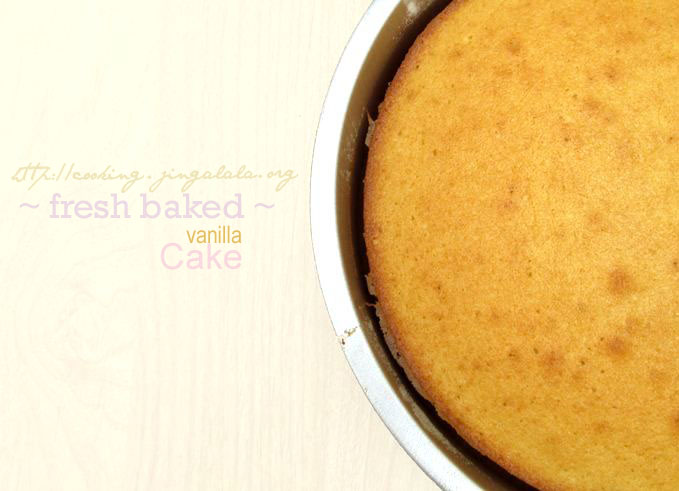 Sure it is because of these cookery shows that I'm wearing my glasses today ;( Yes. I started watching cookery shows right from my 7th grade. I do not remember the cook's name or the cookery show's name exactly, but this lady used to teach variety of cakes daily around 3.30pm. All the varieties of cakes: Cakes with eggs, eggless cakes, tumbler cakes (cupcake), sponge cakes, chocolate cakes, vanilla flavored, pineapple flavored, lemon flavored, frosting, icing, how to decorate a cake… ALL about cakes. Sitting too very close to the TV throughout the program, penning down all little details whatever is uttered by the cook: the ingredients, the method, the tips…everything, without blinking eyes. I think I wouldn't be so sincere even during the prayers. But alas… where's the oven to bake the cakes? I used to think, "may be one day I'll own a BIG oven and make use of all these hand written cake recipes and bake these cakes one by one". And today, It Is Happening! Yuppeee… I have a BIG black oven in my house today. I will show you how to make soft and spongy vanilla cakes in this post.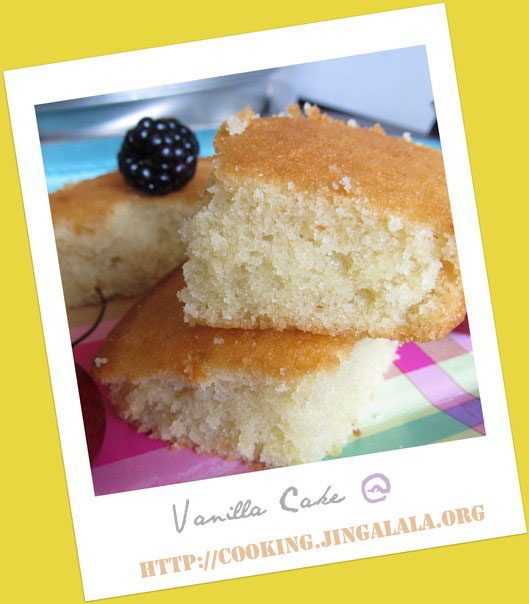 How to make Basic Vanilla Cake - with Step by Step pictures [Each image can be enlarged when Clicked]
Step 1: Set ready all the ingredients on the kitchen counter: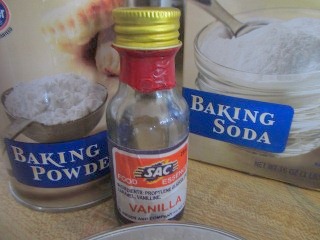 Take an egg and separate the yolk. Keep the separated yolk in a small bowl. Break a full egg and have it in a separate bowl. We need the butter at room temperature. I usually cut them and keep in microwave for 20-25 seconds when they are to be used immediately out from the refrigerator.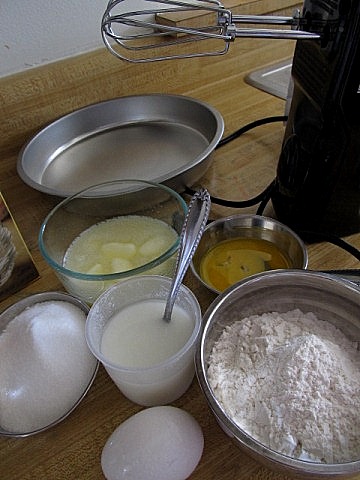 Step 2: Make the flour
Sieve flour, baking soda, baking powder, and salt together in a bowl.
[![vanilla-cake-from-scratch](/images/vanilla-cake-from-scratch.jpg "vanilla-cake-from-scratch")](/images/vanilla-cake-from-scratch.jpg)[![simple-vanilla-cake-recipe](/images/simple-vanilla-cake-recipe.jpg "simple-vanilla-cake-recipe")](/images/simple-vanilla-cake-recipe.jpg)
[Oh… the measuring spoons… :) yes I got them at last. I was assessing myself as a food blogger and felt bad that I don't even own measuring cups and spoons even after publishing 10+ recipes till date. So I went for a quick walk and grabbed measuring cups, spoons and strainers. Not bad right? By the way, did you people see the photographs of my strainers? If not, have a look here in my GoJingalala FB page. I featured them even before trying out a recipe using those filters and the recipe flopped very badly :D So was not in a mood to picture these cute spoons and cups and Ohh….yeah the bake ware set too :). Now that I successfully baked and tasted these cakes, I will soon portrait them and post it in my FB page.]
I usually use to whisk the all-purpose flour, salt, baking soda and baking powder together using an egg-whisk.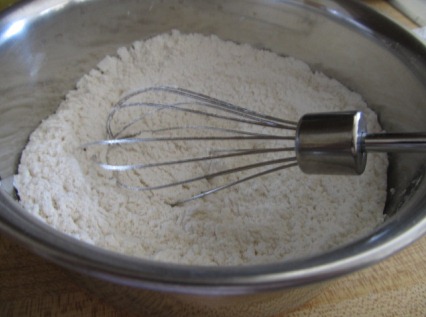 Step 3: Butter and flour the cake pan
Take the cake pan (I used 9x1.5" cake pan) and apply little butter all over inside it. Sprinkle some flour on the buttered pan and tap the pan such that the flour sticks to all sides of the pan. This way we can remove the cake in just few gentle taps once they are baked.
Step 4: Preheat the oven:
Set the oven to 350 degree Fahrenheit ( 175 degree Celsius) and preheat it for 5-10 minutes.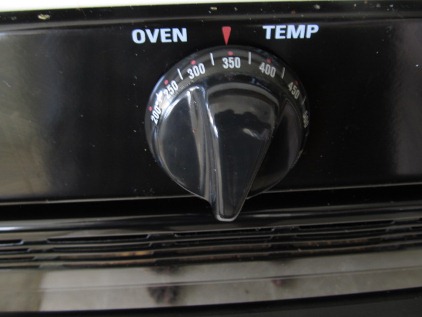 Step 5: Mix butter and sugar:
Take a deep bowl. Add the measured butter and sugar. Beat them together until they become light. [If you are using a cake mixer, always have the speed to low]
Step 6: Beat in the eggs
Add the egg yolk in to this mixture and beat them together. [If you are using a cake mixer, always have the speed to low]
Add one full egg and beat it into the mixture. [If you are using a cake mixer, always have the speed to low]
*Step 7: Beat in the vanilla essence. *Add vanilla essence and beat it into the mixture.
Step 8: Beat in the flour
Now add the flour mixture (step2) and the yogurt/buttermilk alternately and beat them into the mixture until just combined.
Step 9: Pour in the cake batter into the buttered and floured pan. Gently tap the pan on the kitchen counter.
Step 10: Bake the cake for 40 minutes in the oven.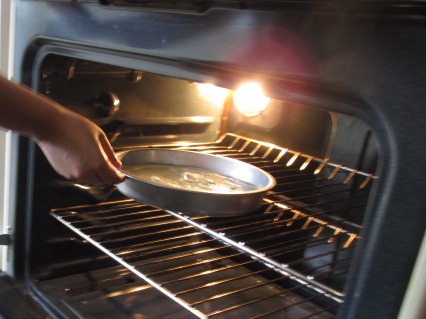 In 20 minutes of baking, you'll start to feel that warm baking smell. And if you're baking cakes for the first time in your life time, then this fresh warm smell of vanilla cake will make you crazily excited! I usually open the oven after 30 minutes to check if the cake has browned nicely and if the cake has pulled out from the sides of the cake pan. Now in the below picture, the cake has nicely pulled out from the sides.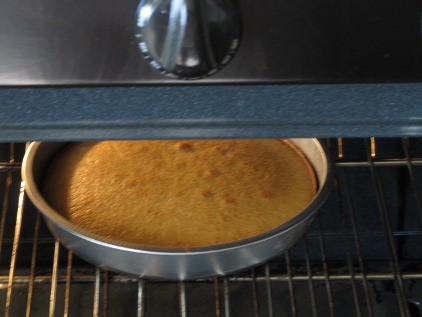 After 40 minutes, switch off the oven and open the oven. [Hmmmmm… this warm smell of freshly baked vanilla cakes will now start to circle around your kitchen and outside the patio too :). This time I had the courtesy to share the baked goodies (He.. he.. he.. because I thought the vanilla cake's smell circled around the condominium too :P :P) with Meg, Sham and Ar]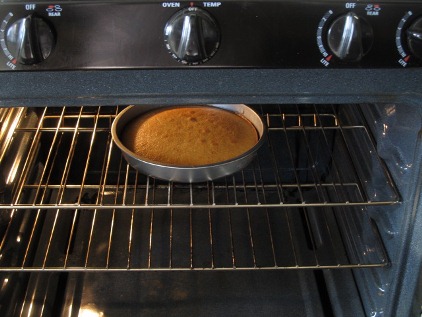 Take out the cake pan (use a nice thick cloth or oven mitts/gloves) from the oven. Use a wooden stick to check if the cake has baked to full by inserting it to the center of the cake pan. The stick should be out without any batter sticking to it. Let the cake stay in the pan for 10 minutes.
After 10 minutes, turn the cake pan upside down on a wire rack or on a plate and give two or three gentle pats with your hand.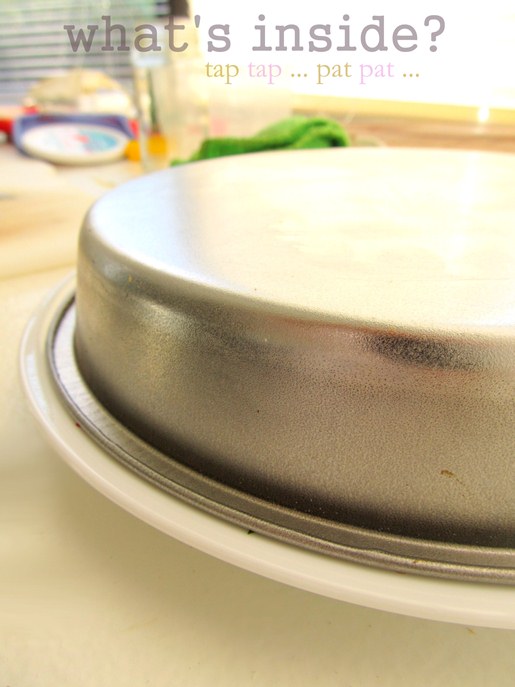 Open it. Here you go…. Your favorite vanilla cake… freshly baked… it's all yours. There are some people who eat cakes very cutely like the squirrels and there are some kinds who eat gulp food exactly like the blue whales. I'm the blue-whale-kind. 'Gulpppp…..' goes the cake :D :D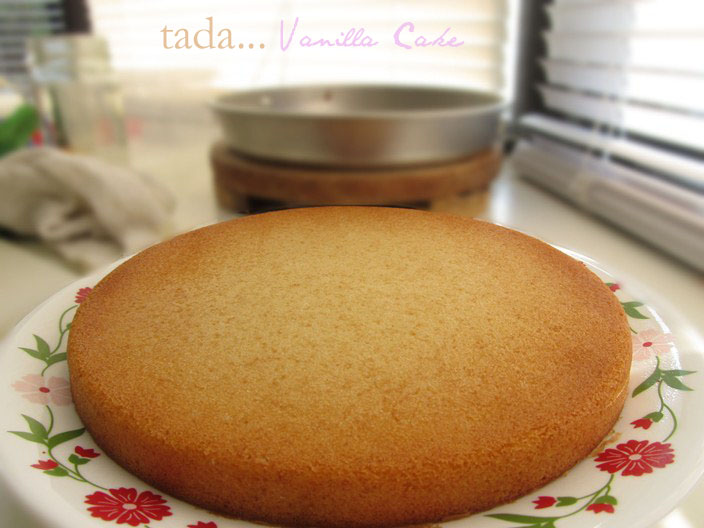 3Ts [ Tips | Tricks | Tactics and Secrets ] to make Spongy Vanilla Cake
Since we've never made cakes before at home, I do not have any tips handy. I rely only on the instructions given in the cookery shows and the Internet. I obey the measurements for cake preparation very faithfully :P I never have experimented baking cakes with my own additional ingredients or with my own measurements of the ingredients. Will try them someday and post the successful recipes here.
But I follow these safety tips while operating the oven:
Always have the oven bulb glow whenever you switch on your oven. This way you'll remember that there is something inside the oven to be taken care. Normally I tend to forget and overlook the dish inside the oven when I'm busy cooking many dishes in the stove.
Some open the oven even when the oven is switched on. But I have this practice of switching off the oven every time before opening it.
I tend to check if there are any vessels inside the oven before preheating the oven. Of course I do not place stainless steel or non-oven wares inside the oven. But just in case! So check if the oven is empty before switching it on for preheating.
Yes, oven doors are heavy, but not too heavy for naughty children. When you are operating your oven, always have an eye on your naughty kids. They tend to open the oven which will lead to bad experience. Take care.

We normally enjoy home made cakes without any frosting on it. When it comes to sweets, Jeevs acts very picky. He does not touches cakes that has cream on it. I tried these cakes for the first time on his birthday but spoiled it with an ugly chocolate frosting. I am a bad cook when it comes to frosting. Have to learn to make the best frosting/icing soon.
Ha ha…I still remember this one, on a Christmas Eve, my mom and we three sisters tried to make cakes using the pressure cooker. We were too young that time and we three helplessly watched our mom whisk the large quantities of butter and sugar with her hand. The cake came out 'ok'. But sure not soft and spongy like how it would be if it had been baked using an oven. If anybody here knows how to bake spongy cakes using a pressure cooker, please leave your instructions in the comment section.
Basic Vanilla Cake Recipe
PREP TIME: 10 min
COOK TIME: 40 min
TOTAL TIME: 50 min
YIELD: 4
DIFFICULTY: easy
RECIPE TYPE: Dessert
Ingredients:
All Purpose flour/Maida – 1 ¼ cup
Baking Soda – ¼ tsp
Baking Powder – ¼ tsp
Salt – ½ tsp
Butter (room temperature) – ½ cup
Sugar – ¾ cup
Egg – 1
Egg yolks- 1
Vanilla essence – 1 tsp
Butter milk/Yogurt – ½ cup
Mangala from cooking.jingalala.org Eat Well!