Kalpaasi ('Kal' as in culture, 'paa' as in pa and 'si' as in see) – a peculiar spice with a peculiar shape, can be found along with other spices if you get a whole curry masal packet (kari masaal jaamaan/saamaan) from any grocery stores in South-India. However it's not a peculiar spice for the Tamilnadu folks, especially for the Chettinadu locals. You can get Kalpasi separately too. In the US, in the India grocers near my home, I found it with the name dagad phool. In Tamil, 'Kal' means stone and 'paasi' means light green moss that grows on rocks in running streams or rivers or on trees in hill stations. I have seen Cinnamon trees in Kodaikanal hills. But I have no idea how kalpasi is actually cropped (!!??) or harvested (!!!???). I wish I get to see how this magic spice is scrapped from rocks/trees/stones of water wells.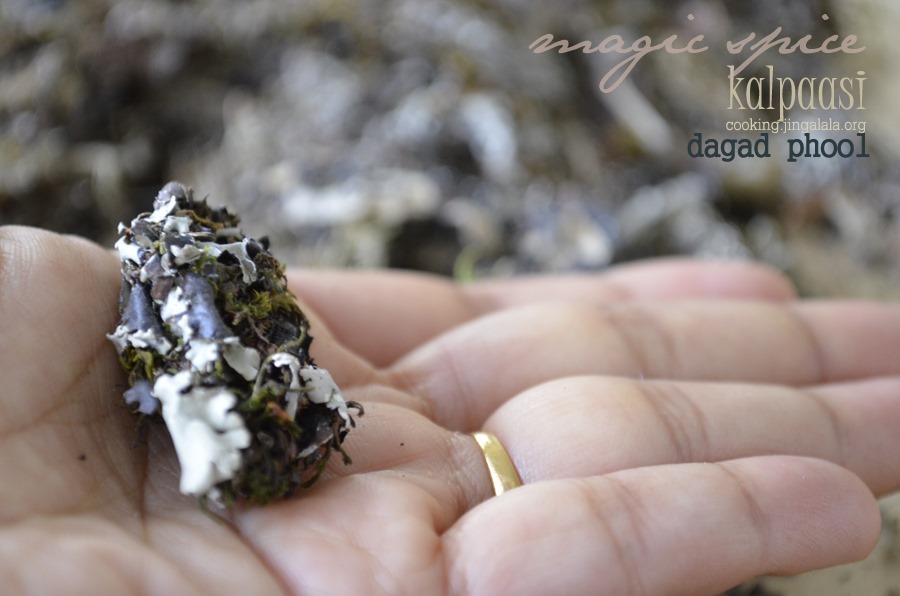 Kalpasi does not have a particular shape. It is curly like some dried flower that is very light in weight. It looks curly like clouds. It can be easily puffed away with a blow of thin air from your mouth. Kalpasi has shades of black, gray, white, mung bean green and pale green in it. You won't be able to get its fragrance if smelled raw. If I am to explain its smell: it smells as though a new garment is kept in a godown for many days – I couldn't write a better description of kalpasi's aroma. Or wait, let me try it in another way. What smell do you get if you sun dry a flower for many days? Not any particular fragrance, right? It's like that. However, kalpasi releases a very strong aroma when tempered for curries and gravies. The fragrance is something close to what star anise releases when tempered in hot oil, but stronger. If you investigate a pack of kalpasi, you'll find small bits of barks too, as if it was scrapped out from a tree.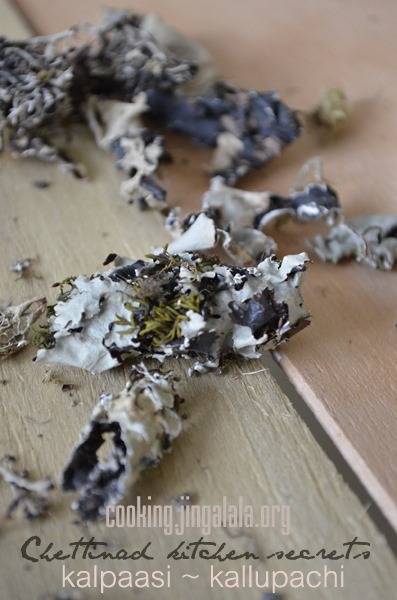 My kitchen normally used to look cluttered, especially the dining table. On one such day when my dining table was too cluttered, our neighbor friend Sup visited us. She spotted a packet in that chaotic table and asked me what it is. I answered her in a show-off tone, 'Idhu theriyadha? Idhudhan kalpasi' (translates to: 'do not know this? this is kalpasi'). I then realized not all from Tamilnadu have heard or seen or used kalpasi. So I bragged to Sup that this kalpasi is the secret spice added in all my recipes

. I told her that my Amma uses kalpaasi in almost all of her non-vegetarian gravy recipes and in some vegetarian gravies too, like mushroom curry, pakora kuzhambu, thatta payaru kuzhambu etc. [Some recipes you may try from Cooking Jingalala that has Kalpasi in the ingredients list: Pakori Kuzhambu, Mutton Kheema Kulambu, Chicken Qeema Gravy, Mushroom Biryani, Varuttha Kari].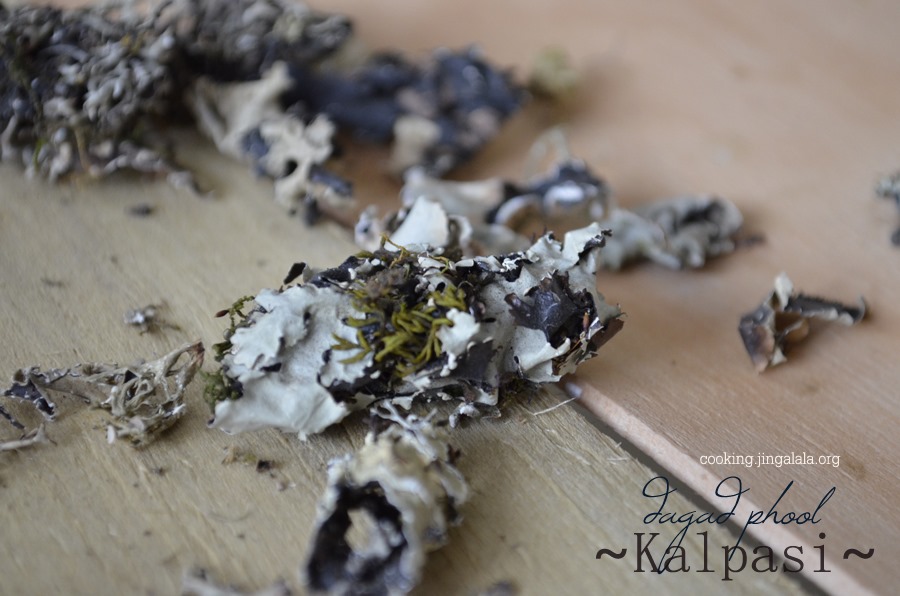 In my home, Amma has a box where she stores all the whole spices together. The box has dried bay leaves (biryani leaf/birinji ilai), star anise (poo/annasi poo), cinnamon (pattai), clove (krambu/lavangam), cardamom (elakkai/elachi) etc. With these, she also nestles bunches of kalpasi. I imagine as though the black stone flower (kalpaasi/dagad phool) is cushioning the other whole spices inside the box
.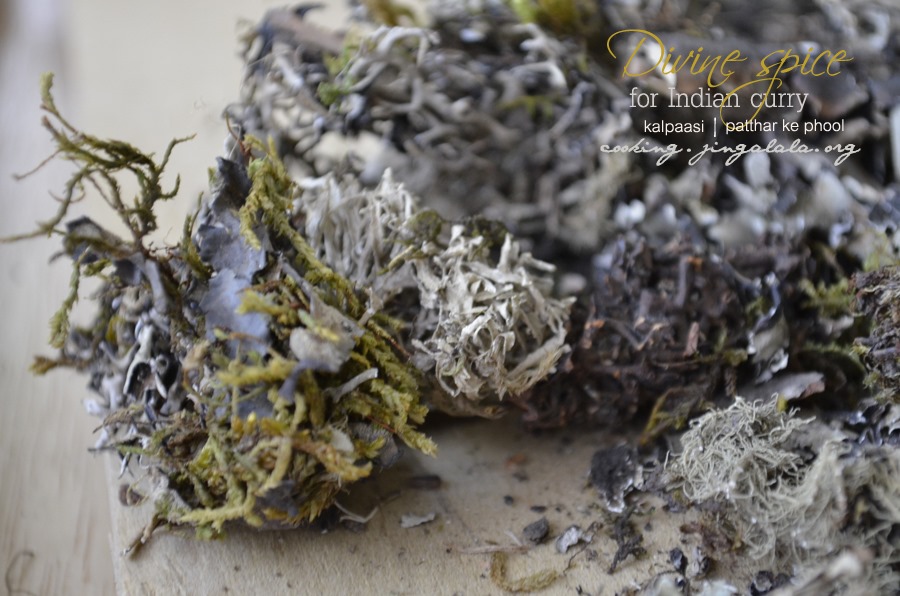 Do you now understand that Kalpaasi is a vital ingredient in curry masala powder? Now let's do a small test. Do you have store bought curry masala powder or garam masala powder in your pantry? Now run to your kitchen and grab the pack. Read to check its ingredients. If you do not find kalpasi or dagad phool (patthar ke phool) in the ingredient list, it means they are probably not putting the real ingredient list in the pack. Now look the cover page of the masala pack. Some masala powder companies put a beautiful whole spices picture in the garam masala packs and curry masala packs. If you keenly see the picture, you will find all other spices, say nutmeg, mace, turmeric, pepper, ginger, fennel seeds, cardamom, chili, coriander, cloves, star anise, cinnamon, but not kalpasi. Probably they do not wish to propagate the secret of this exotic spice!
If you are looking to buy Kalpasi/Dagad phool/black stone flower online, you may find this link useful. Click here.
Mangala from Cooking.Jingalala.Org
Eat well !